Accelerator Seminar - Xi Li
Accelerator Seminar - Xi Li

https://jlab-org.zoomgov.com/j/16121109706?pwd=dUhFdHVDdkY1SGYzMldneVpkYVJTQT09

2022-03-24EDT11:00:00 ~ 2022-03-24EDT12:00:00
Speaker: Xi Li, PhD candidate in ECE, ODU.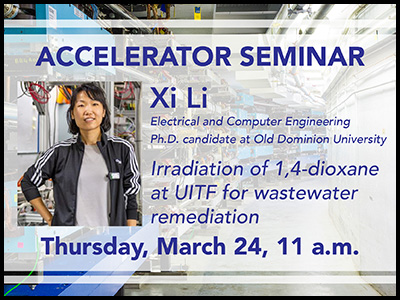 Title : "Irradiation of 1,4-dioxane at UITF for wastewater remediation"
Abstract: Electron beam (e-beam) irradiation produces both, reducing and oxidizing species which facilitate the reduction of contaminants found in wastewater. To investigate the impact of electron beam on 1,4-dioxane, a widely used solvent which has been declared as a probable human carcinogen by the U.S. Environmental Protection Agency (EPA), an e-beam irradiation beamline was designed and commissioned at the Upgraded Injector Test Facility (UITF) at Jefferson Lab. Here, wastewater samples can be irradiated with a beam energy up to 10 MeV. A beam spot with a diameter of ~5 cm was produced at the target location using a solenoid and a pair of raster coils. Electron beam irradiation studies were performed using 1,4-dioxane in three different matrices, ultra-pure water, secondary effluent wastewater and granular activated carbon (GAC) filtered secondary effluent wastewater, and for two concentrations, ~10 µg/L and ~100 µg/L. The concentration of 1,4-dioxane after irradiation was measured as a function of dose.
https://www.jlab.org/accelerator/seminars
---
Category
Scientific Program
Seminars
Contact Name
Kevin Jordan