DOE ASW2017
DOE Accelerator Safety Workshop 2017
August 15-17, 2017
Thomas Jefferson National Accelerator Facility
Newport News, VA
Group Photo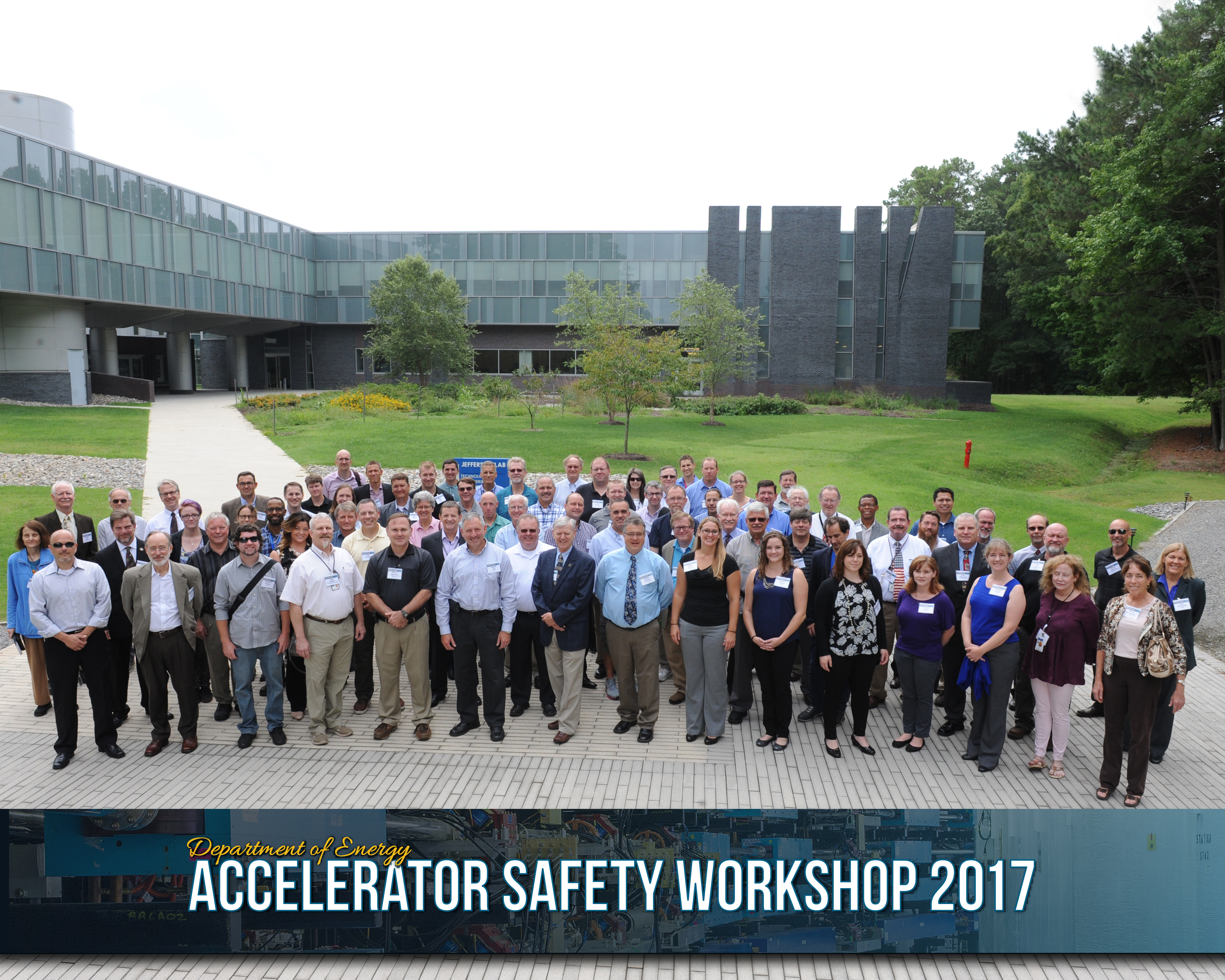 Travel & Discussion
All sessions will be held in the CEBAF Center Auditorium. Click for driving directions and parking map.
E-mail your questions related to any given presentation to asw_questions@jlab.org. Please include the Plenary Session Number and speaker's last name in the subject line of the message. Kindly state your question succinctly and identify yourself by name, position, and organization. We will forward your question to the session chair(s).
Please send completed Participant Surveys to asw2017@jlab.org.

Announcement
The annual DOE Accelerator Safety Workshop (ASW) will be held at Thomas Jefferson National Accelerator Facility on August 15-17, 2017. The workshop is an open forum for individuals affiliated with US or International accelerator facilities where each organization can present information/experiences on key operational and safety themes and share lessons learned.
For information regarding visa information, or general conference information, please contact asw2017@jlab.org.
5/11/2017
Continuing Education Credits have been applied for with the Continuing Education Committee of the American Academy of Health Physics.
7/28/2017
The American Academy of Health Physics has granted the 2017 DOE Accelerator Safety Workshop 20 CEC and assigned the CEC ID 2017-08-002. (Further, 2016 DOE Accelerator Safety Workshop has been granted 20 CEC and assigned ID 2016-09-006.)
Motivation
The ASW is designed to encourage and improve communications across the DOE complex, especially across the DOE Accelerator Community. Improved communications has led to the development of a new Order (DOE 420.2C), development of a new Guide (DOE G 420.2-1), and a new Technical Standard (DOE-STD- 6004-2016) to address Clearance of Material from Accelerator Facilities.
Topics Include
Major Accelerator Project Highlights
Safety Configuration Management
Hazard Assessment Methodology
Decommissioning and Sustainability
Succession Planning
Safety Instrumentation and Software Applications
ARR Experience
Colloquium Talk/Work Planning and Control
Safety Management Strategies and Systems
Best Practices
Each Topical Area Plenary Session will:
have an "Operational Experience" and "Lessons Learned" component
finish up with a panel discussion hosted by presenters
ASW 2017 Planning Team
Anderson

John

jea@fnal.gov

Blackistone

Judith

judith.blackistone@science.doe.gov

Bragg

Patrick

patrick.bragg@inl.gov

Cossairt

Don

cossairt@fnal.gov

Davis

Scott

scott.davis@science.doe.gov

Ecclesine

Amy

aecclesine@lbl.gov

Fanning

Harry

fanning@jlab.org

(Co-Chair)

Fish

Craig

fish2@llnl.gov

Freeman

Dave

freemandw@ornl.gov

May

Bob

may@jlab.org

(Co-Chair)

Seabury

John

jseabury@slac.stanford.edu

Stirrup

Tim

tsstirrup@parvaticorp.com

Wolter

Maddie

maddiew@fnal.gov