Diversity & Inclusion at JLab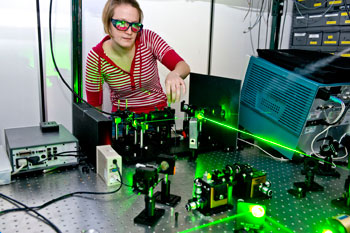 Questions about Diversity
Q: What does the Lab mean when it talks about Diversity?
A: Diversity is more than race, color, national origin, religion, sex, gender identity, physical or mental disability, marital status, age, sexual orientation, citizenship, or status as a veteran. Diversity also encompasses a wide variety of other differences, including work experience, parental status, educational background, geographic location, and much more. Managing diversity means actively promoting community and comfort at JLab.

Q: What is the difference between Affirmative Action (AA) and Diversity and Inclusion (D&I)?
A: As a Federal Contractor, we are required to have an Affirmative Action Program to support the recruitment and advancement of qualified minorities, women, persons with disabilities and covered veterans. Examples include training programs, outreach efforts and other positive steps to develop a qualified and diverse applicant pool. Affirmative Action is grounded in the expectation that contractors will take proactive measures towards a workforce which reflects the availability of the market.
Diversity and Inclusion focuses on valuing individuals, understanding and embracing differences and having a culture where all employees feel welcome, comfortable and included.
Q: Why is JLab concerned with Diversity?
A: Having a D&I workforce allows creativity and productivity to be maximized and drives engagement. By leveraging our unique knowledge, skill, abilities and perspectives, we, as a whole, will continue to evolve, grow and maintain a competitive workforce.

Q: Does JLab already have a diverse workforce?
A: Absolutely. As a National Lab with unique capabilities, JLab attracts employees and a user community from around the world who are diverse in gender, ethnicity, race, national origin, age culture, and many other ways. JLab benefits from this rich blend of backgrounds and perspectives.

Q: Is Diversity beneficial to Jefferson Lab?
A: Absolutely. Differences in people make for different perspectives, which lead to better science. A diverse workforce can increase organizational effectiveness. It can lift morale, bring greater access to new segments of society and enhance productivity. Of course, diversity can also raise biases that impede the decision-making process, so we must minimize this kind of impact.
Q: Is there bias at JLab?
A: JLab promotes and strives for a bias free culture. However, studies show that an unconscious bias linked to brain function exists in all humans and is likely as common here as it is in the wider population. At JLab, we educate our workforce to increase awareness in order to collectively manage our implicit biases.