<![if !supportMisalignedColumns]>
<![endif]>
<![if !supportLists]>1.0 <![endif]>Purpose
Hazards encountered at Jefferson Lab are comparable to those typically found in an industrial setting and everyone, including Visitors, has the right to know what hazards they may be exposed to while onsite. Each 'Visitor' is assigned an 'Escort' responsible for ensuring that applicable safety precautions are followed and emergency response actions are understood. Escorts may not leave their Visitors unsupervised for any reason during the visit. This chapter provides the means by which these activities are performed.
<![if !supportLists]>2.0 <![endif]>Scope
Visitors to Jefferson Lab are escorted by an individual who is qualified, trained, and authorized to enter the non-public area(s) <![if !supportFootnotes]>[1]<![endif]> being visited. For the purposes of this chapter: 
<![if !supportLists]>· <![endif]>A "Visitor" is anyone who is not authorized to access an area without an Escort. 
<![if !supportLists]>· <![endif]>An "Escort" must have the appropriate training and authorization to enter the area(s) being visited. (Exception: Subcontract employees are allowed to provide escort services for deliveries of materials only, unless otherwise defined within their contract.)
See Jefferson Lab's Administrative Manual Section 102.4 Laboratory Tours and Visits for more information regarding the coordination of a tour or visit.
This program satisfies applicable federal, state, and local requirements as outlined in ES&H Manual Chapter 2410 Appendix T1 Hazard Issues List.
Table 1: Required Training to Escort a Visitor
Training Course

Escort

Visitor

Any training required to allow unescorted access to the area which the visitor will be entering

X

Visitor Safety Briefing

X

* See ES&H Manual Chapter(s) for relevant hazard training requirements.
<![if !supportLists]>3.0 <![endif]>Responsibilities
NOTE:     Management authority may be delegated to a task qualified Jefferson Lab employee at the discretion of the responsible manager.
<![if !supportLists]>3.1 <![endif]>Escort
<![if !supportLists]>· <![endif]>The Visitor's safety is your priority.
<![if !supportLists]>· <![endif]>Be familiar with and appropriately trained/authorized to access the area(s) to be visited.
<![if !supportLists]>· <![endif]>Plan your route to avoid hazards.
<![if !supportLists]>· <![endif]>Walk the route prior to the visit to ensure conditions.
<![if !supportLists]>· <![endif]>Ensure a safety briefing has been provided to your Visitor which includes the basic safety information and any additional information relevant to the hazard issues to be encountered.
<![if !supportLists]>· <![endif]>Abide by designated Escort Ratios (see Oxygen Deficiency Hazard and Radiologically Controlled Areas).
<![if !supportLists]>4.0 <![endif]>Expectations
<![if !supportLists]>4.1 <![endif]>Visitor Safety Briefing
Escorts are responsible for providing their Visitor(s) with a basic safety briefing, along with any relevant additional safety information, as soon after arrival as practical and before proceeding into any hazard area. ES&H Manual Chapter 1400 Appendix T1 Visitor Safety Briefing Topics provides safety topics to be discussed with the Visitor(s) and actions to be performed by the Escort prior to entering a non-public area. 
<![if !vml]>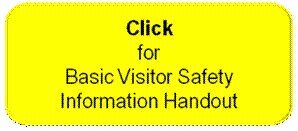 <![endif]>
<![if !supportLists]>4.2 <![endif]>Access to Controlled Areas for a Large Number of Visitors
Jefferson Lab has determined that when a large number of Visitors are allowed access to typically controlled areas on-site it is considered an unmitigated Risk Code >2. An Operational Safety Procedure (OSP) is therefore written in accordance with ES&H Manual Chapter 3210 Work Planning, Control, and Authorization Process to mitigate the hazard issues typically found in the area(s) where the event is to take place. The OSP is written by the Event Coordinator (typically Communications Office x7689) and minimally sets forth the safety requirements for a determined time period.
All OSPs can be reviewed at http://www.jlab.org/ehs/workcontrol.html.
Contact the Event Coordinator to review the particular OSP for your event. 
<![if !supportLists]>5.0 <![endif]>Revision Summary
Revision 1.3 – 07/24/17 – Replaced 'Public Affairs' with 'Communications Office'
Periodic Review – 02/29/16 – No changes per TPOC
Revision 1.2 – 05/20/14 – Added Required Safety Training Table
Revision 1.1 – 11/29/12 – Added link to Visitor Safety Handout
Revision 1.0 – 01/21/11 – Content replaces expired document "ES&H Manual Chapter 3230 Communication of Hazards to Visitors"
<![if !vml]>
<![endif]><![if !vml]>
<![endif]><![if !vml]>

<![endif]><![if !vml]>
<![endif]>