<![if !supportMisalignedColumns]>
<![endif]>
<![if !supportLists]>1.0 <![endif]>Introduction
The Emergency Planning and Community Right-to-Know Act of 1986 (EPCRA), among other things, requires that localities have chemical emergency preparedness programs and that businesses, such as Jefferson Lab, notify and inform federal, state, and local emergency planning and response agencies of the following:
<![if !supportLists]>· <![endif]>the amounts of the hazardous chemicals (HCs) that the facility has on-site, routinely releases, or spills above the chemical's threshold quantity;
<![if !supportLists]>· <![endif]>special or unusual chemical hazards at the facility; and
<![if !supportLists]>· <![endif]>other information necessary to facilitate the emergency response actions of our local support groups.
This appendix provides the rationale for EPCRA and how Jefferson Lab interacts with this regulation.
Work at Jefferson Lab requires the use and storage of a wide variety of chemicals.  EPCRA consists of a variety of programs, but only five require action on a regular basis by Jefferson Lab, as coordinated by Environmental, Safety, Health, and Quality (ESH&Q) Reporting, to ensure compliance.
Jefferson Lab has provided notification under EPCRA for hydrogen fluoride (as hydrofluoric acid), nitric acid, and bromine.
For general emergency response and reporting information refer to:
<![if !supportLists]>· <![endif]>ES&H Manual Chapter 3510 Appendix T1 Building Evacuation Procedures
ES&H Manual Chapter 8010 Environmental Protection Program contains descriptions of relevant laws, regulations, standards, terms, and agencies that are fundamental to the environmental protection (EP) program.
<![if !supportLists]>2.0 <![endif]>Responsibilities
ES&H Manual Chapter 8010 Environmental Protection Program summarizes staff EP responsibilities.  The following responsibilities apply specifically to the EPCRA program's goals and objectives.
Line Management
Emergency Manager (EM)
Represent Jefferson Lab in the local emergency planning process.

Keep the Newport News Fire Department (NNFD) informed on chemicals of concern
MSDS Coordinator
Maintain Jefferson Lab's MSDS libraries in the Safety Trailer (Bldg. 35), the Library (ARC), and for the on-line MSDS database.

Maintain the online chemical inventory.

Support ESH&Q Reporting as needed to fulfill EPCRA reporting requirements.
ESH&Q Reporting Manager
Ensure all EPCRA notification and reporting requirements are met.

Work with the EM to provide additional requested information to emergency planning and response groups (EPGs).
<![if !supportLists]>3.0 <![endif]>Program Requirements
Compliance with EPCRA, also known as Title III of Superfund Amendments and Reauthorization Act (SARA), is also required under Executive Order 13148.
The EPCRA programs that apply to Jefferson Lab are:
Planning for Emergency Response (Section 302),

Emergency Notification (Section 304),

Community Right-to-Know Reporting (Sections 311 and 312), and the

Toxic Chemical Release Inventory (TRI) Reporting (Section 313).
Each program imposes different requirements and covers one or more of four, sometimes overlapping, groups of chemicals.  All information is transmitted as identified to the EPGs by ESH&Q Reporting.
The emergency response agencies to which Jefferson Lab reports are the Peninsula Local Emergency Planning Committee (PLEPC) located in Newport News, the Virginia Emergency Response Council (VERC) in Richmond, and the main Newport News Fire Department (NNFD) at City Hall.
For site information, contact ESH&Q Reporting at extension 7308.  To obtain information about other facilities, the general public may contact or submit a written request to the VERC or view toxic release information on the EPA website at www.epa.gov/tri.
<![if !vml]>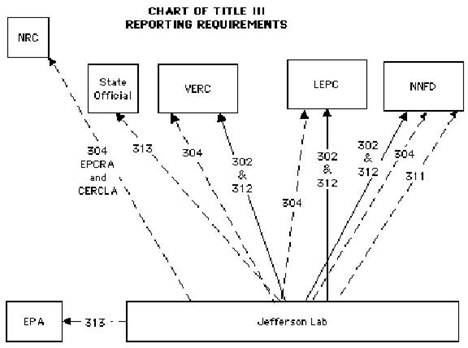 <![endif]>
Planning for Emergency Response (Section 302)
Section 302 requires facilities with an inventory of any extremely hazardous substance (EHS) at or above its Threshold Planning Quantity (TPQ) to provide written notification to designated EPGs.  It also requires that a facility meeting this criterion become designated as an Emergency Planning Facility and assign an individual to assist the Peninsula Local Emergency Planning Committee (PLEPC) in its emergency planning activities.
Under Section 302 Jefferson Lab has notified the EPGs for hydrofluoric acid, nitric acid, and bromine.  As well, the Emergency Manager (EM) has been assigned as the facility contact for providing emergency planning support and additional information upon request by the EPGs.
Jefferson Lab shall notify the EPGs within sixty days if another listed EHS reaches inventories ≥ the TPQ for that substance, or the site contact person changes.
Emergency Release Notification (Section 304)
Under Section 304, Jefferson Lab is required to make the correct and timely emergency release notification to the applicable EPG or response organizations whenever an EHS (EPCRA substance, listed in 40 CFR 355) or hazardous substances (HS)  (CERCLA substance, listed in 40 CFR 302) is released to the environment and meets the criteria shown in the box at left.
To date, only one instance of a release with the potential of meeting the identified criteria has occurred, a buffered chemical polish spill in 1992.  Appropriate actions and internal notifications were made, including notification of the Facility Manager, who, in conjunction with the Department of Energy (DOE) Site Office, determined that area response agencies did not need to be notified.
Reportable quantities (RQs) for chemicals can be as small as 1 pound for mercury, but generally range from 100 to 5,000 pounds.  For more information see Appendix EPS 50-R1 Chemical/Material List of EHMs for a list of the materials we have on-site that have potential reporting requirements.
If you observe a spill or release,
RESPOND and MAKE IMMEDIATE NOTIFICATIONS PER YOUR TRAINING
<![if !supportLists]>· <![endif]>Call 9-911 if off site assistance needed
<![if !supportLists]>· <![endif]>Call the guard at x5822 for on-site support [the guard will call 911 at your request]
<![if !supportLists]>· <![endif]>See Appendix EPS 50-T1 Spill and Release Reporting Requirements
The framework for establishing a response management structure at the federal, state and local levels has been provided through a structure known as the National Response System.  Releases of oil and HS across the United States are handled through this system.  Notification of the National Response Center (NRC) for CERCLA and certain EPCRA releases activates this network which includes federal response teams, governments, and participating federal agencies, such as the DOE.  For additional information on this program, contact the ESH&Q Reporting Manager at ext 7007.
Hazardous Chemical Inventory
Community Right-to-Know Reporting (Sections 311 and 312)
The purpose of these sections is to have facility operators provide general hazard information to the EPGs on the HCs present on-site.  ESH&Q Reporting is responsible for providing timely information to the EPGs.  Jefferson Lab is subject to EPCRA Sections 311 and 312 because it follows Occupational Safety and Health Administration's (OSHA's) Hazard Communication Standard regarding the availability of MSDSs.
Section 311 MSDS Information
Section 311 requires that Jefferson Lab annually provide the EPGs with a MSDS or a list of MSDS chemicals grouped by health and physical hazard categories for HCs at the Lab that meet or exceed their specified TPQ.
The MSDS Coordinator ensures that MSDSs are available for all chemical products used on-site.  The master MSDS library is kept in the Safety Lab (Bldg. 35), and a MSDS web site to serve the lab community is available at http://msdsweb.jlab.org/msds/.
The MSDS Coordinator also maintains the site's chemical inventory.  Annually, the MSDS Coordinator compiles a list of chemicals on-site, including quantities and locations that could present more than minimal hazards, and provides a copy to ESH&Q Reporting and the EM.
ESH&Q Reporting works with the MSDS Coordinator to review the chemicals for EPCRA applicability and to make any necessary notifications.  The EM provides the information to the NNFD, who may request an MSDS for any of the listed materials if there could be special concerns to firefighters.  The EM provides the list and the MSDSs on a "for information only" basis.
Additionally, Jefferson Lab must notify the EPGs within ninety days if:
<![if !supportLists]>· <![endif]>additional HCs become present above the threshold levels, or
<![if !supportLists]>· <![endif]>significant new information about a previously reported chemical is determined.
Section 312 Emergency and Hazardous Chemical Inventory Forms
Section 312 requires Jefferson Lab to provide the EPGs with an annual emergency and hazardous chemical inventory for substances that meet reporting thresholds.  The Tier II inventory form includes information on the locations, storage conditions, quantities of HCs, and associated risks which could assist EPG planning efforts.  Tier II information is available to the general public through the VERC.
ESH&Q Reporting and the MSDS Coordinator prepare the Tier II report by March 1.  Substances included on recent Tier II forms include hydrogen fluoride, nitric acid, lead, bromine, argon, helium, nitrogen, and hydraulic oil.
Use of the Tier II form precludes special EPG notification if significant new information on the reported chemicals is discovered, unless it is specifically requested by the PLEPC or NNFD.
NOTE:  One of the objectives of Jefferson Lab's overall chemical management policy is to minimize our on-hand inventory of hazardous materials.  Tier II is but one of the factors to consider when procuring chemicals.
Toxic Chemical Release Inventory Reporting (Section 313)
Section 313 requires facilities to inform the EPA and the EPGs about the use, manufacture, treatment, transport, and releases of toxic chemicals to the environment.
Under Executive Order 13148, DOE's facilities are required to report annually to the EPA and the VERC on activities involving toxic chemicals if they meet the reporting criteria noted to the left.
The EPA uses Form R (a report that must be filed if toxic material quantities exceed thresholds) information to assess the impacts of toxics on the environment.  The EPA works with citizens and businesses to evaluate the information and places it in a publicly accessible database.
Form R considerations are handled by ESH&Q Reporting, with support from the Jefferson Lab Industrial Hygienist.  No Form R reports have been required through 2005; however, upon request, Jefferson Lab provides the DOE information on HSs and EHSs released to the environment.  If conditions change, Form R will be submitted by July 1st.
<![if !supportLists]>4.0 <![endif]>References
LAWS and EXECUTIVE ORDERS

CERCLA/Superfund/SARA, as amended

42 U.S.C. 9601 et. seq.

SARA Title III (EPCRA)

42 U.S.C. 11001-11050

Pollution Prevention Act of 1990

42 U.S.C. 13101 et. seq.

Greening the Government through Leadership in Environmental Management

Executive Order 12856

Virginia Hazardous Materials Emergency Response Act

Code Of Virginia

§44-146.4
| | |
| --- | --- |
| REGULATIONS and PLANS | |
| Oil Pollution Prevention | 42 CFR 112 |
| Designation of Hazardous Substances | 40 CFR 116 |
| Determination of Reportable Quantities for Hazardous Substances | 40 CFR 117 |
| National Oil and Hazardous Substances Pollution Contingency Plan | 40 CFR 300 |
| Designation, Reportable Quantities, and Notification HS List Table 302.4 | 40 CFR 302 |
| EPCRA EHS and TPQ List Appendices A and B | 40 CFR 355 |
| Toxic Chemical Release Reporting Thresholds for Reporting | 40 CFR 372 and 372.25 |
| Hazardous Waste Operations and Emergency Response | 29 CFR 1910.120 |
| Virginia Emergency Management Operation Plan | |
Related ESH&Q Manual Chapters:
ES&H Manual Chapter 3510 Emergency Response Activities and appendices
ES&H Manual Chapter 5300 Occurrence Reporting to Department of Energy (DOE) and appendices
ES&H Manual Chapter 6610 Chemical Hygiene Program and appendices
ES&H Manual Chapter 8050 Environmentally Harmful Materials and appendices
Web sites:
EPA www.epa.gov
CFR www.access.gpo.gov/nara/cfr/index.html
<![if !vml]>
<![endif]><![if !vml]>
<![endif]><![if !vml]>
<![endif]><![if !vml]>
<![endif]>