Facilities Management & Logistics is responsible for performing or specifying performance of all Jefferson Lab facility maintenance, construction, security, property, and facility services.
The lab's 206-acre campus includes 169 acres owned by the U.S. Department of Energy and 37 acres owned by the Southeast Universities Research Association. In addition, the Commonwealth of Virginia owns an 5-acre parcel referred to as the Virginia Associated Research Campus (VARC) that the DOE leases for use in support of the lab.
The lab has 69 DOE-owned buildings (882,990 square feet), two state-leased buildings (37,643 square feet), and two off-site warehouse leases (17,549 square feet).
Additionally, the lab leases office and lab space (11,097 square feet) from the City of Newport News located in the Applied Research Center (ARC), which was constructed by the City of Newport News adjacent to the lab's campus.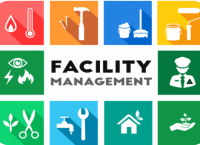 Visit our Facilities, Management & Logistics Communications Corner for the most up to date communications in our division.
Please visit the FML's Diversity, Equity & Inclusion (DEI) Area for the following focus areas:
Career Growth & Opportunities
Communications
Respect
FML Resources
Jefferson Lab's energy management program facilitates implementation of sound energy and sustainable practices. The objective of this program is to provide a safe, productive, and energy efficient workplace for all Jefferson Lab staff and visitors.