Our mission is to provide the oversight required for the Government Property being used by and at the Thomas Jefferson National Accelerator Facility (TJNAF), or Jefferson Lab.
All equipment and materials,(property) moves at the lab are required to be controlled and reported. The buttons below are provided to assist Lab staff in properly accounting for, moving, excessing, storing and shipping all types of property - whether it is physically located at Jefferson Lab or not (onsite/off site).
Managing your Property Onsite

Tagged Property
Search
Use the Search Property button to manage tagged property at Jefferson Lab, to include validating property, moving property to a new owner or location onsite, and excessing property you no longer need.
Work Request
System


Use the Work Request button to submit a work request to Facilities Management.  Use this when your section can't support your on-site property move.

No F-Tag Property
Search
Use the Search Property button to manage untagged property at Jefferson Lab, to include validating property, moving property to a new owner or location onsite, and excessing property you no longer need.

Missing
Item
If you have a property item that is missing, use this button to fill out a Missing Item Report.

Validation of your Property

https://misportal.jlab.org/mis/apps/cis/property/property_validation.cfm

With the challenges we are facing with the Covid-19 pandemic, it will require a different approach to complete this process.

For equipment that is attached to a network (mostly computers), search the property database

                copy and paste this:  https://mis.jlab.org/mis/apps/cis/property/customPropertySearch.cfm

  Click the Show network status? (slow)   and it will show the last time your registered equipment was on. If it is "live" it is validated!

- If you have sent equipment out for calibration/repair or replacement through the S&R office in the past year...it is validated!

-  If you have equipment out on a Mission Movement Agreement (loan); have the Borrower send a picture of the item and its tag# with the location/geotag information attached. This will allow us to verify the items are where they should be and be validated.

- If you need the computer in your office turned on so it can be seen on the network, check with your supervisor to see if anyone is going to be onsite or send us an email at Property@jlab.org and we can help.

For all other equipment that you are not able to see and verify, The Property Management team will work with you to resolve the problem.  We are also available on Teams! Search: Maria Polanco Mann, Jermaine Draughn or Christian Whalen

 

Managing your Property Offsite

GSA Surplus
Property
Check the General Services Administration (GSA) Surplus Federal Property site for things you need. The Username and Password for the GSAxcess is GOVUSE, and the access is Read Only.  Click on GSAxcessto review all available surplus items.

JLab employees interested in acquiring surplus property listed on this site must:

Surplus Property Auction Site


The Surplus Property Auction site offers a wide range of items through on-line auction. Jefferson Lab Surplus Property is sold here, and JLab employees may purchase from this site as long as it is not property that they disposed of from the lab.

Offsite Property Move
If you are moving or loaning a piece of equipment to some place off site, this button takes you to the necessary form and processes.

Shipping


Shipping arranges and coordinates with carriers, participates in freight rate negotiations, handles claims procedures and performs freight bill audits and approvals. It serves as the liaison with commercial carriers, prepares necessary traffic documentation and coordinates import and export activities.

Storage/
Warehousing


If you want to store an item for future use or need it stored as a Spare, you must fill out a Storage Request Form. Justification for stored items must be done each year.

 

Stockroom
Common hardware and consumables can be purchased here on this facility or ordered from our vendors using your sections' funds. The store is located in EEL (building 90) Room 108A

Receiving  https://misportal.jlab.org/srl/logs/search

Find your delivered package. This link takes you to a searchable website that will allow you to find out if your purchase or expected item has arrived at JLAB.

 

Documentation and Training

Property
Manual


This document includes all Property Management Policies and Procedures that govern Jefferson Lab property.

Training
GEN150


Go to the training page to access and complete GEN 150 Property Custodian Training.  A Jefferson Lab staff member assigned even one piece of equipment (i.e., a computer) is a Property Custodian.
Contact Us
Please check with property as this list may have recently changed.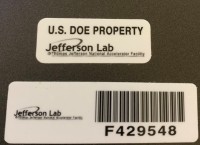 The easiest way to tell if a piece of equipment is closely controlled is by a sticker with a barcode and an F######  tag on it, like the picture above. At times, for various reasons, the sticker is no longer on the equipment but the F###### is on the item, so it still is closely controlled. This means if you take it to another building, or are going to take it off the facility, there is paperwork to be done.
  Equipment that only has "U.S. DOE Property" stickers or "Marking", requires less control and tracking. This usually means you only need to report it to the Property Management office when you're ready to get rid of it. We call these "untagged" items since they don't have an F###### /barcode tag but they are still Government property.