As part of the Human Resources Department, the JLab Registration/International Services Office (JRIS) assists all Jefferson Lab staff, guests, and users with access registration, training, badging, and visa/immigration.
You can find us in the Support Services Center, Building 28, and we are available Monday through Friday from 8:00 am until 5:00 pm.
Important New Information
Electronic Access Portal Process Overview and Screenshots
Checking Status of Visitor/Guest Registration Form for Travel Coordinators
To ensure a timely and efficient transition into the Lab, submittal of the Electronic Access Request Registration Form is required at least 7 days before the onsite arrival start date. Access will not be granted until all required validations and approvals are complete.
International Visitor Registration

 
Contact
The U.S. Department of Energy requires all non-U.S. citizens to provide government-issued picture identification, i.e. green card, passport, visa, and U.S. Citizenship and Immigration Services information before entry to Jefferson Lab.  In addition, DOE Office of Science approval is required before the entry of persons whose country of origin or affiliation is Cuba, Iran, North Korea, or Syria.  Entry to Jefferson Lab may be denied if identification and current immigration status cannot be verifi

ed.

 
An invitation letter from your JLab host is required at the port of entry for all non-US citizens requesting a business visa (B-1, WB) to participate in research, workshop, conferences, and meetings at Jefferson Lab.  These activities are prohibited with Tourist Visa (B-2, WT) and onsite access will be denied.
Sue Ewing
Visa/Immigration Administrator
Support Service Center Building, Room 45
ewing@jlab.org (757) 269-7687
Gina Lawson
Human Resources Assistant
Support Service Center Building 28, Front Desk
ginal@jlab.org (757) 269-7598
All new and returning guest/users requesting onsite or remote access to Jefferson Lab are required to register in the Electronic Access Registration System (EARS).
The JLab Access Portal is the central location for managing the registration process for all new and returning guests to Jefferson Lab.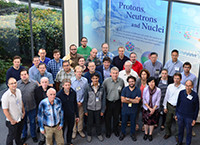 User Liaison facilitates the lab's scientific program by maintaining effective channels of communication between the JLab staff, JLab user community, associated scientists and engineers from across the world; providing solutions for the needs of the user community and assisting users with their use of the lab's facilities.
The JLab Registration/International Services Office provides services and information for staff, users and visitors at Jefferson Lab.