As a secondary mission, Jefferson Lab has taken the worldwide lead in developing a powerful, versatile new kind of laser for science, for applied defense research, and for industry: the free-electron laser, or FEL.
The FEL program leverages the lab's core competencies in electron-source technology and superconducting radio-frequency (SRF) electron-accelerating technology. All lasers convert electron energy into laser light, though usually with only one invariable choice of wavelength, or color. But a beam of electrons from a CEBAF-style SRF accelerator can be manipulated to generate immensely powerful laser light cost-effectively and with the wavelength selectable - crucial features for making light perform useful work.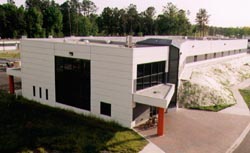 Inside Jefferson Lab's Free-Electron Laser (FEL) User Facility, the initial kilowatt-range FEL exceeds its specifications. Researchers have begun basic and applied-science experiments using this laser. Expected upgrade funds will allow this initial FEL to be made still more powerful and versatile.

The Applied Research Center, built by the city of Newport News at Jefferson Lab, creates a high-technology synergy for the Hampton Roads economy. It mixes Jefferson Lab staff, start-up companies, and university researchers. Jefferson Lab offers technology-transfer and commercialization opportunities in field ranging from materials processing with FELs to medical imaging based on particle-detection technology.
The first Jefferson Lab FEL produces light with infrared (IR) wavelengths. This "IR Demo" FEL has delivered 1.7 kilowatts of power, over 150 times more than any previous FEL. An upgrade is planned for the coming decade: 10 kilowatts in the infrared, and 1 kilowatt in the ultraviolet wavelengths, which are of special interest to industry.

FELs based on Jefferson Lab technology will advance basic science in atomic, molecular, and optical physics. They will aid military laser technology development. And they will enable industry to process materials in new ways for manufacturing new products - for example, by making plastics more durable and metals more corrosion-resistant.