Focus of Worker Safety Committee Changes with Start of New Year
A new year provides an opportunity to review past efforts and accomplishments, and then based on goals, to make adjustments or reset priorities.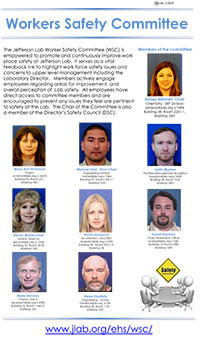 After 10 years of serving Jefferson Lab, the Worker Safety Committee (WSC) is doing just that, according to WSC Chair, Ashley Mitchell, Accelerator Division.
The committee was established in 2006 by then Chief Operating Officer, Mike Dallas, after Jefferson Science Associates, LLC, took over the contract to manage and operate the lab for the Department of Energy. Dallas believed a WSC was a great avenue for non-supervisors to openly express their safety concerns to each other and then to management.
"The Worker Safety Committee members are our collective eyes and ears across the lab," observes ESH&Q Division Associate Director, Mary Logue. "They encourage and augment employee participation in our safety culture at the grass roots level by providing an avenue for sharing safety concerns and suggestions for improvement that are then raised to me and to lab leadership. Understanding the employee perspective is paramount in a learning organization."
"WSC committee members provide valuable feedback from lab staff on policies, procedures, and lessons learned from events. That feedback is critical to improving the safety culture and environment at the lab," Logue adds.
While the committee has done much to elevate a variety of safety issues to the Director's Safety Council (DSC) and to lab leadership in general, in other ways they've become bogged down by working through the details on issues – things that could be handled by individuals or with the help of a safety warden.
"We have made the decision to start focusing more on the big picture," Mitchell explains, "and are moving away from handling the details, such as submitting Work Request (WR) entries. However, we will want to know if work requests aren't being completed in a timely manner."
"We will continue to provide a voice for workers and help bring their ideas, feedback and concerns to management. But now we will work with the DSC more to identify ways to improve the safety culture of the lab, and to provide lab leadership with more in depth feedback regarding safety topics, and prioritizing the areas needing management involvement," she continues.
So the WSC can change its focus, it is working with the safety wardens to make them "the front line" when it comes to addressing small safety issues or things that can be fixed with a work request.
The WSC has also started developing safety topics that the ESH&Q Division will develop and then deliver to supervisors for use in their Toolbox meetings.
As stated on the WSC webpage and committee poster, the WSC is empowered to promote and continuously improve work place safety. It serves as a vital feedback link to communicate safety issues and concerns to upper level management. WSC members actively engage employees regarding areas for improvement and the overall perception of lab safety.
All employees have direct access to WSC members and are encouraged to present any issues and suggestions they feel are pertinent to safety at the lab. Concerns, ideas and observations may be communicated directly to WSC members or via email through the red button on the lower left of the WSC web page.  "Mail Mary" on INSIGHT is also an option.
The WSC doesn't make new rules or enforce existing rules. The committee includes two representatives for the Physics, Accelerator and Engineering divisions and one representative each from the Facilities Management and Logistics (FM&L) department and the other Chief Operating Officer's departments, and the ESH&Q Division. Committee members serve for two-years. The WSC chair is a member of the Director's Safety Council, and is the liaison between the WSC and the DSC.
Worker Safety Committee webpage: https://www.jlab.org/ehs/wsc/
WSC committee poster: https://www.jlab.org/ehs/wsc/WorkersSafetyCommittee.pdf
ES&H Toolbox topics: https://www.jlab.org/ehs/toolbox.html
Director's Safety Council: https://www.jlab.org/ehs/dsc/
Guidance on submitting a work request to the Facilities Work Request system: https://jlabdoc.jlab.org/docushare/dsweb/Get/Document-48065/Facilities%20Management%20Work%20Request%20System.pdf
Wed, 01/10/2018 - 12:28pm