JLab Parking Lot Closure: Test Lab North
The east portion of the Test Lab (Bldg 58) North Parking Lot will be closed the week of June 24. This lot is accessed from BCS Road and is bordered by Bldgs 90, 58 and 55. The low-emission vehicle and carpool spaces will be closed.
The area is needed for the jumbo lift to finish the exterior caulking of the Test Lab High Bay. This work is weather dependent. Please obey all signage and barricades while the work is in progress. If you have any questions, contact Ken Mitchell at 528-5134.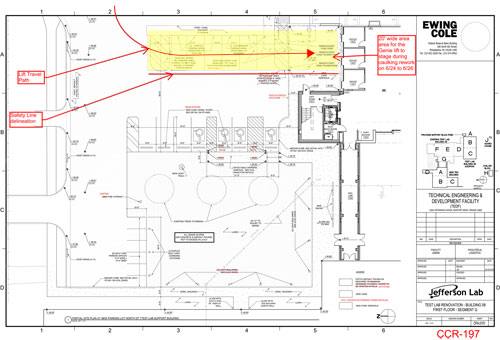 The above sketch provides a detailed view of the area that will blocked. For further clarification, you can view the full site map here: http://www.jlab.org/visitors/visiting/map_detailed.pdf
Sent on behalf of Facilities Management and Logistics