Virginia Delegate Paula Miller visits Jefferson Lab
Virginia Delegate Paula Miller, representing the 87th District, visited Jefferson Lab on Aug. 14 to gain a better understanding of JLab's research program and its economic impact on Virginia.

 

Young scientists win Jefferson Lab prizes
For advancing scientific research conducted at Jefferson Lab, a recent graduate of the University of Maryland won the Lab's 2006 thesis prize, while three other young scientists collected poster contest prizes.

 

Elite collaboration work splits physicist's time between ODU and France
A leading research agency in France selected Old Dominion University physicist Charles Hyde in December 2006 for a program that arranges collaborations between French researchers and elite international scientists.

 

Jefferson Lab engineer wins major award
For years, Jefferson Lab has considered Celia Garcia Whitlatch to be one of its best engineers. Now, others across the country agree.

 

Cindy Saban adds safety expertise to 12 GeV Upgrade team
Cindy Saban came to Jefferson Lab on March 1 as the 12 GeV Safety Manager and is tasked with ensuring that appropriate environmental, safety and health criteria are integrated into the 12 GeV Upgrade.

 

Cleaning up computer code speeds research
Doing a little housekeeping can really pay off, especially when it comes to writing computer code. A few optimizations of code used to perform lattice QCD calculations have made it twice as fast for computers to run, yielding much more data for research.

 

Science teacher Gary Graham gets into ACTS
Eighth-grade physical science teacher Gary Graham strives to inspire his students. A Department of Energy teacher enrichment program at JLab is providing him with the tools and knowledge to better share the challenges and opportunities for scientific discovery with his students.

 

Vigilance minimizes computer system down time
Even when Paul Letta is at home, work is never far away. Letta has a habit of getting on his home computer and logging onto JLab's servers every night, just to make sure everything is running smoothly. Fortunately for the Lab, his diligence recently paid huge dividends.

 

'In their own words' with cyber security analyst David Bianco
I've always been interested in computer and cyber security, so this job is really interesting to me. What we do is very serious; a lot of people don't realize that the Lab is often a target for people who should not have access to our system.

 

Enhance your cyber savvy with info in newsletter
The SANS Institute, a security training, certification, and research group, publishes a newsletter intended for computer users who wish to stay informed on current security problems.

 

Hampton University Proton Therapy Institute breaks ground
Hampton University recently broke ground on a new Proton Therapy Institute. The center will provide beams of protons for destroying cancerous tumors non-invasively, quickly and with fewer side effects than traditional cancer treatments.

 

Help inspire youth; become a BEAMS volunteer
BEAMS, Becoming Enthusiastic About Math and Science, JLab's long-running, math and science enrichment program for middle school students starts back up on Sept. 13. Volunteers are critical to the success of all of the Lab's science education programs, especially BEAMS. Attend the Volunteer Fair on Thursday, Aug. 30.

 

Roll up your sleeve for blood drive
The next Red Cross Blood Drive taking place at JLab is scheduled for Thursday, Sept. 6, from 10 a.m. to 4 p.m. in CEBAF Center, room F113. New and repeat donors are encouraged to attend.

 

Vendor stockroom operation moves to JLab in September
In the past, JLab operated an in-house stockroom, which maintained an inventory of parts and supplies. During the next fiscal year, the stockroom will be phased out and replaced by an onsite vendor store. The goal is to provide a wider selection of material and eliminate the administrative overhead associated with managing a large DOE-owned inventory.

 

Milestones - late July through August 2007
These Milestone entries are actions posted by Human Resources from late-July through August 2007. Current JLab career opportunities are posted at: https://careers.peopleclick.com/careerscp/client_jeffersonlab/external/search.do
Virginia Delegate Paula Miller visits Jefferson Lab
Virginia Delegate Paula Miller tours experimental Hall A with Lab Director Christoph Leemann and College of William & Mary graduate student Joe Katich (right).
Virginia Delegate Paula Miller, representing the 87th District, visited Jefferson Lab on Aug. 14 to gain a better understanding of JLab's research program and its economic impact on Virginia.
She took the opportunity to tour Jefferson Lab's electron-beam accelerator and one of the cavernous end stations where physics experiments are run.
Miller learned about the Lab's advances in its scientific mission, the study of the building blocks of the nucleus of the atom and received information about the planned upgrade of the Lab's research capabilities and its impact on the future of U.S. science. She also heard about the Lab's medical imaging developments and several applied-science experiments underway in the Free-Electron Laser facility.
Miller met with senior Lab leaders and Department of Energy managers, as well as physics graduate students from Norfolk State University, Old Dominion University and The College of William & Mary who conduct research at Jefferson Lab.
Young scientists win Jefferson Lab prizes
Jianglai Liu (left) receives the 2006 Thesis Prize from Gordon Cates, Users Group Board of Directors outgoing chairperson.
Jianglai Liu, from the University of Maryland won the 2006 Jefferson Science Associates/Jefferson Lab Thesis Prize with his Ph.D. dissertation titled: A Measurement of the Strange Quark's Contributions to the Electromagnetic Form Factors of the Nucleon.
This prize, established in 1999, is awarded to a graduate student who has carried out research, theoretical or experimental, related to the science under investigation at Jefferson Lab. It is awarded to the best graduate student thesis and includes a stipend of $2,000 and a commemorative plaque. Four areas are considered in rating the submitted theses: the quality of the written dissertation, the student's contribution to the research, the work's impact on the field of physics and service (how the work benefits Jefferson Lab or other experiments).
The award was presented by Gordon Cates, the JLab Users Group Board of Directors' outgoing chairperson, on June 19 during the Users Group workshop and meeting. Cates congratulated Liu for his outstanding thesis and research work. When presenting the prize, Cates announced that the monetary award had been increased to $2,000 this year to further emphasize the importance of the work being recognized. He described all the submissions as very good and thanked reviewers for their work in evaluating the eight theses submitted.
Liu received his Ph.D. from the University of Maryland in May 2006 under the direction of professor Betsy Beise. The results of his thesis research were published in Physical Review Letters in 2005, and provided the first determination of the contribution of strange quarks to the proton's charge and magnetism over a broad spatial range.
His work was one of four independent analyses that led to the final, published result. He is now a postdoctoral research fellow at Caltech's Kellogg Radiation Lab Pasadena, Calif., working on experiments in fundamental symmetries using neutrinos and ultra-cold neutrons.
After the award presentation, Liu presented his research during a special session of the Users meeting. His research was based on data from the forward-angle run of the G-Zero experiment conducted in Hall C. He congratulated all G-Zero collaborators for a successful experiment run and expressed his thanks to his thesis adviser; G-Zero spokesperson Doug Beck for tutoring; and to Julie Roche for the encouragement she provided as he conducted his data analysis.
He said that a highlight of his work was interacting with the large number of students involved in this experiment.
The Users meeting and workshop also included a poster session, with awards going to the top three posters. This year, Users Group Board of Directors graduate student representative Aidan Kelleher, presented the poster session awards.
Second place poster contest winner Xiaohui Zhan (from left), MIT, and first place winner Joe Katich, from The College of William & Mary, have their photo taken with Users Group Board of Directors graduate student representative Aidan Kelleher.
Placing first and winning $1,000 was Joe Katich, from The College of William & Mary, for his poster: A Measurement of the Target Single-Spin Asymmetry in Quasi-Elastic Helium-3 (e, e-). His poster was based on Hall A experiment E05-015.
Second place and $500 went to Xiaohui Zhan, MIT, for her poster: Measurement of Ax and Az Asymmetries in the Quasi-elastic Helium-3 (e-, e'd) Reaction. Her work was based on Hall A experiment E05-102 (BigBite).
Placing third among the 14 entries and receiving $250 was Nathan Baillie, William & Mary, with his poster: BoNuS (Barely Off-Shell Nucleon Structure).
The UGBoD did the initial round of judging for the thesis prize submissions, according to Ron Gilman, UGBoD chair, and the final round went to the thesis prize reading committee: John Domingo, JLab; Charlie Glashausser, Rutgers University and Charles Perdrisat, The College of William & Mary.
Judges for the poster session included Stanley Brodsky, from the Stanford Linear Accelerator Center and winner of the 2007 Sakurai prize; Ani Aprahamian, from the University of Notre Dame and the National Science Foundation; Karl Slifer, from the University of Virginia and JLab UGBoD Post-Doc representative; and David Armstrong, from The College of William & Mary and JLab User.
"The Users Group Board of Directors offers its thanks to all of the judges for the time, effort and attention they put into their work and their final decisions," Gilman said. "These prizes are an important way to recognize our outstanding young scientists and to highlight the high-caliber research conducted at Jefferson Lab."
Elite international collaboration work splits physicist's time between ODU and France
Charles Hyde has been awarded the Agence Nationale de la Recherche's "Chaire d'Excellence."
As a highly regarded physicist with strong research connections to the French science community, it came as no surprise to many when Charles Hyde was selected for the prestigious award by the Agence National De la Recherche.
During the appointment associated with this award, Hyde, a physics professor at Old Dominion University and a familiar presence at Jefferson Lab, will play a key role in research projects at the Laboratoire de Physique Corpusculaire (LPC - Particle Physics Laboratory) in the central French city of Clermont-Ferrand. LPC is affiliated with l'Université Blaise-Pascal, which has a cooperative agreement with Old Dominion University that Hyde negotiated.
The award is sponsored by the Agence Nationale de la Recherche's "Chaire d'Excellence" program. Hyde's was one of just five made last year - one in each of the science disciplines at all French research institutes. The award provides a research grant worth a little more than $1 million over the next four years and a four-year faculty appointment at Blaise-Pascal.
News media reports in Clermont-Ferrand touted the award as a significant honor for Hyde and the LPC. The reports also noted Hyde's experimental contributions to nuclear physics, especially at Jefferson Lab.
Hyde is known internationally for experiments designed to probe the atomic nuclei via a process called virtual Compton scattering. He has a longstanding research relationship with French physicists with whom he has worked in France and at Jefferson Lab. At least four French institutes, including the LPC, have expressed interest in contributing to the scientific capability of the ~$300-million, energy doubling upgrade of the Jefferson Lab accelerator and associated experimental equipment.
"This award is a tribute to Professor Hyde's scientific leadership, especially in the emerging field of deeply virtual Compton scattering," said Gail Dodge, chair of the ODU physics department. "It also highlights the importance of the experimental program at Jefferson Lab to the international scientific community."
The award will fund work by the LPC and Hyde toward the development of a new detector for Jefferson Lab, Hall A. The detector and upgraded electron beam energy will create a new method for imaging the quark waves inside the proton, as well as inside other light nuclei. This general area of research was highlighted at the recent meeting of the Nuclear Science Advisory Committee's Long Range Plan Subcommittee.
"This appointment is something I never anticipated," Hyde said. "Rather, it developed organically and is the fruition of a research collaboration reaching back 20 years and the results of 10 years of vigorous research at JLab."
The American Physical Society cited Hyde's development of virtual Compton scattering as a probe of the structure of the proton when it announced his election last year as an APS Fellow. Experiments he has coordinated at the Jefferson Lab electron accelerator involve high-energy photon-on-proton collisions that aim to create the first-ever spatial images of the quark waves inside the atomic nucleus.
He is a co-spokesperson on two new experiments involving DVCS in Jefferson Lab's Hall A. The first is planned to run during the final phase of 6 GeV operations at JLab. The other experiment is planned to run for approximately one year under JLab's 12 GeV research program.
During the term of the award, Hyde is dividing his time between his duties at the LPC and ODU. At Clermont-Ferrand, he has been collaborating with Pierre Bertin, Helene Fonvielle, Bernard Michel and Jean-François Mathiot, who are working on JLab-based or JLab-related research. And he is looking forward to working with C-F technical staff on further developments for JLab's research program.
Jefferson Lab engineer wins major award
In her years at JLab, Celia Whitlatch has managed a range of projects involving designing mechanical systems.
For years, Jefferson Lab has considered Celia Garcia Whitlatch to be one of its best engineers. Now, others across the country agree.
HENAAC, the national organization formerly known as the Hispanic Engineer National Achievement Awards Conference, has recognized Whitlatch as one of the nation's "best and brightest" engineers. And on Oct. 12 in San Diego, she and 24 other winners will be honored at the 2007 HENAAC Awards Show during the 19th Annual HENAAC Conference.
"I love my work. During my years here I've done projects from one end of the Jefferson Lab campus to the other," says Whitlatch, a 12-year Jefferson Lab veteran who is just one of two honorees named by HENAAC in the civil engineering category.
"I enjoy designing, do a lot of my own designs and manage the implementation of those designs throughout the construction process."
Originally from Chicago, Whitlatch's family moved to Arizona when she was 10. She started her college career at Arizona State University on a pre-med scholarship, but soon changed her major to mechanical engineering.
"At first I wasn't even sure what it was all about," she recalled, "but I grew to really love it."
These days, Whitlatch is designing both the process cooling and air conditioning for Jefferson Lab's accelerator recirculation arcs as it prepares to double the energy of its electron beam to 12 GeV. This is a technically difficult design whereby the capacity of existing process-cooling systems is increased within very limited space, budget and time constraints. She is also reviewing the mechanical portions of the architect engineers' work on the Lab's proposed new experimental hall, Hall D, and the new Central Helium Liquefier extension.
Before coming to Jefferson Lab, Whitlatch worked on helicopters at McDonnell-Douglas and on 737s and 757s for Boeing. She's also worked at the Palo Verde Nuclear Generating Station in Wintersberg, Ariz. Her first job in the Newport News area was with Navy contractor John J. Mullen Associates Inc., doing pipe design on nuclear submarines.
It was this range of professional achievement that brought her to the attention of HENAAC, where an independent group of representatives from industry, government, military and academia selected here for her award. For the past 18 years HENAAC has been recognizing the nation's best and brightest engineers, scientists and technology experts. A core mission of HENAAC is to highlight and showcase outstanding role models to inspire young people to pursue careers in science, engineering and technology and to motivate professionals to continue to connect with the Hispanic community.
Cindy Saban adds safety expertise to 12 GeV Upgrade team
by Judi Tull
Cindy Saban, the 12 GeV Upgrade project safety manager, has worked at Department of Energy facilities throughout her career.
A steamy summer in Hampton Roads is a long way from the double-digit-below-zero weather that Cindy Saban grew up with in Hibbing, Minnesota. Barely 100 miles from International Falls, the United States' traditionally coldest spot, Hibbing's winters offered Cindy and her two sisters - one older, one younger - challenges and a host of memories.
"We walked to school every day, played ice hockey, and snowmobiled routinely in subzero weather and never really thought about it," she recalls with a laugh. "I often think now 'How in the world did we do that?'" She was the first of the sisters to leave Minnesota; one now lives in California, and the other remains in Minnesota.
Saban originally thought she'd become an architect, although she pursued an undergraduate degree in biology and chemistry at the College of St. Scholastica, a small private college in Duluth. While there, the Health and Safety director of 3M, who ultimately became director of the Occupational Safety and Health Administration, gave a presentation on his roles and responsibilities in the area of corporate safety. Because he was a personal friend of Saban's adviser, she got to spend some one-on-one time with him. His presentation and conversation about the field of Industrial Hygiene impressed her.
For her graduate work, Saban headed to the University of Michigan-Ann Arbor, a choice she made because, she says with only a hint of irony, "It was south." She earned two master's degrees there - one in Health Physics and one in Industrial Hygiene.
Her first job after school was with the Tennessee Valley Authority at Muscle Shoals, Ala., as a health physicist, working in the areas of internal and external dosimetry. When she left there in 1988, she took the first of what would be several jobs over the course of her career at various Department of Energy facilities and laboratories, including Pantex in Amarillo, Texas, the Savannah River Site in Aiken, S.C., and the Pacific Northwest National Laboratory in Richland, Wash.
She came to Jefferson Lab on March 1 as the 12 GeV Safety Manager and is tasked with ensuring that appropriate environmental, safety and health criteria are integrated into the 12 GeV Upgrade.
Half of her position is assigned to the Environment, Safety, Health and Quality Division and half is assigned to the 12 GeV Upgrade project.
Saban lives in Williamsburg with her four Cavalier King Charles spaniels, which she occasionally takes to regional dog shows. When she relocated from Augusta, Ga., she left behind her two horses - one a Holsteiner and one a quarter horse/thoroughbred cross. She returns to the Augusta area monthly to visit her horses, exercise the dogs, and maintain contact with her former colleagues from Savannah River Site.
Being at Jefferson Lab has been a good experience, she says, and an interesting comparison with other labs. "There are distinct differences in the dynamics of each lab I've been to," she notes. "Jefferson Lab seems to offer a more collaborative environment when compared to some of the larger facilities I have been at, which has been especially helpful to me as a newcomer."
Cleaning up computer code speeds research
by Kandice Carter
The 7N Cluster Computer at Jefferson Lab will be able to perform some of the same calculations twice as fast as before with the optimized computer code.
Artists rarely sit down and produce a masterpiece in one sitting. Before a brush touches canvas for the final painting, artists may begin with rough sketches of their subjects, followed by roughly colored compositions, and only then will they pick up their brush for the final painting.
According to Balint Joo, a computer scientist in the Scientific Computing Group, writing computer programs progresses in much the same way. Joo and his colleagues wrote the computer code that allows supercomputers and JLab cluster computers to calculate a model of how individual quarks behave to make protons, neutrons and other particles.
"When we originally wrote the code, we wanted to make sure it was right, and we really didn't care too much about the speed at first. And so, some inefficiencies got left in as we debugged the code and made sure it was correct," Joo explains.
Balint Joo (right) and Robert Edwards comb through a program, looking for places to optimize it.
Recently, Joo went back through the code to optimize it, with the assistance of Theory Center Member Robert Edwards. Joo removed redundant blocks of code and time-wasting steps.
"Some of it was just working with the code and eliminating the inefficiencies I put in there originally and by carefully trimming away the excess," Joo says.
For instance, it's necessary for individual computer processors to consult neighboring processors from time to time; however, Joo found that some processors were querying neighbors for information they already had. Joo eliminated this time-consuming chatter.
"So I could look at all the communications and see where I could reuse information, so that I don't have to communicate it again. And when there were partial results that I could use. I would reuse it again and again, so I wouldn't have to recompute it."
In addition, some blocks of the original code were replaced with newer, more efficient code.
"The other aspect of this speed up was to use a new algorithm, which was not our invention. It was discovered by two friends of mine: my former thesis advisor Tony Kennedy and his then student Mike Clark at the University of Edinburgh. Mike, who is now at Boston University, helped me a lot with tuning the algorithm" Joo says. He says the algorithm blows through some calculations faster than the original code.
A result of all of these optimizations is that the code runs twice as fast before, allowing scientists to get twice as much data out of allotted computer time. What's more, Joo says the faster code can also be used on other machines.
"The particular optimizations I made in the code while removing this excess were quite general. So it will help the code run faster everywhere it is run," Joo says. That means that all the projects that run this particular bit of code that have been granted time on other machines will use that time more efficiently, including on the Cray XT3/4 located at Oak Ridge National Laboratory and on Blue Gene systems at Boston University and the San Diego Supercomputer Center.
In the meantime, Joo says the optimization and tidying up work will continue as time permits. "I have a lot of other projects right now that require my time, but it's nice to see the kind of benefit we're seeing by making these tweaks."
Science teacher Gary Graham gets into ACTS
by Judi Tull
Gary Graham inspects equipment he's preparing to use in The College of William & Mary lab in the ARC.
One look at Gary Graham's web page tells you that this is a science teacher who's interested in taking his students' education far beyond droning classroom lectures. First, there are the photos of Graham - not just as himself, a middle-aged man in the midst of his second career, but also in Colonial garb, complete with powdered wig and crimson coat, courtesy of his daughter, Rebecca, who has a master's of fine arts in historical costume. Then there are the links - 201 of them in all - to a variety of other websites that add in-depth math and science learning and fun, including one of songs about science and another of cartoons.
Graham, an 8th-grade physical science teacher at Chancellor Middle School in Fredericksburg, Va., was at Jefferson Lab this summer for his third year as a participant in the ACTS (Academies Creating Teacher Scientists) program, sponsored by the Department of Energy and funded by the Office of Science. The program is designed to build teachers' content knowledge and skill base in the physical sciences, equip them with more engaging and advanced teaching methods, increase their ability to positively influence students' interest and understanding of the physical sciences and to acknowledge the important role that teachers play in developing students' critical thinking skills so necessary to solve the nation's future challenges.
During his seven weeks here this year, Graham worked in Amy Wilkerson's [ARC] labs on a program led by Tina Bunai & Haijian Chen, Ph.D.s from The College of William & Mary, on refining subcellular mass spectrometer molecular imaging for prostate cancer research.
"In 2005," Graham explains, "over two hundred billion dollars were spent in the United States on cancer treatment, and many of those patients were probably overtreated. Up until now, the only way to tell if prostate cancer treatment was successful was to measure PSA, perform a biopsy or do a manual examination."
Bunai and Graham's work with the mass spectrometer allows mapping of cellular surfaces to observe fine changes in cellular lipid metabolism. By determining molecular patterns from tissue samples, stages of prostate cancer can be more accurately determined both for earlier detection and better determination of disease progression and treatment.
Over the course of his career, Graham spent nine years as a medical lab chief technician and in hospital management, followed by 19 years in medical sales management in cardiac ultrasound imaging, Doppler, digital acquisition and analysis and eight years doing software applications in the educational marketplace and web development. When he retired from this part of his professional life in 2001, he realized that he wanted to do something entirely different: Teach. His wife, Susan, a teacher herself, told him he was crazy.
"She made me do substitute teaching for a year," he recalls with a hearty laugh, "to be sure that I could take it."
Take it? He loved it. "I live for that teachable moment," he says with gusto. "There's not a student that I can't do something with."
He requires his students to perform upwards of 45 experiments each school year. It's a lot, he acknowledges, but it's the best way he knows to make science meaningful for them. "If you set it up right, an experiment lets you talk about it. I tell them what was happening in the world at the time this particular science came about, and how or why it came about as a result of people's real needs."
His three summers at the Lab have been an exciting adventure for him, he says, and what he's gained from the experience has been passed along directly to his students, who often use the Lab's web page as a resource. "I wanted to come here specifically, because they're doing really cool physics," he says. "I'm absolutely thrilled to be here."
At the end of each school year, when he signs students' yearbooks, he inscribes the appeal: "We don't know what we don't know, so go out and discover it."
Editor's note: The ACTS (Academies Creating Teacher Scientists) program was previously known as the Teacher Academy in Physical Science (TAPS).
Vigilance minimizes computer system down time
On evening of Monday, July 29, Letta anxiously monitored the Lab's new central file server, a Network Appliances FAS 3040 hosting Jefferson Lab's J-drive and 36 million total files. The server had been installed over the previous weekend, a major undertaking that saw the Lab replace three older servers with a single machine.
Paul Letta is a member of the Information Technology Division's Computing and Network Infrastructure group.
"We do daily backups. We back up the data off disks to tape," explained Letta, the Computing and Network Infrastructure group's Unix system manager. "So it was time to do the backups on the new file server. I started the backups at about four o'clock or so. And around five or five-thirty, it was time to go home. So, I went home and, since it was the first back up, I was monitoring very closely, virtually every five minutes or so."
"I guess it was around seven or so when my remote access locked up," Letta recalled. "Of course, I got up and came right to work. As I was leaving the house my wife said, 'It looks like you saw a ghost. What's wrong?' Because I knew something bad had happened."
After arriving at the Lab, Letta checked the new server and found that it had halted operations because it believed that three of its storage disks had failed. Given his experience and training, Letta knew that was unlikely because one of the features of the new server is a Redundant Array of Independent Disks, or RAID. In fact, the server actually provides double parity, meaning it can survive a double disk failure.
"What happened was that the file server thought it lost three disks, and so it panicked and shut down," Letta explained. "The reason the server thought it lost three disks was because the disk shelves have a small embedded operating system and software on them. The software that was on these shelves had a bug that caused this and, unfortunately, we hit that bug."
That the server "hit" the bug was a matter of unfortunate timing. The Lab purchased the new server in April and it was delivered in early May. On May 18, Network Appliances issued a firmware upgrade, and on May 31 the company sent an alert about the bug. Because the Lab didn't begin implementing the new server until June, it was not notified of the firmware upgrade notice.
"There was a window where they found a bug, they fixed the bug, they sent out an announcement to everyone who had the hardware, but our system hadn't been registered yet so as to let them know we had the hardware," Letta said.
After checking the server, Letta called the vendor, which quickly identified the problem. The company provided Letta with the firmware upgrade, which took about 10 minutes to install. It was then about 10 p.m. Monday, and time to bring the server back to life.
Letta did some procedures to "unfail" the disks that the server thought were bad, and by midnight he was able to launch a file system integrity check and head home. At 5 a.m. Tuesday, he was back at work. The server had finished its self-check, and it was time to prepare for restoring data and full operations.
Network Applications suggested doing a second file system integrity check, because some data might be lost. But Information Technology Associate Director Roy Whitney and Andy Kowalski, head of the CNI group, and Letta decided against another five-hour delay and instead opted to put the server on line because people were arriving for work and needed access to their files.
"About noon, we had the file systems back up and available," Letta said, adding that the server ran slowly for a few hours because it was trying handle its normal load while it continued to repair itself. At 8 p.m., the server was back to normal.
By that time, Letta was at home and doing what he always does - keeping a watchful eye on the server.
'In their own words' with cyber security analyst David Bianco
as told to Judi Tull
David Bianco, Information Technology Division cyber security analyst, at work.
Because my dad was in the Navy, we moved around a great deal, but I spent a lot of time in Hampton Roads. I graduated from Western Branch High School in Chesapeake and then went to Old Dominion University.
While at ODU, I had the opportunity to work as an intern at NASA, and they offered me a full-time job. I jumped at the chance and left school in my junior year. I'm finishing my degree now through Thomas Edison State College in New Jersey. Its distance-learning classes suit my work schedule.
Before coming here, I worked at NASA - twice - for several years each time, for an Internet company, as a consultant with IBM, and then with an IBM business partner, where I became the manager for professional services for North America. In 2002, I was laid off and in a quandary as to what I was going to do. I was cruising the Internet and spotted a job at the Lab. It was a stroke of luck. I applied and was hired.
In my job as a cyber security analyst, I do a little bit of everything toward keeping the Lab's users and staff cyber safe. I set security requirements in place, monitor the network, and detect any compromising activity as well as respond to any attacks.
Seven years ago, I had about a month off between jobs and decided that I should use that time for a real vacation. I love languages and other cultures. I'd been reading a lot of Japanese comic books and was into anime so I signed up for an intensive language school in the city of Kanazawa. I lived with a Japanese family, slept in my sparsely furnished room on a tatami mat on the floor and was able to immerse myself in that culture. We had classes during the first half of the day and then either went as a group or on our own touring around. We went to a Sumo tournament and to the Kenrokuen Garden, which took 600 years to create and is considered one of the three finest traditional gardens in Japan.
I got married five years ago. My wife, Gina De Angelis, works at the Colonial Williamsburg Foundation where she writes and edits for their educational outreach program. We met on line, where I'd posted a picture of me with a Geisha's parasol from when I was in Japan. She likes to say that she found her job, car, dogs and husband on the Internet!
She and I collaborated on a book that was published two years ago. It was part of an "innovators series" for young people, and ours covered the people who contributed to the evolution of modern computers. For example, Alan Turing is quite important - he never really built anything - but he developed theories of computation that we apply to modern computers. I had the privilege of writing about my heroes.
Enhance your cyber savvy with info in newsletter
The SANS Institute, a security training, certification, and research group, publishes a newsletter intended for computer users who wish to stay informed on current security problems.
For instance, the June 2007 issue contained the following:
Security Myths
Scams and Hoaxes
Malware
Microsoft and Mac Security Updates
Security Screw-up of the Month
Security Newsbytes
To subscribe to the newsletter and view back issues, go to: https://www.sans.org/newsletters/
We're both into technology and enjoy traveling, and recently went to London. I came home with a photo of myself in a museum standing beside the case that holds Charles Babbage's brain! We also visited Bletchley Park, home to the super-secret operation that was in charge of breaking all the World War II German encryption codes, and where Alan Turing designed the top codebreaking machines of his day. I've read about them for years, so it was fascinating to be able to visit the museum and see the newly-rebuilt versions of those famous early computers.
David Bianco ready for fencing practice.
I took up fencing a little more than a year ago and fell in love with it. It's the only sport I've ever been really interested in. I do Olympic sport fencing and belong to two fencing clubs and have trained in foil and saber. I'm just beginning to train with the epee. One of my co-workers, Balint Joo, fences with me.
I've always been interested in computer and cyber security, so this job is really interesting to me. We are always working in the background, trying not to get in the way of the users and the staff, even though I think sometimes that people think our job is to say "No" to everything. What we do is very serious; a lot of people don't realize that the Lab is often a target for people who should not have access to our system. Although the Lab performs "open science," which will be published, it's also true that we are linked to other Department of Energy computers and that there is valuable commercial research taking place at the Lab. We have to be aware that our security is not just for Jefferson Lab but for all of our partners as well.
Hampton University Proton Therapy Institute breaks ground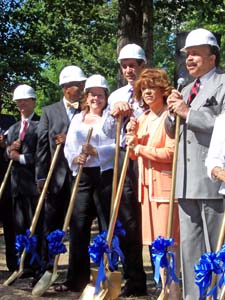 Cynthia (Thia) Keppel (left of center) stands with Hampton University and other dignitaries ready to break ground for the Hampton University Proton Therapy Institute.
Cancer is the second-leading cause of death in Virginia. Soon, there will be a new facility in Hampton Roads for treating the disease: the Hampton University Proton Therapy Institute.
Cynthia (Thia) Keppel is the Hampton University Proton Therapy Institute's scientific and technical director, and she is also a joint Jefferson Lab/Hampton University employee.
"The Proton Therapy Center will house some of the most advanced technology in the world, and yet, it is based on time-honored, fundamental physics," Keppel commented during the groundbreaking ceremony on July 23.
Hampton University President William R. Harvey was the keynote speaker at the event and addressed the crowd on the benefits of treating cancer with protons.
"There is absolutely no disputing the science of proton therapy. It is non-invasive and does not carry the side effects of other treatments, such as pain, nausea and hair loss," he said. "Proton treatment is unique, starting with the fact that the beam can be configured to the exact dimensions of the tumor."
Proton therapy is a form of radiation therapy for cancer tumors that was proposed in 1946. Unlike X-ray radiation therapy, which floods the tumor and surrounding tissues with radiation, proton beam radiation can be configured to strike just the tumor, leaving healthy tissue mostly unharmed. And unlike chemotherapy, which can damage tissue throughout the body, proton therapy is applied only to the site of the cancer.
"The technology that will be available at this center will be an extraordinary foe in the treatment of cancer," Harvey said.
In addition to treating cancer, Keppel said the facility will serve as a new resource in research and in training the next generation of cancer fighters. "We will continue to advance scientific knowledge into the future. We're going to train new medical professionals and new scientists for the 21st century, and it's going to be a nexus for technology development and science throughout the years. We will guarantee that Hampton Roads remains a showpiece for advanced cancer fighting and technology development and for research in the future."
Robert R. Wilson first suggested proton therapy as a medical treatment in a paper published in 1946. The first treatments were performed at Berkeley Lab in 1954. Beginning in 1961, Massachusetts General Hospital also offered proton therapy, which was administered at the Harvard Cyclotron Laboratory until 2002.
The first medical center to offer proton therapy in-house, Loma Linda University Medical Center, opened in 1990. The Hampton University Proton Therapy Institute will be the sixth proton therapy center in the nation once the 98,000 square foot facility opens in 2011. About 125 patients will be treated daily, and more than half of the people treated will be prostate cancer patients. Breast, liver, lung and eye cancers are other prime targets for proton therapy.
Help inspire youth, become a BEAMS volunteer
BEAMS, Becoming Enthusiastic About Math and Science, JLab's long-running, math and science enrichment program for middle school students will start back up on Sept. 13. Jefferson Lab staff, students and users are critical to the success of all of the Lab's science education programs, especially BEAMS, notes Christine Wheeler, Science Education Administrator.
"Our BEAMS volunteers have been exposing young students to the applications, importance, and excitement of mathematics and scientific principles for 16 years," she adds. "Students get to learn about you and your job and you get to have fun working with lots of smiling faces. Everybody wins!"
"We'd love to have you join us this year, for the first time, the hundredth time, or for the first time in a long time!"
What do BEAMS volunteers do? BEAMS volunteers either lead or assist with planned activities for the students. Each activity lasts for about 75 minutes - that's 75 minutes of fun and excitement!
"Want to help, but not sure how? That's what we're here for," Wheeler points out. "We need volunteers to help students during the activities and we need volunteers to lead the activities. We will provide the training you need. If you want to observe a classroom activity to see if it's something you want to do, we can schedule that."
Science Education staff will hold a BEAMS Volunteer Fair on Thursday, Aug. 30, from 11 a.m. to 2:30 p.m. All of the 2007/08 school-year BEAMS activities will be on display in the Science Education classrooms (VARC, room 72), where the BEAMS programs is held.
"Join us at the volunteer fair," Wheeler urges. "We are looking forward to another successful year of BEAMS and hope we can count on you to help us make it just that! Oh yeah, we'll have cookies, candy, drinks, and presents for everyone who drops by."
For additional information, contact Wheeler at ext. 7560 or email wheelerc@jlab.org.
Roll up your sleeve for blood drive
Donors and volunteers needed. The next Red Cross Blood Drive at JLab is set for Thursday, Sept. 6.
The next Red Cross Blood Drive taking place at JLab is scheduled for Thursday, Sept. 6, from 10 a.m. to 4 p.m. in CEBAF Center, room F113. The Lab's goal is 60 units, according to Johnie Banks, Occupational Medicine.
New and repeat donors are encouraged to attend. Walk-ins are welcome; however, making an appointment allows the Red Cross to schedule adequate staff for their visit, Banks notes.
Volunteers are also needed to help with the blood drive. Contact Banks at ext. 7539 or email jbanks@jlab.org to schedule an appointment or to volunteer.
Vendor stockroom operation moves to JLab in September
by Tom Briggs
JLab Property Manager
In the past, Jefferson Lab operated an in-house stockroom, which maintained an inventory of Department of Energy-funded parts and supplies that was available to both employees and users. During the next fiscal year, the technical stockroom will be phased out and replaced by an onsite vendor store. The selected vendor is JLWS Enterprises, currently NASA's provider of technical stockroom services. The goal is to provide a wider selection of material and eliminate the administrative overhead associated with managing a large DOE-owned inventory.
By contract, JLWs will maintain an inventory of commonly used stores. This initial inventory was developed from historical data of the most frequently requested items in each stock group. The contract requires that JLWs have this inventory on the shelf at JLab, at their NASA facility or with its suppliers in the immediate area.
Most of the JLWs inventory is on consignment from large suppliers, such as Newark Electronics and Grainger, Inc., and can be changed as the needs of JLab's technical program demand. However, since JLWs or its supply partners own the inventory and not DOE, there are procedural changes required to meet fiscal, acquisition and normal business requirements.
The JLWs service counter will be staffed Monday through Friday during normal business hours, and customers are encouraged to browse the shelves and bins to select items — as they have always done. After-hours access will be more controlled. Specifically, one of Jefferson Lab's Top Guard security guards will accompany employees and users making after-hours purchases. A list of items removed and the employee's signature will be documented on a JLWs form and processed the next business day. Always carry your JLab ID badge when visiting the stockroom.
All sales to Lab employees will be made using the E-commerce process. This can be done remotely or at the JLWs service counter. Remote orders may be picked up at the counter or delivered by Shipping & Receiving.
Since E-commerce is by far the most cost-effective procurement method for small items, the use of government credit cards for Lab purchases from JLWs is not allowed. There are two exceptions to this rule. To avoid the need to have signature authority on each Project Organization Account-funded job order, JLab machine shop personnel are authorized to use a government credit card when buying from JLWs.
JLWs will accept personal credit cards from JLab staff; and it will also accept users' and Lab subcontractors' personal, corporate or institution cards.
In the past, Jefferson Lab has funded "stockroom" accounts for non-employees (primarily physics users) needing to acquire miscellaneous small parts and consumables. To provide the same service, POA managers will initiate a purchase requisition for "parts and supplies" providing the names of individuals authorized to pick up and sign for receipt of items and their spending limits. PRs must be submitted for each group the POA manager wants to track separately. JLWs will monitor the charges and cut off sales when the dollar limit is reached.
Hand and power tools will be available from JLWs. Each tool costing over $10 that is purchased with JLab funds must be engraved "Property of DOE." Small tools under $10 will be marked with a blue paint pen. Tools costing over $300 must be tagged, assigned a custodian and entered into the property database. Employees picking up tools at the service counter will be required to go to Shipping and Receiving (adjacent to JLWs), building 90, to have tools marked or tagged.
JLWs is a disabled, service-veteran-owned small company and is a JLab protégé business under the Department of Energy's mentor-protégé program.
POA managers can use the link below to confirm that employees needing to use the new stockroom have the required POA signature authority: https://mis.jlab.org/mis/apps/acm/?app_id=440.
For more information, contact:
Danny Lloyd, JLab purchasing and small business manager, lloyd@jlab.org or ext. 7121
Bill Brisiel, brisiel@jlab.org or ext. 7233
Tom Briggs, JLab property manager, tbriggs@jlab.org or ext. 5430
John Ferreira, subcontracting officer's technical representative, ferreira@jlab.org or ext. 7225
Milestones - late July through August 2007
Hello
Brandi Cade, Accelerator Operator, Accelerator Division
Anthony Crawford, SRF Institute Visiting Fellow, Accelerator Division
Shawn Frierson, Accelerator Operator, Accelerator Division
Erica Jones, Hall C Administrative Support, Physics Division
Edward Mosley, Tool Crib Attendant, Engineering Division
Benjamin Raydo, Electrical/Electronics Engineer, Physics Division
Kazuo Tsushima, Post Doctoral Fellow, CSO Division
Stephanie Tysor, Hall A Administrative Support, Physics Division
Ping Wang, Post Doctoral Fellow, Chief Scientist's Office Division
Richard Wright, Machine Protection Computer/Electrical Engineer, Engineering Division
Goodbye
Ralph Afanador, Production Chemical Manager, Accelerator Division
Wade Brock, FEL Optics Student Intern, FEL Division
Maria Chevtsova, Student Aide, Accelerator Division
Jeffrey Eldred, FEL Student Aide, FEL Division
Eduardo Gutierrez, Student Intern, Engineering Division
August Jenkins, FEL Student Aide, FEL Division
Jean T. "JT" Kelley, Division Staff Administrator, Accelerator Division
Nilmani Mathur, Post Doctoral Fellow, CSO Division
Cameron Sorlie, FEL Engineering Student Intern, FEL Division
These Milestone entries, listed alphabetically, are actions posted by Human Resources from late-July through August 2007. Current JLab career opportunities are posted at: https://careers.peopleclick.com/careerscp/client_jeffersonlab/external/search.do