JLab Prepares for Integrated Safety Management Review
If you happened by room B207 in CEBAF Center this week and saw people sitting behind laptops having earnest conversations, you were witnessing one facet of the Lab's preparations for an important safety review that will take place in May and June, 2008.

 

JLab Research Lands On the Cover of PRL
A sophisticated, new analysis has revealed that the next frontier in some areas of particle physics is farther away than once thought. The masses of these new forms of matter, not predicted by the Standard Model of nuclear and particle physics, must be at least twice as large as previous constraints had allowed.

 

Hall D Detector for GlueX Gets Put to the Test
Cosmic rays are putting a prototype to the test in Hall B. The prototype is a small-scale component of the Hall D detector system planned for the Gluonic Excitations Experiment.

 

Germ-killing Fabrics: Not quite yet
A little dust, a random coffee spill and a bright summer day help germs survive on germ-killing fabrics. That's the finding of real-world use tests of the fabrics in squad cars, ambulances and police and fire stations.

 

Safety Messages Come in All Shapes, Sizes, Languages
Geography, languages and cultures may vary greatly, but safety messages from the world's international research facilities can sound surprisingly similar. JLab recently played host to a safety message that's making its way around the globe.

 

Magnetic Attraction Makes JLab Safer Place to Travel
The highways and byways of Jefferson Lab are a little safer for the tires that travel them, due to one specially outfitted golf cart and its driver.

 

'In Their Own Words' with the Engineering Division's Neil Wilson
Since starting here, I've been involved with all the mechanical installations that are at the heart of JLab, such as installing the magnets, girders, piping, that sort of thing. We have a saying in the group: "If it's big, nasty, dirty and nobody else wants to do it, it comes to us."

 

'In Their Own Words' With Hall D Postdoc Simon Taylor
In 2004, I started work with the GlueX collaboration here as a postdoc research associate sponsored by Ohio State University. I've written code that will be used to analyze data, and code needed to reconstruct photon times and energies, and I've constructed and tested a small-scale tracking detector prototype. Earlier this year I became a Hall D postdoctoral fellow.

 

Lightning in a Bottle
Scorpions, rubber duckies and fake lips all have one thing in common: they've been immortalized in acrylic. Now electron accelerators are making it possible to capture lightning in acrylic as well.

 

JSA seeks applications for Initiatives Fund, graduate fellowships, research sabbatical
Jefferson Science Associates, LLC has issued a call for proposals for the JSA Initiatives Fund. It is also seeking applications for its 2008 graduate fellowships and sabbatical/research leave program. All programs have proposal/application submission deadlines.

 

Forensic Dentistry Solves Modern Crimes, Unravels Mysteries of Ancient Egypt
Take a peek into the world of forensic dentistry at Jefferson Lab's Oct. 30 Fall Science Series lecture. Discover how this science is unraveling the mysteries of ancient Egypt, the Salem Witch Trials and modern crime-scene investigations.

 

U.S. Regains Leadership in Neutron Source for Research
JLab provided expertise, helped build the Spallation Neutron Source that is now setting new world records in Oak Ridge, Tenn.

 

JLab's New Technical Stockroom is OPEN for Your Business
The new JLab Technical Stockroom operated by JLWs is open for business. It is located where the old stockroom was - building 90, room 108. Everyone at JLab is encouraged to stop by the new store, browse the shelves and bins or search the online database. In addition to on-the-shelf stock, the vendor can access about 20,000 additional items kept in stock locally - within two hours.

 

Milestones - mid-August through September 2007
Catch up on the latest comings and goings. Check out the variety of employment opportunities available at Jefferson Lab. More than two dozen positions are currently posted as JLab hires in preparation for growth.

 

In Memoriam
Jefferson Lab community mourns passing of JLab staff members, visiting scientists and international colleagues.
JLab Prepares for Integrated Safety Management Review
If you happened by room B207 in CEBAF Center last week and saw people sitting behind laptops having earnest conversations, you were witnessing one facet of the Lab's preparations for an important safety review that will take place in May and June, 2008.
In June 2008, Jefferson Lab will undergo a Department of Energy Health, Safety and Security (HSS), Office of Independent Oversight assessment of the implementation of the Lab's Integrated Safety Management (ISM) program.
In preparation for this major review of its Integrated Safety Management implementation, the Lab has brought in an outside consultant firm to assist the Lab in its preparation. The first phase of this effort involves the establishment of a baseline. This involves the review of policies and procedures, training, implementation, and interviews with Lab personnel about the implementation of the Labs ISM program. The contractor is CALIBRE, a management and technology services company based in Alexandria, Va.
"CALIBRE is very good at walking into an organization and finding its strengths and weaknesses," says Chief Operating Officer Mike Dallas. "I have known them and worked with them for over 10 years. They are the best at what they do.
"They're not here just to identify our weaknesses; they will roll up their sleeves and help us work on this effort. They also will write new procedures if needed for us to review and then help us flow them through the organization," Dallas added.
Like all DOE labs, Jefferson Lab has an Integrated Safety Management program in place, but it's been about 10 years since it was last reviewed. In the last 10 years many things have changed, including DOE's increased expectations of contractor accountability for effective ISM implementation and the JLab contract requirements relative to environment, safety and health. In just the last two to three years there have been major initiatives introduced at the Lab to improve implementation of ISM including the formation of an Environmental, Safety, Health and Quality (ESH&Q) division to provide professional support to the Lab, the formation of a worker's safety committee and Director's Safety Council, the introduction of work observation processes, and an Annual Work Plan process, to name only a few.
The DOE Office of Health, Safety and Security's, Office of Independent Oversight, which is charged with evaluating the ISM effectiveness of all DOE facilities has scheduled a pre-review for May 2008 and a full review for June 2008. All of the SC labs will have such a review. The Stanford Linear Accelerator Center (SLAC), Princeton Plasma Physics Laboratory (PPPL), and most recently, Brookhaven National Lab (BNL), have completed theirs.
The full review is a very thorough process, Dallas explained, as a team of at least five people from the Office of Independent Oversight will spend as much as two weeks at JLab. Team members will conduct hundreds of interviews and discuss and observe hands-on work planning and processes in order to assess the implementation and effectiveness of the Lab's ISM program.
The CALIBRE team is headed by Joseph A. Martore, the company's executive vice president for operations. He's being assisted by three other CALIBRE employees. They will have an office at the ARC, where they will be based until the ISM project is completed.
A specific website is being established for this effort so everyone can see the plan, schedules, documents, progress, etc. surrounding this important effort. That website is under development now and will be communicated to the staff as soon as it is available.
For more information about ISM, visit DOE at: https://energy.gov/ehss/integrated-safety-management-safety-culture-resources. To learn more about CALIBRE, check out: http://www.calibresys.com. If you have any questions on this process, contact Mike Dallas at ext. 7538.
JLab Research Lands On the Cover of PRL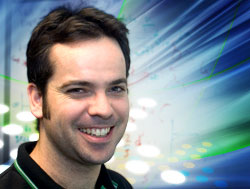 The Physical Review Letters published Sept. 21, included a paper authored by four Jefferson Lab scientists/Users: Ross Young, JLab and University of Adelaide (pictured here), and colleagues Roger Carlini, JLab and The College of William & Mary; Tony Thomas, JLab Chief Scientist and College of William & Mary; and Julie Roche, Ohio University.
A sophisticated, new analysis has revealed that the next frontier in particle physics is farther away than once thought. New forms of matter not predicted by the Standard Model of particle physics are most likely twice as massive as theorists had previously calculated. The result comes from a just-published study that was featured on the cover of Physical Review Letters. 
Hall D Detector for GlueX Gets Put to the Test
by Kandice Carter
Dan Carman prepares the prototype detector for testing in Hall B. The pink foam block keeps the detector stable as preparations are made.
As the Earth rotates its way around the sun, it endures a continual barrage of radiation. The Earth shrugs off much of this radiation, thanks to the shroud of protection offered by the atmosphere. However, some amount still makes it to the surface.
Scientists are using a form of this radiation to test the performance of a prototype detector for the Gluonic Excitations Experiment. GlueX is the experiment planned for Jefferson Lab's proposed fourth experimental hall, Hall D, which will be built as part of the 12 GeV Upgrade.
The prototype is a small version of a Forward Drift Chamber (FDC). The Forward Drift Chambers will be installed in Hall D inside a large magnet and they will record the path of charged particles in Gluonic Excitations Experiment. To test its functionality, the prototype has been placed inside one of the large magnets in Hall B.
"What we're trying to understand is how this thing operates inside a magnet," says Dan Carman, Jefferson Lab staff scientist and test lead. "What we have is a dipole magnet - just like the ones on your fridge, but this one is much more powerful."
The magnet produces a magnetic field that is a little stronger than the one produced by magnets used to lift cars in a junkyard, about 1.2 Tesla. The prototype is snugly wedged inside this magnet, which is nestled in an alcove in the back of Hall B. During the test, the prototype will be subjected to a magnetic field as it measures particles of radiation from the sun.
"Our particles are coming down from the heavens. They're called cosmic rays, created in the upper atmosphere. They're mostly muons that are showering down through us as we speak. And they go down into the Hall and right through all this steel," Carman says.
Cosmic ray muons come from protons streaming out of the sun. When a proton collides with air in the Earth's upper atmosphere, new subatomic particles are produced. Many rain down on the Earth's surface as muons, a particle akin to the electron.
The Forward Drift Chambers will be installed inside the Hall D superconducting solenoid magnet, which will boast a maximum magnetic field of 2.2 Tesla. The prototype is a much smaller version of the planned FDCs.
The muons will zip through the magnet unfazed. "The cosmic ray rate, coming down through us right now, is about one muon every minute, per square centimeter," Carman says. The prototype detector, a box about a square foot in area, should detect about six muons a minute, recording the position of each.
"What's inside this box is a set of wires, and there are cathode strips running diagonally, one set above the wires and the other set below the wires," Carman says. The box is also filled with gas, a mixture of argon and carbon dioxide.
As a muon streams through the box, it strips the electrons off of the atoms of the gas. The electrons are attracted to the wires. A signal is recorded each time an electron hits a wire, and the cathode strips record the location on the wire where the electron hit. The signals from the wires and the cathode strips reveal the path of the muon.
A set of additional detectors above and below the magnet will also record the muons, providing a check of the prototype's accuracy inside the field. "These are eight detectors I built for my thesis experiment 20 years ago. And they haven't been touched since; they've been sitting in storage," Carman remarks.
Carman and Simon Taylor, Hall D postdoc, are conducting the tests, which should be complete at the end of September.
Germ-killing Fabrics: Not quite yet
by Kandice Carter
Emergency responders have long braved criminals, fires and chemical spills in the line of duty, but they have little protection in situations where they may be exposed to disease-causing microbes. The current, single-use "bunny suits" for protecting first responders are hot, awkward, and difficult to don quickly. Michael Kelley, a joint Jefferson Lab/College of William & Mary researcher, wants to change that.
Michael Kelley, a joint Jefferson Lab/College of William & Mary researcher, and William & Mary colleague Olga Trofimova, are studying the effectiveness of antimicrobial fabrics in workplace environments.
"What we would like to do is develop a comfortable antimicrobial garment," Kelley says. While at DuPont, Kelley and his colleagues invented a process for making germ-killing, or antimicrobial, fabrics by shining ultraviolet light on nylon. Doing so in the absence of oxygen causes the surface of the nylon to grow amines. When a microbe lands on the nylon, the amines damage the microbe's outer "skin," rendering it incapable of turning food into fuel and causing it to leak vital nutrients.
The germ-killing nylons had proven their prowess in the lab, eradicating on contact several species of microbes, including E. coli bacteria, which caused the recent fresh spinach health scare. But the fabrics had yet to be tested in the real world. In 2005, Kelley received a $192,000 grant from the Department of Homeland Security to test the ability of antimicrobial nylon to protect first responders from germs they may encounter in the course of their duties.
Kelley and a colleague, Olga Trofimova, placed eight-inch-square fabric swatches in squad cars, ambulances, and police and fire departments for 70 days. Other swatches were smeared with common substances, such as coffee and salad dressing. When the researchers then exposed these fabrics to germs, they found that germs grew very well on the fabric.
Kelley speculates that dust that had settled on the fabrics during the trial protected germs from the amines present on the fabrics' surface.
"While the fabric's killing power endures, dust, spilled coffee and other things cover it over so that germs can find a happy home," he says. "Moreover, the problem we've uncovered faces every antimicrobial fabric, not just our nylon."
What is a Microbe?
Microbes are microscopic organisms, such as bacteria, viruses, fungi and protozoa. Antimicrobial products are mainly aimed at eradicating microbes that cause illness. Some of the more prominent of these microbes include the bacterium Legionella (Legionnaire's disease), the bacterium Staphylococcus (staph infections), the protozoan Cyclospora (diarrhea from contaminated water), and rhinoviruses (common cold).
So other antimicrobial fabrics would be just as incapacitated by a coating of dust as the killer nylon. However, if dust is the problem, there may be a simple way to counteract it. The researchers found that killer nylon holds up very well to laundering. Kelley says the next step is to test if regular laundering can keep the material free of dust and protect its ability to kill germs.
"We want to see if the dust really is the cause of performance loss, and if they work well when they are regularly laundered to remove dust," he says. "People wash their clothes more often than every two months. The question is: how often do we have to wash [the nylon] to make sure it's adequately free of dust?"
"We had hoped that we could simply make upholstery, drapes and so on with antimicrobial fabrics, but that's not going to work so well. We think we can instead make antimicrobial garments that, with the right care, can be used again and again," Kelley says. That would mean replacing those hot, bulky bunny suits with more comfortable, longer-wearing clothing.
 
Safety Messages Come in All Shapes, Sizes, Languages
A translation of the banner reads:
J-PARC
Keep these in mind:
Let's check safety.
Let's observe safety procedures.
Let's achieve zero accidents.
Let's achieve safe design and operation of our high-energy ion accelerator!
J-PARC Safety team
*The Yellow Cross on the left signifies safety awareness
JLab's involvement began in March, when Andrew Hutton, the Accelerator Division associate director, and Alex Chao, the deputy department head of Accelerator Research Department-A at the Stanford Linear Accelerator Center, visited the Japan Proton Accelerator Research Complex. While there they noticed a pale-teal-colored banner on the wall with Japanese characters printed on it. Chao realized it was a Japanese Safety First banner.
"We admired it, so it was given to us," Hutton explained. "Alex took the banner with him to China where he was on sabbatical at Tsinghua University and displayed it in the control room there for a couple of months. Then he sent it to me and we had it in our control room over the summer."
Pins from Tsinghua and JLab have been added to the banner and Hutton plans to have the safety banner carried next to CERN.
"It's a nice tribute to friendship and cooperation, as well as Jefferson Lab's standing in the international research community," Hutton said. "This is an 'international collaboration on safety' sort of thing."
Hutton hopes that someone at each place where the banner stops will add a pin from that facility and then send it on. "Hopefully, it will end up back at J-PARC one of these days, and serve as a wonderful example of international friendship and our mutual solidarity on working safely."
Magnetic Attraction Makes JLab Safer Place to Travel
Hall A Technician Jack Segal is making the roads around JLab safer. A bar magnet hanging off the back of his golf cart picks up small metal items like nails, screws and bolts that can damage vehicle tires.
Magnets are an integral part of life at Jefferson Lab. They support announcements plastered on metal doors, remember data written to computer hard drives and determine the paths of all manner of subatomic particles in the accelerator and experimental halls. One special magnet even renders roads and parking lots at the Lab safer for your tires to travel.
The magnet hangs off of the back of the only blue golf cart onsite. It was installed by Jack Segal, a Hall A technician, who got the idea from a chat with a member of the Lab's security force about three years ago.
"I was fixing a flat tire over by the physics storage building, when one of the guards came by. We started talking, and he mentioned that the guard trucks had had something like eight flat tires in a year," Segal says.
A short time later, Segal was flipping through a supply catalog when he came across pickup magnets, which are used on vehicles at airports and industrial yards to pick up stray bits of metal. Segal purchased one, installed it on the back of the golf cart, and drove around on his usual business between his office in the Experimental Equipment Lab, technical work in Hall A, and meetings in CEBAF Center.
This is just a sampling of items accumulated since January 2007.
"The first few weeks, we got quite a bit. It slacked off a little until the work started on Trailer 59 and the Hall B Trailer. I picked up some more stuff then," Segal remarks. He also collects additional objects every time the wooden crate stacks are removed from behind the EEL.
A lidded plastic bucket on the back of the cart holds the bits of detriment he's accumulated since January 2007. Among the items in the bucket, thumbtacks, screws, washers, wires, nails and a CO2 cartridge are easily identifiable.
"You can hear it pick things up as you're driving along," Segal says. Objects generally hit the magnet with a solid thunk. He's heard that thunk a lot. The cart has logged more than 5,000 miles since an odometer was installed three years ago, and a usage monitor registers about 334 hours in the same period.
Segal says he's just glad he can save people from flat tires, simply by driving around on his daily business.
'In Their Own Words' with the Engineering Division's Neil Wilson
as told to Judi Tull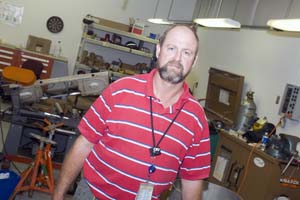 Neil Wilson leads the installation crew within JLab's Installation/Vacuum Group.
By the time I came to Jefferson Lab's Installation/Vacuum Group (formerly Mechanical Installation Group) in 1989, I'd already spent many years working up and down the East Coast at nuclear power plants and doing ship repair. I'd learned those skills during my time as a power plant maintenance technician in the British Royal Navy, which I joined at 17 from my home in Rochford, Essex, the ancestral home of Anne Boleyn.
My dad was a cabinetmaker; he'd been a POW during World War II. My mom, who's Dutch, lived through the German occupation in Holland. She clearly remembers the Germans parachuting into The Hague. They moved our family to Nigeria, where I was born (my sister was born in Ghana), but we returned to England after Nigeria gained its independence in 1960.
During my time in the Royal Navy, where I served as a chief petty officer, I met an American girl and came back with her, chasing the American dream. Although the marriage did not last, I believed that I could have a much better life and far higher standard of living here than in the U.K., and that has turned out to be true.
I live at Gloucester Point with my wife, Terri, who's a self-employed nurse. She performs physicals for insurance companies. My 26-year-old son is a carpenter, and he still lives at home. Our daughter just turned 19 and is in her sophomore year at William & Mary.
Since starting here, I've been involved with all the mechanical installations that are at the heart of the Lab, such as installing the magnets, girders, piping, that sort of thing. We have a saying in the group: "If it's big, nasty, dirty and nobody else wants to do it, it comes to us."
Over time, the sphere of work we do has grown to encompass many jobs, including upgrading the low-conductivity water system, the mechanical installation for the Free-Electron Laser demo, and the FEL 10-kilowatt upgrade. We currently comprise four members, one of whom is out on loan, and we anticipate that we'll have to greatly expand our ranks for the 12 GeV Upgrade.
We like to say that we are "the low-tech end of a high-tech facility."
One of the most interesting times I've had here was four years ago when I got to serve as a program deputy. It was the hardest work I've done, but surely the most interesting. I got to see how things tie together, and I got to meet people I wouldn't have otherwise met. The Lab has a lot of extremely smart people and we don't always see what it is that they do. Making this machine (CEBAF) run is truly a collective effort; no single group or individual is more important than any other.
In my spare time, I love to fish - I have a 19-foot center console boat that I'm out in every chance I get. But I'm also handy around the house. I've remodeled the bathrooms, redid the floors, installed new tile. Right now, I'm doing a complete remodel of the kitchen because we had a bit of an accident with a kettle that was left on the stove. It could have been a simple repair, but my wife thought it was the perfect opportunity for a total re-do.
I really enjoy my job here. I have the best group of people to work with. My work is interesting and challenging; and I'm afforded the latitude to do what I think is right. I take all my work very seriously.
'In Their Own Words' With Hall D Postdoc Simon Taylor
as told to Judi Tull
I was born in England, but moved to the United States when my father, who worked for a company involved in security technology, was transferred to New Jersey. The town we lived in was quaint, but I hated the snow. Fortunately, we moved to California, near the San Fernando Valley, where I found the weather much more appealing.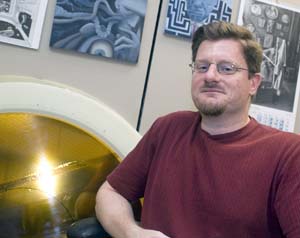 Simon Taylor in his office with some of his favorite M.C. Escher prints in the background and a Hall D full-scale cathode plane mock-up to his right.
My mother says that from the time I was very, very young I insisted that I wanted to be a physicist. I don't remember that, but I'm willing to take her word for it, and my career has proven it out. I know that my life was changed when I took an advanced placement physics course in high school. It really "clicked" for me. I went to Harvey Mudd College, a very small school of 600 students that is devoted to math, science and engineering.
After receiving my bachelor's in science, I went on to Rice University to do my master's work and then to start my Ph.D.
I first came to Jefferson Lab in 1996 for my thesis work. I spent four years working with the CEBAF Large Acceptance Spectrometer Time-of-Flight working group, and received my Ph.D. in 2000. My thesis, titled "Radiative Decays of Low-Lying Excited State Hyperons" won the H.A. Wilson award for the most outstanding Ph.D. thesis in the physics department.
Over the next four years, I worked at JLab under the aegis of MIT as part of the GeN collaboration. During that time I also worked as a member of the A4 Parity-Violation collaboration in Mainz, Germany. What a schedule I had in those days - flying back and forth between the two! But it was a good experience, working with a small group of people that included French and German scientists, most of whom spoke English. The experiment is still going on, and I am still involved, but not as much as before.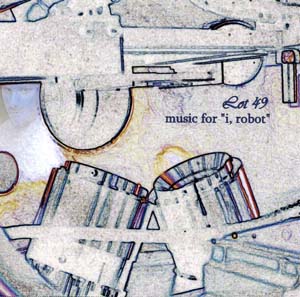 This sound file is from "The Lost City of Xingu Xavante" a piece of music Simon Taylor created and recorded for his CD titled "music for 'i, robot'". His interest in "I, Robot" - a screenplay by Harlan Ellison based on the stories of Isaac Asimov - stirred his creative urge to develop this music. Music and CD cover art are used here with permission by Simon Taylor(c).
In 2004, I started work with the GlueX (Gluonic Excitations Experiment) collaboration here as a postdoc research associate sponsored by Ohio State University, and that's the work I've been doing ever since. During that time, I've written code that will be used to analyze the Forward Drift Chamber data, and code needed to reconstruct photon times and energies from a photon tagging spectrometer for a beam test of a module of the Barrel Calorimeter for the GlueX experiment. I've constructed and tested a small-scale prototype for the Forward Drift Chambers to be used as a Hall D tracking detector; and I have a full-scale mock-up of it in my office.
On March 1, 2007, I became a Hall D postdoctoral fellow.
I'm interested in surreal art and have some of my own pieces on the wall of my cubicle, along with several M.C. Escher prints. I once played the clarinet, but for the past 15 years or so I've been involved in composing experimental music. With some friends, I recorded a CD of ambient music. My original intention was to release it on vinyl, instead, with only 100 copies produced, and each one would have my original art on the cover. I did about 90 of the covers, but I have no idea where they are anymore. Now my hard drive at home is chock full of a sample library of orchestral instruments and the software lets me compose right on the computer.
I like film, too, and my interests span everything from Monty Python to obscure foreign horror movies.
I enjoy my work here; it has been exciting being part of the 12 GeV Upgrade Hall D collaboration and GlueX.
Lightning in a Bottle
by Kandice Carter
Ancient Greeks envisioned a chief deity with the power to hold lightning in his hands. Due to the luck of the draw, Andrew Hutton has been afforded the same privilege. He is the proud new owner of a Lichtenberg figure, an acrylic block featuring the remnants of a miniature lightning bolt.
"It's very much like lightning that you see in the sky, but it's frozen inside," he says.
Hutton, associate director of the Accelerator Division, won the piece in a drawing held at the Accelerator Applications 2007 conference at the Idaho Accelerator Center. It was the grand prize in a raffle to benefit the center's student fund. "So I put in my $20, figuring that I was investing in a good cause, and I was never going to hear anything of that again."
Hutton already had a small version of the piece, sometimes called a beam tree or a spark tree. Each conference participant was presented with one. But much to his surprise, Hutton's donation resulted in his name being called out as the raffle winner at the conference closing ceremonies.
"Out came my name and I won the Big Daddy of them all. This, may I say, earned me the instant jealousy of everybody at the conference and anybody who has seen it since, because literally, I have never seen one as big."
Each conference participant received a similar Lichtenberg figure. The radiation from the electrons caused the acrylic to yellow, but the block itself is not radioactive. When the nail goes into the acrylic, it provides a way out for all of the electrons trapped inside. The result is a miniature lightning bolt. Visit this link to view a video clip of a beam tree being made: http://205.243.100.155/frames/mpg/
CubeDischarge3a.gif (Video courtesy of Theodore W. Gray). 
The piece's creator, Brett King, is a senior engineer at the IAC. "I don't have a lot of practice with the big ones. I've only made three of that size," King says. Of those three, one was damaged during production, one was bestowed on former IAC Director Frank Harmon when he retired, and Andrew received the last.
King and his group also made the 300 or so smaller Lichtenberg figures given to conference participants. To make one, a blank acrylic block is placed on a turntable just over two yards away from the business end of a 25 million electron-volt (25 MeV) electron accelerator. The accelerator sends ~10 MeV electrons into the acrylic for about three minutes, where many of the electrons become trapped.
"I take a ground strap with a center punch attached to it, and I put that where I want the tree to be, and I whack it with a hammer. When the center punch goes into the plastic, all of the charge (electrons) escapes through the ground strap. So all those little traces are where the little sparks flew through the plastic," King explains.
Hutton adds that because of how the figures are made, each one is akin to a unique photograph of lightning. "It looks very much like that, but the air doesn't keep any memory of it. Whereas, by creating it within the plastic, you get a frozen, 3-D picture."
JSA Initiatives Fund - Call for Proposals
Jefferson Science Associates, LLC has issued a call for proposals for the JSA Initiatives Fund. The Initiatives Fund provides support to programs, initiatives and activities that further the scientific outreach, and promote the science, education and technology missions of the Thomas Jefferson National Accelerator Facility in ways that complement its basic and applied research focus. The Initiatives Fund is intended to support programs, initiatives and activities that leverage commitments of others, including JLab itself. It is also intended to benefit the extended Lab's User community. 
Although not required by JSA, it is recommended that JLab proposals be coordinated through the Lab's Chief Scientist and those from Users through the Chair of the Users Group, and carry such endorsements. The application deadline for Initiatives Fund proposals is Oct. 15, 2007. An application and details can be found on the SURA website. (http://www.sura.org/programs/jlab.html)
JSA/JLab seek applicants for 2008 Graduate Fellowship Program
Jefferson Science Associates, LLC plans to award eight fellowships in March 2008 to doctoral program graduate students at Southeastern Universities Research Association institutions for research related to the Thomas Jefferson National Accelerator Facility. The application deadline is Jan. 25, 2008. Seven awards are for research related to the theoretical and experimental programs of Jefferson Lab, including nuclear and related particle physics, accelerator physics, and associated science and engineering.
An additional fellowship is available for research related to JLab's free-electron laser program.
This link goes directly to information regarding the fellowship: http://www.sura.org/outreach/fellowships.html.
JSA Sabbatical/Research Leave Support at Jefferson Lab
The Southeastern Universities Research Association and its partner Computer Sciences Corporation, Advanced Technology Division, will continue the Jefferson Lab Sabbatical and Research Leave Support program (supported by SURA in the past) in 2008.  It is now offered under Jefferson Lab's new management structure called Jefferson Science Associates, LLC. The application deadline is Jan. 25, 2008.
This link goes directly to information regarding the sabbatical program: http://www.sura.org/outreach/sabbatical.html
Forensic Dentistry Solves Modern Crimes, Unravels Mysteries of Ancient Egypt
Dr. Elizabeth Ruth Smith, D.D.S., forensic odontologist, will share with the audience her insight into this field. After practicing general dentistry in the Hampton Roads area for many years, she has practiced forensic odontology exclusively since 2004 and is now a consultant to Virginia's Chief Medical Examiner's office.
This Fall Science Series presentation will begin at 7 p.m., Tuesday, Oct. 30, in Jefferson Lab's CEBAF Center auditorium, located at 12,000 Jefferson Ave., Newport News. The program is free and open to anyone interested in learning more about science. It will last about one hour and include a question and answer period at the end. For security purposes during Science Series events, enter at Jefferson Lab's main entrance (Onnes Dr.). Everyone over 16 is asked to carry a photo ID and security guards may perform ID, bookbag, purse and vehicle checks. For directions and information about other Fall Science Series presentations, call 269-5102 or visit http://education.jlab.org/scienceseries/index.php.
U.S. Regains Leadership in Neutron Source for Research
The Spallation Neutron Source, the Department of Energy's $1.4 billion research facility at Oak Ridge National Laboratory, has established a new record as the world's most powerful accelerator based source of neutrons for scientific research with the help of Jefferson Lab.
The SNS surpassed the previous record for beam power, 160 kilowatts, held by the United Kingdom's ISIS facility, while operating at 183 kilowatts at the end of August. As the SNS ramps up toward an eventual 1.4 megawatts of power, the beams will produce up to 10 times more neutrons than any existing pulsed neutron source.
Jefferson Lab was one of several Partner Labs that provided a wide range of expertise and technical capabilities in building the Spallation Neutron Source. More about Jefferson Lab's work on building the SNS is available at https://www.jlab.org/news/releases/jefferson-lab-technology-capabilities-take-center-stage-construction-portion-does.
JLab's New Technical Stockroom is OPEN for Your Business
by Bill Brisiel
JLab Materials Manager
Natasha Thornton, JLWs site manager, talks with a customer over the phone at the new Technical Stockroom.
The new JLab Technical Stockroom operated by JLWs opened for business Sept. 17. The new store is located where the old stockroom was - building 90, room 108. It is open for business from 7:30 a.m. to 4:30 p.m., Monday through Friday. Everyone at JLab is encouraged to stop by the new store, browse the shelves and bins, or search the database which is available on JLab's WebStock application.
Employees may make after hours and weekend/holiday purchases by having a JLab Top Guard security guard accompany them to the Technical Stockroom. A list of items removed and the employee's signature will be documented on a JLWs form and processed the next business day. Always carry your JLab ID badge when visiting the stockroom.
The JLWs-managed store has a growing on-the-shelf inventory that includes tools, equipment and supplies from Grainger and Newark Electronics. The old stockroom still exists - right next to the new one - and still has many products available. As the inventory in the old stockroom is depleted, the new Technical Stockroom will carry even more. Procedures for procuring items from the old stockroom will remain unchanged until the old stockroom closes.
JLWs can also get you items that it doesn't currently have in stock. Within two hours of a newly placed order, the vendor can access about 20,000 additional items kept in stock locally by Grainger - to meet your work needs.
To make an over-the-counter stockroom purchase, you will have to place an E-Commerce order through the WebStock application and you must have Requisition Signature Authority. For detailed instructions on how to use the application please go to http://www.jlab.org/intralab/stockroom/ . Three computer terminals are located inside the Stockroom for your convenience in placing orders.
You may place an order from your desk or work area via E-Commerce and the WebStock application. If you do not have Requisition Signature Authority your order will be sent to an appropriate signature queue for approval before the order is placed. After your order is approved you can either pick it up at the stockroom or have it delivered to your work area.
Once you've logged into the WebStock application you will find that the JLWs on-site inventory is located under JLWST. For placing orders for other JLWs-provided items, please drill down through the following:
For office supplies - JLWSENT & JLWSOF.
For recycled products - JLWSRE
For electronic components - JLWSNE
For industrial supplies - JLWSGR
Since E-commerce is by far the most cost-effective procurement method for small items, the use of government credit cards for Lab purchases from JLWs is not allowed.
There are two exceptions to this rule.
1) To avoid the need to have signature authority on each Project Organization Account-funded job order, JLab machine shop personnel are authorized to use a government credit card when buying from JLWs. The vendor will accept personal credit cards from JLab staff; and it will also accept users' and Lab subcontractors' personal, corporate or institution cards.
2) In the past, Jefferson Lab has funded "stockroom" accounts for non-employees (primarily physics users) needing to acquire miscellaneous small parts and consumables. To provide the same service, POA managers will initiate a purchase requisition for "parts and supplies" providing the names of individuals authorized to pick up and sign for receipt of items and their spending limits. Purchase requisitions must be submitted for each group the POA manager wants to track separately. JLWs will monitor the charges and cut off sales when the dollar limit is reached.
Hand and power tools are available from JLWs. Any tool costing over $10 that is purchased with JLab funds must be engraved "Property of DOE." Small tools under $10 will be marked with a blue paint pen. Tools costing over $300 must be tagged, assigned a custodian and entered into the JLab property database. Employees picking up tools at the service counter will be required to go to Shipping and Receiving (adjacent to JLWs in building 90) to have tools marked or tagged.
POA managers can use the link below to confirm that employees needing to use the new stockroom have the required POA signature authority: https://mis.jlab.org/mis/apps/acm/?app_id=440.
For more information contact:
Natasha Thornton, Matt Hoban or Kevin Watson at ext. 7338
John Ferreira, subcontracting officer's technical representative, ferreira@jlab.org, ext. 7225
Danny Lloyd, JLab purchasing and small business manager, lloyd@jlab.org, ext. 7121
Bill Brisiel, brisiel@jlab.org, ext. 7233
Tom Briggs, JLab property manager, tbriggs@jlab.org, ext. 5430
Wolfgang Panofsky, Renowned Stanford Physicist, Dead at 88
Menlo Park, CA - Wolfgang K. H. "Pief" Panofsky, professor of physics at Stanford University and director emeritus of the Stanford Linear Accelerator Center (SLAC), died of a heart attack at his home in Los Altos, Calif., Sept. 24. He was 88 years old.
Panofsky was a renowned particle physics researcher, an accelerator builder and an administrator of basic research. In parallel with his science career, he pursued two other interests of interrelated historical significance: nuclear arms control and international peace and security.
For additional information, visit http://home.slac.stanford.edu/pressreleases/2007/20070925.htm
JLab Mourns Loss of Engineering Division Staff Member
Edward Gary Strong, 55, passed away Aug. 3. Ed was born in Cambridge, Mass. and grew up in Watertown and Waltham, Mass. He came to JLab in 1996 as an RF designer in the Engineering Division. He worked on components for instrumentation and diagnostics, focusing on the Hall B nanoamp beam position monitor system and radiofrequency controls in the accelerator.
Ed was a former resident of Cornville, Maine, where he enjoyed life on a 90-acre tree farm, and a former resident of Fort Collins, Colo., where he happily raised his family on a self-made gentleman's farm. Ed was a Yorktown resident since 1996 during which time he was employed with Jefferson Lab. Ed enjoyed Halloween parties, exotic travel, shortwave radios, target shooting, and computers. Ed leaves behind his wife of 22 years, Karen Strong; his children, Trevor Edward and Terra Lynn of the home, and Gary Edward Strong and his wife, Amanda, of Nashua, N.H. Four grandchildren, Amy, Rebecca, Samantha and Timothy, also survive him.
JLab Mourns Loss of Renowned Physicist and Visiting JLab Scientist Jacques Arvieux
Jacques Arvieux, internationally renowned physicist and JLab User died July 9, 2007.
We would like to pay tribute to Jacques Arvieux, former research director of CNRS and internationally renowned researcher for his work in intermediate energy nuclear physics.
After his studies in Marseilles, Jacques carried out his first research at the Institute of Nuclear Sciences at the University of Grenoble where in 1967 he finished his thesis with the title "Contribution to the Study of Light Nuclei Using Polarized Deuterons".
The continuing thread through his career was his interest in phenomena tied to the polarization of hadrons at intermediate energies.
His qualities as a leader were apparent since the start of his career and led him quickly to become head of the cyclotron group of the Institute at Grenoble, a responsibility which he held until 1972.
Jacques was endowed with natural authority which arose from a quick and profound understanding of problems and his capacity to always see a bit further, straight ahead.
Afterwards, Jacques left for the United States where he worked at Lawrence Laboratory in Berkeley for one year. This was the first of a series of long stays abroad (Switzerland, Japan, Russia, Germany, United States...) giving him international recognition which led to nominations to several experimental committees like DESY in Germany, KEK in Japan and the crowning achievement of winning the Alexander von Humboldt Prize for Franco-German Cooperation in Science in 1995. He was also very often asked to be a member of committees to organize international conferences and was principal organizer of PARIS 90, the International Conference on Polarization Phenomena in Nuclear Physics. This conference was attended by 350 physicists and dedicated Saturne to be the best accelerator of polarized particles of its time.
Jacques spent a great part of his life at Saturne: from the long night shifts as a resident physicist, to the service to the users in the position of President of the Users Group, to the Experimental Committee, and finally as Director of Saturne National Laboratory, a position he held for 10 years.
During his mandate as director he always maintained a straight forward involvement with the physics at hand: the AHEAD experiment at Bates, Development and Calibration of the POLDER Polarimeter at Saturne for the T20 experiment at Jefferson Lab, concrete support and participation in the Nucleon-Nucleon Experiment, and the LEAR antiproton beam at CERN.
It was with great courage that he confronted the closure of the Saturne Laboratory.
After having promoted the European project ELFE, he initiated the involvement of IPN Orsay in the G0 experiment at Jefferson Lab in 1998 with great humbleness and enthusiasm. At the same time he actively contributed to the PV A4 experiment at Mainz. He invested himself fully in both experiments until he became ill. On the G0 experiment his contribution went from the conception of the detectors and the acquisition electronics to his active participation in data acquisition until the first results were in. He had the satisfaction to see the first results published in 2005.
The CNRS has awarded him the silver medal in 1983 and subsequently named him Exceptional Director of Research. In 2005 Jacques received an emeritus status that allowed him to continue actively in research.
As a talented experimentalist he did not mind getting involved in the calculations provided that they lead to a real and profound understanding of the physics. On top of all, Jacques had an extraordinary talent to synthesize especially on the phenomena of polarized deuterons, the structure of the deuteron, and on the physics of the ELFE accelerator as shown in reviews he wrote for internationally renowned journals.
His human qualities, his humbleness, and the affinity he inspired have left profound impressions on his colleagues who worked alongside him his entire career as witnessed by the many messages that have arrived from all over the world. We will carry with us the memory of his likeable personality.
This tribute was written by friends and colleagues (Dr. Dominique Marchand, Dr. Egle Tomasi-Gustafsson, Dr. Frank Maas), and translated by Claudia Smith, wife of JLab's Greg Smith. Visit this link for the tribute in French. Jacques died July 9, after battling cancer.
Milestones - mid-August through September 2007
Hello
Gerard Cerkez, Computer Center Technical Student Intern, Information Technology Division
Terrie Fuell, Document Control Specialist, Engineering Division
Lisa Gelhaar, (in-house) CI Travel Corporate Travel Consultant, Travel Services
Vadim Guzey, Postdoctoral Fellow, Chief Scientist Office Division
Michael Morrone, Superconducting Radiofrequency (SRF) Technician, Accelerator Division
Eric Sun, Mechanical Engineer, Experimental Nuclear Physics Division
Patrick White, User Support Technician, Information Technology Division
Goodbye
Kevin Beard, Computer Staff Scientist, Free-Electron Laser Division (becoming a User)
Wade Brock, FEL Casual, Free-Electron Laser Division
Andrea Carlini, Student Aide, Experimental Nuclear Physics Division
David Carlson, Electrical Engineering Student Intern, Engineering Division
Vipuli Dharmawardane, Postdoctoral Fellow, Experimental Nuclear Physics Division
Robert Lewis, Student Intern, Accelerator Division
Lois Lucas, Senior Telecom Technician, Information Technology Division
Lindsay Manzlak, Student Aide, Office of the Chief Operating Officer
Hrayr Matevosyan, Postdoctoral Fellow, Chief Scientist Office
Rustam Niyazov, Hall B Postdoctoral Fellow, Experimental Nuclear Physics Division
Timothy Rothgeb, Accelerator Engineer-Prototype, Accelerator Division
Linda Waynick, (in-house) CI Travel Corporate Travel Consultant, Travel Services
These Milestone entries, listed alphabetically, are actions posted by Human Resources from August through the end of September, 2007. Current JLab career opportunities are posted at: https://careers.peopleclick.com/careerscp/client_jeffersonlab/external/search.do