Great day for JLab's annual Run-A-Round!
Planners and participants hailed Jefferson Lab's 15th annual Run-A-Round a success (read that "loads of fun"! "The weather was perfect for the May 4 event," said Susan Esp, JLab Activities Group (JAG) chair. "Run-A-Round participation hit a new record, and the T-shirt was a hit."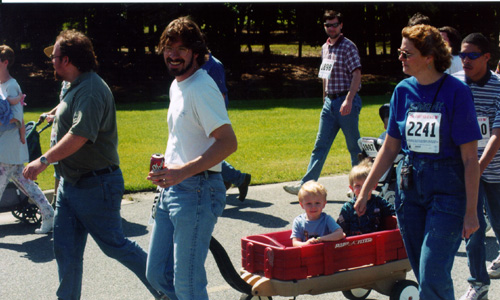 Even for those who weren't competitive runners,
it was a great day to walk and chat with co-workers,
or enjoy the sunshine, family and a cold soda.
Four hundred twenty-two Lab staff, family members, contractors and users registered for the 1.34-mile fun run. The finish line, handled by the Peninsula Track Club, recorded a new high of 355 registered finishers. "It was great seeing so many people come out to enjoy the beautiful day and each other's company," Esp commented. "The great thing about the Run-A-Round is that it is enjoyed by everyone-the growing number of Lab staff who are competitive runners, Lab users, contractors, and family members who bring the kids out for an afternoon of fun. It's a delight to see the strollers and kiddy wagons amongst the walkers."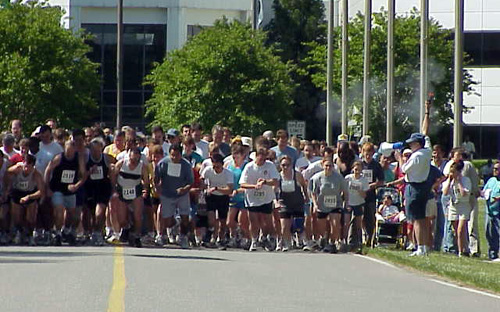 The starter's gun went off and more
than 500 runners and walkers took off!
Before the race kicked off in front of CEBAF Center, JLab Deputy Director Christoph Leemann unveiled this year's winning T-shirt design. The design, submitted by JLab's multi-media specialist Greg Adams, was a modification of a design originally conceived for the Theory Group. More than 230 people voted for their favorite design during the T-shirt design contest held in March, according to Shannan Kyte, User Liaison office. Winning the race was Chris Keith, Physics Div., with a time of 7:15. Taking first overall in the women's division was María Niland, Director's Office, with a time of 8:42.

And after all that activity, it was
time to chow down on salad, fresh fruit,
veggies, and submarine sandwiches.
Women's Age Division Winners
12-29 Age Division
1) Laura Marcucci, Physics, 10:57
2) Mary Buyalos, Admin, 12:09
3) Rachel Harris, Physics, 13:28
4) Heather Ashley, Physics, 13:31
5) Kim Ryan, Accel, 17:39
30-39 Age Division
1) Pam Kieldsen, Accel, 10:49
2) Celia Whitlatch, Admin, 12:27
3) Pam Turk, Admin, 13:07
4) Sabine Jeschonnek, Physics, 14:43
5) Kim Kindrew, Admin, 15:32
40-49 Age Division
1) Sandy Prior, Accel, 10:28
2) Nanette Phillips, Admin, 10:56
3) Linda Even, DirOffice, 13:35
4) Michelle Shinn, Accel, 14:05
5) Jennifer Barnett, Admin, 14:52
50-59 Age Division
1) Marty Hightower, Admin, 16:41
2) Elois Morgan, Admin, 17:11
3) Bonnie Madre, Accel, 18:51
4) Sue Ewing, DirOffice, 21:38
5) Julie Leverenz, Admin, 22:58
60+ Division
1) Marti Bennett, Physics, 21:49
2) Mary Williamson, Admin, 23:44
3) Sylvia Smith, Admin, 23:45
Men's Age Division Winners
12-29 Age Division
1) Christopher Collins, Physics, 8:40
2) Tim Cannella, Admin, 10:11
3) Robert Millwood, Admin, 11:10
4) Christopher Larrieu, Accel, 11:28
5) Bryan Hess, Physics, 12:19
30-39 Age Division
1) Matthew Bickley, Accel, 7:20
2) Kurt Macha, Accel, 7:42
3) Jerry Stokes, Admin, 7:58
4) David Abbott, Physics, 8:25
5) David Kashy, Physics, 8:30
40-49 Age Division
1) Drew Weisenberger, Physics, 7:48
2) Elton Smith, Physics, 7:57
3) John Lerose, Physics, 8:21
4) Giles Davis, Accel, 8:22
5) Brian Carpenter, Accel, 8:53
50-59 Age Division
1) James Clark, Accel, 8:56
2) Robert Lukens, Physics, 9:51
3) George Biallas, Accel, 14:13
4) George Lahti, Accel, 16:15
5) Ronnie Smith, Accel, 19:07
60+ Division
1) Tom Hassler, Accel, 9:55
2) Hermann Grunder, DirOffice, 17:06
3) Richard Brown, Accel, 18:47
4) Pierre Hemler, Physics, 22:58
5) Hugh Williams, DirOffice, 23:15
Amongst JLab guests, Nikolai Sinkine finished first in the men's category with a 7:58 and Katherine Kross finished first among women visitors with a finish-line time of 10:04.
Food, music and T-shirts outside the Residence Facility kept everyone busy while the Peninsula Track Club tallied the race results. All registered finishers and event volunteers received the Jefferson Lab 2000 T-shirt. Three work sections participated in this year's Golf Cart Parade. Taking first was the Incredible RADCON Machine (Accelerator), followed by the Physics Division's Harvesting New Technology entry. Third place went to User Liaison's salute to the renowned Peanuts character "Snoopy" and his creator Charles "Sparky" Shulz.
The Physics Division won the Director's Award, which is awarded to the division with the most points. Points are given to divisions based on the top overall Jefferson Lab runners (male and female), and the top five employee winners in each age group. The Administration Division earned the Spirit Award for having the highest level of overall participation in the event: 87%, which includes runners, walkers, golf cart competition and volunteers.
The efforts of the JAG committee and more than 100 volunteers helped make the event a success and keep activities running smoothly. "We couldn't do this event without the many volunteers," said Run-A-Round volunteer coordinator Betty Beeler. "I want to thank everyone who helped with the event. We've received many compliments on the event. Without our volunteer helpers, we could never have these wonderful events. A very special 'thanks' goes out to Dennis Dobbins, Administration Division, for organizing the race."
The JAG has JLab 2000 T-shirts available for $8 each at the CEBAF Center reception counter. Medium, large, X-large and XX-large sizes are available in khaki and olive. A few 1999 T-shirts are on sale for $4 each and 1998 T-shirts are on sale for $3 while supplies last.

maintained by webmaster@jlab.org