The U.S. Department of Energy's Thomas Jefferson National Accelerator Facility

---
JLab Receives DOE Approval to Start Construction
of $310 Million Upgrade
's 12 GeV Upgrade. The Department of Energy recently approved the project for start of construction. This rendering is by architect-engineer firm,

HSMM

(Hayes, Seay, Mattern & Mattern).

Jefferson Lab received approval from the U.S. Department of Energy on Sept. 15 to begin construction on its 12 GeV Upgrade – a $310 million project that will provide physicists worldwide with an unprecedented ability to study the basic building blocks of the visible universe.

The 12 GeV Continuous Electron Beam Accelerator Facility (CEBAF) upgrade project has been a high priority for DOE's Office of Science since it published its landmark report, "Facilities for the Future of Science: A Twenty Year Outlook" in 2003. The report was the first long-range facilities plan prioritized across disciplines ever issued by a government science-funding agency anywhere in the world.

The construction approval, known as Critical Decision 3 or CD-3, concludes an exhaustive, multi-year review process that clearly established the scientific need, merit and quality of the 12 GeV CEBAF Upgrade. Under the project Jefferson Lab will double the energy of its accelerated electron beam from 6 billion electron volts (GeV) to 12 GeV; construct a new experimental hall; and upgrade the equipment in its three existing experimental halls. Construction funds are requested in the President's Fiscal Year 2009 Budget Request, and project completion is planned for 2015.... more
---
Hugh E. Montgomery, a highly regarded nuclear physicist with an extensive research portfolio and broad international experience, became Jefferson Lab's director on Sept. 2.....more

 

A study of polarized neutrons showed that the helium nucleus can be described in a surprisingly simple way.........more

 

When someone shouted "Mary!" in the McCarthy home in South Holland, Ill., lots of heads would turn, but no one would answer.....more

---
JLab Receives DOE Approval to Start Construction
of $310 Million Upgrade
's 12 GeV Upgrade. The Department of Energy recently approved the project for start of construction. This rendering is by architect-engineer firm,
HSMM
(Hayes, Seay, Mattern & Mattern)
Jefferson Lab received approval from the U.S. Department of Energy on Sept. 15 to begin construction on its 12 GeV Upgrade – a $310 million project that will provide physicists worldwide with an unprecedented ability to study the basic building blocks of the visible universe.
The 12 GeV Continuous Electron Beam Accelerator Facility (CEBAF) upgrade project has been a high priority for DOE's Office of Science since it published its landmark report, "Facilities for the Future of Science: A Twenty Year Outlook" in 2003. The report was the first long-range facilities plan prioritized across disciplines ever issued by a government science-funding agency anywhere in the world.
The construction approval, known as Critical Decision 3 or CD-3, concludes an exhaustive, multi-year review process that clearly established the scientific need, merit and quality of the 12 GeV CEBAF Upgrade. Under the project Jefferson Lab will double the energy of its accelerated electron beam from 6 billion electron volts (GeV) to 12 GeV; construct a new experimental hall; and upgrade the equipment in its three existing experimental halls. Construction funds are requested in the President's Fiscal Year 2009 Budget Request, and project completion is planned for 2015.
"Today's approval is truly historic," said Dr. Jehanne Simon-Gillo, Acting Associate Director of DOE's Office of Science for Nuclear Physics. "The 12 GeV CEBAF upgrade will enable scientists to seek answers to some of Nature's most perplexing questions, expand our knowledge of the universe and benefit people around the world. The project also clearly demonstrates our Nation's commitment to remaining in the forefront of scientific exploration and discovery."
Jefferson Lab is a world-leading nuclear physics research facility devoted to the study of the building blocks of matter – quarks and gluons – that make up 99 percent of the mass of our everyday world. Scientists from across the Nation and around the world use the lab's facilities to probe the nucleus of the atom. The upgrade will employ new methods for studying the basic properties of the building blocks of the universe, how they are formed, how they interact and the forces that regulate these interactions.
"This is a very exciting day for all of us at Jefferson Lab; the upgrade will provide a qualitative change with an enormous enhancement to our experimental program enabling higher precision and better resolution," said Jefferson Lab Director Hugh Montgomery. "Many people have worked very hard to get us to this point, the veritable springboard. We look forward to building this wonderful machine and using its world-leading capabilities to learn more about our world."
Through experiments, physicists will use the upgraded accelerator facility to expand the knowledge of nuclear and particle physics. The upgrade will affect four main areas of study:
Quark Confinement – With the upgrade, physicists plan to address one of the great mysteries of modern physics – why quarks only exist together, and never alone.
The Fundamental Structure of Protons and Neutrons – The upgrade will enable scientists to map in detail the distributions of quarks in space and momentum, culminating in tomography measurements that will constitute a three-dimensional picture of the internal structures of protons and neutrons.
The Physics of Nuclei – The upgrade will allow researchers to illuminate the role of quarks in the structure and properties of atomic nuclei, and how these quarks interact with a dense nuclear medium.
Tests of the Standard Model – An upgraded facility will allow physicists to study the limits of the "Standard Model," a theory that describes the fundamental particles and their interactions.
To explore protons and neutrons, the CEBAF accelerator propels a beam of electrons at nearly the speed of light around an oval-shaped "racetrack" that is 7/8 mile long and buried 25 feet underground. When the beam smashes into the experimental targets, huge detectors collect the fragments. By studying the speed, direction and energy of the scattered fragments, scientists can unveil the inner secrets of protons and neutrons.

The laboratory, which operates on a 206-acre campus, employs more than 650 people and is a center for nuclear physics research, superconducting accelerator technology, radiation detection and medical imaging developments, free-electron laser advancements and education. It is one of 17 National Laboratories funded and overseen by DOE.
JLab Welcomes New Director Hugh Montgomery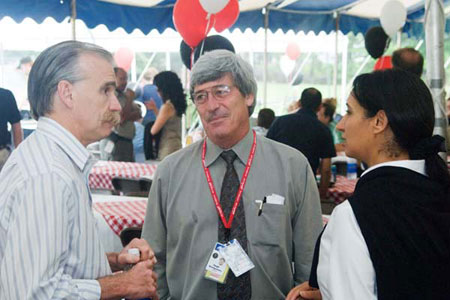 Hugh E. "Mont" Montgomery enjoys the JLab welcome picnic held in his honor on Sept. 10.
Hugh E. Montgomery, a highly regarded nuclear physicist with an extensive research portfolio and broad international experience, became Jefferson Lab's director on Sept. 2.
He has launched "Montage," a personal column written from the director's perspective that will appear from time to time on the JLab website. You can read his current and archived columns at: https://www.jlab.org/montage/latest
For his biography, click here, or for additional information, click here.
a few more picnic pics...
Zero Sum Game for Neutrons
A recent measurement of a "spinning" helium-3 nucleus revealed that under certain conditions, the entire nucleus behaves much like a single neutron. The experiment ran in Jefferson Lab's Hall A (pictured here). The result was published in the July 11
Physical Review Letters
in a paper titled
3He Spin-Dependent Cross Sections and Sum Rules
.
A study of polarized neutrons showed that the helium nucleus can be described in a surprisingly simple way.
A recent measurement of a "spinning" helium-3 nucleus revealed that under certain conditions, the entire nucleus behaves much like a single neutron. The result was reported recently in the journal Physical Review Letters.
It's difficult to pin down an individual neutron for study. Freed from the nucleus of the atom, neutrons naturally disintegrate in about 15 minutes. To overcome this issue, physicists have to come up with creative ways of studying the neutron's properties.
One solution is to set "spinning" the protons and neutrons inside a nucleus. In one isotope of helium, helium-3, there are two protons and one neutron. In helium-3, the intrinsic angular momentum, or spin, of the protons will naturally align in opposite directions. Their contributions to the spin of the nucleus cancel out, leaving the nucleus' spin resting almost solely on the spin of the neutron. By measuring quantities related to spin in this situation, researchers can collect information about the neutron's spin and about the nucleus in which it resides.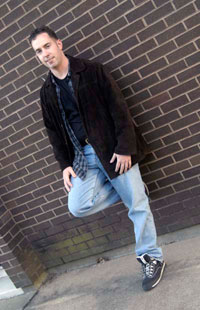 Karl Slifer
Assistant Professor, Physics Department
University of New Hampshire
A team of nuclear physicists used this process in an experiment conducted in Jefferson Lab's Hall A. They also gave the spinning neutron inside the helium-3 nucleus some additional energy by pinging it with electrons from the lab's CEBAF electron-beam accelerator. According to Karl Slifer, an assistant professor at the University of New Hampshire, the researchers then watched how the neutron, and the nucleus as a whole, responded.
"Depending on how much energy this electron gives to your target neutron, you're going to see different things happen to that neutron. So what we see is that the neutron enters into a series of excited states," he explains. But understanding these excited states has proved difficult.
"We found that each of these states can be very complicated," Slifer says. It seems that the theory that physicists need to use to help them understand their measurements of the excited states is so complicated that it can only be solved for very simplified conditions.
Luckily, researchers have a way around that complication. A relation called the Burkhardt–Cottingham sum rule predicts that regardless of the complexity of the individual excited states, the sum of these possible states is zero. This rule only holds if the electron is "spinning" in its direction of travel and the neutron is spinning perpendicular to that, which was how the Hall A experiment was designed.

"You get a very simple situation. So it's a way of kind of getting around the complexity of the individual states and looking at the global reaction of the neutron," Slifer explains.
The researchers used this information in an earlier experiment to measure the properties of the neutron. In this experiment, they focused on measuring changes in the nucleus in which the neutron resides.
"What we found is that even though this is a more complicated situation, and you have more excited states, it still all sums to zero. So the helium-3 nucleus is behaving, at least in this particular situation, very much like the neutron is by itself."
The result was published in the July 11 Physical Review Letters in a paper titled 3He Spin-Dependent Cross Sections and Sum Rules.
By Kandice Carter
Science writer
Introducing Mary Logue, Head of ESH&Q
Mary Logue
ESH&Q Associate Director
When someone shouted "Mary!" in the McCarthy home in South Holland, Ill., lots of heads would turn, but no one would answer. All six of the McCarthy girls are named Mary. "Everyone has a different middle name," Mary Logue noted, "and we all ended up with nicknames that we still use today but when a call went out for Mary it wasn't uncommon for no one to pay attention."
Mary is the fifth child in this family of seven kids (brother William rounded out the bunch). On June 2 she became Jefferson Lab's associate director of the Environment, Safety, Health and Quality Division.
Logue's dad, a surgeon, believed in what she laughingly calls "child labor" – the children started out cleaning his office and then graduated to running the front desk, taking calls from patients and scheduling surgery. This was her introduction to science, health and medicine. By the time she graduated from high school, Logue knew she wanted to major in biology but was also sure she didn't want to go into medicine. She earned a bachelor's degree in biology at Notre Dame and as she approached graduation wasn't sure what she wanted to do next. By chance, she saw an article in the Chicago Tribune about the field of industrial hygiene. She was fascinated. "This combined everything I was interested in," she recalled. "Science, medicine, sociology, and best of all it involved working directly with people."
Northwestern University offered a master's program in industrial hygiene and, while there, she had the opportunity to do a 12-week summer program in health physics at Brookhaven National Laboratory. "I really learned the operational aspects of industrial health there, particularly the ability to be respectful of the elements we might be measuring but to not be afraid," she said.
She graduated with a master's degree in industrial hygiene/health physics. Logue first went to work at the Department of Energy's New Brunswick Laboratory at Argonne National Lab and learned what she calls her most important lesson about the working world. "Listen to the people who've been there for a while, everyone from the janitor to the director. They have a lot to teach you," she said.
After five years at New Brunswick she went to the Chicago office of the Department of Energy, where she conducted oversight of DOE laboratory health and safety programs and worked in technical support for FEMA in planning for emergencies at nuclear power plants. Just after starting work there, her life was radically changed when she was hit by a drunk driver and seriously injured. She spent two weeks in the hospital and two months recuperating. That cataclysmic event reinforced her core belief in how important family is and how precious life can be.
She moved on to Argonne National Lab in the early 1990s and then went to Fermilab in 1997, where she was involved in numerous critical ES&H programs, including environmental protection, waste management, ES&H training, industrial hygiene and safety, fire protection, construction safety and emergency preparedness.
When she was invited to interview for the position here, she immediately liked what she heard and saw. "I was impressed with the vision of everyone here, their passion about the science, and their desire to work safely. I wanted to do what I can to help them accomplish all this" she noted.
Logue's husband, Jack, is retired and remains in Downers Grove, Ill., with their youngest son, Dan, who's finishing his senior year of high school. Their oldest son, Jim, is in Honduras, working at an orphanage while he prepares for medical school. Their daughter Betsy, a student at Notre Dame, is spending her junior year in Australia.
For now, Logue is living in an apartment close to the lab, with the loom for her weaving taking up what should be the dining room and a sewing machine for her quilting on the table. She's also taking time to get out on weekends, hiking and seeing the area.
For a woman who grew up in a large family and then spent years as a working mom, there's a certain joy in this arrangement. "While I truly miss my family, I'm really enjoying treating myself as my own only child," she said.
By Judi Tull
Feature writer
Below the Fold
Moving Quarks Help Solve Proton Spin Puzzle
This graph compares the total orbital angular momentum of up and down quarks in the model developed by University of South Carolina Professor Fred Myhrer and JLab Chief Scientist Tony Thomas (black rectangle) with the (model dependent) constraints derived from recent experiments conducted at JLab and at DESY.
New theory work at Jefferson Lab has shown that more than half of the spin of the proton is the result of the movement of its building blocks: quarks. The result, published in Physical Review Letters, agrees with recent experiments and supercomputer calculations.
It was thought that the spin of the proton would come from its quarks, but experiments beginning with the European Muon Collaboration in the 1980s have established that the quarks' spin accounts for only one-third of the proton's spin. Researchers thus began investigating other sources of the proton's spin.
This research concerns one theoretical model, proposed by Jefferson Lab Chief Scientist Tony Thomas and University of South Carolina Professor Fred Myhrer, suggesting that some of the proton's spin is actually generated as orbital angular momentum by its quarks.
"Rather than the way the quarks are spinning, it's the way they're moving in orbital motion. In fact, more than half of the spin of the proton is orbital motion of the quarks. That's a really fascinating thing," Thomas said.
In the paper written by Thomas, he explored the model's predictions further by extracting more detailed information, including how the orbital angular momentum is generated by the different quarks inside the proton, which has two up quarks and one down quark.
He found that the model seemed to contradict experimental results and the results from highly sophisticated supercomputer calculations of quark behavior, called lattice QCD (quantum chromodynamics). The model showed that up quarks carried most of the protons spin, whereas experiment and lattice QCD point to down quarks.
Thomas said it turns out that the disagreement is only a matter of resolution. The only way to relate such models to the underlying theory of quark interactions is to assume the model's predictions are made at low resolution. However, experiment and supercomputer calculations are made at high resolution.
"In the past, there's been tremendous success starting with the quark model at some very low scale, and then evolving to a higher scale, where you can compare with experiment," Thomas explained. "If you make that generally accepted assumption, then the resulting high-resolution values are in surprisingly good agreement with state-of-the-art lattice QCD calculations, as well as with recent experiments conducted at Hermes and Jefferson Lab. There is a remarkable degree of consistency."
The next step is to compare the model with results from upcoming, more detailed measurements of the orbital angular momentum of the quarks in the proton.
The result was published in the Sept. 5 Physical Review Letters in a paper titled Interplay of Spin and Orbital Angular Momentum in the Proton.

By Kandice Carter
Science writer
---
Silicon at the Center; Now Used in Particle Detectors
Above: Samvel Mayilyan, Yerevan Physics Institute engineer (foreground), and Craig Bookwalter, Florida State University graduate student, assemble the scintillation hodoscope recently tested in JLab's Hall B. At right: This photo shows the completed scintillation hodoscope installed inside Hall B's CEBAF Large Acceptance Spectrometer. Photos: Stepan Stepanyan.
Silicon microchips are used in cell phones and televisions, car engines and thermostats. Now, they're being integrated into compact detector systems, such as a scintillation hodoscope recently tested in Jefferson Lab's Experimental Hall B.
Silicon is one of the most abundant elements on the planet, comprising a full quarter of the Earth's crust. It's been used in computers for decades, making it possible for physicists to analyze the mountains of data they collect on particles in nuclear physics experiments. Now, this common material is helping scientists detect those particles.
According to Hall B Staff Scientist Stepan Stepanyan, a new detector uses newly developed silicon microchips. The detector, known as the scintillation hodoscope, was recently built and tested for an experiment that will run in Hall B.
The upcoming experiment is the newest phase of a group of experiments designed to produce a three-dimensional view of the interior of the proton. Stepanyan says a previous experiment in the program showed the need for the scintillation hodoscope.
"In that experiment, we had the Inner Calorimeter, which detects particles at very small angles. The Inner Calorimeter worked very well, but we did not have the ability to distinguish between some particles," he said. "The new scintillation hodoscope will allow us to separate neutral and charged particles."
With only a very small space to fit another detector, the researchers turned to microchip technology. The scintillation hodoscope sits in a tight space inside the CEBAF Large Acceptance Spectrometer (CLAS). Particles produced in the experiment stream into the detector, which contains scintillation material protected inside a foil wrap.
"There are 56 scintillator pixels, arranged to form an octagonal plane," Stepanyan explained. Particles that pass through the foil and strike the plastic scintillation material give off light, which is captured and carried to the silicon chips, called Multi-Pixel Photon Counters. The MPPCs amplify the captured light and convert it into an electrical signal. The MPPCs replace traditional photomultiplier tubes.
"In this particular device, due to the limited space and the presence of a high magnetic field, use of the traditional photomultipliers is impossible," he said. "Silicon photomultipliers are ideal devices, since they are very small and immune to the magnetic field."
The scintillation hodoscope was tested in an experimental run carried out last spring. "As far I know, this is the first detector using MPPC readout that worked in a real experiment," Stepanyan noted.
The scintillation hodoscope is now undergoing an upgrade and will be installed for use in the next experimental run, scheduled to begin in the fall.
By Kandice Carter
Science writer
---
Young Researcher Earns JSA Fellowship
Juliette Mammei
Graduate student
Virginia Tech
Juliette Mammei, a graduate student at Virginia Tech, is one of the eight recipients of the 2008 Jefferson Sciences Associates graduate fellowships for research related to the science program at Jefferson Lab. She previously won the award in 2006.
Her course as a young scientist seems to have been set when she was a little girl. Her parents recall that she was the kind of child who would always ask "Why?" and "How?" and never gave up, even after they responded. Her dad repaired TVs and was happy to tell her about the components, even if she didn't entirely understand. Both of her parents were into science fiction books and movies, and encouraged her to think about possibilities in the world.
"They would answer my questions, and at the same time encouraged me to seek out my own answers," she said.
Intrigued by science, she took general science, biology and chemistry during her first three years of high school in her hometown of Johnstown, Penn. She'd already started to read "science fact" as opposed to science fiction, and was thrilled when she took her first physics class in high school.
"I saw that it was the most fundamental science," she notes, "I wanted to know what everything is made of. Studying physics seemed like the fastest way to get that answer."
By the time she started at Juniata College, a small liberal arts school in Pennsylvania, she knew she wanted to pursue nuclear or particle physics. The school was perfect for her. "There were only four physics professors. Everyone in the department knew everyone else. I babysat for the professors' children, we had cookouts. It was a wonderful environment," she recalled.
A Department of Energy internship (now called Science Undergraduate Laboratory Internships) at Oak Ridge in the summer of 1999 was a pivotal point in her science career. While there, she was encouraged to apply for an internship for the fall semester. The application process included the possibility of working at one of three DOE labs: Oak Ridge, Fermi or Jefferson Lab. She was accepted at JLab and was immediately smitten not just with the science done here but also with the environment and sense of community.
"I absolutely loved it from the very start," she said. "Rolf Ent was my adviser. He gave me a project, and I got right into it. I loved what I was doing. Everyone was always willing to answer my questions, and there was a lot of good science being done here. I loved going to work every day."
She returned to the lab in the summer of 2000. Walking across a parking lot, she spotted Russell Mammei, an undergrad from the University of Texas at El Paso who also had an internship. "It might not have actually been love at first sight," she said with a laugh, "but I remember clearly thinking the first time I saw him that this would be the man I would marry."
Fellow students conspired to seat them together at lunches, gatherings and car rides. By the end of the summer, Juliette transferred to Texas to be with Russell. "It was a good bet all around," she said. "Dr. Philip Cole, now at Idaho State University, was Russ' advisor. He became my on-site adviser for my work on the 12 GeV Upgrade. Dr. Ramon Lopez, for whom I became a teaching assistant, is a space weather researcher and also does research in physics education, an area I'd been particularly interested in. These were two very different types of research, but very beneficial to be part of."
Russell and Juliette were married in January 2002. Their son, Ethan, was born in May, joining his parents, two golden retrievers and a cat.
After receiving National Science Foundation Graduate Research Fellowships (the only two for nuclear physics in 2003), the couple chose to study at Virginia Tech, with Russell working on an ultra-cold neutron experiment at Los Alamos, and Juliette working on Q-weak and G0 (G-Zero) at JLab. Juliette's adviser, Mark Pitt, was the main reason they chose Tech.
"Dr. Cole had introduced us to him, and we were really impressed," she said. "He's a great advisor, just fantastic. He's a good physicist and well respected. I hope I can be a reflection of him."
"Juliette was very well prepared when she joined us due to her extensive previous experience with JLab projects. She has been a real pleasure to work with and a real asset to both the Q-weak and G0 experiments. In addition to her excellent research work, she has taken the time to contribute to graduate student governance at Virginia Tech in a variety of capacities," noted Mark Pitt, Virginia Tech Department of Physics professor and Mammei's JSA Fellowship adviser.
Mammei remains interested in physics education, and last summer taught intro to nuclear science to middle and high school students at one of the Johns Hopkins Centers for Talented Youth in Santa Cruz, Calif.
For now, the Mammeis are working at integrating Ethan into their lives, and learning how to juggle work and family.
By Judi Tull
Feature writer
---
JSA Announces Graduate Fellowship Awards
Jefferson Science Associates has announced the recipients of the eight JSA/Jefferson Lab graduate fellowships for research related to the science program at the lab. The 2008-09 academic year recipients, who are graduate students at SURA-member universities, are:

Craig Bookwalter, Florida State University
Daniel Bowring, University of Virginia
Giovanni Chirilli, Old Dominion University
Juliette Mammei, Virginia Polytechnic Institute and State University
Paul Mattione, Rice University
Chen Wei, Duke University
Xiaohui Zhan, Massachusetts Institute of Technology
Jixie Zhan, Old Dominion University

Based on their re-application, Mammei and Zhang are repeat fellowship recipients.

This marks the 20th anniversary of the Jefferson Lab Graduate Fellowship Program, first established by the Southeastern Universities Research Association board of trustees in 1989. The program continues under JSA for doctoral students at SURA-member universities that are conducting research related to the theoretical and experimental programs at JLab, including nuclear and related particle physics, accelerator physics and JLab's free-electron laser program.

Each fellowship includes one-half of an academic year research assistant stipend and a $2,000 supplement. The home institution matches half of the research assistantship. The award also includes up to an additional $2,000 for research-related travel for the student. This year's awards total $110,000.

The review committee, headed by Thomas Clegg, University of North Carolina at Chapel Hill, included Hari Areti, JLab; Gerard Gilfoyle, University of Richmond; Ronald Gilman, Rutgers University; and Richard Haglund, Vanderbilt University. The committee found the overall quality of the 17 applicants to be quite high, and described them as "playing extremely important roles in support of highly rated JLab experiments."

Clegg noted, "Their enthusiasm elucidates clearly the continued attractiveness both of JLab's facilities and of its physics. We are confident that the awardees will carry both the JSA and JLab flags well."

Over the past 20 years, 141 fellowships have been awarded to graduate students from 19 SURA-member universities and a pool of 350 applicants. The program is supported by the JSA Initiatives Fund.

Material for this story was taken from the JSA press release.
---
Have Fun With Astronomy at JLab on Oct. 14
You're invited to an evening of Fun With Astronomy at Jefferson Lab on Tuesday, Oct. 14.
Learn, laugh and be amazed as Wayne "Skip" Bird shares wonders of the night sky, the solar system and the universe. Find your way through the maze of 13 planets and explore black holes and light. Then test your knowledge using Cosmic Survey Cards with Bird, Astronomy Outreach Teacher and Observatory Director of the Westminster Astronomical Society, Westminster, Md.
"Learn fun and unique ways to leave the planet, journey to the stars and still be back in time for lunch," says Bird.
The presentation will begin at 7 p.m. in the CEBAF Center auditorium. It is free and open to anyone interested in learning more about science. The program will last about one hour and include a question-and-answer period at the end.
For security purposes, enter at Jefferson Lab's main entrance (Onnes Drive.). Everyone over 16 is asked to carry a valid photo ID. Security guards may perform ID, parcel and vehicle checks.
For directions and more information about this Jefferson Lab Science Series public lecture, call 757-269-5102 or visit http://education.jlab.org/scienceseries/index.php.
---
JLab Invites Classes, Groups to 2008-2009 Physics Fests
Students fill Jefferson Lab's auditorium for a Physics Fest. They are wearing diffraction grating glasses that allow them to see the spectra given off by elements energized to the plasma state of matter.

Jefferson Lab's Science Education staff invites classes, groups and families to sign up now for one of its 2008-09 Physics Fests.

The first Physics Fest for the 2008-09 school year will be held Thursday, Oct. 2. The science events are scheduled through May 13, 2009, and three Physics Fest dates have been posted for summer 2009.

A Physics Fest is a two-hour presentation (10 a.m. - noon) that includes an interactive summary of the research conducted at Jefferson Lab and demonstrates some of the technology used at the lab to conduct experiments. Highlights of the presentation include the popular Deep Freeze (cryogenics), Hot Stuff (plasmas) and hair-raising Electrostatics demonstrations.

Parents, teachers and students planning to attend may wish to download the Physics Fest Classroom Activity Pack from JLab's Physics Fest website. The pdf document contains general information about Jefferson Lab, the anatomy of atoms, a vocabulary list with related games and puzzles, and data sheets and activities that can be used before, during and after attending a Physics Fest. The Activity Pack is about 2.1 MB in size, and can be downloaded with Adobe Reader software. The materials are written at the 6th-grade reading level.

Individual students and groups must be accompanied for the duration of the event by teachers, parents or authorized adult escorts. These free events take place in the CEBAF Center auditorium located at 12000 Jefferson Ave., Newport News, Va. Seating is limited; reservations are required. Contact Dave Abbott by email davida@jlab.org or phone 757-269-7633 to request reservations.

For security purposes everyone over 16 is asked to carry a photo I.D. Security guards may perform ID, parcel and vehicle checks. Visit JLab's virtual Visitor Center for directions.
---
International Linear Collider Global Design Effort Team Visits JLab
The International Linear Collider Global Design Effort team led by Director Barry Barish visited JLab Sept. 11-12. The team spoke with lab leadership and toured the lab. Barish presented a colloquium titled: The Next Great Particle Accelerator: A TeV Scale Electron Positron Linear Collider. Here Barish (far right) visits the Injector Test Cave in the Test Lab with (left to right) Bill Weng, DOE High Energy Physics; Matt Poelker, JLab Injector leader; Bob Rimmer, JLab's SRF leader; Akira Yamamoto, ILC-GDE SCRF project manager; Marc Ross, ILC-GDE CFS and Global systems project manager and Accelerator Division Associate Director Andrew Hutton.
---
First Beam for Large Hadron Collider
WASHINGTON, D.C.– An international collaboration of scientists sent the first beam of protons zooming at nearly the speed of light around the world's most powerful particle accelerator – the Large Hadron Collider (LHC) – located at the CERN laboratory near Geneva, Switzerland on Sept. 10.  The U.S. Department of Energy and the National Science Foundation invested a total $531 million in the construction of the accelerator and its detectors, which scientists believe could help unlock extraordinary discoveries about the nature of the physical universe.

Celebrations across the U.S. and around the world marked the LHC's first circulating beam, an occasion more than 15 years in the making. An estimated 10,000 people from 60 countries have helped design and build the accelerator and its massive particle detectors, including more than 1,700 scientists, engineers, students and technicians from 94 U.S. universities and laboratories supported by DOE's Office of Science and NSF.

The first circulating beam is a major accomplishment on the way to the ultimate goal: high-energy beams colliding in the centers of the LHC's particle detectors.  Beyond revealing a new world of unknown particles, the LHC experiments could explain why those particles exist and behave as they do. They could reveal the origins of mass, shed light on dark matter, uncover hidden symmetries of the universe and possibly find extra dimensions of space.

"The LHC is a discovery machine," said CERN Director General Robert Aymar, "its research programme has the potential to change our view of the Universe profoundly, continuing a tradition of human curiosity that's as old as mankind itself."

Photos and videos from the LHC First Beam day at CERN are available at:
http://www.cern.ch/lhc-first-beam .

Information about the U.S. participation in the LHC is available at http://www.uslhc.us .

For the complete DOE news release, visit: https://energy.gov/articles/first-beam-large-hadron-collider
---
Watch Out for Wildlife That Could Bite, Sting
Facilities Management and Environment, Safety and Health is urging everyone to take extra care when working in areas that mimic the natural habitat of potentially dangerous creatures. Natural and manmade areas in and around JLab can provide ideal habitat for several types of wild critters.
Potentially dangerous critters include poisonous spiders. While spiders are usually found outdoors, they can occasionally be found inside buildings and sheds as they seek dry, dark or undisturbed areas. Therefore the JLab community needs to be aware of the hazards and how to implement the proper controls.
Black widow spiders are present in the Hampton Roads area. The females are readily identifiable by the red spot or hourglass-shaped mark on their round abdomen. They live in wood or debris piles, under roof eaves and in other generally undisturbed places. They are known for the seriousness of their bite symptoms, including pain radiating from the site, nausea, overall body-aches, profuse sweating and labored breathing. Black widow bites are much more serious in children than in adults. If bitten while at work, immediately contact Occupational Medicine at ext. 7539. If you or a family member is bitten during non-work hours, seek emergency medical attention.
Brown recluse spiders may also inhabit parts of Hampton Roads. These spiders build irregular webs in dry, generally undisturbed places. Bites from brown recluse spiders are rare; it is not an aggressive spider and generally only bites when pressed against the skin. However, a brown recluse bite causes severe local tissue damage that can possibly lead to necrosis. Again, if bitten, you should immediately contact Occupational Medicine at ext. 7539, or seek emergency medical attention if after hours.
Symptoms from other types of spider bites include brown spots in the middle of the bite area with localized swelling. If there is any doubt as to the seriousness of a bite, you should promptly seek medical attention.
To avoid spider bites:
Don't work in areas where vision is not adequate. Illuminate dark areas before starting work.
Be sure to wear proper hand gloves and other long clothing.
Pay special attention to dark corners in storage rooms and industrial areas and the shady areas provided by the many above-ground pipes and under the gas-flow handles on gas-storage bottles.
Use caution if working on roof eaves on buildings as these areas may harbor spider or wasp nests.
Be aware that equipment and materials parked or stacked outdoors or in sheds can also provide quiet, shady spots for spiders or other bugs to build nests.
Facilities Management urges everyone at JLab – and especially those working on the Accelerator Site or in areas open to the outdoors – to take extra precautions during the summer and fall months.

If you should come across any of these or other potentially dangerous animals, alert Mike Lewellen at ext. 7169 or lewellen@jlab.org, so that Facilities Management can safely remove any infestations.

The Virginia Cooperative Extension and U.S. Centers for Disease Control and other reputable websites have additional information on avoiding and handling insect stings, tick bites, spiders, snakes and other vermin.
---
Milestones for mid-July through mid-September
Hello

Jennifer Earnest, Human Resources Consultant, Chief Operating Officer Division
Tammy King, Budget/Financial Analyst, Chief Financial Officer Division
Gail Lucento, Internal Auditor, Chief Operating Officer Division
Hugh Montgomery, JLab Director and President of Jefferson Science Associates, LLC, Directorate
Hrishikesh Phadke, Mechanical Design Engineer, Engineering Division
William Rainey; ESH Program Engineer; Environment, Safety, Health & Quality Division

Move

Christoph Leemann, retiring as JLab Director and President of Jefferson Science Associates, LLC, Directorate (New JLab title is Director Emeritus)

Goodbye

Anthony Bavuso, Control Systems Computer Scientist, Accelerator Operations R&D Division
Yu-Chiu Chao, Accelerator Physicist, Accelerator Operations R&D Division
James Derrick, Mechanical Designer, Engineering Division
Nina Farrish, Human Resources Consultant, Chief Operating Officer Division
Brian Jump, Student Intern, Information Technology Division
Mark Paris, Postdoctoral Researcher, Theory & Computational Physics
Cindy Saban, 12 GeV Safety Manager, Environment, Safety, Health and Quality Division
Jacek Sekutowicz, Principal SRF Scientist, Accelerator Operations R&D Division

These Milestone entries, listed alphabetically, are actions posted by Human Resources from mid-July through mid-September 2008. Current JLab career opportunities are posted at: https://careers.peopleclick.com/careerscp/client_jeffersonlab/external/search.do
---
In memoriam: JLab Mourns Death of Henry Whitehead
Henry Whitehead
Senior Electronics Technician
Cryomodule Assembly group
Henry Whitehead, Jr., a longtime CEBAF/JLab staff member, died Aug. 11. He was a State employee who had worked at JLab since August 1984.  His most recent position was as a Senior Electronics Technician with the Superconducting Radiofrequency Institute's Cryomodule Assembly group.
In lieu of flowers, the family would appreciate memorial contributions to the Patterson-Gaines Memorial Chapel Renovation Project in care of First Baptist Church of Hampton, 229 North King Street, Hampton, VA 23669. Stories about Henry's decades of service at JLab are on the web at: https://www.jlab.org/news/releases/jlab-mourns-death-henry-whitehead
The
On Target
newsletter is published monthly by the
Thomas Jefferson National Accelerator Facility
(Jefferson Lab), a nuclear physics research laboratory in Newport News, Virginia, operated by
Jefferson Science Associates, LLC
, for the
U.S. Department of Energy's
Office of Science
. Possible news items and ideas for future stories may be emailed to
jlabinfo@jlab.org
, or sent to the Jefferson Lab
Public Affairs Office
, Suite 15, 12000 Jefferson Avenue, Newport News, VA 23606