The U.S. Department of Energy's Thomas Jefferson National Accelerator Facility

---
DOE Review Assesses Progress of 12 GeV Upgrade Project
Staff Scientist Mac Mestayer directs the attention of members of the 12 GeV review team to work underway on a portion of the CLAS 12 detector assembly. The work is taking place in the Experimental Equipment Lab clean room.
 

The U.S. Department of Energy completed its most recent progress assessment of Jefferson Lab's 12 GeV Upgrade project during September with much positive feedback.

An Independent Project Review panel representing the DOE Office of Science's Office of Project Assessment visited the laboratory Sept. 28-30 to review the progress of all aspects of the 12 GeV Upgrade, the $310 million project that will double the energy of the Jefferson Lab's CEBAF electron beam.

In addition to doubling the energy of the electron beam from 6 billion electron volts (GeV) to 12 billion electron volts, the project includes the construction of a fourth experimental hall and upgraded equipment in the existing experimental halls. Once completed, the 12 GeV facility will provide scientists with a one-of-a-kind tool to study the behavior of quarks in protons and neutrons, and to study the mechanism that eternally locks quarks and gluons inside them. The project is scheduled to be completed in 2015..... more
---
Experimentalist Named Nathan Isgur Fellow

Last year, Pawel Nadel-Turonski was honored to receive the prestigious Nathan Isgur Fellowship and the distinction of being the first experimentalist to accept the position, which had gone to theorists since its inception in 2002.......more

 

Pennington Joins Lab, Leads Theory Group

Mike Pennington calls himself "an accident of war."

Fearing the coming war and the fate it would hold for German Jews, his mother immigrated to England in 1939.......more
 

Pilat Becomes Deputy Director of Accelerator Division

Born in Trieste, Italy, near the border of Slovenia, Fulvia Pilat had the advantage of living in a city that was a crossroads of the world......more

---

Below the Fold:
DOE Review Assesses Progress of 12 GeV Upgrade Project
Director of the DOE Office of Science's Office of Project Assessment, Daniel R. Lehman (right), talks with 12 GeV Upgrade Project Manager Claus Rode after the review closeout on Sept. 30.
The U.S. Department of Energy completed its most recent progress assessment of Jefferson Lab's 12 GeV Upgrade project during September with much positive feedback.
An Independent Project Review panel representing the DOE Office of Science's Office of Project Assessment visited the laboratory Sept. 28-30 to review the progress of all aspects of the 12 GeV Upgrade, the $310 million project that will double the energy of the Jefferson Lab's CEBAF electron beam.
In addition to doubling the energy of the electron beam from 6 billion electron volts (GeV) to 12 billion electron volts, the project includes the construction of a fourth experimental hall and upgraded equipment in the existing experimental halls. Once completed, the 12 GeV facility will provide scientists with a one-of-a-kind tool to study the behavior of quarks in protons and neutrons, and to study the mechanism that eternally locks quarks and gluons inside them. The project is scheduled to be completed in 2015.
The purpose of the review was to assess progress and respond to five charge questions:
-- Is the project positioned to be completed within the established cost and schedule baseline?
-- Is there appropriate cost and schedule contingency to address risks in the remaining work and is it being properly managed?
-- Is the project being properly managed?
-- Are Environment, Safety & Health and Quality Assurance aspects being properly addressed?
-- Has the project responded appropriately to prior review recommendations?
The review team, headed by Daniel R. Lehman, director of the Office of Project Assessment, included more than 20 reviewers, with expertise from across the national lab system, research universities and the DOE. Several DOE Office of Science managers attended the review as observers. This review was the latest in a series of regularly scheduled gatherings to assess progress, cost and scheduling. The previous Office of Project Assessment review was held in late April.
Areas reviewed included accelerator systems (superconducting radiofrequency cryomodules, cryogenics, beam transport, power systems, extraction, and instrumentation control and safety); detectors; conventional facilities; environment, safety and health; cost and schedule; and project management.
In addition to briefings and discussions with 12 GeV project team members and lab management during general and breakout sessions, the reviewers also toured the Hall D construction site, the Central Helium Liquefier addition and areas in the Experimental Equipment Lab where new detector systems for Hall B are under assembly.
The review subcommittee chairpersons noted the many significant project milestones achieved since the last review and made many positive observations and comments regarding work progression. They described the project as "matured" and "being in good shape," and remarked that this is "both a challenging and an exciting time" for the project.
Projects of this magnitude aren't without issues or concerns, and these reviews give the lab the opportunity to discuss these concerns with DOE and the reviewers, who are subject matter experts.
At the review closeout, Timothy Hallman, associate director for Nuclear Physics within DOE's Office of Science, praised the review team, the Office of Nuclear Physics staff, the DOE Site Office staff and JLab's 12 GeV team. "This is a tremendous project and everyone's efforts are targeted to making it a success."
Experimentalist Named Nathan Isgur Fellow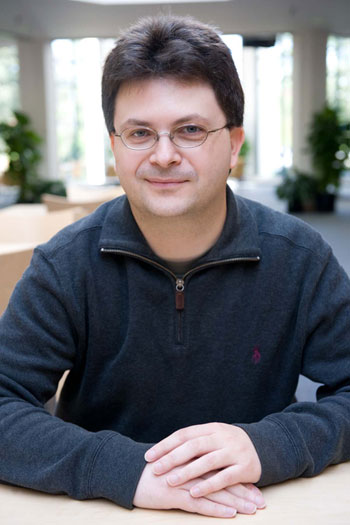 Pawel Nadel-Turonski
Nathan Isgur Fellow
Last year, Pawel Nadel-Turonski was honored to receive the prestigious Nathan Isgur Fellowship and the distinction of being the first experimentalist to accept the position, which had gone to theorists since its inception in 2002.
Named in honor of Jefferson Lab's chief scientist who died in 2001, the Isgur appointment is for an initial three-year period, with the possibility of a two-year extension, at a salary comparable with that of a university assistant professor. The fellowship, supported through the Jefferson Science Associates Initiatives Fund program, is intended to further the career of an outstanding young scientist, meaning all applicants must be within five years of having earned their Ph.D.
Nadel-Turonski was born in Lodz, Poland, but moved with his parents to Sweden. "I was always interested in physics," he recalled, "but also many other things. The direction I would take was not always obvious."
In fact, when he started college, he remained unsure about his major. However, the logic of his choice became evident. "You can read about history or philosophy on your own," he noted with a smile. "But you can't have an accelerator in your basement."
After earning his undergraduate degree in physics from Chalmers University of Technology in Goteborg, where his family lived, he continued his education at Uppsala University. His thesis adviser was Leif Nilsson, then director of The Svedberg Laboratory, where he took part in numerous experiments. While Nadel-Turonski enjoyed working at a small hadronic lab like TSL, it also presented some challenges.
"On one experiment I was trying to prepare for, we needed some silicon strip detectors from a company in Britain, and we only needed three," he recalled with a laugh. "Unfortunately, at the same time, Fermilab ordered 1,000 and we had to wait and wait. Finally, I had to actually go and ask for our detectors. It wasn't quite begging, but almost."
He first came to the United States to visit family friends after graduating from high school and dove into that adventure with characteristic gusto. He traveled with them from Washington, D.C., to Kansas, and then set out on his own to tour the adjoining western states. He returned by bus from Kansas to New York to catch his flight back home, a somewhat grueling ride that gave him further opportunity to see the country.
Nadel-Turonski has been involved in the CEBAF Large Acceptance Spectrometer (CLAS) Collaboration since 2004. He was a postdoc at the George Washington University for three years and then spent two years at the Catholic University of America in Washington, D.C. before accepting the Nathan Isgur Fellowship in October 2009. His fellowship work includes several experiments in addition to being on the team planning and developing an Electron Ion Collider (EIC). The E06-103 experiment (CLAS g13 run period), using polarized photons to probe the neutron inside a deuteron, "was the largest experiment by data volume carried out at Jefferson Lab to date, and forms an important part of the Hall B N* program, in which Nathan Isgur had a major interest," he noted. Nadel-Turonski is the spokesperson and primary contact for E06-103.

Together with his collaborators he is also developing a program for timelike Deeply Virtual Compton Scattering (DVCS). "The term 'timelike' indicates that the scattered photons, which decay into a lepton pair, are virtual and quite massive. In fact, the ones that interest us are all heavier than a proton," he explained. "We have preliminary data from CLAS, and plan to continue the program after the 12 GeV Upgrade using the CLAS12 and GlueX detectors."
"This is a very good opportunity for me," he added. "It's a good chance to look around and do a lot of things, and I like the people very much."
In fact, working around people is part of what he enjoys most about being an experimentalist. "It has a social dimension," he noted. "You cannot do it alone. There's more information than one person can deal with, so it always must be a collaborative effort. It's essential for the success of a project to get everyone involved. I've made a lot of good friends."
By Judi Tull
Feature writer
Pennington Joins Lab, Leads Theory Group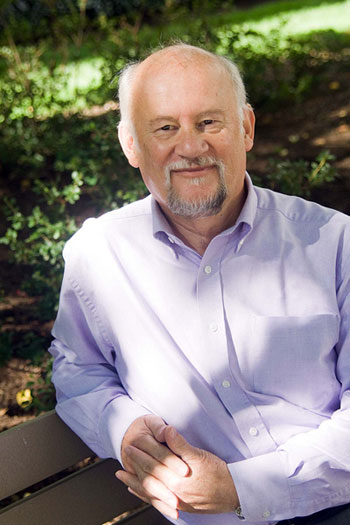 Mike Pennington
Associate Director, Theoretical & Computational Physics Center
Mike Pennington calls himself "an accident of war."
Fearing the coming war and the fate it would hold for German Jews, his mother immigrated to England in 1939. With her background in "precision machinery" as a seamstress, she talked herself into a job working on a lathe, doing precision tooling work for the British aircraft industry. Her co-workers were suspicious of her German accent, but one woman befriended her. That friend, Violet Pennington, told her one day, "You must meet my brother." He had joined the Navy when he was just 16, and, as Mike Pennington says, "These two worlds would never have collided" had not fate put his mom in that factory.
Pennington and his younger brother and sister were brought up about 12 miles outside London, in the town of Romford. By the time he was an early teen, the family moved to his father's hometown of Preston, in the northwestern part of England.
"The school I attended had a strong academic tradition. There were industrious boys, studious boys," Pennington recalled. "They took school earnestly, and I found it an interesting challenge to be surrounded by such intellect."
He was allowed to study Latin on his own in order to catch up with the others, who were at least a year ahead of him, and became fascinated by it. Latin and Roman history became his passions. At 16, he won a scholarship to go to Rome to study for six weeks during a school holiday and hitchhiked his way there.
His mother posed what would become a pivotal question: Where could these pursuits lead him in the future? What job could he hold? There were, she said, only two: a priest or an academic. "Neither," he said recently with a laugh, "appealed to me very much."
There was, lurking in the back of his mind, a vision he'd had of himself as a kid playing with his chemistry set; he'd always envisioned himself in a white lab coat. He changed his focus in high school to chemistry, physics and math. He quickly fell out of love with chemistry, but math and physics continued to lure him and he excelled. One physics teacher, in fact, told his parents he would be a physicist.
Theoretical physics held a special appeal, and was his major when he entered Edinburgh University and found himself, once again, surrounded by talent. "I knew right away there were lots of smart guys and girls there," he noted. "Many who knew more than did I." Up for another scholastic challenge, by the second term he was in the top three in his class and never left that position. He received his bachelor's degree in mathematical physics in 1968.
He lived in London while finishing his Ph.D. at Westfield College, University of London, and found every minute of it – the work and the lifestyle – wonderful. "It was such a time of growth in learning in subatomic physics. There were whole areas that were unexplored. It was as if it were a field ripe for growing vegetables – and we were having the seeds of thought," he remembered. "So much more is known today, so students have to know more just to have an impact."
His advisers also had an impact on him that would carry through his career. "I was very fortunate," he said. "I learned from them the value of encouraging students."
Living in London became fortunate for him in another way: His next-door neighbor, Pat, would ultimately become his wife.
He first came to the U.S. in 1971 as a post-doc at Berkeley, a thrilling time to be there. Still energized by the tumult of the late 1960s, the university was home to world-renown physicists and brilliant post-docs. "It was a wonderful time," Pennington said. "You could do what you wanted, and though you knew your own future depended on it, you had no responsibilities at all."
He returned to England to work at the Rutherford Lab, where he met David Morgan, with whom he would subsequently write nearly 30 papers.
He soon realized that permanent jobs in labs were few and far between, and that the ideal would be an academic post, but those were also scarce and usually required some prior teaching experience. By chance, the head of the physics department at Durham University was going on sabbatical; Pennington was asked if he'd be interested in stepping in for three months. He was offered the position again the following year. It was a fortuitous beginning when after CERN he joined the Durham faculty and rose through the ranks and ultimately served as head of the department from 1999 to 2003. "I am," he said in understatement, "quite good at explaining complex theories in regular language." As department chair he was instrumental in the creation of the Ogden Centre for Fundamental Physics at Durham.
He returned to research in 2003, but in another twist he became the dean for Educational Outreach for the university. This first brought university involvement in developing exciting science education for young people from 3-90, and then leading a project to create new high schools with university input in communities with previously low educational accomplishments. In fact, his arrival at Jefferson Lab in early September was delayed by two months so he could continue his work with Britain's new government to continue the project.
Pennington has served on JLab's Program Advisory Committee since 2007 and was trekking through the Andes with his wife last year when he received an e-mail asking if he would be interested in becoming the lab's associate director for Theoretical and Computational Physics.
"Although I loved educational outreach, it had been taking me away from physics," said Pennington. "This sounded like it would be a lot of fun. The theory group here is interesting and diverse. I see the role of theorists here as supporting the experimentalists. How to interpret the data taken from experiments will be a role that I and my colleagues can play."
Although the Penningtons gave up their garden of more than 100 rose bushes in England, they have settled happily in Williamsburg. Over the years, they've driven across the U.S. twice, up and down the Rockies for hiking, and are looking forward to experiencing more of this vast country.
By Judi Tull
Feature writer
Pilat Becomes Deputy Director of Accelerator Division
Fulvia Pilat
Deputy Director, Accelerator Operations, Research & Development Division
Born in Trieste, Italy, near the border of Slovenia, Fulvia Pilat had the advantage of living in a city that was a crossroads of the world. "This was not typical Italian culture," she explained, "although my mother stayed home and my father worked. There were many experiences available to me. My parents were interesting people, with some college education, and my mother, especially, was open-minded and lively."
In what she refers to as her "life before science," Pilat had an affinity for art and philosophy. "There was," as she puts it, "no making transmitters in the basement for me."
Nonetheless, there was the defining moment in her life that led her to a career in science. A good friend's father was a particle physicist and she attended lectures with her friend at the nearby university and became fascinated.
She was unsure about her career until she entered college. Still into visual arts and philosophy, Pilat realized that the determining factor in her choice boiled down to this: "I could have done art, but physics was a challenge," she recalled. "This would not be a 'vanilla' career for a girl."
It was also, she realized, a ticket out. "I wanted to see the world," she noted. "I knew that physics would offer me the opportunity to travel, and there was a lot of the world to be seen."
She started at the University of Trieste and during her third year there she qualified to spend the summer working on a high-energy physics experiment at CERN with the SPS collider. "For me," she noted, "this was a convergence of opportunity and interest."
She moved to Geneva for her Ph.D., with her work becoming more and more focused on accelerator physics. Immediately after finishing her doctorate, the opportunity came to move to the United States and work at Los Alamos for several months. She was then awarded a fellowship at CERN and decided to return to CERN for a few more years.
She was offered positions at several U.S. labs, and was eventually lured to Waxahachie, Texas, to work at the site of the Superconducting Super Collider, which was set to become the world's largest and most energetic collider, with a planned ring circumference of 54 miles and an energy of 20 TeV per beam of protons.
"It was risky, it was inspiring," she said of not just the SSC project but of her decision to go. Three and a half years later, the project was shelved and Pilat moved on to Brookhaven, where she signed on just as that institution's largest accelerator, the Relativistic Heavy Ion Collider, was coming on line.
"I was able to see the machine being built, the final stages of design, the shake out, the commissioning, the early operations," she pointed out. Physicists from around the world conduct experiments at RHIC to explore a state of matter that existed one millionth of a second after the Big Bang. She became the run coordinator, responsible for the accelerator's performance.
"I must have done something good," Pilat noted with a laugh, "because they made me head of operations." Overseeing a staff of about 30, Pilat was responsible for the smooth operations and system maintenance of the 2.4 mile-round collider and three smaller accelerators that prepare ions for acceleration to nearly the speed of light in RHIC.
In addition, Pilat was coordinator of the Accelerator Physics Experimental Program at RHIC, in which she led about 40 physicists and engineers who developed new techniques and instrumentation to improve the operation of RHIC and to advance future accelerators.
She had married while at CERN, and has three daughters. Katharina was born in Geneva and graduated this year from Smith College, Alexandra was born in Texas and Angelica was born on Long Island.
Pilat's husband, Michael, made a career shift when the family moved to Long Island, and now owns a trading company based in Manhattan, where the couple keeps an apartment on the Upper East Side.
The family has settled on the water in Seaford, Va. "We've finally landed on water, like I always wanted," she said with a smile. The location allows the family a life of balance, and gives Pilat ready access to New York in order to indulge her passions of shopping and fine dining.
Pilat joined Jefferson Lab as deputy director of the Accelerator Operations, Research & Development Division, and is currently coordinating lab-wide preparations for a six-month accelerator shutdown starting next spring to allow for 12 GeV Upgrade work to take place in CEBAF. Her entry into the JLab community was gradual, dividing her time between Brookhaven and the lab beginning in early 2010. "It's very good that they could come to this agreement," she noted. She moved to full-time status at the lab in August.
Of her job and the opportunities at the lab, Pilat said, "Jefferson Lab is diversifying, expanding its expertise and impact. This is an exciting time, with new proposals and new ideas. The 12 GeV Upgrade was certainly part of the attraction, and it's exciting to go through construction and commissioning of an accelerator all over again," she said.
It's not all work, of course, for this exceptionally stylish woman. She ticks off her loves easily: there's fitness (she's into weight lifting and is in the gym almost every day) and is still into art, which she's "keeping on the back burner," and then there are the cars – a little convertible with stick shift that she calls "La Petite" and the big power car that goes by "Le Brut."
"I'm glad to be here. I really like it," she noted. "There's going to be a positive impact from the work here. The people – and the environment – are really dynamic."
By Judi Tull
Feature writer
---
JLab Computing Cluster Tops 100 Teraflops
The Scientific Computing group paused for a photo in front of the new Hadron computing system that uses graphics processing units, or GPUs. Pictured from left to right in the front row are: Jie Chen, Troy Mattox, Sandy Philpott, Ying Chen and Lawrence Sorrillo. Pictured from l. to r. in the back row are: David Rackley, Christopher Larrieu, Christopher Hewitt, Chip Watson, Michael Barnes and Robert Edwards.
The fastest computer system in Hampton Roads has booted up with more than 100 Teraflops of processing power. Located at Jefferson Lab, the cluster computer system was recently upgraded with video game components to assist scientists in modeling the smallest bits of matter in the universe.
               
"Our resources crossed 100 Teraflops of sustained processing while running a science application. We finally hit the peak in late September," said Chip Watson, manager of Jefferson Lab's High-Performance Computing group in the Information Technology Division.
The supercomputer, called Hadron, was built with components that were purchased and cobbled together over the last year. It runs on both video game graphics cards and ordinary computer processors. About 90 percent of its computing power comes from the video game graphics processing units, or GPUs.
The Hadron system contains 480 GPUs and 266 CPUs mounted inside computing chassis and assembled into side-by-side racks. Two parts run mainly on GPUs, dubbed 9g and 10g ('g' for GPU).
"We bought two types of GPUs. We bought gaming cards, and we bought graphics cards in the professional line for supercomputing. These cards are similar to gaming cards, but they are configured somewhat differently and have error-correcting code built-in," Watson explained. "Some calculations we can do equally well on either card, and we do those calculations on the gaming cards. There are some calculations that involve much more, and those have to be on the professional-quality cards."
Hadron is being used to compute how the building blocks of matter, quarks, build the protons, neutrons and other particles that makeup everyday matter.
"The GPUs are being used solely for propagator calculations – computing how a quark will move from one point in space to another point," said Robert Edwards, a senior staff scientist in Jefferson Lab's Theory group.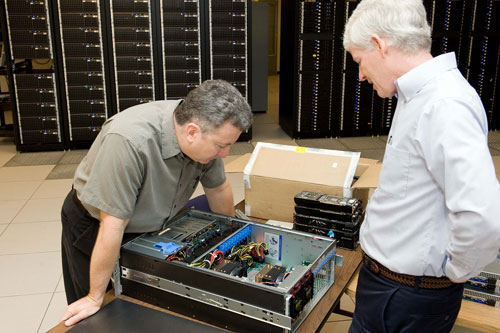 Chip Watson (right), manager of the High-Performance Computing group, and Robert Edwards, a senior staff scientist in the Theory group, examine a computer box that when complete will hold four graphics processing units and two CPUs. The GPUs are stacked in front of the cardboard. The Hadron system contains dozens of similar boxes in the racks behind Edwards.
Once those calculations are done, the scientists then take the results and use them on a CPU-powered cluster computer. "We take the results from the GPUs and we tie this group of quarks together to make mesons or baryons. From this, we can compute the mass of these particles and their excited states," Edwards explained.
Watson used about $1 million of a nearly $5 million grant received as part of ARRA (American Recovery and Reinvestment Act) funding under the auspices of the Department of Energy's USQCD (US Quantum Chromodynamics) collaboration to purchase the 352 gaming cards and 128 professional graphics cards and associated hardware currently installed in the Hadron system. A chunk of the grant also went toward funding the effort to create computer code to adapt the GPUs for scientific computing.
Watson said that some of the GPUs and CPUs purchased for Hadron are still undergoing testing before being added to the system. "When we get all of the GPU systems running, the GPUs alone will exceed 100 Teraflops," he said.
A teraflop is a term used to describe a computer's performance. It indicates that a system can perform a million-million operations per second.
In the meantime, Watson said he and his team continue to monitor the marketplace for the next big leap in technology.
By Kandice Carter
Science writer
Editor's note: An article about the first portion of the Hadron system (9g) to come online is available at this link: https://www.jlab.org/news/ontarget/target-june-2010
---
China's State Councilor Meets With U.S. High Energy Physics Group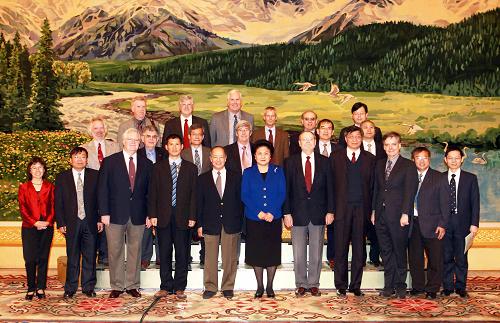 This is a photo of the U.S. High Energy Physics delegation with State Councilor Liu Yandong and other government officials. Liu Yandong is in the center of the front. Jefferson Lab Director Hugh Montgomery is in the center of the second row, and Timothy Hallman, associate director for Nuclear Physics within DOE's Office of Science, is in the front row, third from the left. Photo by Liu Weibin, Xinhua.
On Nov. 2, at the Beijing Great Hall, State Councilor Liu Yandong met with the U.S. Delegation of High Energy Physics, which included Jefferson Lab Director Hugh Montgomery. The delegation was in China for the 31st Joint Committee Meeting on China-U.S. High Energy Cooperative Program.
According to a Chinese government news announcement, Liu Yandong praised the contributions of Noble Prize Laureate, T. D. Lee of Columbia University, citing his more than 30 years of encouraging cooperation between China and the U.S. in high-energy physics, in promoting the development of science and technology in China, and in speeding up the training of scientific talent in China. Liu cited China-U.S. cooperation in high-energy physics as a good example of China-U.S. collaborations in science and technology. She also expressed the hope that high-energy scientists from both countries further enhance the collaboration, continue to achieve new results, and make new and more significant contributions in promoting the common development of scientific research and friendship between the people of the two countries. The news posting is at: http://www.gov.cn/ldhd/2010-11/02/content_1736656.htm.
Liu Yandong is an official of the Communist Party of China currently serving on the Politburo and holds the post of State Councilor. She is the highest-ranking female politician in the party, and the only woman with a seat on the Politburo.
---
Doty Coordinates Accelerator Work for 12 GeV Upgrade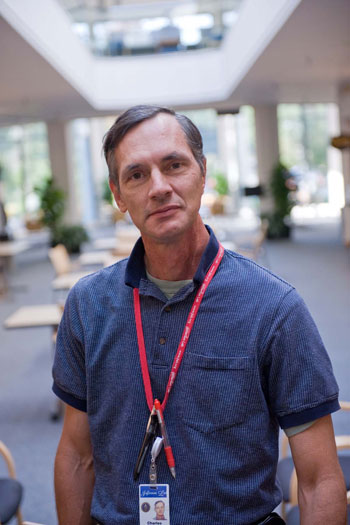 Chuck Doty
12 GeV Upgrade Accelerator Work Coordinator
Chuck Doty, Jefferson Lab's 12 GeV Upgrade accelerator work coordinator, is at home wearing a palm-tree festooned Hawaiian shirt. After all, Hawaii was his last duty station with the Navy before his retirement in 2005 as an engineering duty officer. A native of Albuquerque, he had been enthralled the first time he saw the Naval Academy at Annapolis on a trip with his dad, who was an air traffic controller. When he graduated and chose a career in the nuclear Navy, his first – and, eventually last – stop was at Pearl Harbor.
He first served on submarines, but that career course was derailed by a brain tumor when he was in his late 20s. Ultimately, it took three surgeries over a number of years to remove all of the tumor, leaving him with permanent vocal cord damage and deafness in his left ear. Although the Navy could have let him go, his skills were valued so much that he was sent to Penn State, where he earned a degree in nuclear engineering in 1986.
He often jokes that one of the reasons he's a good engineer is because his brain is stronger than most since after his last surgery his head was rebuilt with a piece of quadriceps muscle from his thigh.
Throughout the rest of his Navy career, he worked at shipyards in Charleston, Guam, Washington state and Newport News. In fact, he was stationed here when the lab was being built. "I watched it as it grew," he recalled, "and I always thought that someday I'd love to work here."
Although Doty and his wife of 30 years, Peg, would have loved to stay in Hawaii when he retired, they came east, and bought a house in Hampton; and he took a position with a small shipyard in Chesapeake. Years of fighting the Hampton Roads tunnel traffic spurred Doty to keep his eye open for a job closer to home. As luck would have it, his skills fit perfectly with the opening he spotted on the Jefferson Lab website, and he came on board in January.
"It's a wonderful group of people here," he said. "The 12 GeV Upgrade is envisioned by the physicists but the techs and the engineers are critical to making it happen."
And, he pointed out, the work environment is not so different from a submarine: "There's only so much room in the tunnel, and everything that needs to be done has to be done in that area."
There's a lot to be done. With its projected requirement of 10,000 man days, Doty's job of coordinating all the required tasks is a challenge, but one he's up for. In a sense, he noted, it's like working at a shipyard where the employees he directed didn't actually work for him, according to the organizational chart. "You have to be able to motivate people who don't work for you to do what needs to be done," he said.
What's very different, though, is what he called the "language of the lab."
"For the first three months I was here, I'd write down things I heard and didn't understand, and then go home and look them up and study," he confessed. "This place provides a great opportunity to learn and to meet new people."
He's found the culture at the lab to be not only fulfilling, but inspiring as well. "Everyone's attitude is that we're all in it together, and our goal is to make it work," he said. "You couldn't ask for a better place to work. The people are wonderful and the work is challenging."
He and Peg, who's a certified public accountant, have two daughters – Phoebe, a freshman at the College of Charleston and Abby, a freshman at Peninsula Catholic High School. The family's been very involved over the years with the girls' sports, band and swimming. The family keeps a 33-foot sloop, Alternative, at Fort Monroe. Experienced sailors, they found the boat in Ft. Lauderdale and sailed it up to Annapolis; they even had it shipped to Washington so they could sail it in the Puget Sound.
Among the other leisure pursuits that he's not very good at, Doty confessed, are golf and bowling. In fact, when he retired from the Navy, his co-workers gave him a plaque that says "100 – 100." That, he noted, stood for his hope to someday shoot less than 100 in golf and more than 100 in bowling.
By Judi Tull
Feature writer
---
Lab Policy Promotes Energy Awareness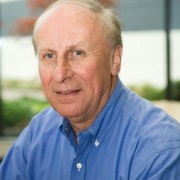 Bill Mooney
Energy Manager
Energy and water conservation, waste management and sustainability initiatives are top priorities for all federal agencies, and especially within the Department of Energy's national laboratories. Jefferson Lab is responsible for compliance with a variety of legislation, DOE Orders and directives, all of which include challenging goals to improve energy efficiency, reduce energy consumption, and, to be addressed soon, reduction of greenhouse gas emissions.
Over the years, Jefferson Lab has strived to be a good steward of the resources it uses; and during 2009 the lab put an Energy Conservation Policy in place. The policy is designed to provide a safe, productive and energy efficient workplace for all JLab staff and visitors.
Bill Mooney, Facilities Management and Logistics, is the laboratory's energy manager. His responsibilities include implementing the lab's energy policy. He also has duties related to the achievement of the lab's ongoing energy efficiency improvement goals, and compliance with DOE and other agency efficiency requirements through development of energy reduction and sustainability strategies and programs.
During the past several years, the lab has invested in energy-efficient equipment, technology and practices, and has achieved significant progress towards meeting many of its energy efficiency objectives. Further, all new construction and major renovation projects include a very high level of energy-efficiency design and technology (to qualify for LEED Gold certification), according to Mooney.
Facilities Management and work groups around the lab are identifying and evaluating energy-saver and energy-consumer activities and processes in order to determine where improvements can be made. They are making efforts to upgrading utilities; designing energy-efficiency into new construction projects; metering and upgrading environmental comfort systems (HVAC); turning off electronic equipment and appliances when possible; automating lighting; studying options for electric and bio-fuel-powered fleet vehicles; using renewable energy sources and improving building occupancy.
Currently, Jefferson Lab is installing a site-wide Energy Metering and Management System designed to monitor critical electric loads, as well as natural gas and water consumption. The EMMS installation is scheduled for full operation in the next few months to provide data necessary to better measure and manage energy efficiency initiatives, according to Mooney.
What can an individual do to make Jefferson Lab more energy efficient?
Take a few minutes to review the lab's Energy Conservation Policy; it is available on the Facilities Management webpage: http://www.jlab.org/fm/energymanagement/.
Make sure that thermostats in your areas are set to the policy standards (68 -70 degrees Fahrenheit in the heating season, and 74-76 degrees F in the cooling season).
Questions regarding the lab's Energy Conservation Policy, and especially ideas or suggestions for energy, water and waste conservation, may be directed to Bill Mooney at ext. 5461 or via e-mail: mooney@jlab.org.
---
BEAMS: JLab's Science, Math Outreach Program Seeks Your Help
BEAMS students learn about energy transfer, insulators and scientific procedure during the Cold Stuff activity.
Becoming Enthusiastic About Math and Science – or BEAMS – Jefferson Lab's long-running math and science enrichment program needs your help. Staff, users and students interested in assisting with student activities conducted at the lab during normal business hours are encouraged to contact Christine Wheeler, Science Education.

BEAMS supports Newport News inner-city public school students as they progress from sixth through eighth grade. Nearly 1,500 students and their teachers visit JLab between two and five days each school year to participate in science and math activities conducted by scientists, engineers, technicians and administrators. Volunteers spend about 75 minutes in a BEAMS classroom (VARC, Building 28, rooms 72A & 72B), either leading an activity or assisting students as they carry out an activity.
Volunteers are also needed to provide 15-minute Role Model visits in their office or other appropriate work area for the students. "If you aren't available for a longer activity, Role Model visits are a great way to help out," Wheeler notes.
The 2010-2011 round of BEAMS class visits began in early October and will run through May 2011. Usually two classes attend at a time and participate in two to four separate activities during each day-long visit.
Volunteers are currently needed to lead or help with the following activities:
• Go-Far Cars: Determine how the height of an inclined ramp (potential energy) impacts the distance a model car travels.
• Hot Stuff: Study how heat (energy) transfer works and test materials for their heat absorption or reflecting capabilities.
• Ultra-Violet Detectives: Learn about ultra-violet light and make your own UV detector key chain.
• Cold Stuff: Study how heat (energy) transfer works and test materials for their insulation capabilities.
Later in the school year volunteers will be needed to lead or help with these and other activities:
• Hurricanes: Learn how hurricane strength is measured and use longitude and latitude readings to track a storm's path on a grid map.
• Thermometers: Learn how to measure temperature changes and build a thermometer.
• Solar System: Learn about the solar system and build a scale model of the solar system.
"JLab staff, students and users are critical to the success of JLab's science education programs, especially BEAMS," Wheeler says. "Our BEAMS volunteers have been sharing their passion and excitement for math, science and technology with students for more than 18 years. Students get to learn about you and your job and you get to have fun working with lots of smiling faces. Everybody wins!
"From right here at the lab, you have a chance to make a difference in the lives of these students. We're always happy to welcome back volunteers who have helped in the past, and we are eager to welcome first-time volunteers," she adds.
"Want to help, but not sure how? That's what we're here for," Wheeler explains. "Science Education staff will provide the training you need. Members of the education group are happy to go over any activity whether you are new to the program or if you'd like a refresher. If you want to observe a classroom activity to see if it's something you want to do, we can schedule that."

For additional information, class visit schedules and activity opportunities, contact Wheeler at ext. 7560 or email wheelerc@jlab.org.
The program's goals include: motivating students to boost their learning; strengthening students' math and science skills with hands-on activities, and having them interact with individuals who use math and/or science in their daily work environment. BEAMS also provides teachers with classroom activities based on JLab science and technology.
You may view several of the activities' work sheets at the following pdf links:
Cold Stuff: http://education.jlab.org/cold_stuff.pdf
Go Far Cars: http://education.jlab.org/go_far_cars.pdf
Hot Stuff: http://education.jlab.org/hot_stuff.pdf
UV Detective: http://education.jlab.org/ultraviolet.pdf
Solar System: http://education.jlab.org/solar_system.pdf
Thermometers: http://education.jlab.org/thermometers.pdf
Hurricanes: http://education.jlab.org/hurricane.pdf
---
Lab Offers Virtual Tour on Webpage, DVD
Individuals interested in seeing Jefferson Lab facilities may now visit them via a virtual tour. The tour may be accessed from a JLab Visitor's Center webpage: http://www.jlab.org/visitors/virtualtour.html.
The web menu for the tour features an aerial view of the campus and includes a still photo and printed information about each tour stop. The tour may be viewed by selecting individual locations or viewed in its entirety.
The Public Affairs office also has the virtual tour available on DVD. The video lasts about 12 minutes and can be used to complement the lab video. A link to the lab video "Exploring the Nature of Matter" is also available from the virtual tour webpage.
---
Lecture Features 'Exploring Our World With Particle Accelerators'
Jefferson Lab's final 2010 Fall Science Series lecture will be Tuesday, Nov. 23, and feature James E. Brau, University of Oregon, presenting "The Mysterious Universe - Exploring Our World with Particle Accelerators."
The universe is dark and mysterious, more so than even Einstein imagined, Brau says. While modern science has established an understanding of ordinary matter, scientists now know that previously unidentified elements (dark matter and dark energy) dominate the structure of the universe, its behavior and its destiny. Brau will discuss how researchers are working address these unknowns with experiments at particle accelerators. Results of this research may revolutionize our view of nature as dramatically as the advances of Einstein and other quantum pioneers, according to Brau.
He will introduce the questions being advanced, the research facilities being used to study these mysteries and discuss our current understanding of the underlying science. The presentation will be at an introductory level, appropriate for anyone interested in physics and astronomy.
The lecture is free and open to students and adults with an interest in science. It will begin at 7 p.m., in the CEBAF Center auditorium located at 12000 Jefferson Ave, Newport News, and last about an hour. Seating in the auditorium and overflow area is available on a first-come, first-served basis and is limited to about 300 people. People arriving once capacity has been reached will be turned away.
All those under age 16 must be accompanied by a parent or responsible adult. For security purposes, enter at Jefferson Lab's main entrance (Onnes Drive.). Everyone over 16 is asked to carry a valid photo ID. Security guards may perform ID, parcel and vehicle checks.
For directions and additional information about Jefferson Lab public lectures, visit http://education.jlab.org/scienceseries/index.php, or contact Christine Wheeler, e-mail wheelerc@jlab.org or call 757-269-7560.
Lectures are added to the video archive for on-demand viewing upon approval from the presenter. The archive link is at: http://education.jlab.org/scienceseries/archive.html.
---
DOE Announces Winners of 2010 Energy and Water Management Awards
The U.S. Department of Energy recently announced that more than 30 individuals, teams and organizations across the federal government were selected to receive Federal Energy and Water Management Awards for outstanding and innovative efforts to implement sustainable strategies that improve energy, water and vehicle fleet efficiency.
These awards demonstrate the commitment by federal agencies to invest in efficiency measures that save money for taxpayers, reduce carbon pollution and create a stronger economy for the American people.
The 31 initiatives that received awards in October saved taxpayers almost $42 million in energy and water costs in fiscal year 2009 and kept the equivalent of about 190,000 metric tons of carbon dioxide from being released into the atmosphere. These efforts are also helping to move cutting-edge clean energy technologies into the marketplace, create new American jobs and strengthen our national security.
"As the single largest consumer of energy in the country, the federal government has a responsibility and an opportunity to lead by example in implementing clean energy projects that save taxpayers money, create new jobs and reduce carbon pollution," said Secretary of Energy Steven Chu. "Today's award winners show what is possible when it comes to implementing energy efficiency and renewable energy projects in the Federal Government and beyond."
The 2010 Federal Energy and Water Management Awards winners were selected from nominations submitted by 17 federal agencies. Included among the award winners are employees from the U.S. Air Force, Army, Marine Corps, and Navy; the Departments of Defense, Energy, Homeland Security, Interior, Transportation, and Veterans Affairs; the Environmental Protection Agency; General Services Administration and the National Aeronautics and Space Administration.
Data for fiscal year 2009 shows that the federal government has decreased energy consumption per square foot of building space by approximately 13.1 percent compared with fiscal year 2003, surpassing the goal of 12 percent for the year. The government also reported purchasing or producing 2,331 Gigawatt-hours of electricity from renewable sources, equivalent to 4.2 percent of their electricity use, surpassing the goal of 3 percent for fiscal year 2009.
This awards program is one of several held each year in October in conjunction with Energy Awareness Month to highlight the critical importance of energy efficiency and renewable resources and federal efforts to lead by example in energy management. To see the complete list of this year's winners visit the 2010 Federal Energy and Water Management Award Winners webpage.
---
DOE Releases Report on Offshore Wind Power in the U.S.
U.S. Energy Secretary Steven Chu announced recently the release of a report from the Department of Energy's National Renewable Energy Laboratory, which comprehensively analyzes the key factors impacting the deployment of offshore wind power in the U.S.
The report, "Large-Scale Offshore Wind Power in the United States: Assessment of Opportunities and Barriers," includes a detailed assessment of the nation's offshore wind resources and offshore wind industry, including future job growth potential. The report also analyzes the technology challenges, economics, permitting procedures and the potential risks and benefits of offshore wind power deployment in U.S. waters.

"Clean, renewable energy development that capitalizes on the nation's vast offshore wind and water resources holds great promise for our clean energy future and our economy," said Secretary Chu. "Today's (Oct. 7) report will help guide our efforts in the coming years to support the offshore wind industry, create new clean energy jobs, and develop environmentally responsible energy resources."

The NREL report finds that harnessing even a fraction of the nation's potential offshore wind resource, estimated to be more than 4,000 gigawatts, could create thousands of jobs and help revitalize America's manufacturing sector, reduce greenhouse gas emissions, diversify U.S. energy supplies, and provide cost-competitive electricity to key coastal regions. The report also reaches the conclusion that while significant challenges remain, effective research, policies and market commitment will enable offshore wind to play a significant role in the country's energy future. More information is available in the Executive Summary and full NREL report.

More information on DOE's efforts to promote responsible offshore renewable energy deployment can be found on the Wind and Water Power Program's websites: Wind Power and Water Power.
The complete DOE news release is posted at: http://www.governorswindenergycoalition.org/assets/files/10GWEC-003_GreatExp_324_lores.pdf
---
Milestones for September-October 2010
Hello
Andrew Burrill, Superconducting Radiofrequency Production Engineer, Accelerator Division
Mary Campbell, Conference Coordinator, Chief Operating Officer
Adam Carpenter, Unix/Linux System and Network Administrator, Accelerator Division
Pashupati Dhakal, Post Doctoral Fellow in SRF Materials Application, Accelerator Division
Hovanes Egiyan, Hall D Staff Scientist, Physics Division
Jesse Hales, Hall B Student Intern, Physics Division
Lawrence Hurt, Safety Systems Electronics Technician, Engineering Division
Marie Ivanco, Mechanical Engineer Co-op Student, Engineering Division
Scott Kaneta, Electronics Engineer, Physics Division
Seung Joon Lee, Radiation Detector and Imaging Group Biophysicist, Physics Division
Richard Kenney, 12 GeV Safety Inspector, 12 GeV Upgrade Project
Johnny Leung, SRF Institute Quality Manager, Environment, Safety, Health & Quality Division
Russell Mammei, Injector Scientist, Accelerator Division
Michael Pennington, Associate Director, Theoretical and Computational Physics Center
Charlene Polk, Procurement Administrator, Chief Finance Officer
Dru Renner, Lattice QCD Staff Scientist, Theoretical and Computational Physics Center
Todd Satogata, Accelerator Physicist, Accelerator Division
Alcatrous Johnson, Hall D FDC Technician, Physics Division
Kristin Grinnell, Procurement Administrator, Chief Finance Officer
Shuo Yang, Mechanical Engineer, Engineering Division
Jiawei Mei, Hall C Post Doctoral Fellow, Physics Division
Goodbye
Brandon Holland, Facilities Management and Logistics
Joan Holloway, Property, Facilities Management and Logistics, retired
Kristin May, Administrative Support, 12 GeV Upgrade
Nathaniel Zukerman, Facilities Management and Logistics
These Milestone entries, listed alphabetically, are full-time, term, casual and student actions posted by Human Resources for September and October 2010.

Jefferson Lab is currently seeking qualified individuals for a range of engineering positions as well some scientific, managerial and technical positions. More than 20 JLab employment opportunities are posted at: http://www.jlab-jobs.com/.
Congratulations
Subashini De Silva, a graduate research assistant in JLab's Center for Advanced Studies of Accelerators, placed second in the poster competition at

LINAC10

. The 25th International Linear Accelerator Conference was held in Tsukuba, Japan, Sept. 12-17. The second place award came with a cash prize equivalent to about $600.

 
 
The
On Target
newsletter is published monthly by the
Thomas Jefferson National Accelerator Facility
(Jefferson Lab), a nuclear physics research laboratory in Newport News, Virginia, operated by
Jefferson Science Associates, LLC
, for the
U.S. Department of Energy's
Office of Science
. Possible news items and ideas for future stories may be emailed to
jlabinfo@jlab.org
, or sent to the Jefferson Lab
Public Affairs Office
, Suite 15, 12000 Jefferson Avenue, Newport News, VA 23606