The U.S. Department of Energy's Thomas Jefferson National Accelerator Facility

---
12 GeV Upgrade Update:
First New Accelerator Core Section Rolls Out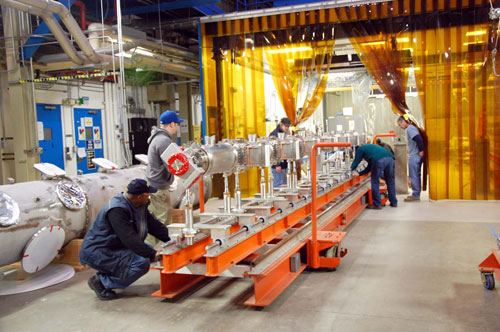 Cryomodule Assembly staff members roll the C100 string off of the transfer cart and onto the assembly rails in the Cryomodule Assembly Room in the Superconducting Radiofrequency Institute.
The first of the new accelerating components that will be installed in Jefferson Lab's CEBAF accelerator as part of the 12 GeV Upgrade have now been successfully tested and strung together in the Test Lab.
Each of the eight cylindrical segments in the string (see picture) contains a niobium accelerating cavity – a structure that harnesses the energy that the machine uses to accelerate electrons. The cavities were manufactured by RI Research Instruments GmbH at a cost of about $81,000 each. The cavities are the first to be tested, cleaned and assembled into a string.
Leigh Harwood, associate project manager for the 12 GeV Upgrade project, says the niobium cavities differ from those currently in use in Jefferson Lab's CEBAF accelerator. ..... more
---
Keppel Named Outstanding Virginia Scientist for 2011

Cynthia Keppel, with both Jefferson Lab and Hampton University for more than 15 years, was one of four Virginia scientists to receive a Virginia Outstanding Scientist Award for 2011...more

 

Lab Generates $679M in Economic Output Across U.S.

Jefferson Science Associates, LLC, recently released the results of an economic impact study done on Jefferson Lab for fiscal year 2010. The study found that nationally "Jefferson Lab generates $679 million in economic output and 4,422 jobs."....more

 

2011 Science Bowl Season is Here

Spirits were high and competition was intense among the 23 schools participating in the 2011 Virginia Regional High School Science Bowl held at Jefferson Lab on Feb. 5. ...more

---

Below the Fold:
12 GeV Upgrade Update:
First New Accelerator Core Section Rolls Out
Cryomodule Assembly staff members receive the first C100 string as it is rolled out of the Production Clean Room. They are sliding the cavity string from the assembly cart to a transfer cart to move it to the Cryomodule Assembly Room.
The first of the new accelerating components that will be installed in Jefferson Lab's CEBAF accelerator as part of the 12 GeV Upgrade have now been successfully tested and strung together in the Test Lab.
Each of the eight cylindrical segments in the string (see picture) contains a niobium accelerating cavity – a structure that harnesses the energy that the machine uses to accelerate electrons. The cavities were manufactured by RI Research Instruments GmbH at a cost of about $81,000 each. The cavities are the first to be tested, cleaned and assembled into a string.
Leigh Harwood, associate project manager for the 12 GeV Upgrade project, says the niobium cavities differ from those currently in use in Jefferson Lab's CEBAF accelerator.
"The cell shape used in the original cryomodules was developed at Cornell in the early 1980s," Harwood says. "The new cell shape leverages the subsequent progress that has been made in preparation of the niobium surfaces."
Since the original machine was finished in 1993, great progress has been made by JLab's Superconducting Radiofrequency Institute, and others, in understanding the factors that affect the performance of niobium cavities, including novel cell shapes, cleaning and assembly.
"With the current processes, higher fields can be reached with lower generation of heat. Higher surface electric fields can also be used. This permits the shape to be adjusted to reduce the amount of heat produced by an additional one third, reducing the load on the helium refrigerator for a given amount of accelerating field," Harwood says.
The 12 GeV Upgrade cavities, called C100 cavities, are also longer. The original cavities contained five cells, while the new C100s each have seven. This will permit greater acceleration of the electrons in the space available for installation in Jefferson Lab's CEBAF accelerator.
In all, Jefferson Lab has purchased 86 niobium cavities for the 12 GeV Upgrade project. Of those, 84 have been delivered. The best of these cavities (80 in total) will be distributed among 10 new cryomodules for the CEBAF accelerator. The first new cryomodules to be completed are planned for installation this summer. The rest will be installed in a year-long installation period that begins in May 2012. After the installation period, the accelerator will enter a commissioning phase for the new and upgraded equipment and facilities
By Kandice Carter
Science writer
Keppel Named an Outstanding Virginia Scientist for 2011
Cynthia Keppel
Jefferson Lab/Hampton University
Virginia Outstanding Scientist for 2011
Cynthia Keppel, with both Jefferson Lab and Hampton University for more than 15 years, was one of four Virginia scientists to receive a Virginia Outstanding Scientist Award for 2011.
Lt. Gov. Bill Bolling presented the award at the Science Museum of Virginia's annual General Assembly reception on Jan. 27 in Richmond.
Keppel, the scientific and technical director of the Hampton University Proton Therapy Institute and a Hampton University endowed professor of physics, is also a staff scientist at Jefferson Lab.
Keppel is spokesperson for 10 Jefferson Lab electron scattering experiments broadly aimed at studying the quark structure of the nucleon. She has co-authored more than 150 peer-reviewed publications in the field, including two invited review articles, 36 articles in the Physical Review Letters, and 26 top citation papers. Keppel is also an invited member of the Coordinated Theoretical-Experimental Project on QCD (CTEQ), and has served as director of the Hampton University Graduate Studies summer school at Jefferson Lab for nearly a decade.
Keppel crossed disciplines by bringing state-of-the-art detection and data acquisition techniques from nuclear physics to medical technology, concentrating on nuclear medicine and radiation therapy. She holds 13 patents (some pending). These include the implementation of advanced gamma cameras for dedicated breast cancer diagnosis and localization, radiation characterization for intravascular brachytherapy, intraoperative surgical probe development, proton therapy beam characterization, and biologically-weighted radiation dose simulation techniques. Her biomedical work has resulted in national attention, from scientific publications to television news.
Over the last several years, she has been integral to the development of the HU Proton Therapy Institute, one of the most advanced cancer treatment centers in the world. Keppel is responsible for the science of the particle beam at HUPTI, which is precisely aimed at cancerous lesions. She and her team are continuing to refine this state-of-the-art treatment, for instance implementing a respiration gating capability to track moving tumors in lung and breast cancer patients.
Keppel established and co-directs the HU joint medical physics program with the Eastern Virginia Medical School, which is the first medical physics program in Virginia and the only one nationally at a historically black college. She also founded the HU Center for Advanced Medical Instrumentation, where researchers concentrate on technology development for nuclear medicine, radiation therapy and other medical applications.
Keppel serves on numerous advisory boards, including the JLab Science Council. She has received several awards and accolades, including the Virginia State Council on Higher Education 2000 Outstanding Faculty Award. Recently she received the 2010 Hampton Roads Technology Council High Tech Leadership Award, and was a Virginia Lawyers Media 2010 Influential Women of Virginia honoree.
Editor's note: Information in this story was compiled primarily from the Jan. 26 HU press release, Keppel's biography and the Science Museum of Virginia's awards announcement.
The Jan. 26 Hampton University press release is posted at: http://www.hamptonu.edu/news/connection/archive/february_2011/fac_qanda.html
Keppel's biography is at: http://science.hamptonu.edu/physics/faculty/keppel.cfm
The Hampton University Proton Therapy Institute webpage is at: http://www.hamptonproton.org/
Lab Generates $679M in Economic Output Across U.S.
Jefferson Science Associates, LLC, recently released the results of an economic impact study done on Jefferson Lab for fiscal year 2010. The study found that nationally "Jefferson Lab generates $679 million in economic output and 4,422 jobs."
It went on to report that the laboratory "generates more than $271 million in economic output and 2,200 jobs in the Commonwealth of Virginia." And for the Hampton Roads area, it creates an economic benefit totaling $217.6 million and 1,968 jobs.
The laboratory attracts visitors and research scientists from across the nation and around the world. During fiscal year 2010 a total of 10,530 person nights were booked in local hotels and motels by people who traveled to the area to work with the laboratory and its staff.
"The economic output and related jobs represent the potential loss of gross output and employment that would be felt by the country if the lab suddenly vanished," the report concludes.
The report "provides estimates of the economic impact of the lab, its equipment, facilities, people, contractors and users. It doesn't attempt to define, in monetary terms, the intellectual and potential commercial impact that the nation also derives from the operation and research that is facilitated by the existence and operation of" Jefferson Lab.
The economic impact study was conducted for JSA by The Wessex Group of Williamsburg and was released on Jan. 19.
  
The pdf of the 2011 economic impact study is on the JSA website at: www.jsallc.org/news/EconImpact2011.pdf
The 2008 economic impact study is available at: www.sura.org/programs/docs/EconImpact08.pdf
Jefferson Science Associates announced the economic impact study in a press release on Jan. 19; it is posted on the JSA website at:  www.jsallc.org/news/EconImpact011911.pdf
Jefferson Lab is managed and operated for the U.S. Department of Energy's Office of Science by Jefferson Science Associates, LLC, a joint venture between the Southeastern Universities Research Association, Inc. and CSC Applied Technologies, LLC.
Thomas Jefferson High School for Science & Technology Wins Virginia Science Bowl; Warwick High Wins Math and Science Challenges
The Thomas Jefferson High School for Science and Technology, Alexandria, won the Feb. 5 Virginia Regional High School Science Bowl. Pictured, left to right, are Coach Sharon Webb; Alexander Yang, junior; Steve Qian, senior; Alec Brenner, sophomore;, Owen Gray, freshman; and Zemming Lin, junior.
Spirits were high and competition was intense among the 23 schools competing as an upstart team from Harrisonburg tried to unseat the long-reigning champions from Alexandria in the 2011 Virginia Regional High School Science Bowl at Jefferson Lab on Feb. 5.
The Thomas Jefferson High School for Science and Technology team from Alexandria returned to defend its title as reigning champ. The team was undefeated during the morning round-robin matches and through Round 4 of the afternoon double-elimination playoffs before losing its first match of the day 58 to 90 to Harrisonburg High School, Harrisonburg. The loss forced the two teams to battle it out in a final faceoff match in which the Thomas Jefferson team bounced back and beat Harrisonburg, 96-12, to win the Virginia Regional High School Science Bowl title.
Harrisonburg High School finished second and Bishop Sullivan Catholic High School, Virginia Beach, finished third at the end of the intense, day-long academic competition. St. Christopher's School, Richmond, took fourth place.
For finishing first, the TJHSST team, coached by Sharon Webb, won an expense-paid trip to the U.S. Department of Energy Science Bowl Nationals to be held in Washington, D.C., April 28 to May 2. The team also took home a $750 check for its school, the regional banner that the team will carry to nationals, a team trophy and individual medals.
The Harrisonburg team, coached by Andrew Jackson and Suzanne Smith, received a $500 check for its school and a team trophy. The Bishop Sullivan team, coached by William Dunn and Carol Stapanowich, earned a $300 check for its school and a team trophy. The St. Christopher's team, coached by Vicki Hurt and Alina Cichocki, took home the fourth-place team trophy.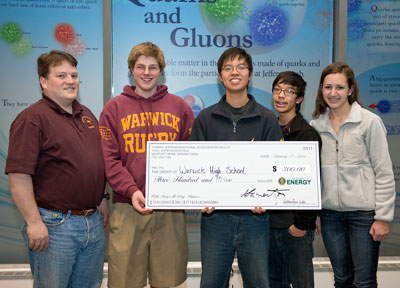 The Warwick High School team from Newport News won the Stay All Day Contest. Pictured, left to right, are Coach Justin Giroux; Patrick Devereux, senior; Kevin Lu, senior; Jordan Lu, junior; and Elizabeth Hubbard, senior.
The National Science Bowl tournament – sponsored by the Department of Energy since 1991 – is an annual competition among teams of students. The teams face off in an intense question-and-answer format where contestants are quizzed on their knowledge in all science disciplines, including earth and space science, biology, chemistry, general science, mathematics and physics. A new category was added this year: energy. The day is broken into two sessions: morning round-robin matches, followed by double-elimination matches in the afternoon. A match is two eight-minute halves with a two-minute break.
Teams that didn't advance to the afternoon session were invited to compete in a problem-solving challenge dubbed the Stay All Day Contest. Teams were presented with three very different activities where they had to analyze and solve problems. The team with the best combined results for the activities was Warwick High School from Newport News and coached by Justin Giroux. Team members won individual prizes and they received a check for $300 for their school.
"The Science Bowl program champions an interest in science, technology, engineering and math among our nation's youth," Tyler said. "It encourages students to further their education and to pursue careers in these areas."
The efforts of more than 60 volunteers were needed to carry out the day-long event. Most of the volunteers were Jefferson Lab staff members who performed as competition moderators, rules judges, timekeepers and scorekeepers during matches.
How to Determine Lab Status After Severe Weather
Severe winter weather can bring down trees, leave roads impassable and cause power outages.
If Jefferson Lab experiences a delayed opening or closure due to severe winter weather, there are several ways for staff, users and subcontractors to get current information on the lab's status.
For updated, recorded messages, call the main telephone number, (757) 269-7100, or call the JLab Status Line, (757) 234-6236. You may also visit the JLab website (www.jlab.org) where weather closing or delay information will be posted as a banner message.
If timing warrants, your home phone (the number you've listed in the Employee Self Service System) number will receive a pre-recorded message, giving you the latest information about the lab's status. If you have access to your JLab email account, check your In Box for a Site Wide Alert message. If you have a JLab pager, check it for a weather alert/status notice.
In the event of a large or very severe weather event that disrupts electrical power/systems at JLab, knocking out these notification systems, visit JLab's Emergency Site Status webpage at http://status.jlab.org . This webpage is only used when all local communication modes are unavailable.
JLab closing or delay information is also given to the three local network TV stations (WTKR Ch. 3 (CBS), WAVY Ch. 10 (NBC) and WVEC Ch. 13 (ABC), and several local radio stations; but JLab cannot guarantee that the information will be posted or reported accurately.
If after checking these sources, you are still uncertain about going to work or you feel it would be unsafe for you to be on the road, contact your supervisor.
If your supervisor has specifically informed you that you are designated as "essential personnel" for a weather-related event, be alert for special instructions that would affect you. All others – employees, users, students and subcontractors – are subject to closure status instructions and should not report to JLab before the time specified. In these cases, JLab's security service is under instructions to advise all but previously designated essential staff that the lab is closed.
The lab's procedures for winter storms are posted in the ES&H Manual, Appendix 3510-T4 under the heading "Winter Storms." Additional severe weather information is located at http://www.jlab.org/intralab/emergency/weather/severe.html.
The lab's Administrative Manual (section 207.08.D.2) contains the policy regarding taking leave due to a weather emergency. One paragraph in the section states: "Employees, who, on their own, decide that weather conditions preclude their attendance or requires their early departure, may take vacation leave provided they obtain the advance approval of their supervisor."
If weather conditions deteriorate during normal work hours and the decision is made to close the lab, a Site Wide Alert notice will go out over JLab email and pagers and the early closing will be posted to the JLab Insight Front Page.
Should the lab have a delayed opening due to ice or snow, do not arrive prior to the designated start time, as additional traffic hampers the clearing of roads and parking lots.
---
Stay Safe During, After Severe Winter Weather
A pair of over-the-shoe ice-grippers can help prevent dangerous falls on ice and slippery sidewalks and road surfaces.
Nearly two-thirds of JLab's past slip and fall mishaps occurred on snow, ice or wet surfaces near entrances or on parking lots.  Here are some tips to help you prevent falls:
• Wear shoes or boots that provide good traction. Rough or rippled pattern rubber soles are generally best.  Smooth leather is the least desirable. Lugged rubber patterns fall in between. Slipover grip accessories are very effective on icy surfaces. Consider keeping a pair of ice-gripping, slip-over-the-shoe accessories in your car – just in case.
• Give yourself plenty of time. Take short steps with your feet pointed slightly outward (think of how a duck walks). This will help keep your center of balance under you and provide a stable base for support.
• Be extremely careful getting out of your vehicle. If possible, swing your legs around and place both feet on the pavement before you attempt to stand. Steady yourself on the doorframe until you have gained your balance and have firm footing. Avoid reaching beyond your center of balance to take hold of the door, as this may cause a fall.
• Don't take shortcuts. Always use sidewalks and the cleared, designated paths in parking lots. Never walk between parked cars; there may be untreated ice and snow. Be especially careful when stepping to different levels – down or up steps or from curbs. Don't step on curbs. And remember, grassy slopes can be as dangerous as snowy steps.
• Pay attention to the walking surface; it may be significantly slicker in spots. When walking after sunset or in shaded areas, be alert for black ice – a thin, almost invisible ice film. It can form from melted snow and ice water refreezing overnight. It also can occur when above-freezing air contacts frozen ground surfaces.
• Carry only those items necessary. Carrying heavy or bulky packages affects your balance and center of gravity.
You can find more information about winter weather precautions for home and travel at Ready Virginia – Winter Weather.
---
JLab Snow Removal
When the lab experiences heavy snow, everyone except designated staff must stay away so that snow can be safely cleared from roads, parking lots and sidewalks.
Snow-removal procedures place priority on clearing the entrances most directly connected by pavement to the parking areas. For some buildings, this may not be the most frequently used entrance. Additional entrances will be cleared when all priority routes have been treated. Employees need to park in the areas already cleared and use the cleared paths even if it is not their usual or the most direct route.
Facilities and Logistics Management has placed buckets of sand at many of the buildings for tenants to use as "self-service" to spread on ice while awaiting thorough removal. Please don't use these buckets for cigarette butts. For more information, refer to the Snow Removal Plan on the Emergency Management Severe Weather page: https://www.jlab.org/fm/Snow_Removal.pdf
Please remember that everyone at JLab is personally responsible to take necessary precautions and to pay attention to the hazards created by severe weather conditions. Employees are urged to report unsafe conditions by calling Facilities and Logistics Management at ext. 7400.
---
Menefee Tackles Emergency Manager Duties
Tina Menefee
Jefferson Lab Emergency Manager
Over the 14 years that Tina Menefee has been at Jefferson Lab, first as a contractor and then as an employee, her positions have varied, but one thing has remained constant: her greatest pleasure comes from working directly with others.
A Missouri native, she spent three years in the Army after high school and served in Nuremburg, Germany, as a health inspector. When she got out in 1988, she followed friends to Virginia since the outlook for work in her Ozark home wasn't promising.
She held various positions over the years, earned her bachelor's degree by going to school at night while working at Jefferson Lab during the day. She landed her first job at the lab as "a homegrown pipefitter" for the cryogenic group. Her responsibilities grew to include work for the superconducting radiofrequency and magnet groups. Menefee considered herself fortunate because she was always looking for the next challenge.
"I remember bugging Andrew Hutton, Accelerator Division associate director, unmercifully," she said. "I kept telling him, 'I'm going to work for you someday.'"
Finally, he suggested that she talk to Bob May, Environment, Safety, Health and Quality Division deputy, to get some safety training under her belt. As a result, she took the 30-hour OSHA course, which Hutton, seeing her promise and unrelenting drive, paid for. Ultimately, she achieved her goal and worked for him for two years.
Then she moved to Environment, Safety and Health, where she became the safety liaison for the Accelerator Division and took over leadership of the lab's Safety Warden program. The safety wardens are the eyes and ears on the front lines at the lab. They act as the focal points for keeping their respective work spaces in the safest condition possible, getting things fixed and assisting in the process if an event occurs.
"We have about 70 safety wardens," she explained, "each of whom is responsible for safety issues in their own work areas. Co-workers come to them if they have a concern and the process moves forward to resolve the situation. The safety warden is often the immediate go-to person."
As part of those duties, she coordinates the quarterly meetings with the safety wardens, and is involved in their Quarterly Safety Inspections.
Menefee has also spent the last two years taking Emergency Management courses with FEMA, becoming a certified EMT and learning Jefferson Lab's emergency management program. On Oct. 1, 2010, she was named the lab's emergency manager, responsible for administering the lab's emergency management program. As part of that assignment, she works with the Jefferson Lab Emergency Management Team, assuring that they have the resources they need to respond to significant events or mishaps. This includes planning and conducting exercises and drills to keep everyone's skills up to speed.
She instructs two classes: Safety Warden Training and the SAF 132 Tunnel Worker Safety Orientation training.
As an extension of her work, Menefee was the volunteer coordinator for the hundreds of lab staff, users and students who helped make the lab's 2010 open house a success.
Her passion for working with others extends outside the lab as well. For the past five years or so, she spends part of every Thursday making deliveries to more than a dozen people for the Meals On Wheels program. "I really love doing this," she noted, "and have made some really good friends of the people I deliver to." One in particular, an elderly retired Army colonel, was brusque with her at first, but she won him over and now visits regularly with him and his wife.
Menefee has lived in Smithfield for eight years and is a volunteer with the Isle of Wight County rescue squad. An inveterate animal lover, she recently adopted a Labrador mix for whom she's the third owner. Menefee named her Chance. "I decided to call her that because, in a way, I'm her last chance at having a good home." Her two cats tolerate the canine addition to the family, she adds with a laugh.
She also loves to go out on her 19-foot center console Sea Hunt, which she trailers to nearby Jones Creek to set out on jaunts through the Chesapeake Bay.
Menefee is proud of her rise within the lab community and very grateful to be here. "Life hasn't been easy at times. I've had to work hard for everything I've achieved, and it's really paying off," she said.
By Judi Tull
Feature writer
---
Solaroli Oversees Utilities Infrastructure Upgrade
Michele Solaroli, Facilities Management and Logistics, is the project manager for the laboratory's $30 million Utilities Infrastructure Modernization project. The work will extend the life of existing utilities infrastructure and provide additional capacity to meet the lab's science mission.
Michele Solaroli grew up in an environment framed by construction. Her dad was a mechanical subcontractor whose company specialized in HVAC and plumbing systems. No wonder, then, that the Reading, Pennsylvania native chose a career in architecture. She has spent the years since receiving her bachelor's degree in architecture from the University of Notre Dame and her master's in business administration with a 4.0 grade-point-average from Penn State, working on multi-million dollar projects.
Solaroli, who arrived at Jefferson Lab in August, is the project manager for the $30 million Utilities Infrastructure Modernization project; and works for Rusty Sprouse, Facilities Management and Logistics director.
The project will extend the life of existing utilities infrastructure and provide additional capacity to meet the lab's science mission, according to Solaroli. The planned completion date for the UIM is 2014, and the design will emphasize a more open, collaborative and flexible environment to respond to future mission needs.
Specifically, the project will encompass the upgrade of several critical utility systems and will provide additional needed capacity to support research in the areas of nuclear physics, accelerator science, applied nuclear science and technology, and advanced instrumentation. It also includes replacing and upgrading the accelerator site's electrical distribution feeders, replacing the cooling towers that serve accelerator operations, providing additional cooling and uninterruptable power for the computer center, upgrading the cryogenics test facility to support cryomodule development and testing, and improving site communications infrastructure.
Prior to coming to the lab, she worked at Langley Air Force Base as project manager for the $140 million Hurricane Isabel repair project and then went to work for a contractor, Environmental Chemical Corporation, where she worked as the design integration manager for the Department of State's $234 million expansion of the U.S. Embassy in Kabul, Afghanistan.
As interesting as it was, that position had her receiving email 24/7 due to time zone differences and involved extensive travel, which took her away from her two young daughters, Isabella and Gabrielle.
"Once the design work was complete, I started looking around for something that would keep me closer to home and provide me with a better work-life balance," she noted.
She found that at Jefferson Lab. Now, instead of weekly commutes to Washington, D.C., it's a quick hop from her home in Kiln Creek.
She's found another, more subjective benefit here, also. "I used to work 12 to 14 hour days, and had 100 e-mails waiting for me every morning," she recalled. "Working in private industry is high stress – always. People were always frantic about deadlines, and tempers would be lost. The environment here is so different, much more relaxed and academic."
When discussing her job, Solaroli said, "I'm all about getting the work done. Being succinct and being clear are important to me. I don't need to hear a lot of unnecessary details."
Solaroli has fond memories of her junior year in college, which she spent studying in Italy. Although the university has a school and apartments in Rome, she had the opportunity to travel throughout Italy and Europe and skied in the Alps.
Throughout life, she has been an athlete. In high school, Solaroli played field hockey, basketball, softball and also ran track. She continued playing softball as a "walk on" at Notre Dame. She works out every day – spinning, running and lifting weights. She enjoys golfing and attending sporting events. Her daughters are following in her footsteps: Isabella plays field hockey and soccer and Gabrielle plays soccer.
The friendliness of Jefferson Lab's staff and users are high on her list of what makes being here a pleasure. "Everyone's been very outgoing, and welcoming," she says. "They love to talk about what they do."
By Judi Tull
Feature writer
---
Legg Returns as FEL Ops Manager
Bob Legg
Free-Electron Laser
Operations Manager
FEL operations manager Bob Legg's nearly 30-year career has taken him across the country and brought him twice to Jefferson Lab. He worked here for several years in the 1990s and returned to Jefferson Lab in 2010.
A 1982 Princeton graduate with a degree in Electrical Engineering/Computer Science, Legg grew up with physics. His dad was a physics professor at Princeton, where Legg was born. His father moved the family to Texas so he could teach at Rice University when Legg was just a toddler. After that, it was on to Kansas State University, where his father was chairman of the physics department for many years and where Legg saw his very first accelerator.
After graduation, he worked for a contractor in Washington, D.C. In 1985, his wife, Teresa, was looking for a job and went to a job fair. She didn't land anything, but Legg did. He signed on with the Boeing Physical Science Research Center and they took off for Seattle where Legg would work for five years on Boeing's free-electron laser. From there, it was on to California where he worked as an engineer for Brobeck (then a division of Maxwell) on the CAMD storage ring.
In 1992, he came to Jefferson Lab (then called the Continuous Electron Beam Accelerator Facility) for the first time, and worked for Charlie Sinclair in the operations group.
During his original free-electron laser work here, Legg was part of the team that took the injector test stand from the Test Lab to the FEL site in August of 1997. "We were able to get one milliamp continuous wave to the straight-ahead dump," he recalled, "which was the first time that had been done. It was pretty cool."
In spring 1998, he took a position with General Atomics in San Diego to work on its tokomak project. Interesting work, but, as Legg pointed out, not something with immediate rewards. "Fusion isn't a good career choice," he noted with a laugh. "We're already 40 years into a great 10-year program."
In July 2001, he moved his family to the University of Wisconsin where he served as operations manager for the Synchrotron Radiation Center, a decision born both from the lure of the work and from his wife's need for medical care.
She had developed a benign brain tumor years earlier and, after two craniotomies, they wanted a better hospital than what had been available to them.
"At SRC, it was my job to make sure that the $25-million hammer kept working," Legg says, describing his position at this National Science Foundation-funded light source that draws nearly 300 users a year.
During that time, he had also been doing some independent research, and in 2006-2007 worked on several proposals for funding for a superconducting radiofrequency electron gun. After several months of trying and failing to get the funding he needed to develop one or more of the projects, he called George Neil, looking for a job. With an offer on the table, Legg sold his house in Wisconsin in just three days and was ready to pack his bags for Newport News.
Then the call came from the Department of Energy. It planned to fund one of his proposals at $1.5 million a year for three years. A man of his word, Legg continued with his plan to come to Jefferson Lab, but his contract also allows him to continue his work in Wisconsin, where the news was getting even better. On his last day there, the U.S. Navy's Office of Naval Research called to say that it would fund one of his proposals, too.
Legg's return to the lab last summer coincides with an especially exciting time to be working in the FEL with the machine starting to produce ultraviolet laser light in the range 363-438 nm. The success caps a four-year effort to add ultraviolet capability to the FEL.
In his spare time, Legg raises orchids, something he's pursued since his college days, and brews his own beer, a pursuit he picked up during his first stint in Newport News. Now that he's left Wisconsin - the home of some great beer – he's doing it again. An avid chef, he also collects Japanese cooking knives, and counts among his collection some of the finest in the world.
By Judi Tull
Feature writer
---
Notification Required When Vehicle or Equipment is Damaged
Anyone operating a government vehicle is responsible for reporting any mishap the vehicle is in, and whether property is damaged in any way.
Jefferson Lab's vehicle control officer and ESH&Q staff remind everyone at the lab that the person operating a government vehicle or equipment, is responsible for reporting any mishaps the vehicle is in, and whether property is damaged in any way.
"Any time a person uses a JSA/JLab vehicle on or off lab property, the operator (driver) is responsible for inspecting and reporting all accidents and damage – this includes all vehicles and motorized equipment (i.e., trucks, cars, vans, hybrid vehicles, golf carts, forklifts, man lifts and the carts used in the tunnel)," according to Kris Burrows, JLab vehicle control officer.
The mishap or damage must be reported, as soon as safely possible, to your supervisor, division safety officer and either Burrows or the deputy vehicle control officer Manny Nevarez. If the mishap or damage takes place after hours – on lab property or off – the vehicle operator may contact JLab Security, ph. 757-269-5822, in place of Burrows or Nevarez. The lab Security force may be used among the first line of notification at any time.
"Security will document the facts pertaining to the mishap and any resulting damage," Burrows explains. "They will gather information and take photos of any damage.
Failure to promptly report an accident or damage could have serious consequences... A damaged vehicle could be unsafe for subsequent use or a damaged component could fail while the vehicle is in use. It can also delay the required accident investigation and report required by the Department of Energy and the Government Services Agency.
The responsibilities and procedures for using a JSA/JLab vehicle are explained in Chapter 6, Vehicles & Motorized Equipment, in the Jefferson Lab Property Management Policy and Procedures manual. Section 6.1.9 specifically discusses reporting vehicle accidents and/or damage.
The Property manual can be access at: http://www.jlab.org/fm/property/property_manual.pdf
---
Milestones: Dec. 2010 - Jan. 2011
Hello
Aaron Auston, SRF Mechanical Fabrication and Assembly Technician, Accelerator Division
Michael Beizer, Jr., Hall D FDC Technician, Physics Division
Alvaro Cordon, Post Doctoral Fellow, Theory & Computational Physics
Michael Dickey, SRF Production Support Technician, Accelerator Division
Ari Palczewski, Superconducting Radiofrequency Scientist, Accelerator Division
Jason Parker, Cryogenics Electrical Technician, Engineering Division
Ettore Salpietro, Principle Engineer for Magnets, Engineering Division
Bobby Thomas, Fleet Mechanic, Facilities Management and Logistics
Michael Wilson, Electrical Engineer - RF Controls, Engineering Division
Goodbye
Stephen Burnett, Physics Division
Jesus Chavira, Engineering Division
Jonathan Coulter, Free-Electron Laser Division
Christopher Hobeck, Accelerator Division
Marie Ivanco, Engineering Division
Jeff John, Accelerator Division
Amanda Rogers, Free-Electron Laser Division
LaChelle Williams, Office of the Chief Operating Officer
These Milestone entries, listed alphabetically, are full-time, term, casual and student actions posted by Human Resources for December 2010 through January 2011.
Jefferson Lab is currently seeking qualified individuals for a range of engineering positions as well some scientific, managerial and technical positions. More than a dozen JLab employment opportunities are posted at: http://www.jlab-jobs.com/
---
REU Intern Earns DOE Prize for Work at JLab
Colin Jarvis, Macalester College, a 2010 Research Experience for Undergraduates intern at Jefferson Lab, stands next to his prize-winning poster.
Colin Jarvis, Macalester College, a 2010 Research Experience for Undergraduates intern at Jefferson Lab, took third place in the physical sciences category at the Department of Energy's Science and Energy Research Challenge (SERCh) competition in November.
He received a trophy and a $1,000 scholarship prize for his research work, titled: Betatron Tunes in the Electron-Ion Collider. Jarvis conducted his research project under mentor Balša Terzi?, a staff scientist with JLab's Center for Advanced Studies of Accelerators, during the summer of 2010.
"It was a great trip and I had some great talks about my research with the judges," Jarvis said, as he headed back to Macalester College after the competition.
During his 10-week REU internship at JLab, Jarvis worked on part of the possible design for a future upgrade to the CEBAF accelerator. The upgrade design would result in the accelerator providing much higher energy collisions, thus allowing researchers to probe even further into the structure of the atomic nucleus.
"My research was computational in nature; I used JLab's supercomputer to run massive simulations that tracked particle interactions in a virtually upgraded accelerator in order to optimize the design," Jarvis said in a story on the Macalester website.
"From the start of the REU program, it was clear that Colin is an outstanding young man," Terzi? wrote. "Colin's work ethics and principles are enviable: he will work long hours, above and beyond what is expected. It was not necessary for me to motivate him, because his unbridled intellectual curiosity carried him forward much faster and farther than I anticipated for an undergraduate summer student."
The poster competition showcased the research projects of DOE-funded undergraduate students and interns from across the national laboratories. One-hundred student researchers convened at Argonne National Lab to present their research in poster form.
Seven students who participated in REU and the Science Undergraduate Laboratory Internship programs at Jefferson Lab were invited to take part in the event.
Gail Dodge, Old Dominion University physics department chairperson, and Hari Areti, JLab Accelerator Division, received a grant from the National Science Foundation to support the REU program at Jefferson Lab. Science Education staff provided administrative and programmatic support for Jarvis and other REU and SULI interns during their stay at JLab.
Editor's note: Additional information about Jarvis is available on the Macalester College website at:
http://athletics.macalester.edu/news/2010/11/7/MBB_1107105856.aspx?path=mbball
---
NASA Scientist Discusses Nanotube Advances Feb. 9
Mike Smith, a NASA Langley Research Center scientist, will present a lecture titled "20th Anniversary of the Nanotube" on Wednesday, Feb. 9, at 4 p.m. in the CEBAF Center auditorium.
In an abstract for the talk, Smith notes: Since the publication of Sumio Iijima's seminal paper describing the carbon nanotube in 1991, thousands of researchers have explored the properties and potential applications of this alluring molecule. Few realize, however, that carbon's immediate neighbors on the periodic table, boron and nitrogen, can also form perfect nanotubes. First proposed then synthesized by researchers at the University of California, Berkeley in the mid 1990s, the boron-nitride nanotube has proven very difficult to make, until now.
Smith will describe the discovery of a new method for making boron-nitride nanotubes that was developed with Jefferson Lab researchers at the lab's Free-Electron Laser facility. Science magazine reported the discovery on Dec. 10, 2009, in a story by Karen Fox, titled, "Better Nanotubes May Be on the Way." For applications from space elevators to nuclear physics, Smith will explore the possibility that better nanotubes have finally arrived.
The talk is open to the public at no charge. Seating is limited and on a first-come, first-served basis. Visitors are asked to enter via JLab via Onnes Drive (12000 Jefferson Ave., Newport News) and follow the Special Event signs to parking. For security purposes, everyone 16 and older is asked to carry a valid photo I.D., and security guards may perform parcel and vehicle inspections.
Science magazine story link: http://news.sciencemag.org/sciencenow/2009/12/10-03.html
---
Volunteers Needed High for March 5 Middle School Science Bowl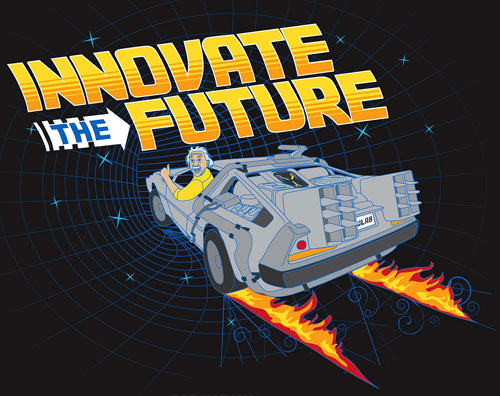 "Innovate the Future" is the theme of the 2011 Department of Energy Science Bowl competition. This graphic was developed by Joanna Griffin, Public Affairs, for the Virginia Regional Science Bowls.
The 2011 National Science Bowl season is underway, and Jefferson Lab's Science Education staff is making final preparations for the Virginia Regional Middle School to be held at Jefferson Lab on Saturday, March 5.
Twenty schools from across the commonwealth have registered teams to compete. The event will kick off at 8 a.m. in the CEBAF Center auditorium with a welcome by Jefferson Lab Director Hugh Montgomery.
The National Science Bowl competition, sponsored annually by the U.S. Department of Energy since 1991, is a highly visible series of academic competitions among teams of students. Each team is made up of four or five students, and a teacher who serves as advisor and coach.
"DOE is celebrating its 21st year of sponsoring the Science Bowl program. These events champion an interest in science, math and technology," says Jan Tyler, Science Education manager. "They are a great way to promote education, academic excellence and careers using math and science."
More than 50 volunteers are needed to help with the Science Bowl. Most of the volunteers perform as competition moderators, rules judges, timekeepers and scorekeepers during the morning, round-robin sessions, according to Tyler. A smaller number of volunteers are needed to run the afternoon double-elimination matches, and assist with the afternoon Stay All Day Contest held in the VARC classrooms.
"If you have volunteered for prior Science Bowls, or if you've never been to a Science Bowl, but want to be part of the excitement, we want you," she says. "The Middle School Science Bowl is a great event for first-time volunteers."
"The event is a lot of fun. We provide all volunteers with training and a chance to practice, a Science Bowl T-shirt, and lunch. We need you, your co-workers, spouse and children (over age 13) to assist with the many activities required to conduct these academic competitions," Tyler added.
Most of the public areas and conference rooms of CEBAF Center will be taken over for the competition day.
The top three teams will earn cash prizes for their respective schools. The top team will also win an expenses-paid trip to the Science Bowl Nationals April 28 to May 2 in Washington, D.C.  
A Science Bowl is an academic competition among teams of students who compete in a verbal forum to solve technical problems and answer questions in all branches of science and math; the format is like the game show Jeopardy. The regional and national events encourage student involvement and interest in math and science activities, improve awareness of career options in science and technology, and provide an avenue of enrichment and reward for academic science achievement, according to Tyler.
Teams that don't advance to the afternoon finals rounds are invited to stay and compete in a series of problem-solving challenges dubbed the Stay All Day Contest. Teams are presented with three different activities where they have to analyze problems, use math or engineering knowledge to develop a resolution to the problems or make projections based on a model's performance. The team with the best combined results for the activities wins.
Helping with the Science Bowls is strictly a volunteer activity, Tyler reminds aspiring helpers. Anyone interested in more information or in volunteering, may contact Tyler by email (tyler@jlab.org). Volunteers may sign up for the morning shift (8:30 a.m. to 1 p.m.) or for the day (8:30 a.m. to 3 p.m.). A practice session for volunteers is scheduled for Friday, March 4, at 9 a.m. in the CEBAF Center auditorium.
The afternoon semi-finals and final rounds held in the CEBAF Center auditorium are open to the public.
The
On Target
newsletter is published monthly by the
Thomas Jefferson National Accelerator Facility
(Jefferson Lab), a nuclear physics research laboratory in Newport News, Virginia, operated by
Jefferson Science Associates, LLC
, for the
U.S. Department of Energy's
Office of Science
. Possible news items and ideas for future stories may be emailed to
jlabinfo@jlab.org
, or sent to the Jefferson Lab
Public Affairs Office
, Suite 15, 12000 Jefferson Avenue, Newport News, VA 23606