The U.S. Department of Energy's Thomas Jefferson National Accelerator Facility

---
Get Ready for JLab 'Passport to Science'
Open House on May 19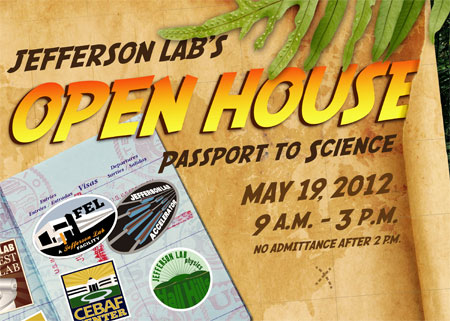 Jefferson Lab will host a public Open House on Saturday, May 19. Visitors will be able to explore several of the lab's facilities to see and hear about the research underway at the lab.
Jefferson Lab will host a public Open House on Saturday, May 19. Save the date and plan to spend the day exploring this world-class research facility. Several of the lab's facilities will be open and visitors will be able to see, hear about and experience the research underway at the lab.
The event will include a number of firsts, including the first opportunity for the public to visit Jefferson Lab's newest experimental hall – Hall D. It is a cornerstone of the lab's 12 GeV Upgrade project. The $310 million project, funded by the U.S. Department of Energy's Office of Science, will allow the lab to continue as a world leader in nuclear physics research. The upgrade project will provide new and enhanced research capabilities for the 1,360 scientists from 259 institutions that come to Jefferson Lab to carry out experiments or use data from lab experiments. Ground was broken for Hall D in April 2009...... more
---
Three researchers on Jefferson Lab's staff and one member of the lab's user community are the latest recipients of one of the highest peer honors in physics....more

 

Jefferson Lab's inventors were recently rewarded with sweet treats for their bright ideas.....more

 

The words "gracious" and "professional" don't naturally spring to mind to describe a gaggle of 9-14 year olds, but David Lawrence aims to change that....more

---

Below the Fold:
Get Ready for JLab 'Passport to Science'
Open House on May 19
Jefferson Lab will host a public Open House on Saturday, May 19. Save the date and plan to spend the day exploring this world-class research facility. Several of the lab's facilities will be open and visitors will be able to see, hear about and experience the research underway at the lab.
The event will include a number of firsts, including the first opportunity for the public to visit Jefferson Lab's newest experimental hall – Hall D. It is a cornerstone of the lab's 12 GeV Upgrade project. The $310 million project, funded by the U.S. Department of Energy's Office of Science, will allow the lab to continue as a world leader in nuclear physics research. The upgrade project will provide new and enhanced research capabilities for the 1,360 scientists from 259 institutions that come to Jefferson Lab to carry out experiments or use data from lab experiments. Ground was broken for Hall D in April 2009.
Many of the lab's research and work areas will be accessible or on display for the event; a complete listing will be available in the coming months.
Numerous exhibits, demonstrations, tours and hands-on activities will be available, providing a day of fun and education for the entire family. Visitors will be able to talk to and learn first-hand from staff and visiting scientists about the range of research underway at the lab.
Visitors will also be able to see and hear about the lab's research program and its particle-acceleration capability (superconducting radiofrequency), a core capability for which there is growing interest in the U.S. and abroad. The lab's supercomputing and simulation capabilities will be on display and the Free-Electron Laser will be open.
The event will feature a variety of hands-on, science-education activities for the young and young-at-heart. And this year's theme "Passport to Science" will provide a new interactive dimension that can be used by visitors of all ages as they travel around the lab.
Some local universities, museums, private companies and government agencies will present activities and information on complimentary scientific endeavors.
Open House will be free of charge and will be held rain or shine.
Visitors will be able to arrive from 9 a.m. - 2 p.m. and stay until 3 p.m. More about the event, including the public parking plan, will be posted in the coming weeks on the event website at: https://www.jlab.org/openhouse
Hundreds of lab staff and users help the day of the event to staff displays, give demonstrations, greet visitors and help with crowd flow. Volunteer sign up will begin in March.
Jefferson Lab's last Open House was in May 2010.
Lab Researchers Elected to APS Fellowship
Harut Avagyan
Hall B Staff Scientist
Experimental Nuclear
Physics Division

Robert Edwards
Senior Staff Scientist
Theory and
Computational Physics

Rolf Ent
Associate Director
Experimental Nuclear
Physics Division
Three researchers on Jefferson Lab's staff and one member of the lab's user community are the latest recipients of one of the highest peer honors in physics. Late in 2011, Harut Avagyan, Robert Edwards, Rolf Ent and Naomi Makins learned that they had been elected Fellows of the American Physical Society.
"This is a notable honor," said Lab Director Hugh Montgomery. In a recent Montage column, he wrote: "The American Physical Society makes a small fraction (0.5 percent) of its membership 'APS Fellows' in recognition of their contributions to physics and eminence in the field. Each year, we celebrate the new fellows who are either Jefferson Lab staff or are associated with our programs. Our congratulations go out to Jefferson Lab staff members Harut Avagyan, Robert Edwards and Rolf Ent and Naomi Makins, University of Illinois."
The citations for the Jefferson Lab staff and user recognized with fellowship for 2011 are as follows:
Harut Avagyan, a staff scientist in the Experimental Nuclear Physics Division (Hall B), was nominated by the Topical Group on Hadronic Physics, for his pioneering studies of single spin asymmetries in electroproduction of hadrons in deep inelastic scattering, providing access to orbital motion of quarks.
Robert Edwards, a senior staff scientist of the Theory and Computational Physics group, was nominated by the Division of Computational Physics for developing key theoretical, algorithmic and computational methods to enable Lattice QCD (quantum chromodynamics) to address vital questions in nuclear physics, and in particular the spectrum of excited states and the origin of the nuclear force.
Rolf Ent, associate director of the Experimental Nuclear Physics Division, was nominated by the Division of Nuclear Physics, for his leadership in advancing the experimental nuclear physics program at Jefferson Lab, particularly regarding the study of the transition between quark-gluon and hadronic degrees of freedom.
Naomi C. Makins, a JLab user with the University of Illinois, Urbana-Champaign, was nominated by the Division of Nuclear Physics, for her contributions to the understanding of the transverse quark structure of the nucleon through the study of polarized semi-inclusive deep-inelastic lepton scattering.
In the coming months, the 238 researchers elected as 2011 Fellows will receive their certificates from the APS unit recognizing their achievements.
The APS Fellowship program has existed since the beginning of the society in 1899. All APS members are eligible for nomination and election to fellowship. According to the APS Fellows webpage, each nomination is evaluated by the fellowship committee of the appropriate APS division, topical group or forum. After review by the APS Fellowship Committee, the successful candidates are elected by the APS Council.
Patent Pending - How Sweet It Is
Jefferson Lab Chief Technology Officer Roy Whitney and Director Hugh Montgomery addressed the inventors at the event.
Jefferson Lab's inventors were recently rewarded with sweet treats for their bright ideas. More than 50 inventors were invited to a coffee and dessert social in November, where they were recognized for ideas submitted in fiscal year 2011 for consideration for patents by the lab.
"This aspect of the lab's mission is important, and we've had an energized discussion within the Department of Energy on technology transfer. As a lab, we can tell a good story," said Jefferson Lab Director Hugh Montgomery.
In all, Jefferson Lab has 103 patents. The patents come from technologies that were submitted as invention disclosures by Jefferson Lab employees who developed unique technologies, devices or ideas on the job that could be applied here or elsewhere.
Jefferson Lab Patents with Many Uses
Of the Jefferson Lab technologies already patented, many capture the lab's expertise in superconducting radiofrequency technology – the same technology that powers the lab's accelerator. These patents include several that are being applied in the 12 GeV Upgrade accelerator cryomodules, such as the radial wedge flange clamp, the cryogenic vacuum RF feedthrough device, and the serpentine metal gasket.
Others capitalize on the branch technologies gained in building and operating the Free-Electron Laser. The laser was built with Jefferson Lab's expertise in SRF technology and has led to patents for an improved method to produce carbon nanotubes, a multi-Watt Terahertz generator and an achromatic recirculated chicane.
Some patented technologies can be found in products being sold today. For instance, a suite of Jefferson Lab patents is being used to save women's lives in screening for breast cancer, while aspects of yet another patent, a helium process cycle, has saved millions in energy costs at several national labs. This advancement is destined to save millions more in operating energy costs for future cryogenic refrigeration plants. Furthermore, a patent for a novel, yet simple electrical apparatus lockout device can be purchased from a local supply company to ensure the safety of technicians working on equipment.
"Where a new invention promises to be useful, it ought to be tried." - Thomas Jefferson
"All of these technologies grew out of the core mission of the lab: the study of quarks and gluons, protons and neutrons," said Jefferson Lab's Chief Technology Officer and Chief Information Officer, Roy Whitney. "We are experts at building the machines and devices needed for our core mission. And, as this group and their colleagues have shown, that core expertise can sometimes be applied in other arenas."
The dessert social honored 53 inventors and the 34 ideas they had submitted for review in fiscal year 2011.
"I'd like to congratulate you and thank you for your contributions to the lab's technology transfer efforts and mission," said Montgomery.
Do you have a new idea for an invention that has grown from your work at Jefferson Lab? Be sure to submit it as an invention disclosure. More information about the process can be found on the Technology Transfer web page.
Robots Teach Teamwork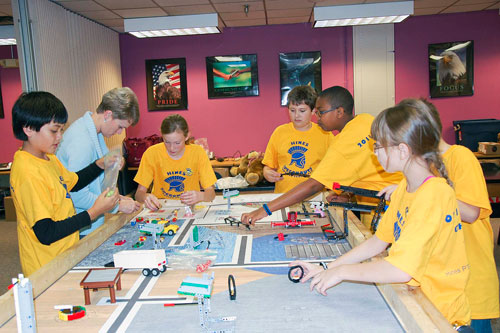 Spegonauts Sam Brady, Eleanor Lawrence, Caleb Thornton, Roscoe Johnson, Aron Greco (behind Abby) and Abby Lundsford (left to right), along with Coach Ford McFall (blue shirt), arrange the robot competition table for some practice runs at a team meeting in November
The words "gracious" and "professional" don't naturally spring to mind to describe a gaggle of 9-14 year olds, but David Lawrence aims to change that.
Lawrence, a Jefferson Lab Hall D staff scientist, coaches a team of seven young people for the FIRST LEGO League robotics challenge. The annual robotics competition teaches youngsters to work together to overcome challenges in the science, technology, engineering and math fields.
He is one of three volunteer coaches for the Spegonauts. The team is based at Hines Middle School, where Eleanor Lawrence, his daughter and a Spegonauts team member, attends school.
"The program emphasizes collaboration. Because if they're going to be working in engineering fields, they're probably going to have to work with other engineers," Lawrence says.
He says the kids learn these skills as they conduct a research project, build and program a robot for competition, and compete against other teams. The teams are graded on each of four aspects of the competition: robot performance, robot design, core values and a research project.
"The first aspect is the robot competition; that one is the most visible part and is the thing that draws everybody in and is interesting and fun," Lawrence says.
The robot is built from parts in the LEGO MINDSTORMS NXT 2.0 kit. The Spegonauts built four identical robots for the competition, along with several attachments that could be placed on the robots. They then programmed the robots to complete pre-determined tasks in the game.
"You play on this four-foot by eight-foot table. You have LEGO items that are set up on the table when the mission starts. The robot has to start off in one corner of the table, and there are a dozen different missions that the robot can attempt," Lawrence explains.
The 2011 competition, called food factor, featured tasks that relate to keeping food safe. In one task, the robot gathered LEGO fish and brought the pieces back to its corner, while in another, the robot placed LEGO food on a table. The robot has 2.5 minutes to accomplish its tasks. Teams are awarded points for each task their robot completes in the time allotted; more difficult tasks have higher point values.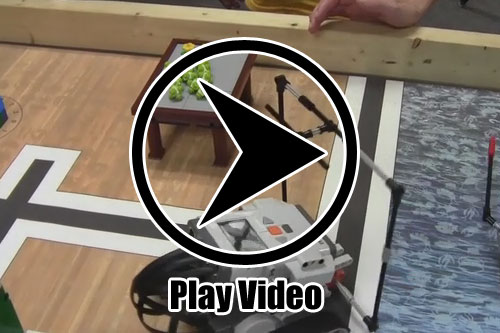 In addition to the robot portion of the competition, the teams also present the findings of a research project on a food-related topic and display their problem solving and teamwork skills in a judged group exercise. The Spegonauts conducted research on clean water, with the help of volunteers from a local office of CH2M HILL, an international engineering firm. The students communicated some of what they learned in their research project in online comic strips. For the group exercise, the students were given a problem to solve and was then judged on how they worked together to come up with a solution.
Throughout the competition, teams are also judged on how they display "Gracious Professionalism" and the program's core values, including teamwork, friendly competition and knowledge sharing.
Lawrence says the students worked hard to prepare for the competition. Meetings began in the summer with LEGO building activities and kid-friendly programming challenges. The team ratcheted up their program in the fall, as details of the game were announced and the competition date approached.
"We were meeting three hours after school on Friday and three hours on Saturday. They do an hour after-school activity time on Thursday, mainly dedicated to the research project. That's seven hours a week these kids are putting into this, in addition to any homework they did at home," Lawrence says.
All the practices and meetings paid off when local teams came together on Nov. 5 at Crittenden Middle School in Newport News for the local competition. The Spegonauts' robot, named Rovee, placed first in the timed robotics event.
Overall, the Spegonauts placed in the top third in the Newport News competition. Unfortunately, the Spegonauts needed to finish in the top two to proceed to the next level of competition.
Still, Lawrence says the team learned a lot in its first season.
"They have all stepped up and done rather well. It's been very rewarding," he says.
The Spegonauts are planning to enter the competition again in 2012 with the aid of a grant from the Jefferson Science Associates Initiatives Fund for entrance fees and related costs. The team's primary sponsor for the 2011 season was CH2M HILL, with support also provided by The Village Doctor, The Real Estate Book Hampton Roads, SAIC and Jefferson Lab.
By Kandice Carter
Science writer
Determine Lab Status When Severe Weather Hits
If Jefferson Lab experiences a delayed opening or a closure due to severe winter weather, there are several ways for staff, users and subcontractors to get current information on the lab's status.
For updated, recorded messages, call the main telephone number, 757-269-7100, or call the JLab Status Line, 757-234-6236. You may also visit the JLab's main webpage (www.jlab.org) where weather closing or delay information will be posted.
If timing is appropriate, the home phone number staff members have listed in the Employee Self Service System will receive a pre-recorded message, providing the latest information about the lab's status.
If you have access to your JLab email account, check your In Box for a Site Wide Alert message. If you have a JLab pager, check it for a weather alert/status notice.
If an extreme weather event disrupts electrical power at JLab, knocking out these notification systems, visit JLab's back up Emergency Status web site at: https://status.jlab.org/ . This web site becomes the primary notification tool if the local communication tools are unavailable.
JLab closing or delay information is also given to the three local network TV stations – WTKR Ch. 3 (CBS), WAVY Ch. 10 (NBC) and WVEC Ch. 13 (ABC) – and local radio stations; but the lab cannot guarantee that the information will be posted or reported accurately.
If after checking these sources, you are uncertain about going to work or you feel it would be unsafe for you to be on the road, contact your supervisor.
If your associate director or department head has designated you as being an "essential employee" for a weather-related event, be alert for special instructions that would affect you.
All others – employees, users, students and subcontractors – are subject to closure status instructions and should not report to JLab before the time specified. In these cases, JLab's security service is under instructions to advise all but previously designated essential staff that the lab is closed.
The lab's Administrative Manual (Section 207.08.C.2 Public Emergency Leave: Weather) contains the policy regarding taking leave due to a weather emergency. An excerpt from the section states: "Employees may make a personal decision considering safety first on when to come to or leave work during a weather emergency. These decisions should be based on an employee's judgment regarding their ability to get to or from work safely (i.e. road conditions)."
"Employees who, on their own, decide that weather conditions preclude their attendance, require a later arrival time or an earlier departure may take vacation leave (or leave without pay if no vacation accrual is available) as long as it is coordinated with their supervisor." Staff members are encouraged to read Section 207.08.C.2 of the Admin Manual in advance of winter or other severe weather situations at: http://webgen1.jlab.org/div_dept/admin/HR/Admin_Manual/200/207.08.html#C
---
Deal With Winter Weather Safely
Severe winter weather can bring down trees, leave roads impassable and cause power outages.
A pair of over-the-shoe ice-grippers can help prevent dangerous falls on ice and slippery sidewalks and road surfaces
JLab Snow Removal
Should the lab have a delayed opening due to ice or snow, nonessential personnel should not arrive prior to the designated start time, as additional traffic hampers the clearing of roads and parking lots.
Snow-removal procedures place a priority on clearing the entrances most directly connected by pavement to the parking lots. For some buildings, this may not be the most frequently used entrance. Additional entrances will be cleared when all priority routes have been treated. Upon arrival, park in the areas already cleared and use the cleared paths even if they are not your usual route or the most direct route.
Facilities Management and Logistics staff has placed buckets of sand at many buildings' entry points for "self-service" use to spread on ice while awaiting more thorough ice/snow treatments or removal. These buckets aren't to be used for cigarette butts. If your building needs a bucket of sand, or if a bucket needs replenishing, contact your safety warden. The safety warden will put in a work request as needed.
Everyone at JLab is responsible for taking necessary precautions and paying attention to the hazards created by severe weather conditions. Employees are urged to report unsafe conditions by calling Facilities Management and Logistics at ext. 7400.
Avoiding Slips and Falls on Snow and Ice
Nearly two-thirds of JLab's past slip and fall mishaps occurred on snow, ice or wet surfaces near entrances or on parking lots. Here are tips to help prevent falls:
-- Wear shoes or boots that provide good traction. Rough or rippled pattern rubber soles are generally best. Smooth leather is the least desirable. Lugged rubber patterns fall in between. 
-- Shoe slipover grip accessories are very effective on icy surfaces. Consider keeping a pair of ice-gripping, slip-over-the-shoe accessories in your car – just in case.
-- Give yourself plenty of time. Take short steps with your feet pointed slightly outward (think of how a duck walks). This will help keep your center of balance under you and provide a stable base for support.
-- Be extremely careful getting out of your vehicle. If possible, swing your legs around and place both feet on the pavement before you attempt to stand. Steady yourself on the doorframe until you have gained your balance and have firm footing. Avoid reaching beyond your center of balance to take hold of the door, as this may cause a fall.
-- Don't take shortcuts. Always use sidewalks and the cleared, designated paths in parking lots. Never walk between parked cars; there may be untreated ice and snow. Be especially careful when stepping to different levels – down or up steps or from curbs. Don't step on curbs. And remember, grassy slopes can be as dangerous as snowy steps.
-- Pay attention to the walking surface; it may be significantly slicker in spots. When walking after sunset or in shaded areas, be alert for black ice – a thin, almost invisible ice film. It can form from melted snow and water freezing overnight. It also can occur when moist above-freezing air contacts frozen ground surfaces.
-- Carry only those items necessary. Carrying heavy or bulky packages affects your balance and center of gravity.
-- If you should become injured at work, or when carrying out JLab work while away from the lab, contact your supervisor and Occupational Medicine, ext 7539, as soon as safely feasible. If you are seriously injured, or see a serious injury occur, call 911 immediately.
Additional information about winter weather precautions for home and travel is available on the Virginia Department of Emergency Management web site at:
http://www.vaemergency.gov/readyvirginia/stayinformed/winter
---
Volunteers Needed to Help With Science Bowl Contests
The theme for the 2012 National Science Bowl competition is "Everything is Connected."
The 2012 National Science Bowl season is right around the corner, and Jefferson Lab's Science Education team is seeking volunteers to help with the two tournaments being held at the lab in February and March.
The National Science Bowl competition, sponsored annually by the U.S. Department of Energy since 1991, is a highly visible series of academic competitions among teams of students.
"DOE is celebrating its 22nd year of sponsoring the Science Bowl program. These events champion an interest in science, math and technology," says Jan Tyler, Science Education manager. "They are a great way to promote academic excellence and careers using math and science."
Volunteer support is essential to the success of both events being hosted by the lab: the Virginia Regional High School Science Bowl on Saturday, Feb. 4, and the Virginia Regional Middle School Science Bowl set for Saturday, March 3.
More than 70 volunteers will be needed to run each of the events. Most of the volunteers perform as competition moderators, rules judges, timekeepers and scorekeepers during the morning, round-robin sessions, according to Tyler. A smaller number of volunteers are needed to run the afternoon double-elimination matches, be the on-site scientific judge who is called when a student challenges a question or answer during the competition and a few individuals to help with administrative tasks and the afternoon Stay All Day Contest held in the VARC classrooms.
"We need new and experienced volunteers. If you have volunteered for prior Science Bowls, or if you've never been to a Science Bowl, but want to be part of the excitement, we want you," she says.
"These events are great fun. We provide all volunteers with training and a practice session, a Science Bowl T-shirt, and lunch if you work morning and afternoon. We need you, your co-workers, spouse and children (over age 13) to assist with the many activities required to conduct these academic competitions."
Most of the public areas and conference rooms of CEBAF Center will be taken over during each of the competition days. Twenty-three schools sent teams to the 2011 High School Science Bowl; and 18 schools registered the middle school tournament. Comparable numbers are expected for the 2012 events.
The top three teams of each event will earn cash prizes for their respective schools. The top high school and middle school teams will also win expenses-paid trips to the DOE Science Bowl Nationals April 26 - 30 in Washington, D.C.  Each team is made up of four or five students, and a teacher who serves as advisor and coach.
A Science Bowl is an academic competition among teams of students who compete in a verbal forum to solve technical problems and answer questions in all branches of science and math. The regional and national events encourage student involvement and interest in math and science activities, improve awareness of career options in science and technology, and provide an avenue of enrichment and reward for academic science achievement, according to Tyler.
Teams that don't advance to the afternoon finals rounds are invited to stay at the lab for the day and compete in a series of design and engineering challenges dubbed the Stay All Day Contest. Teams are presented with three different activities where they have to analyze problems, develop working prototypes with specific materials and make projections based on a model's performance. The team with the best combined results for the activities wins.
Helping with the Science Bowls is strictly a volunteer activity, Tyler reminds aspiring helpers. Anyone interested in more information or in volunteering, may contact her by email (tyler@jlab.org). Volunteers may sign up for the morning shift (9 a.m. to 1 p.m.) or for the day (9 a.m. to 3 p.m.).
The afternoon semi-finals and final rounds held in the CEBAF Center auditorium will be open to the public.
High School Science Bowl Training and Practice Sessions
Training/Review Sessions
Jan. 27 (Friday): VARC Room 72 (classroom) 10 a.m. and 2 p.m.
Practice Session
Feb. 3 (Friday) at 9 a.m. in CEBAF Center Room F113
---
Dates Set for Science Series Lectures
Jefferson Lab kicks off its 2012 Science Series lectures on Tuesday, Jan. 24, with a discussion about this region's geologically active past.
Guest speaker Elizabeth Johnson, assistant professor with the Geology and Environmental Sciences Department at James Madison University, will present "Volcanoes in Virginia!"
The August 2011 earthquake that originated in Virginia and shook the East Coast has made many wonder what other surprises Virginia's geology may hold, according to Johnson. "Could there be a volcanic eruption in Virginia? Probably not today," she says, "but during the Eocene, about 35-48 million years ago, a number of mysterious eruptions occurred in western Virginia."
Johnson's talk will investigate the possible origins of these eruptions, and what they can tell us about the crust and mantle underneath Virginia.
Then, on Tuesday, Feb. 7, Oceanographer Victoria Hill, with Old Dominion University's bio-optics group, will discuss work she and colleagues have undertaken to try to explain why ice near the North Pole is melting faster than scientific models had predicted.
In her talk, titled "Living and Working in the Freezer" Hill discusses the lack of data on the early spring in the Arctic – due to the extreme cold that makes it difficult to survive, let alone conduct science. From March through late April 2011, scientists from around the world braved deadly cold temperatures in the high Canadian Arctic in the name of science.  
At the Catlin Arctic Survey group's floating "ice base" off Ellef Ringnes Island, the group investigated how organic material in fresh water near the surface of the ocean may be trapping heat from the sun, causing the upper ocean layers to warm. This is a very new area of research and this mechanism represents a key uncertainty in accurate modeling of ice thickness and upper ocean heat content, according to Hill.
The scientist will discuss preliminary data from the expedition and also talk about living and working at the ice base.
Both lectures are free and open to students and adults with an interest in science. The lectures will each begin at 7 p.m., in the CEBAF Center auditorium located at 12000 Jefferson Ave, Newport News, and will last about an hour. Seating in the auditorium and overflow area is available on a first-come, first-served basis and is limited to about 300 people. People arriving once capacity has been reached will be turned away.
All those under age 16 must be accompanied by a parent or responsible adult. Everyone over 16 is asked to carry a valid photo ID. Security guards may perform ID, parcel and vehicle checks.
For directions and additional information about Jefferson Lab public lectures, visit: http://education.jlab.org/scienceseries/index.php or contact Christine Wheeler, email wheelerc@jlab.org or call 757-269-7560.
A live video stream is available for those not able to attend the event. Lectures are added to the video archive for on-demand viewing upon approval from the presenter.
---
Companies License National Labs' Technologies to Grow Energy Innovation
The Department of Energy announced in December that 36 start-up companies have answered the call to participate in "America's Next Top Energy Innovator" challenge. These companies have signed 43 option agreements allowing them to license valuable, cutting-edge technologies developed and patented by the U.S. Department of Energy's 17 national laboratories. They have done so under a streamlined, simplified application process and a greatly reduced upfront fee of just $1,000 which was offered from May 2 to December 15.
The top start-up companies will be featured at the premier annual gathering of clean energy investors and innovators around the country, the 2012 ARPA-E Energy Innovation Summit.
"We've challenged America's entrepreneurs and innovators to create new businesses based on discoveries made by our world-leading national laboratories," said U.S. Energy Secretary Steven Chu. "This is about cutting through the red tape and knocking down barriers so that we can take full advantage of America's innovation machine. We are unleashing start-up companies to do what they do best: create new products, new industries, and new jobs."
The public will be able to view profiles of the companies on http://energy.gov/topinnovator and vote on which ones could make the greatest contributions to the country's economic and energy future. An expert panel will also evaluate the companies and which ones have made the most progress toward their business plans.
The complete announcement is posted at:
http://energy.gov/articles/who-will-be-america-s-next-top-energy-innovator-0
---
Milestones: November – December 2011
Hello
Sahin Arslan, Hall B Fabrication Technician, Physics Division
Jiquan Guo, Accelerator Scientist, Accelerator Division
Jerry Moore, Senior Machinist, Engineering Division
Kurt Strosahl, System Administrator, Information Technology Division
Shaoheng Wang, Accelerator Staff Scientist, Accelerator Division
Brent Woodruff, Hall B Fabrication Technician, Physics Division
Veronique Ziegler, Hall B 12 GeV Staff Scientist, Physics Division
Goodbye
Howard Smith, Physics Division
James Gordon, Project Management and Integration group
Jessica Ledbetter, Information Technology Division
Mfowethu Langeni, Engineering Division
Scott Madaras, Free-Electron Laser Division
Nanette Phillips, Chief Financial Officer group
Jie Zhou, Engineering Division
These Milestone entries, listed alphabetically, are full-time, term, casual and student actions posted by Human Resources for November and December 2011.
Jefferson Lab is currently seeking qualified individuals for a range of positions. Current employment opportunities are posted at: [Link Removed] .
Congratulations
Pilat Elected APS-DPB Vice Chair
Fulvia Pilat, Accelerator Division deputy director, has been elected as the next Vice-Chair for the American Physical Society's Division of Physics of Beams. She will accept the position in the April time frame. It is a four year term where she will successively serve as vice-chair, chair-elect, chair and past chair.
The
On Target
newsletter is published monthly by the
Thomas Jefferson National Accelerator Facility
(Jefferson Lab), a nuclear physics research laboratory in Newport News, Virginia, operated by
Jefferson Science Associates, LLC
, for the
U.S. Department of Energy's
Office of Science
. Possible news items and ideas for future stories may be emailed to
jlabinfo@jlab.org
, or sent to the Jefferson Lab
Public Affairs Office
, Suite 15, 12000 Jefferson Avenue, Newport News, VA 23606