Of Great Heart, Height, & History by Tonya Short
Henry Whitehead reminisces over his 26 years of service.
Volunteers Needed for CEBAF Celebration
Calling All Runners (Walkers Too!)
Tee Off
Batter Up
CEBAF celebrates African-American History Month.
CEBAF picks Regional Winner
Hartline to Appear on TV Program
CEBAF hosts "Quality" event
Bioremediation: Nurturing a Natural Process
The Advent of E-mail Etiquette
---
Of Great Heart, Height, & History
When Henry Whitehead comes to mind, one might think of his trademark station wagon, or reminisce of feeling dwarfed while standing next to the man of mammoth height and stature. One might even feel overwhelmed by his welcoming spirit summed up with his own words, "They all know me and we all know each other."
Whitehead is not only an electronics technician at CEBAF, he is sort of a historian. With 26 years of service, he possesses a remarkable amount of history. And what he doesn't say verbally he can tell with pictures. His photographs can be seen in just about any building on site displaying a photographic history of CEBAF.
Prior to the development of CEBAF, Whitehead spent approximately 17 years on the site working with the College of William and Mary. He was originally hired as an electronics technician responsible for building, repairing and maintaining electronic equipment. His group was working on the NASA Cyclotron, with the support services of the Virginia Association Research Center or VARC, ( the namesake of our VARC building). There NASA studied the effects of radiation on materials used in the space programs. Universities used the Cyclotron to conduct experiments in high energy physics.
The VARC building was the location used by scientists and technicians from various state universities. Their experiments were conducted in what is now the Test Lab. Many of the groups that Whitehead worked with are mostly still in tact, including the William and Mary group from 1968.
Twenty years ago the Test Lab closed and VARC housed groups doing biological and environmental studies using the Van De Graffe accelerator [an electrostatic generator]. Whitehead was responsible for operating and maintaining the accelerator.
"We studied absorption of trace metals and worked with the Environmental Protection Agency testing contaminants in water and soil," says Whitehead.
Many state employees participated in planning and developing CEBAF. At this time, Whitehead was extensively involved with photographing the turn of events. He recollects some of the highlights:
Whitehead poses in front of one of CEBAF's cavity pairs in thhhis photo taken for personnel records in 1987. His official starting date listed on the photo is November 16, 1968.
"When the Southeastern Universities Research Association was formed, Dr. Von Baeyer, the director of VARC, entrusted me to compose the slides and photographs that SURA presented before the Bromley Committee chaired by D. Allan Bromley. The committee would recommend in April 1983 that SURA be chosen to construct CEBAF."
Whitehead's photographs have appeared in a number of CEBAF pamphlets, posters and Christmas cards, as well as local and national publications. In fact, the Cern Courier has published two of his photographs. In 1989, one of them appeared on the front cover of the IEEE Magnetics Society Journal. He captured other events on film as well, including the NASA Langley-William and Mary lecture series, which consisted of a variety of national figures. Most notably were Jacques Cousteau, Alex Haley and William Buckley.
Whitehead was also responsible for many of the drawings and prints presented to the Bromley committee and was involved with the ground breaking ceremony and the CEBAF Center Dedication in 1989.
Busy modifying components for the free electron laser, Whitehead continues to work on innovative projects at CEBAF.
Once CEBAF was formed, the state employees who worked in the VARC were considered CEBAF employees. "Initially I was involved with testing various components to be used in the cryogenic environment at CEBAF. At the time the Test Lab was not open. The first hardware to arrive was the End Cans, which are devices on each side of the cryomodule that allow a supply of liquid helium to flow into the cavities for cooling. Warren Seber and I were involved in making the super insulation and liquid level probes in preparation for the Cryogenic End Can test," says Whitehead.
Once the Test Lab opened, Whitehead along with Jim Parkinson, Frank Humphry, Warren Seber, and Jay Wall built the first clean room in preparation for the CEBAF activities. This would be turned into the area for the first prototype cryostats. Henry explains his involvement: "I worked with the new SRF group on the instrumentation used in the prototype cryostat. During this time I was involved in testing and experimenting with various components. After three prototypes, the basic design now in use was accepted. I continued to build the cryounits-cryomodules until the completion of the accelerator. I worked on each of the 40 [cryomodules that make up the linear portions of the accelerator]."
After the cryomodules were completed last year, Whitehead went to Hall A to work with Bill Schneider. He was assigned to work on the instrumentation for the first cryostat test to complete the bogie control unit for the electron arm, which is a high resolution spectrometer that collects electrons scattered after an interaction. After its completion, Whitehead will return to SRF.
Whitehead has played a significant role in the development of CEBAF, but he has also made a distinct impression on those he has come in contact with.
Whitehead works with Karl Smith (left) and Danny Machie (right), both designers in the Accelerator Division, who are working on a new design for a component of the free electron laser.
"Henry was here when I came and we worked together on cryomodule development," says Jim Parkinson, a senior coordinator in the accelerator and one of the early members of the CEBAF Engineering Department. "He is very personable and likable, and he is always willing to help."
"For many years Henry took CEBAF photographs. He took money out of his own pocket and did whatever he had to do to get the job done," says Parkinson. "He went above and beyond the normal call of duty. He is one of those people you meet and say, 'It's been a real joy knowing Henry.' I don't know how to describe him. A sweetheart I guess."
-Tonya Short
---
Volunteers Needed for CEBAF Celebration
To mark the end of construction and the beginning of science, CEBAF is hosting its annual open house now being called CEBAF's Festival of Science.
The public will see more hands-on activities, a Hall B tour, new CEBAF video, physics and technology transfer displays, a CEBAF quiz show, and the ever popular cryogenics show.
To make the event possible, hundreds of volunteers from across the site are needed, including bus stop monitors, children's activity helpers, souvenir sales, information booth helpers, and many more who will help the day run smoothly. Don't wait until the last minute to show your support for this important event that spreads the word of CEBAF's purpose, as well as highlights our progress to the public.
To volunteer, please call Deborah Hyman at ext. 4852, or clip the coupon below and return it as soon as possible.
Please contact Deborah Hyman, Director's Office, hyman@jlab.org, as soon as possible. Thank you!!
---
Employee Recreation Update
Calling all Runners (Walkers too!)
Dig out those track shoes. Spring is just around the corner and with it comes the annual CEBAF Run-A-Round. April 11th is the date, CEBAF is the place, and you are the special ingredient needed to make this 1.34 mile walk/run a great success. All employees, contract workers and family members age 12 and up are eligible to participate. Awards will be made in the following age categories by gender: 12 to 29, 30 to 39, 40 to 49, 50 to 59 and 60+. First place over all, male and female, will also be awarded, as will the first place guest runner. The Director's Award recognizes the division with the most points overall, and the Spirit Award goes to the division with the highest percentage of employee participation. The winning relay teams will also be recognized.
To add to the excitement this year, the 1995 CEBAF T-shirt will be kept under wraps until after the race. This means NO ONE will receive T-shirts prior to the race! When the race is over, the new design will be unveiled and the winning designer(s) recognized.
You don't have to be a track star to participate, but it's a good idea to keep a few health-conscious reminders in mind. Get some jogging or walking in before the race. Stretch and warm up slowly before starting out. Drink plenty of water to replace fluids. Don't overdo. The point is to have fun.
Volunteers are needed to help in various capacities, from registration to water stations and traffic control. To volunteer, please call the Run-A-Round Volunteer line at ext. 7888 *860 and leave your name and extension number.
Tee Off
CEBAF's first spring Golf Tournament will take place at 11 a.m. May 7, at the Pines Golf Course, Fort Eustis. The tournament will be Calloway handicapped with men's and women's long drive and closest to the pin contests. A $30 entry fee is required, which includes green fees, golf cart and food. Register at the Reception desk in CEBAF Center. Deadline is April 28. For more information, call Eric Woodworth at ext. 7217.
Batter Up
Hey sluggers! It's time to dust off the old bat and glove. Softball season is finally here and the CEBAF recreation committee wants to put a co-ed team together. We need a few enthusiastic people with the time and energy to help make the team a reality. If you are interested in participating, please send an e-mail message to Joe Grames at grames@jlab.org or call ext.7097.
---
Moving Forward, Reaching Back
African-American History Month Events Prove Successful, Educational
Science Series speaker, Jacqueline Sales, talks to a member of the audience after a presentation of her work as owner of HAZMED, Inc., a hazardous and medical waste firm in Maryland.
The CEBAF African-American History Month celebrations brought employees together to recognize not only the successes and struggles of African-Americans, but to also educate us on our similarities, the importance of diversity, and encouraging students to enter math and science fields.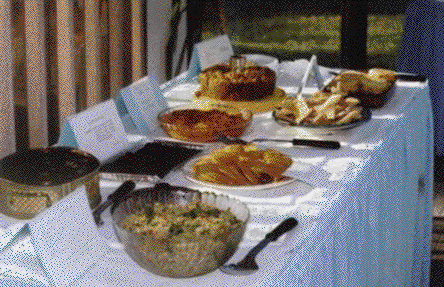 A variety of dishes representing many countries were available for tasting during the International Food Festival.
Shilda Williams (Human Resources) tests the cooking skills of Eric Woodworth (Accelerator), who prepared Indonesian Spiced Coconut Beef with Rice for the International Food Festival.
CEBAF kicked-off the month-long celebration with Christopher Newport University Professor Shumet Sishagne relaying how the Ethiopian culture has influenced the lives of African Americans today. The event was highlighted by an International Food Festival with employee-cooked dishes ranging from Curried Chicken to Strudel.
Beverly Hartline (Project Managment) and Debra Stitts (Finance) discuss the baked oranges prepared by Stitts.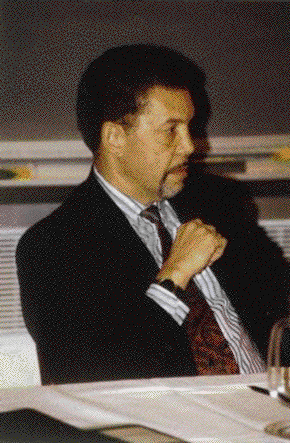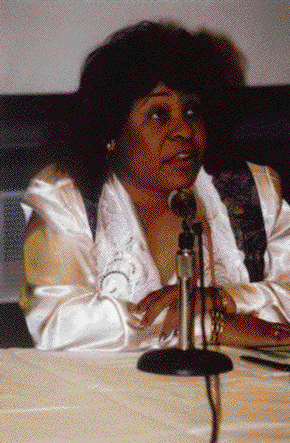 Joyce Weeks (right) of Hampton City Schools and Robert Hayden (left) a visiting scholar at the Schomburg Center for Black Culture in N.Y., where two of five panelists discussing the potential of African-Americans in science Feb. 16 at CEBAF. Hayden also delivered biographical sketches on blac doctor, biologist and chemist, who made significant contributions to society.
A panel discussion on February 16, brought together educators and historians to discuss what should be done to encourage children to enter math and sciences fields. Perhaps Joyce Weeks of Hampton City Schools said it best: "All children need is love, encouragement, food and shelter to succeed." She challenged the audience to embrace one child and be a role model and mentor for them, to "reach back because the schools can't do it alone." Panelist Bill Williams, CEBAF's Teacher Program Manager, added that each of us [CEBAF employees] has the opportunity to help each day by volunteering for the BEAMS program (CEBAF's educational program for fifth and sixth graders).
James Gates spoke on the importance of diversity in the workplace at the Recognition Banquet Feb. 25.
Ben (Physics) and Lisa Boone (Education) pause for a picture at the Recognition Banquet.
James Gates, one of the world's leading theoretical physicists, stressed the importance of diversity to an attentive audience at the Recognition Banquet . He said diversity was a positive solution to an ailing problem in America, and history shows that diversity has bred many new ideas and trends which can be models for our success. "Each type of person should have a dialogue in what goes on in the workplace and our country. All points of view from various ethnic backgrounds are important. If we don't cultivate diversity in the workplace and educate the masses, our country could turn into another Bosnia or Haiti," said Gates. Using CEBAF physicist Keith Baker as an example, Gates charged the audience to encourage students to decide what they want to contribute to society, and then tell them to pursue it wholeheartedly. Baker, who happens to be one of Gates' prot&eacuteg&eacutes, decided early in life that he wanted to be a physicist. He was encouraged to pursue his goal, and now his dream is a reality.
Henry Whitehead, a CEBAF technician, was awarded by the planning committee during the banquet for his 26 years of service and his dedication to science and the African-American community. (Please see the story on Whitehead.)
Thanks to all who made the events a success, with special thanks to CEBAF Director Hermann Grunder, Associate Directors Jim Coleman and Beverly Hartline, and Staff Services.
---
Briefly...
CEBAF Picks Regional Winner
Pictured are Tory Hunter, David Mulligan, Sam Rawls, Jennifer Noble, Kim Bahr, David Butler and Nicole Rivera with their winning entry.
A team of fifth-graders at Malibu Elementary School in Virginia Beach designed the winning entry in a regional T-shirt design contest sponsored by CEBAF. The school received $500 to be used towards science equipment. T-shirts and certificates were also presented to the students. The winning entry will be submitted to the Department of Energy for the 1996 National Science Bowl Contest. The winning design of the National contest will be used for the National campaign for the 1996 National Science Bowl. There will be over 50 nationwide entries for this contest. The theme for the competition is "Knowledge: The Competitive Edge." The Malibu students designed a poster showing a man skiing down the hill of life racing towards knowledge.
Hartline to Appear on TV Program
Next month is "Women in History Month," and you can catch Beverly Hartline, Associate Director and Project Manager, participating on a panel discussing "Women in Science." The program will be broadcast live at 10 p.m. April 12, 1995, on WHRO.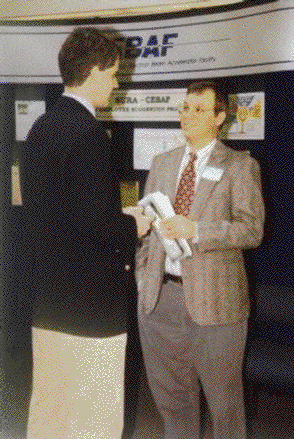 Will Oren (right) and Eric Hanson (left), both of Accelerator, converse in front of a display outlining CEBAF's new Employee Suggestion Program.
The Virginia Peninsula Total Quality Institute held a celebration at CEBAF on February 23, 1995, for companies who participate in quality management. The event allowed area industries, such as Anheuser Busch, Canon, Williamsburg Community Hospital, and Newport News Shipbuilding, the opportunity to share their experience with what works and what doesn't in becoming quality oriented, efficient and profitable leaders in industry. Presentations were given in many areas, including "Excellence in Manufacturing," "Improving Inventory Accuracy," and CEBAF's own "Employee Suggestion Program."
---
Bioremediation: Nurturing a Natural Process
Major oil spills are among the most dramatic environmental catastrophes. Images of fouled shorelines and dead and dying wildlife are appalling. While there is little argument about the unacceptability of oil spills, there is controversy over what to do in their aftermath. Remediation measures that were once considered state-of-the-art-pressure washing, emulsifiers/detergents, wholesale removal of contaminated substrate-are now viewed by many as potentially more harmful than doing nothing.
What happens when we do nothing beyond collecting the typically small percentage of recoverable liquid? We witness the full impact of the oil spill. The more volatile exposed portions of the petroleum evaporate, leaving behind the heavier fractions-mainly tars. These weather and are altered by sunlight over time.
Another process is also at work. There are a number of different microbes that digest petroleum. In hospitable conditions, and left to their own devices, they are capable of decomposing oil spilled into the water or on soil. These are not highly prolific organisms, and they take their time, but they have likely been around at least as long as the petroleum. They're the chief reason that oil spills-"natural" and man-made-over the millennia have not befouled all the earth. Observations of the areas affected by the Exxon Valdez spill have noted that beaches that were not mechanically or chemically cleaned seem to be closer to restoration that those that were.
There is an emerging technology that seeks to encourage this natural (or bio) remediation of oil spills. At present, it has had limited success, but it may well become a useful option. One present application for bioremediation is when there is subsoil contamination, perhaps well below the surface, and excavation of the soil is not feasible. A possible scenario would be oil that has leaked from an underground storage tank threatens the aquifer, and the contamination has spread beneath a building or highway. In situ (in place) bioremediation encourages the naturally-occurring microbes (usually bacteria) through the selective introduction of nutrients into the soil or strata permeated by the oil. The organisms, stimulated by the nutrients, accelerate their reproductive rate, and consume the petroleum. There's much yet to learn about how to make the process work better: techniques for ventilating the subsoil, for example.
There are several misconceptions about bioremediation. One is the image that we can "sprinkle bugs" on an oil spill and it will go away. This is a slow process, and it will likely never mitigate the near-term devastation of a major spill. Another misconception is that the organisms are exotic artifacts of genetic engineering, and will somehow work their way down to the petroleum-bearing strata and eat all of our oil. Even if a more aggressive microbe could be developed, current limitations on such research probably preclude their release into the environment. In fact, there has been little success even with creating large colonies of the natural microbes in vitro and injecting them into the soil. Encouraging the natural residents seems to work best. However, preventing oil spills is the best approach. CEBAF has developed a plan to minimize the risk of a spill. Look for it soon in the EH&S Manual.
-John Kelly, Administration Division EHS Officer
---
THE ADVENT OF E-MAIL ETIQUETTE
It was a dark and gloomy night in the old homestead a few hundred thousand years ago or should I say cave? Either way, you're lonely, you've had a hard day slaying a saber-toothed tiger or two, and perhaps a "run-in" with a T-rex - for those of you who actually believe man and dinosaur existed at the same time-and you want to let off some steam, express your opinion. What do you do? You pick up a chisel-like piece of granite and carve out everything that happened to you on the nearest wall. As time progresses and the stress of living remains constant, new forms of communication develop. You begin to communicate orally then somewhere along the Tigris and the Euphrates you develop the first alphabet. Then like any well-run grass roots effort supported by your local government, rules are imposed. Since the development of that first alphabet, communicating with the written word has schoolchildren shaking in the wake of grammar lessons and proper syntax. Is it over? Nope, not by a long shot. Following the Pony Express comes the telegram, the telephone, and the computer each of which possesses its own rules of etiquette.
But it is the advent of the computer that is causing millions to forego the telephone to send e-mail messages and access the variety of gateways that can connect them to more sources of information and individuals than they can find in their local library or telephone books.
According to David Angell and Brent Heslop from The Elements of E-mail Style, this communication medium of the nineties, this invisible Pony Express eliminates phone tag, breaks down the distance and time barriers of telephone calls and traditional written communication, shortens the cycle of written communication, empowers individuals by allowing more direct interactive communications, improves productivity, and creates flexibility in the workday by reducing telephone interruptions.
Yet as effective as e-mail is, there are inherent dangers. When sending or receiving e-mail, keep in mind the following:
Don't flame. A flame is an inflammatory remark or message.
Respect e-mail confidentiality. Accessing other people's e-mail without their permission is an invasion of privacy.
Watch what you say in e-mail. The 1986 Electronic Communications Privacy Act (EPCA) considers internal e-mail to be the property of the company that pays for the e-mail system. Companies have the right to search their employee mailboxes.
Protect yourself against e-mail break-ins. When you leave your computer unattended, make sure your e-mail program cannot be used by someone else while you are away. Never give your e-mail user name and password to someone else.
Be careful about copyrights and licenses. Short extracts of a copyrighted work can be passed along; complete reproductions of copyrighted work is strictly and explicitly forbidden by United States law and the international copyright law of fair use.
Eliminate sexist language. Consider your reader's reaction to the language you use.
Avoid gender-specific titles. Example: use flight attendant not airline stewardess.
When sending international e-mail be aware of cultural differences.

Use metric measurements, followed by English-system equivalents.
Inform the reader what format (dates, times, and numbers) or system (monetary) you are using.
Use generic terms instead of trademarks.
Use a definite reference when referring to a geographical region.
Avoid humor and sarcasm-they do not travel easily across cultures.
Do not say no directly to an offer made by a Japanese person; it is considered impolite. They also consider it impolite to display anger.
Be aware that not all speakers of the same language are culturally the same.

Avoid using capital letters. Typing your message in all upper case letters is known in the e-mail world as shouting.
Avoid using all lower case letters. A message entirely in lower case letters is difficult to read.
Check your e-mail regularly. If you do not check it regularly you sabotage the advantages e-mail has over the U.S. Postal System.
-Karen Hokansson, User Liaison Administrator
---
Dipole Update
The Hall A dipole was raised to vertical position in early February, then placed on a crib so the properties of the superconducting magnet could be tested - a notable achievement for Hall A. John Alcorn (pictured) was instrumental in designing, manufacturing and assembling the components that make up the magnet.
---
Coping with Criticism
No one likes to be criticized: it implies a defect in either you or your judgment. How you handle that criticism becomes as much a measure of your own self esteem as of your ability to handle that criticism. First, think about the censure-was it merited? Were you really guilty of the act that provoked the exchange? If you were, you should accept the consequences. Take responsibility for the error and apologize for the mistake. You are not likely to be faulted for acknowledging a blunder.
If, however, you aren't responsible, then say so. Explain, without implicating or complaining about your co-workers or supervisors. Then follow the explanation with the simple promise that "I'll make sure to do it the right way from now on." This is usually sufficient to let your supervisor know that their concerns have been noted.
Lashing out at critical supervisor or co-worker will accomplish nothing. Trying to blame someone else for your mistake won't work.
If the faultfinder begins to berate you in public, suggest that the two of you go to another, more private place to discuss the problem. If the person refuses, then try to listen to the criticism without emotion or interruption and then later create an opportunity to explain the alleged error, and to note that the way the criticism was given distressed and embarrassed you.
If you're the one who has to criticize another's work, take the person aside-away from others-and point out the mistake. And then explain the correct behavior needed. Criticism without positive direction helps no one.