The U.S. Department of Energy's Thomas Jefferson National Accelerator Facility

---
Arango Appointed As JLab's New DOE Site Office Manager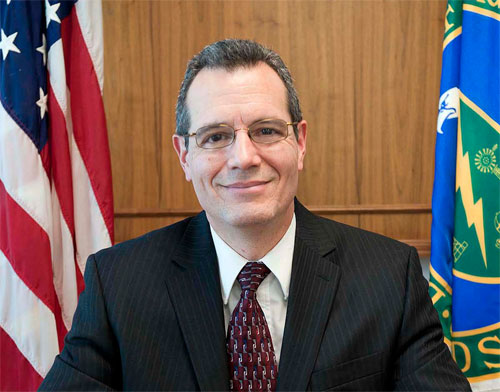 Joseph Arango
Thomas Jefferson Site Office Manager

Born in Kent, Ohio, the second oldest of six children, Jefferson Lab's new Department of Energy Site Office Manager, Joe Arango, grew up knowing he wanted to serve his country.

That commitment led him to many experiences and to Jefferson Lab, where he is now responsible for the DOE programs and management of the Thomas Jefferson Site Office. Arango and his staff oversee the administration of the performance-based contract that DOE has with Jefferson Science Associates, LLC, to manage and operate Jefferson Lab.

As a young man, Arango entered the U.S. Naval Academy, finishing with his commission and a bachelor's degree in math. He volunteered for duty on fast-attack submarines at a time when Adm. Hyman Rickover, "father" of the nuclear Navy, personally interviewed every officer who served in the nuclear power program..... more
---
Making It Easy To Host A Foreign Visitor At JLab

When it comes to providing unique opportunities to conduct nuclear physics research, Jefferson Lab has few peers. Thousands of researchers and others from around the globe have come to Newport News....more

 

JLab Sets Performance Mark For FEL Injectors

Scientists at Jefferson Lab achieved a significant breakthrough in the performance of electron injectors for free-electron lasers on Feb. 18.....more

 

2011 JSA Postdoc Grant Winner Plans New Spin On Liquid Crystals

Liquid crystals, used widely in LCD televisions and computer monitors, may play a prominent role in a device being designed by the University of Virginia researcher.....more

---

Below the Fold:
Arango Appointed As JLab's New DOE Site Office Manager
Joseph Arango
Thomas Jefferson Site Office Manager
Born in Kent, Ohio, the second oldest of six children, Jefferson Lab's new Department of Energy Site Office Manager, Joe Arango, grew up knowing he wanted to serve his country.
That commitment led him to many experiences and to Jefferson Lab, where he is now responsible for the DOE programs and management of the Thomas Jefferson Site Office. Arango and his staff oversee the administration of the performance-based contract that DOE has with Jefferson Science Associates, LLC, to manage and operate Jefferson Lab.
As a young man, Arango entered the U.S. Naval Academy, finishing with his commission and a bachelor's degree in math. He volunteered for duty on fast-attack submarines at a time when Adm. Hyman Rickover, "father" of the nuclear Navy, personally interviewed every officer who served in the nuclear power program.
Arango served on submarines for seven years in an environment that he found suited him well. "I don't have much for sea legs," he acknowledged with a laugh. "But once you submerge the ship under all the wave action, the ride is really very calm."
"Submarine missions were exciting and interesting," Arango recalled. Among those was one he referred to as a "once in a lifetime opportunity." He spent three months on a deployment with the USS Spadefish, carrying scientists and their equipment to the North Pole. He had the chance to surface the ship through the ice and get "out on the ice." There's a photo on the wall of Arango's new office in the C Wing of CEBAF Center that commemorates the trip.
After seven years of active duty, he went to work for a defense contractor that supported the Navy headquarters office for Seawolf-class submarines. When only three were built and the program ended, he sought a career change and landed a spot with the Department of Energy in the Office of the Departmental Representative to the Defense Nuclear Facilities Safety Board. It was an oversight group he likens to the more well known National Transportation Safety Board.
"The biggest benefit of this job for me was that I achieved a broad set of skills within the DOE complex," he noted, "working with national weapons sites, clean-up sites, environmental management and defense programs. It was a very exciting and interesting job."
He then moved into environmental management at DOE headquarters in its safety and operations oversight office, where he handled integrated safety management, operational readiness reviews and, in general, acquired a more detailed knowledge and understanding of EM.
From there he moved to the EM acquisitions and contract office, a totally new field for Arango, and requiring a great deal of on-the-job training. He served with integrated project teams for new procurements and on source evaluation boards on projects that sometimes took years to complete. He travelled a great deal during those years, and found himself sequestered with a group reviewing proposals, sometimes for weeks at a time. Not so different, he noted, from living on a submarine.
At that point he was tapped by DOE's deputy director for Field Operations, George Malosh, to be his senior staff adviser, a position Arango held for two years.
"Although I'd had some exposure to the science mission, research and national labs, this was once again an opportunity to learn, more in depth. During this time, I had a broad exposure to the 10 national labs and was ultimately appointed as the acting Site Office manager at the Princeton Plasma Physics Lab."
When he saw the TJSO manager vacancy, posted after the retirement of Jim Turi, he applied for the position and was thrilled when he received the post.
"I appreciate so much the confidence that [the Department of Energy] has shown in me," he said.
Along the way, Arango earned a master's degree in industrial and systems engineering from Virginia Tech and also served in the Navy Reserves, retiring as a captain after 30 years of Navy service. About 12 of those years, he noted, were spent on assignment to units in the Navy Science and Technology program and the Office of Naval Research.
"I feel very fortunate in how my career has evolved," Arango said, "and I'm thrilled to be here at such an exciting time. We are all federal stewards of the taxpayers' money and I'm proud to be part of that.
"I believe that the lab's future in DOE is very bright as evidenced by the ongoing 12 GeV Upgrade project, one of the highest priorities within the Office of Science right now, as well as the Science laboratory infrastructure investments being made here with the TEDF (Technology and Engineering Development Facility) project.
"The mission," he noted emphatically, "carries on. My predecessor, Jim Turi and Acting Manager Scott Mallette and this Site Office staff were committed to enabling the lab to carry on its very important mission of good science, I don't envision any major changes.
"My goals are the site office organizational goals which flow down from and support the Office of Science Field Operations goals," he added. "Pertaining most directly to JLab those goals include improving the laboratory and helping the laboratory be successful, among others."
With his office barely unpacked, Arango openly acknowledged his newness to the position and the lab.
"I'm here to learn," he said. "I'm interested in how we collaborate, and I want to be a good team player. I'm intent on achieving the goals that [DOE] has set out for the national labs. I see my role as being part of a continuum of improvements that we all seek."
Arango and his wife, Laura, a registered nurse, have a home in Woodbridge in northern Virginia. Two of their children are attending college; the third is in high school. By the end of the school year, they'll be scouting for houses in Hampton Roads. It will provide them the opportunity to clean out 20-plus years of accumulated stuff from their long-time home, he noted.
"This is a very exciting time," he concluded. "I'm very happy to be here to contribute to getting the job done so that the lab's important science work can be delivered."
By Judi Tull
Feature writer
Making It Easy To Host A Foreign Visitor At JLab
When it comes to providing unique opportunities to conduct nuclear physics research, Jefferson Lab has few peers. Thousands of researchers and others from around the globe have come to Newport News – taken by the lab's status as a user facility and as a world-leader in nuclear physics research.
But getting here requires some planning and preparation, according to Sue Ewing, JLab visa/immigration administrator. All hosts preparing to invite an international visitor or researcher to the lab should first contact their department administrative support staff or travel coordinator to begin the process of registering their guest.
Most departments have administrative support staff or travel coordinators that have received training so they can help hosts and visitors through the registration process. They are familiar with all the required paperwork and documents that are needed before a non-U.S. citizen can visit or carry out research at Jefferson Lab.
One common mistake is the failure to provide visitors, especially those that are to receive any type of compensation, with what's known as a "business invitation letter." The letter is written to a visitor by the person at Jefferson Lab who will serve as that visitor's host. It provides the visitor with such information as the length of his or her stay at the lab, details about the expenses the lab will cover, and information about stipends and other financial details. Foreign visitors and researchers need the letter in order to get a business visa so they can work at the lab. They must present the letter to U.S. Citizenship and Immigration Services officials when they enter the U.S.
To make the writing of a business invitation letter easier, the JLab Registration/International Services staff has created a sample letter. To see the sample letter and learn about the other steps needed to host a foreign visitor or researcher, visit the Hosting Foreign Nationals webpage at: www.jlab.org/div_dept/admin/HR/jris/hosting.html . Administrative support staff also can assist hosts in drafting the business invitation letter.
For more information about the international visitor registration process, and the services provided by the JLab Registration/International Services office, visit its webpage at: www.jlab.org/hr/jris/ .
If you have any additional questions or concerns after talking with your department's admin. support staff/travel coordinator and visiting the webpage, JR/IS staff is available to help. The JR/IS office is located in Room 44A in the VARC, Building 28, and may be reached at ext. 7687/ 7598 or via email at: ewing@jlab.org or wilkerso@jlab.org .
A list of the admin. support staff and travel coordinators currently trained to assist hosts with the international visitor registration process follows.
Administrative Support/Travel Coordinators (alphabetically by last name)
Crystal Baker, Accelerator Division
Audrey Barron, Accelerator Division
Marti Bennett, Physics Division
Cela Callaghan, Accelerator Division, Information Technology Division
Carolyn Camp, Accelerator Division
Lorelei Carlson, Physics Division
Linda Ceraul, Physics Division
Erin Clifton, Accelerator Division
Luci Collins, Physics Division
Tonya Evans, Accelerator Division
Marissa Fazenbaker, Accelerator Division
Mary Fox, Theory Center
Tammy Frye, Free-Electron Laser Division
Rachel Harris, Physics Division
Tina Johnson, Environmental, Safety, Health & Quality Division
Erica Jones, Physics Division
Mary Beth Stewart, Project Management & Integrated Planning Department
Pat Stroop, Project Management & Integrated Planning Department
Stephanie Tysor, Physics Division
Linda Williams, Free-Electron Laser Division
JLab Sets Performance Mark For FEL Injectors
Don Bullard, Free-Electron Laser Division, makes final preparations in the FEL gun prior to high voltage conditioning.
The DC electron gun has an 8-inch diameter stainless steel electrode polished by hand to a sub-micron finish to minimize field emission during high voltage operations.Photos: Carlos Hernandez-Garcia
Scientists at Jefferson Lab achieved a significant breakthrough in the performance of electron injectors for free-electron lasers on Feb. 18. After six years of efforts to improve the voltage standoff of DC electron guns, they completed a successful ramping of a test-bed high-voltage DC electron gun up to 500 kilovolts. The test-bed DC gun held 500 kV for more than eight total hours, using krypton at 1E-4 Torr with no evidence of field emission.
This is not the first time a similar system achieved such a milestone. Back in 1998, JLab's IR-Demo FEL DC gun demonstrated similar performance under vacuum conditions. The novelty of the recent achievement resides in the use of krypton that seems to be very effective in processing stubborn field emitters inherent during DC gun high-voltage conditioning. Beyond 400 kV these emitters often lead to catastrophic failure of ceramic insulators and months of down time.
The DC gun in the FEL injector, which is a critical technology for the U.S. Navy's Office of Naval Research-funded Free-Electron Laser Program, currently operates at 325 kV. Operation at the higher voltage is important to produce higher brightness electron beams and, thereby, higher power free-electron lasers. It is also critical for producing higher brightness electrons for FEL and energy-recovering-linac-based next generation light sources for scientific applications in the extreme UV (XUV) to X-ray region.
"Higher brightness means a higher density of electrons in all dimensions (spatial and velocity)," explains George Neil, FEL associate director. "Imagine two light bulbs, both producing 100 watts of light. Suppose one bulb is a foot in diameter and the other a millimeter in diameter. The smaller bulb is brighter (more photons per unit area) even though both produce the same watts. This makes the smaller bulb more useful because its light can be focused more tightly."
The injector work has been supported at Jefferson Lab for 15 years by the Office of Naval Research. ONR is now pursuing with industry and the U.S. Department of Energy's national laboratories the development of a 100 kW laser for shipboard defense in a program called the Innovative Naval Prototype.
Free-electron lasers produce tunable coherent light from beams of high-energy relativistic electrons. Jefferson Lab's Free-Electron Laser is the world's highest-power tunable infrared laser producing up to 14 kilowatts of continuous average power. It uses the electron beam from a superconducting accelerator to produce light from 0.7- 6 microns wavelength in the infrared and lower powers from 250-700 nm in the ultraviolet to visible region.
2011 JSA Postdoc Grant Winner Plans
New Spin On Liquid Crystals
Users Group Board of Directors Chairman Zein-Eddine Meziani (left) with JSA President and Jefferson Lab Director Hugh Montgomery (right) congratulate Mark Dalton, the 2011 JSA Postdoctoral Research Grant Recipient.
Liquid crystals, used widely in LCD televisions and computer monitors, may play a prominent role in a device being designed by the University of Virginia researcher who was named the recipient of the 2011 JSA Postdoctoral Research Grant.
Mark Dalton, a research associate at UVa, plans to use the $11,000 grant to develop a so-called Kerr cell. The cell, which may include liquid crystals, will be used in a system to produce spinning electrons for a future experiment at Jefferson Lab.
"It feels good; it's exciting. I think the work needs to be done, and I'm glad to have the opportunity to do it. And it's nice to be the master of the destiny of the project," Dalton said.
Dalton, who earned his B.S. and Ph.D. at the University of the Witwatersrand in Johannesburg, South Africa, was selected by the Users Group Board of Directors, the governing body of the group that represents scientists who use Jefferson Lab facilities to conduct nuclear physics research. In making the award, the board judged each applicant on his or her record of accomplishment in physics, proposed use of the research grant and the likelihood of further accomplishments in the Jefferson Lab research fields.
"The board was truly impressed with the overall quality of the proposals it received. It had to wrestle with a choice that was made especially hard by a lineup of outstanding and deserving young candidates that are active contributors to the physics mission of Jefferson Lab," said Zein-Eddine Meziani, board chairman and a professor at Temple University. "We had to choose a single winner, and in the end, the committee considered that Mark Dalton's proposal had a slight edge in the impact it will have for the overall science carried out at the lab."
Dalton is designing the Kerr cell for the MOLLER experiment, which is slated to run after the 12 GeV Upgrade is complete. The experiment will measure how potently a fundamental force of nature, the weak force, can affect the electron.
In the MOLLER experiment, scientists will direct a beam of spinning electrons into a liquid hydrogen target. They're interested in those instances in which the beam of electrons smash into other electrons in the atoms of hydrogen.
The experiment will require the delivery of a polarized electron beam – one in which the spins of the electrons are mostly aligned in one direction. CEBAF's beam originates in the electron gun, where short bursts of polarized laser light strike a thin wafer of material. When struck by laser light, the wafer releases electrons that form the electron beam. The Kerr cell would change the polarization of the laser light, thus changing the polarization of the electrons.
"Kerr cells aren't commercially available, so we have to build one," Dalton explained. "It would be a chamber, and inside would be a gas or a liquid, such as liquid crystals, and there would be clear windows on either side, so that the light can get in and out."
The laser system currently contains two devices that can change the polarization of the electron beam. But either of the two devices could introduce other, very small changes to the electron beam that are difficult to detect but could alter experimental data. Additionally, these devices are not capable of flipping the beam rapidly enough for the MOLLER experiment.
Dalton said designing and building a prototype of the cell for testing will take about a year.
"I would like to thank Kent Paschke [an assistant professor at UVa] for his excellent mentorship over the last few years, and the Users Group Board of Directors for supporting this important R&D initiative," Dalton said.
The JSA Postdoctoral Research Grant has been awarded annually since 2008 by the Users Group Board of Directors. The research grant is one of the projects funded by the JSA Initiatives Fund, a $0.5M program provided annually by the owners of Jefferson Science Associates, LLC, to support programs, initiatives, and activities that further the scientific outreach, and promote the science, education and technology missions of Jefferson Lab and benefit the lab's user community.
Activities Group Plans 2011 Calendar; Seeks Volunteers To Help At Events
Bridget Paul
Jefferson Lab Activities Group Chair
Taking over as chair of the Jefferson Lab Activities Group, Bridget Paul is hoping to draw upon a lifetime of experiences to spice up the organization and its various programs.
Paul, a friendly, outgoing woman, who leads Jefferson Lab's Document Control group, grew up in Newport News with her six siblings. She was drawn to cooking by nature and need, and learned the art from her mom, whom she describes as a great cook.
Life and career have taken her around the globe. A graduate of the culinary apprentice program at Colonial Williamsburg, Paul moved from place to place with her Army husband. After his military service, she joined him in Kuwait, where he took a contract job. As a woman in Kuwait she wasn't allowed to manage a kitchen, so she eventually signed on with a Department of Defense contractor and became a quality control inspector at Camp Doha.
When Paul and her husband returned stateside, they wanted to work together and she was ready to return to her first love: cooking. The couple owned and operated the Poquoson Deli and Restaurant for four years before selling it. Five years later, after temporary stints at various large companies in Newport News, Paul landed a spot at Jefferson Lab, first as a temp and then in June 2009 as a full-time staffer.
"This is the first time I've ever had a job where I believe I could stay forever and keep loving it," she said with a smile.
She joined the JAG as a volunteer soon after arriving at the lab and then became a JAG committee member. "I saw that this was a way I could be of additional service to the lab, with my food experience," she noted.

The JAG, and its annual, seasonal-themed events, exists to create time for employees, users, students and family members to meet, socialize and establish a camaraderie that's sometimes difficult given the lab's spread out and compartmentalized work groups.
"The JAG has the full support of senior management," Paul said.
The JAG program is run by a committee of lab staff, who voluntarily serve one or more terms on the JAG. Pictured are current committee members: (front row, left to right) Betty Beeler, human resources; Mfowethu Langeni, engineering; David Abbott, physics; Bridget Paul, document control; Mary Jo Bailey, ESH&Q; Theo Mcguckin, accelerator; and Paul Hansen, engineering; and (back, l. to r.) Stephanie Vermeire, staff services; Theresa Foremaster, project management; DeAnn Maddox, facilities management; Chase Dubbe, Gary Hays, Stephanie Worthington, engineering; and Sandra D'Souza, information technology.
The JAG program is run by a committee of 13 lab staff members, who voluntarily serve one or more terms on the JAG and represent nearly every department at the lab. The committee usually meets monthly to plan upcoming events and break down the action list among available committee members.
While the committee plans and organizes the lab's recreational events, many volunteers are needed to support each event.
"Volunteers are at the very heart and hands of the organization," she said. "We need people who are willing to help out in just 30- or 60-minute increments.
"There's a lot of work to be done, from beginning to end, to make these events a success. We know that people enjoy them; attendance at each event averages about 400 people. The work isn't hard. In fact, it's fun," Paul said. "We just need more people to volunteer during the events. It is a great way to meet new people at the lab and to catch up with co-workers."
"We also ask department managers and supervisors to encourage their employees to take part," she added.
Most JAG events are held late in the afternoon, usually on mid-week workdays. Next up on the JAG's agenda is the May 11 Run-A-Round, a 2K run/jog/walk around the campus, which draws an enthusiastic crowd every year. The annual T-shirt contest is currently in full swing, inviting design submissions for the shirt that lab staff participating in the Run-A-Round will get on that day.
Information about upcoming events and details about the T-shirt contest are available on the JAG website at: https://www.jlab.org/jag/ . There's also information about group activities, sports and the JAG Online Store where you can order items with the JLab logo.
Members of the JLab community are invited to share suggestions and ideas with the JAG through its online tool.
By Judi Tull
Feature writer
---
Final Call For 2011 T-shirt Design Contest Entries
Deadline Extended to

5 p.m., Wednesday, March 30

Voting
: MARCH 31 - APRIL 8
The race is on to create the winning design for Jefferson Lab's 2011 T-shirt. The deadline for submitting designs has been extended to Wednesday, March 30. The annual contest is sponsored by the Jefferson Lab Activities Group.
-- Each submission must include a front (pocket) and back design; "Jefferson Lab", "DOE", "JSA, LLC" and "2011" must be incorporated into each design submission.
-- All entries must include the entrant's name(s), division and telephone number.
-- All designs must be submitted electronically or printed out in color on 8.5X11 inch paper, and sent to JAG Chair Bridget Paul via email at: bpaul@jlab.org or to her office, Room 225B in the ARC (Mail Stop 2A).
The winning design will be unveiled at Jefferson Lab's annual Run-A-Round, scheduled for May 11 (rain date May 12). The winning designer(s) will receive a free T-shirt and recognition.
Selecting the winning T-shirt design will be open to the JLab community. Voting will run from March 31 – April 8; and anyone with a JLab computer account can cast one vote.
The winning design becomes the property of JSA/JLab. The final version of the design may be subject to slight change to suit screen-printing limitations. Re-submission of previous non-winning designs is welcome.
View past winning T-shirt designs at: https://www.jlab.org/jag/archive/tshirt/.
---
Bound Neutrons Pave Way To Free Ones
Some experiments seem to show that the building blocks of protons and neutrons inside a nucleus are somehow different from that of free neutrons and protons. Other experiments show protons and neutrons behave differently when they pair up. A new study, carried out at JLab, shows these two different lines of research are correlated, leading to information on the internal structure of free neutrons without the assistance of a theoretical model. Graphic: Joanna Griffin
A study of bound protons and neutrons conducted at Jefferson Lab has allowed scientists, for the first time, to extract information through experimentation about the internal structure of free neutrons, without the assistance of a theoretical model. The result was published in the Feb. 4 issue of Physical Review Letters.
The major hurdle for scientists who study the internal structure of the neutron is that most neutrons are bound up inside the nucleus of atoms to protons. In nature, a free neutron lasts for only a few minutes, while in the nucleus, neutrons are always encumbered by the proton.  
To tease out a description of a free neutron, a group of scientists compared data collected at Jefferson Lab and the SLAC National Accelerator Laboratory that detail how bound protons and neutrons in the nucleus of the atom display two very different effects. Both protons and neutrons are referred to as nucleons.
"Both effects are due to the nucleons behaving like they are not free," says Doug Higinbotham, a Jefferson Lab staff scientist.
Nucleons appear to differ when they are tightly bound in heavier nuclei versus when they are loosely bound in light nuclei. In the first effect, experiments have shown that nucleons tightly bound in a heavy nucleus pair up more often than those loosely bound in a light nucleus. 
"The first thing was the probability of finding two nucleons close together in the nucleus, what we call a short-range correlation," says Larry Weinstein, a professor at Old Dominion University. "And the probability that the two nucleons are in a short-range correlation increases as the nucleus gets heavier." 
Meanwhile, other experiments have shown a clear difference in how the proton's building blocks, called quarks, are distributed in heavy nuclei versus light nuclei. This difference is called the EMC Effect.
"People were measuring and discussing the EMC effect. And people were discussing things about the short-range correlations effect. Nobody bothered to look to see if there's any connection between them," adds Eliezer Piasetzky, a professor at Tel Aviv University in Israel.
When the group combined the data from a half-dozen experiments regarding these two different effects on one graph, they found that the two effects were correlated.
"Take a quantity that tells you how strong the EMC Effect is. And then take another quantity that tells you how many short-range correlations you have," Higinbotham explains. "And you see that when one is big, the other one is big. When one is small, the other one is small." 
The scientists say that it's unlikely that one effect causes the other. Rather, the data shows that there is a common cause for both. 
"I think that we certainly agree that from the position picture, it's due to nucleons overlapping that is causing this. And in the momentum picture, it is the high-momentum nucleons that are causing this. And, of course, it's quantum mechanics, so choose your picture," Higinbotham explains.
The group says the common cause may have remained a mystery for so long, because while the two effects they are studying are obviously related when laid out on a graph, the connection was previously obscured by the different, yet related ways in which the two effects are studied. 
"When you do a measurement for the EMC Effect, what you do is you look inside the nucleon. You break open the nucleon and see inside. What happens inside the nucleon is very different from the short-range correlations, which is what happens between two different nucleons," Piasetzky says.
"What's very new here is that we have linked two fields that were completely disconnected. So now you can start asking questions about what that connection can help us learn," Higinbotham says.
They say the next step is to further compare the data from all of the source experiments that they used in their analysis to see if data for one effect may now be used to learn something new about the other. Then, of course, they'd like to use the knowledge that the two effects are connected to design new experiments for shining a light on other secrets buried in the nucleus of the atom.
This work was supported in part by the Department of Energy's Office of Science, the National Science Foundation, the Israel Science Foundation, and the U.S.-Israeli Bi-National Science Foundation.
By Kandice Carter
Science writer
---
Property & Key Validations and Property Training Underway
Everyone With A JLab Key Must Complete Key Validation By April 30
Every person who has one or more JLab keys must validate each key issued to them. To begin the validation process, use the link below and complete the audit as directed. If you currently have any non-essential or non-functional JLab keys, please return them to Dennis Merritt, the Facilities Management and Logistics locksmith, Mail Stop 28G. If you have questions about the validation, email Merritt at: merritt@jlab.org .

At JLab: Copy and paste the following link into your Internet provider (i.e., Mozilla Firefox or Internet Explorer) URL line. Hit the Enter key and you should be directed to the Key Validation sign in screen:
https://misportal.jlab.org/jlist/buildings/viewPersonalKeyAudit.do .
Then follow the instructions on the right side of the screen; be sure to click on the Submit Audit button before Logging Out of the system.
To accomplish this Key Validation if you are currently away from JLab, please do the following:
Send an email to Dennis Merritt (merritt@jlab.org) that includes the following information:
- Your first and last name,
- Your JLab Key ID number – the alpha-numeric, multi-digit number on the back of the key,
- and the Key Serial number – a separate, usually a one- or two-digit number located above and to the right or possibly left of the Key ID number.

Subcontractors without JLab email accounts will be contacted by Merritt.
JLab key handling guidance is available on this flier: http://www.jlab.org/fm/property/keyPoster.pdf.
Account For Assigned Property & Take Property Refresher Training
Nearly every employee at Jefferson Lab is a property custodian. A property custodian is responsible for the proper use, control, physical protection and disposition of assigned property – be it one item or 100. Part of this responsibility includes validating all items on their inventory lists, and taking the Property Custodian Refresher training, on an annual basis.
This year's property validation period began March 15 and runs through April 30, according to JLab Property Manager Carl Iannacone.
During this time, each custodian must log into their Property Validation account and validate each item on their respective inventory list, and also take the Property Custodian Refresher GEN 150 training (about 5 minutes).
For more information about the proper management and disposal of JLab property, refer to the Property Manual, which is accessible from the Property webpage.  For quick reference on handling various types of recyclable, excess or re-usable materials or equipment, download the one-page Recycling reference sheet available from the Facilities Management and Logistics webpage at: http://www.jlab.org/fm/ .
Iannacone reminds everyone to periodically review JLab's Property Manual, to use the quick reference Recycling card when applicable and to follow the "Guidelines for Better Property Management" presented below. A property audit will follow the validation period.
Access to your Property Validation account and the Property Custodian Refresher Training is also available via the online links on the Property webpage at: http://www.jlab.org/fm/property/ .
Guidelines For Better Property Management
--Property custodians are responsible for the use, control, protection and disposition of all items on their inventory lists. (Even if you only have a JLab computer assigned to you, you are a property custodian.)
-- Keep track of your property – its whereabouts and its condition.
-- Don't sign for equipment or materials you haven't seen or don't know where it is.
-- Make sure all equipment is tagged or marked appropriately. (Make sure anything personally owned is marked with your name.)
-- Don't cannibalize equipment unless you first get approval from the Property Office (this includes vacuum pumps and leak detectors).
-- If you make a new piece of equipment, contact the Property Office to get it tagged or marked appropriately.
-- If you have visitors or users bringing their own equipment onto JLab property, it must be appropriately marked. The Property Office can provide property tags for visitor/user equipment and materials.
-- Don't take government property off campus without the appropriate Property Office paperwork.
-- Don't leave government property unattended in your personal vehicle or anywhere that it could be stolen.
-- If you think something has been stolen, notify JLab Facility Security Officer Kris Burrows, ext. 7548, or email: burrows@jlab.org .
-- If you discover something is missing, notify JLab Property Manager Carl Iannacone, ext. 5430, or email: carlji@jlab.org .
-- If you are shipping something off campus for repairs, first notify the Property Office; send it off campus through Shipping and Receiving.
-- If you are loaning a piece of equipment to another lab or institution, first complete the appropriate paperwork through the Property Office.
-- Don't throw away any old or broken equipment or unused materials. Contact the Property Office to determine the appropriate way to dispose of all equipment and unused or leftover materials.
-- Anything that could be perceived as "scrap" material must be turned in to the Property Office.
-- Don't trade materials or equipment with other work sections. Turn the items in and have the other work section get the items assigned to it through the Property Office.
-- DOE prohibits allowing anyone outside of JLab's Computer Center to access your computer hard drive, this includes for repair or replacement. Always contact the Computer Center if your computer isn't functioning properly.
-- DOE has a moratorium on hard drive disposal. Specifically, government-purchased hard drives cannot leave JLab for disposal, warranty exchange, repairs etc. If you have a hard drive for disposal, drop it off at the Property office adjacent to Shipping and Receiving (Bldg. 90, room 104). Do not toss it in the trash.
-- JLab keys cannot be loaned, duplicated or given to another individual. Key holders are responsible for any key assigned to them, until that key is returned to Facilities Management and Logistics.
---
Information Resources Celebrates National Library Week April 10-16
This year the American Library Association celebrates National Library Week April 10-16 with the theme "Create your own story @ your library."
Members of the Jefferson Lab community are invited to join the library staff in celebrating the week. Staff and users are being encouraged to send in a story or anecdote that best describes a positive or satisfying experience they had at the Jefferson Lab library or with its staff.
Send your stories, via email to: library@jlab.org by 5 p.m. April 16. Please include your name, department, phone and e-mail address with your entry. The staff will summarize the entries and publish the results on the library website two weeks later. Prizes will be presented for the top two entries.
"National Library Week provides a great opportunity for us to remind the JLab community about the many services and references provided through the library. We are here to help people access and use the information resources available to the lab," said Sandra D'Souza, assistant librarian.
The JLab library, also known as Information Resources, is physically located on the first floor of the Applied Research Center (commonly called the ARC). Its growth over the last decade has been primarily on the web, at: http://www.jlab.org/IR/. Nearly all of the library's resources can be accessed online, which has greatly reduced the need for physical space and saves time.
"We take this opportunity to recognize our many library patrons, especially those who have donated or loaned books to the library, and who have assisted in locating books in their departments. Your names are on our posters for National Library Week," D'Souza said.
"A special acknowledgement goes to the Science Education group for recently transferring its VHS archive of Science Series presentations to the library," she added. The library digitized them for electronic accessibility. The Science Series archive is posted at: http://education.jlab.org/scienceseries/archive.html.
To read more about ALA's celebration for National Library Week, see: http://www.ala.org/ala/conferencesevents/celebrationweeks/natlibraryweek/index.cfm. View a short video of John Grisham reflecting and commenting on the value of libraries and librarians. An acclaimed author, Grisham is a 2011 honorary chair of National Library Week: http://www.youtube.com/watch?v=A8x86GsHwIg&feature=player_embedded .
"We are always seeking suggestions for possible additions or improvements, with our electronic collections," D'Souza said.
---
JLab Hosts Upcoming Science Lectures on DNA and Chocolate
Jefferson Lab will host a public lecture on Tuesday, March 29, titled DNA: The Strand That Connects Us All presented by Matt Kaplan from the Human Origins Genotyping Laboratory, Phoenix, Ariz.

Kaplan will discuss how the methods and discoveries of human population genetics studies are applied for personal genealogical reconstruction and anthropological testing. Kaplan will start with a short general review of human genetics and the biology behind DNA testing. He will discuss the anthropological results from the Genographic Project, a landmark study supported by the National Geographic Society, and the genotyping laboratory's newest project, the DNA Shoah Project. With this project, researchers are building a database of genetic material from Holocaust survivors and their immediate descendants in hopes of reuniting families fractured by the Holocaust.
Then on Tuesday, April 19, JLab will host Andy McShea, chief operating officer and head scientist for Theo Chocolate, Seattle, Wash. In his lecture, titled The Science of Chocolate, McShea will explore the chemistry of chocolate and how this chemistry relates to the flavor. He also will discuss the effects of chocolate on the human body and why, even after 3,400 years of cocoa consumption, chocolate remains somewhat of a mystery.
Both events will start at 7 p.m., last about an hour and include a question-and-answer period at the end. They will take place in JLab's CEBAF Center auditorium, located at 12000 Jefferson Ave., Newport News. They are free and open to anyone interested in learning more about science. Seating is limited and available on a first-come, first-served basis.
For security purposes, enter at the lab's main entrance (Onnes Drive). Attendees under 16 must be accompanied by an adult. Everyone over 16 is asked to carry a valid photo ID. Security guards may perform ID, parcel and vehicle checks. For directions and additional information about Jefferson Lab public lectures, visit http://education.jlab.org/scienceseries/index.php, or contact Christine Wheeler, email wheelerc@jlab.org or call 757-269-7560.
A live videostream of these lectures may be viewed online at: http://education.jlab.org/live/ .
Select past lectures are available for viewing from the Science Series Video Archive at:  http://education.jlab.org/scienceseries/archive.html .
---
Teachers Invited To April 20 Science Activities Night At JLab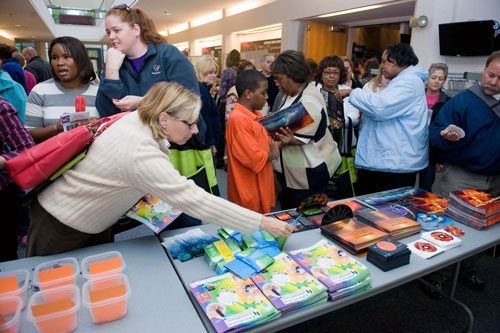 Teachers participated in hands-on science activities and picked up activities starter kits and resource materials at Jefferson Lab's 2010 Teachers' Night. The event focused on physical science activities that teachers of fourth- through eighth-grade classes can use in the classroom
Elementary and middle-school teachers interested in learning new and innovative methods for teaching the physical sciences are invited to attend the Annual Region II Teacher Night, scheduled for Wednesday, April 20, at Jefferson Lab.
The event will focus on physical science activities that teachers of fourth- through eighth-grade classes can use in the classroom. The evening's format will imitate a science fair. But instead of students showing off their science projects, more than 50 teachers, who have participated in the JLab Science Activities for Teachers program, will share their favorite or most-effective classroom activities with other teachers. All of the teachers will have handouts and many will have free starter supplies to accompany the handouts.
Activities will cover a range of topics, including friction, electrolysis, the water cycle, engineering design challenges, exothermic demonstrations, energy conservation, electricity, polymers, scientific investigation, science games, sound, force and motion, the periodic table, diffraction, the solar system, static electricity, renewable energy, and compounds and mixtures.
In addition, a number of Hampton Roads organizations will make information available regarding spring and summer programs for teachers and students.
Teacher Night will run from 6:30 to 8 p.m. in Jefferson Lab's CEBAF Center, located at 12000 Jefferson Ave., Newport News. Teachers interested in making a reservation, or needing more information, may contact Brita Hampton no later than Wednesday, April 13; email: Hampton@jlab.org or call 757-269-7633.
"More than 100 teachers attended each of the three previous events," notes Lisa Surles-Law, a JLab Science Education administrator. "Teacher Night is a great opportunity for sharing and learning and finding something new to take back to the classroom."
This teacher workshop is being supported by the JSA Initiatives Fund, a grant program funded annually by Jefferson Sciences Associates, LLC.
For reference, download this informational flyer that includes driving instructions: http://education.jlab.org/teachernight/flyer.pdf. For additional Teacher Resources visit Jefferson Lab's science education website.
---
Longfellow Edges Out Gildersleeve To Win Middle School Science Bowl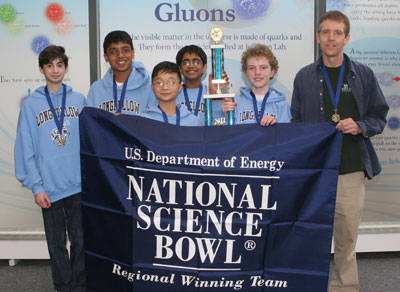 The team from Longfellow Middle School, Falls Church, won the 2011 Virginia Regional Middle School Science Bowl held March 5 at Jefferson Lab. Pictured, left to right, are Ryan Golant, Kunal Naik, Keaton Lee, Tarun Kamath, Ross Dempsey and Coach James Bradford.
Nobody ever said winning Virginia's Middle School Science Bowl was easy.
In the final match of this year's competition Gildersleeve Middle School from Newport News was running neck-and-neck with 2010 Virginia Middle School Science Bowl champ, Longfellow Middle School from Falls Church. Gildersleeve had correctly answered a physical science toss-up question and the follow-on bonus question to pull ahead 66 to 58. When the last toss-up was read, Longfellow jumped on its buzzer and correctly answered the math question – giving the team four points.
But it wasn't over.
The match buzzer sounded while the bonus question was being read to Longfellow. If the team missed the bonus, it would lose the match. If the team nailed the question, it would earn 10 bonus points. When the team captain provided the correct response, Longfellow pulled ahead with a final score of 72 to 66 as the audience erupted in applause.
More than 200 fellow competitors, their coaches, family members, friends and visitors were on hand at the end of the Virginia Regional Middle School Science Bowl held at Jefferson on March 5 to congratulate Longfellow for its second straight win and to congratulate Gildersleeve for finishing a strong second.
It was an exciting day as 18 middle school teams from across Virginia faced off for the morning's round-robin matches. Eight teams moved on to the afternoon's double-elimination finals.
In the end, Longfellow, coached by James Bradford and Jamie Korelitz, finished in first place and took home a team trophy, a banner to carry to the Science Bowl Nationals, a $750 check for its school and individual medals. The team also won an expenses-paid trip to the Science Bowl Nationals to be held in Washington, D.C. April 28 to May 2 where it will compete with 43 other middle school champs from across the nation.
For finishing in second, the Gildersleeve team, coached by Timothy Criner, won a $500 check for its school and a team trophy. Third place, which included a $300 check and a team trophy, went to Chancellor Middle School, Fredericksburg, coached by Gary Graham. The Sciencekidsclub, Centreville, coached by Sreevani Putalapattu, placed fourth and came away with a team trophy.
The 10 teams that didn't advance to the afternoon double-elimination playoffs were invited to participate in the Stay All Day Contest – two math, science and engineering challenges. Winning the Stay All Day Contest, with the best combined results from the challenges, was Rachel Carson Middle School from Herndon. The team, coached by Frank Tarrant, received a $300 check for its school.
More than 40 volunteers – Jefferson Lab staff members, family members and visiting scientists carried out the duties of moderators, timekeepers, scorekeepers, and scientific and rules judges and helpers for the event.
At the end of the day Jan Tyler, Virginia Regional Science Bowl coordinator and JLab Science Education manager, applauded all the students, coaches, parents and volunteers for their part in making the event a great success. She encouraged the sixth and seventh grade students to compete in next year's Middle School Science Bowl and urged the eighth graders to compete in the 2012 High School Science Bowl. She encouraged all the students to stay involved in math, science and technology classes as they progress on to high school and college.
The National Science Bowl tournament – sponsored by the U.S. Department of Energy since 1991 – is an annual academic competition among teams of students. The teams face off in an intense question-and-answer format where contestants are quizzed on their knowledge in all science disciplines, including earth and space science, biology, chemistry, general science, mathematics and physics. A new category was added this year: energy.
The DOE Office of Science's Workforce Development for Teachers and Scientists program, which manages the National Science Bowl, has a number of programs designed to help prepare the next generation of scientists and engineers with the goal of helping to maintain the nation's scientific and technological leadership. DOE launched the National Science Bowl program for high-school and middle-school students to encourage students to choose an education in the sciences and engineering. 
To learn more about DOE's annual National Science Bowl competition, visit: http://science.energy.gov/wdts/nsb/ .
| | |
| --- | --- |
| Gildersleeve Middle School, Newport News, took second place at the 2011 Virginia Regional Middle School Science Bowl held March 5 at Jefferson Lab. Pictured, left to right, are Coach Timothy Criner and team members Lindsey Ball, Rakshith Raghu, Keaton Lee (back), Frank May and Ben Lambert. | The team from Chancellor Middle School, Fredericksburg, placed third at the 2011 Virginia Regional Middle School Science Bowl held March 5 at Jefferson Lab. Pictured, left to right, are Natalie Wilson, Coach Gary Graham, Jared Pearlman, Michael Scott, James Irwin and Tyler Nielsen. |
| The Sciencekidsclub, from Centreville, finished in fourth place at the 2011 Virginia Regional Middle School Science Bowl held March 5 at Jefferson Lab. Pictured, left to right, are Coach Sreevani Putalapattu, team mates Jagan Doodala, Vooha Putalapattu, Hans Li and Alec Zhang and Coach Srinivas Doodala. | The Stay All Day Contest – a problem solving challenge – was won by the team from Rachel Carson Middle School, Herndon, coached by Frank Tarrant. Pictured here with the prize, a $300 check for their school is team member Kwabena Ofori-Atta. Photos by Steve Gagnon, Science Education. |
---
Scrapbook
Several of Jefferson Lab's senior managers took the opportunity to visit the newly constructed Hall D during a short tour of the facility on Jan. 14. Hall D is part of the lab's $310 million 12 GeV Upgrade project. Project updates are posted on the
12 GeV Upgrade website
at:
http://www.jlab.org/12GeV/updates.html
.
Early this year the Facilities Management and Logistics group had a solar-powered light installed for the visitor parking area located just west of CEBAF Center. A sensor in the lighting system turns on the light at dusk and off at dawn.
A fearsome foursome of canine silhouettes showed up on the lawns around CEBAF Center early this year. The silhouettes are on bobble sticks so they change direction and appear to move a little with the breeze. Their purpose is to keep the local Canada goose population from soiling the sidewalks. The silhouettes are intermittently moved around the lawn, by Facilities Management and Logistics staff, to help keep the geese away. Despite occasionally startling pedestrians, their efforts seem to be working. FM&L staff reminds the lab community that these devices are lab property and shouldn't be taken, removed or damaged.
The
On Target
newsletter is published monthly by the
Thomas Jefferson National Accelerator Facility
(Jefferson Lab), a nuclear physics research laboratory in Newport News, Virginia, operated by
Jefferson Science Associates, LLC
, for the
U.S. Department of Energy's
Office of Science
. Possible news items and ideas for future stories may be emailed to
jlabinfo@jlab.org
, or sent to the Jefferson Lab
Public Affairs Office
, Suite 15, 12000 Jefferson Avenue, Newport News, VA 23606