Committee Announces Accelerator Experiment Schedule

Lab Increases Security Awareness

Open House Draws Near

First in a Series

MIS Group Introduces Web Page

The 'Move' is Over

Briefs
---
Committee Announces Accelerator, Experiment Schedule through June 2000
At current funding levels, Jefferson Lab's accelerator is scheduled to run 30.5 weeks between April 1999 and June 2000.
The Lab's Nuclear Physics Experiment Scheduling Committee recently announced the accelerator and experimental schedule and made it available at https://www.jlab.org/physics/experiments/schedule. You may also access the information from a link on the Lab News web page at: https://www.jlab.org/pressroom/newsarchives.
Prior to publishing the new itinerary, the experiment scheduling committee met several times to resolve conflicting requirements and to ensure that sufficient resources would be available to properly stage and carry out each of the experiments scheduled at the Lab for this year's run period.
Equipment installation request forms, evaluating worker requirements, accelerator maintenance and experimental hall preparatory work, and engineering priorities were used to help build the schedule.
Jefferson Lab team members include: Larry Cardman and Andrew Hutton (co-chairmen), Hari Areti, Roger Carlini, Bernhard Mecking, Kees de Jager, Claus Rode, Mike Seeley, Charlie Sinclair and Will Oren. Nathan Isgur provided advice.
This is the fourth schedule with substantial polarized beam for researchers' use.
The schedule includes important memos, experiment and user staffing information, daily schedules for all three experimental halls, daily & weekly updates, downtime for maintenance work and equipment upgrades, and holidays. "The schedule represents our best effort to optimize the physics output of the laboratory consistent with our resource constraints and the technical evolution of the accelerator and the experimental equipment," reports Cardman and Hutton, in the schedule report.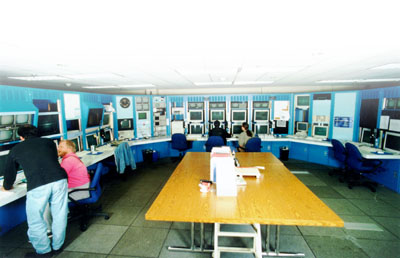 ---
Lab Increases Security Awareness
Added procedures now; new access system by fall
If you regularly work on the accelerator site or even if you only go out there on occasion, be sure to have your Jefferson Lab ID badge with you when going through the accelerator gate.
Increased scrutiny of security measures at Department of Energy facilities nationwide has prompted Lab Director Hermann Grunder to increase the accountability of people accessing the accelerator site.
New security measures implemented April 24 require all Lab staff entering the site to show the security guard their JLab identification badge or their current (blue) Radiation Worker training card and a valid photo ID (driver's license). Everyone else must be accompanied by an authorized escort, show a photo ID to the gate guard and sign in.
Anyone entering and exiting the accelerator site after normal working hours (between 7 p.m. and 6 a.m. during the week, and at any time during weekends and holidays) must sign in and sign out. If you go to work at 4 or 5 p.m. and will be on the accelerator site after 7 p.m., sign in on your way to work. If you should forget, call the Guard Post at ext. 5822 as soon as you realize you forgot to sign in. Anytime you are accompanied by friends or family members you will have to stop at the guard house and sign them in. Adult visitors will need to show their photo ID to the guard.
Having a complete list of everyone on site after hours enhances security and is also vital to safety. "In case of an emergency, knowing who is on site and where they are would help us account for everyone more quickly," explained Tom Briggs, Structural Maintenance and Services section manager.
Users should check with the User Liaison Office (users@jlab.org) before arriving at the Lab, to make sure their required safety training is current. Users must be escorted unless they have up-to-date environmental, health & safety; oxygen deficiency hazard; and Radiation Worker I training. The security guard must see a photo ID and confirm your presence and current training status in the Central Information System (CIS) before granting entry to the accelerator site.
For groups of five or more on site for a day visit or a tour, call or stop by Public Affairs Manager Linda Ware's office and pickup a group visit form. The form accomplishes the same requirement as gate sign in, but is more convenient for visitors. Have your guests fill out the form and show you their photo ID at the beginning of their visit; then have the form ready to present to the accelerator guard when entering the fenced area. "This will greatly speed up the access process for your group," Ware points out. For more information about group access, call her at ext. 7689 or e-mail ware@jlab.org.
By this fall, access to the accelerator site and several Lab buildings should become more streamlined as the Lab brings an automated building security and access system on-line. The system will initially be installed at both accelerator gates, and at the main entrances to CEBAF Center, the VARC and the ARC. Other Lab facilities will be added to the system next year. The system permits controlled access after hours and on weekends and holidays. Dave Kausch, Plant Engineering Dept., is the project engineer for the automated building security and access system and is currently in the final stages of selecting a contractor.
The system will provide the Lab with a higher level of security accountability. A person will be able to access their area with their new access badge. Each person at the Lab will be issued a new badge that includes a photo and bar code replacing the current JLab ID badge. A computer chip and wire loop embedded in the badge will allow individuals access to the areas they are authorized to enter.
"The new system will be an improvement because it will replace the cumbersome manual system we currently use to track access," Briggs said. "The new system will allow our staff and users quicker access to their work areas; they won't get stuck at the door waiting for a security guard to let them in."
"I agree with Tom, the automated building security system will provide an upgrade in the level of security at the Laboratory as well as provide an additional safety feature for those who work after hours," says Barbara Morgan, JLab Site Office ES&H Manager and Security Officer. "This system should serve us well for the future."
The system will increase personal security by allowing the guards more time to rove sitewide and monitor parking areas and building exteriors. This system will also be connected to the Lab's automated training system, so the guard will no longer need to check an individual's training status when he or she enters the accelerator site.
A prototype of the Automated Building Security System has been used to control and monitor Hall C access for the last few months. "It has worked quite well," Kausch said, "and given us a lot of insight into how the finalized system will work. We have a pretty good understanding of the learning curve required for successful use of the system, and we've worked the kinks out of the system."
---
Open House Draws Near
Many workers needed to greet visitors, explain displays
Plans are in high gear for the Lab's first Open House since 1995. Every major area of the campus will be open to the public during Science is Cool '99, set for Saturday, June 26 from 9 a.m.— 3 p.m.

Skip Tyler, husband of Education Program Manager Jan Tyler, explained the educational activity "Shape of Things" to a family during the Lab's last open house. This year Education will set up microscopes, tangram puzzles and a display showing the scale of an atom.
"This will be the Lab's first open house since we started conducting physics experiments," notes Linda Ware, Public Affairs manager. "Many people in the community have been looking forward to this event for a long time."
More than 8,000 visitors are expected to attend the one-day event. To successfully show Lab facilities including the ARC to the public, more than 200 employees will be needed in many capacities including: tour guides, greeters, auditorium attendants, cryogenic show performers, JLab overview speakers, hands-on activities helpers, information and lost & found booth staff, display and special exhibit presenters, quiz show hosts and bus-stop helpers. The day will be divided into two shifts running approximately from 8:30 a.m. — noon and from 11:30 a.m.— 3:30 p.m. Lab staff, users and their spouses and family members (age 10 or older) wishing to help may contact Volunteer Coordinator Julie Oyer; phone 269-7120 or e-mail oyer@jlab.org to sign up or for more information.

Volker Burkert, Physics Hall B, demonstrated the use of scintillator materials for physics research to visitors at the Lab's last open house.
"If you helped out during the last open house and would like to do the same task, let me know," Oyer said. "Encourage newer employees working with you to get involved. This is a great way to meet new people at the Lab." Volunteer workers will receive an information package before the event and special Lab parking passes for that day. The public will park at Patrick Henry Mall (near Dillard's) and take a shuttle bus to the site.
Help get the word out about the Open House. Stop by room B204 in CEBAF Center to pick up copies of the Open House flyer to share with neighbors, organizations and business associates.
Check out our Open House web page at www.jlab.org/openhouse/. It includes information about open house activities and displays, and lists many of the jobs we need people to fill.
---
First in a series
Into the machine: Cavities at the heart of Lab accelerator
by James Schultz
If they were tops for pans, at $3,000 apiece superconducting niobium cavities would be among the most expensive kitchenware ever created. But the 10 fat, lid-like discs welded together in five pairs serve a different purpose. Were it not for these five-cell cavities, Jefferson Laboratory's accelerator operations would come to an abrupt halt.
"The cavities are at the heart of the accelerator," says John Mammosser, staff electrical engineer in the Accelerator Division. "They accelerate the electron beam. But the cavities themselves can't do anything without a bunch of other equipment needed to drive them."
A pair of cavities comprise the innermost components of a three-part system. Encasing each cavity pair is a tank containing the liquid helium needed to cool them. The tank is in turn enclosed by a Thermos-bottle-like structure known as a cryostat. The cryostat provides insulation to guarantee that the cells remain cooled to two degrees Kelvin, nearly absolute zero. Four of the cryostats are assembled together to form one cryomodule; the accelerator contains 42 cryomodules. Each completed cryomodule weighs in at six tons and measures 8.3 meters (approx. 27 feet) in length.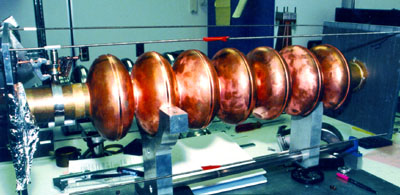 A new seven-cell cavity is being designed by the Accelerator Development Group, headed by Jean Delayen. This copper prototype incorporates design changes that should help boost JLab beam energies to significantly higher levels.
The radio-frequency (RF) power used to accelerate the electron beam within the cavities is provided by a microwave-oven-like device known as a klystron. Normal-conducting cavities would require large and prohibitively expensive amounts of energy expenditure because most of the RF power would be absorbed into the cavity surface, rather than in actual beam acceleration. The solution: supercooled, superconducting cavities made from niobium, which lose nearly all resistance to the flow of electric current, enabling nearly the entirety of RF power to be applied to acceleration of the electron beam.
"A good analogy for superconductivity is a bell," Mammosser explains. "For a non-superconducting cavity, you ring the bell and the sound dies down quickly. For a superconducting cavity, when you ring the bell it resonates for a long time."
Supercooling Wins Out
The decision to commit to supercooling was not a foregone conclusion. Shortly before the Laboratory's original design was finalized, management learned of niobium-cavity technology developed at Cornell University. Although superconducting technology had not been used on a large scale, plans were made to incorporate the innovation since long-term energy consumption would prove relatively modest.
In all, 360 of the five-cell cavities were ordered from a specialty manufacturer. Fabrication began in 1990, ending by December 1993 with delivery of the final 12-unit lot. Not every one of the 30 dozen cavities were used; 338 ended up in the accelerator proper, with the remainder set aside as replacements. Some have been used in the Free Electron Laser accelerator.
Niobium is ductile and strong, properties needed for ease of cavity fabrication. Despite the material's advantages, however, manufacturing inevitably leaves behind a thin layer of dust and debris, which degrades performance. Prior to installation, cavities are therefore routinely cleaned and polished chemically, in an acid bath. Nevertheless, this process isn't able to remove all surface contaminants. So Laboratory specialists have developed a technique known as helium processing.
Helium processing involves injection of helium gas directly into the cavities. When RF power is applied, contaminant particles are heated and spray out electrons, ionizing the helium. Helium ions then backscatter into the contaminant particles, destroying them. "It's like getting shot by a machine gun," Mammosser says. "Eventually the particles burn themselves out."
The New Generation
For all the improvements to cavity performance in the last six years – the five-cell units are operating 50 percent more efficiently than their original design parameters – the current configuration cannot accommodate the Lab's long-term plan to boost beam energy to 12 billion electron volts, or GeV, by the middle of the coming decade and then to 24 GeV soon after. Jean Delayen, head of the Accelerator Development Department, says the goal is to improve future cavity performance three-fold, but with no increase in the cost per module.

Peter Kneisel, senior staff scientist (left), and John Mammosser, staff electrical engineer, hook the newly designed seven-cell niobium cavity up to the Network Analyzer. The analyzer will send radio frequency waves through the cavity as part of the cavity tuning process.
"We have squeezed as much performance from the current generation cryomodule as possible," he says. "Now it's a matter of making new cryomodules with cavities which are longer and then driving them harder."
So Lab designers are developing a seven-cell model cavity intended to operate even more efficiently and at higher energies. The new cavities will be slightly longer than their predecessors. In addition, the basic configuration of the cryomodules will change; the cavities will be assembled in groups of eight instead of in pairs.
For the moment, the Lab is building prototypes in-house. The remainder of calendar year 1999 will be spent testing individual components. In two years, Lab scientists and engineers will begin testing a half-length cryomodule – four seven-cavity units. Depending on funding, seven-cell cavity upgrades could begin in 2004 and conclude by end of calendar year 2007. "We already have a site. We have a machine," says Delayen. "We're planning the next generation of cryomodules. So it makes sense that our upgrades improve on what we know."
---
MIS Group Introduces Web Page
Site loaded with administrative, financial services and applications
The Management Information Systems (MIS) Group has unveiled a new web page to help Lab staff process requests, review accounts, manage projects, and find information more quickly and efficiently.
The Jefferson Lab MIS Computing web page at https://mis.jlab.org/ marks the beginning of a 2—3 year process of putting a variety of administration and financial services and applications on the Lab's web pages. Anyone wishing to access the page must have Netscape 4.5 or greater or Internet Explorer 4.0 or greater network browser software on their computers.
The new site is only accessible through the Lab's computer network. It can't be accessed from home or while on travel except via dial-in modem. To use the new page, you must have a valid Jefferson Lab computer account.
"It is a great one-stop shopping spot for MIS web-based applications," points out Mark Davis, MIS manager. "The site and the applications will be easy to access and easy to use – real time savers for staff members and users. We've got a great starting line up of services available now, and additional applications will be accessible from the page over the next several months."
All Lab staff and users are invited to attend an introductory session explaining what's available on the new web page, how to access those services and applications, and how to use them correctly. The first session will be Wednesday, May 26 at 1:30 p.m. in the CEBAF Center auditorium.
The applications and features currently available include:
Costpoint reports
the Lab's new training program (Ingenium)
the Lab Library
Purchase Requisitions Status
Shipping & Receiving Logs, including up-to-date UPS and FedEx package tracking
Government credit account logs
an on-line staff directory that allows you to conduct personnel searches and even send staff and users e-mail and alpha-numeric pages directly from their entry
access to your own personal information with direct update and update request capabilities
property searches
the Technical Stock Room and EWAY catalog for ordering items and materials
access to MIS staff and the MIS committee
access to the Computer Center's services, products and policies
"Check it out and make yourself aware of what's there. This page offers Lab staff lots of handy tools, and we'll have more coming in the future," says Cindy Hall, MIS database analyst.
---
The 'Move' is Over
Thanks to everyone who made it happen!
Over the last several months, every division felt the effect of moving. It's finally over and a big "thanks" goes out to everyone who helped make it go as smoothly as possible.
Plant Engineering
Mike Lewellen: coordinated all Accelerator and many Physics Division moves, including actual lifting and lugging, coordinated move of Guard Post 1 and building access issues with tenants
Todd Jones and Chuck Charlton: furniture moving and installation of many, many white boards

Meetings and constant coordination kept all the parties informed during the move.
Don Seeley: Maint. shop supervisor, furniture mover and door keying
Joan Campbell: Material Services SOTR
Ed Winslow: painting coordinator
Dreamie Newsome: key issuance and recovery
Christine Snetter: ARC modular furniture, library layout & installation, new BEAMS classroom design
Paul Powers & Bob Rice: electrical service to ARC modular furniture
Hilton's Environmental: janitorial staff lugged away the hundreds of pounds of trash generated by the moves
DGS Painting: worked nights and weekends, bending over backwards to meet our incredible schedule
Ross Small, Teresa Davis and Teresa Danforth: outstanding procurement support
Tom Briggs: in charge of worrying about and defusing "conventional" problems
Helmut Walter: in charge of defusing "nuclear" problems
Roy Whitney: in charge of defusing "thermo nuclear" problems
Physics Division
Janet Prater & Mike Syptak: coordinators for Physics Division - tough job very well done
Karen Hokansson: User move coordinator
Lois Lucas, Jennifer Dankis and Steve Singleton: phones
Steve Wells: phones and computers
Keith Jonak and Dave Walker: network
All the phone, network and computer folks did an outstanding job getting "connectivity" restored quickly after each individual move.
Accelerator Division
Bill Kozma: Accelerator move coordinator - excellent job laying out who goes where, when J.K. Hill employees that helped with the move: Many thanks to Ken Stebritz, project manager, for his cooperation, flexibility, patience and extra effort, and to J. K. Hill material handlers: John Hicks, Clarence Brown, Erik Brazzale, Robert Millwood, Randy Young and Bill Reif

Erik Brazzale moves a load of file cabinets during the move.
The move resulted in many changes regarding mail delivery, property relocation and excess property accumulation. These changes were handled by J.K. Hill employees expeditiously and without disruption of service to users.
Most Accelerator Division staff are now located in the ARC. Physics staff members' offices are in CEBAF Center. User Liaison moved next to the reception desk area in CEBAF Center; and the Computer Center and Telecommunications moved to Trailer City. Budget and the Office of Technical Performance are now located on the A-wing, second floor of CEBAF Center.

Lost your way in the Applied Research Center? Check with Tonya Evans at the ARC Reception Desk.
All Lab staff and users are reminded to check the Central Information System (CIS) for new locations, phone numbers, and mail stops. Also, property custodians should check with Bill Reiff, property manger, to ensure new locations of property are identified in CIS. Any questions, contact Joan Campbell, ext. 7348.
---
Education seeks projects, volunteers for summer programs
Education Program staff are preparing for the Lab's summer education programs and they need your help.
Fourteen high school students and six science teachers will be here from June 21— August 13. Education staff are looking for mentors and projects for both the students and the teachers. If you have a project that would be good for high-achieving high school students or dedicated science teachers, send a short description of the project and what you'd like the students or teachers to do to Education Program Manager Jan Tyler (tyler@jlab.org). If you have questions call her at ext. 7164.
The students are part of the Summer Honors Internship Program (SHIP) for high school students.
The Lab will also receive regular visits from Cerebral Palsy Camp kids from the end of June through mid-August. Every Wednesday from 11 a.m.—3 p.m. 12 different youth will visit the Lab to take part in a liquid nitrogen demonstration, computer activities, and the BEAMS activities Design & Engineering and Cold Stuff.
Education is looking for staff able to volunteer an hour to lead the students in any one of these activities. "If you've ever wanted to get involved in BEAMS, but were unsure about dealing with 25 students in a room at the same time, this is a great opportunity to interact with students and help with these activities in a small class setting," Tyler said.
Take peak into the depths of theoretical physics
Have you ever wondered just what the Theory Group does? If so, you might want to check out their glass display cases in the second floor atrium of CEBAF Center (across from the Computer Center's publication shelves).
The Theory Group recently began displaying the title page of publications and papers authored by group members. The first case features recent material while the second case will highlight "all-time favorites," according to Sue Ewing, administrative assistant to the Lab's chief scientist.
Inset into each page is a clearly worded abstract explaining the purpose of the research paper. The complete papers and publications are available in Ewing's office, CEBAF Center, room C219. 
Catch Run-A-Round, children's day on Lab events web page
Catch up on Jefferson Lab recreation and staff events by visiting the Lab's news web page at https://www.jlab.org/pressroom/newsarchives. Go to the lower left corner of the news web page (On Site Only) and select Lab Events, or you may go to it directly at: https://www.jlab.org/jlab-calendar.
The site currently includes photos and highlights from Take Our Children to Work Day and the Run-A-Round.
Congratulations J. K. Hill! Winning the Jefferson Lab Small Disadvantaged Business Contractor Award for Fiscal Year 98 is J.K. Hill & Assoc., Inc. The company provides a variety of material services at the Lab. Posing for a photo at the award ceremony held last month are: (front row, l to r) Bill Bachman, vice president; Jim K. Hill, president; John Hicks and Clarence Brown; (back row, l to r) Bill Reiff; Lisa Causey; Ken Stebritz, program manager; Elaine Causey and Bob Millwood. J.K. Hill employees Norris Barnes and Randy Young weren't available for the photo.
---
Editor's note: If you have or know of a web site that could be informative or useful to Jefferson Lab staff, call the public affairs office at ext. 7689 or e-mail Linda Ware (ware@jlab.org).
Traveling this summer – across the country or around the world? Check out this web page and find out what time zones you'll pass through and the time zone you'll be in at your destination: https://www.worldtimeserver.com/. World Time Zone bills itself as "the most accurate source for world time." It includes a world time-zone map as well as individual, alphabetized country listings.