The U.S. Department of Energy's Thomas Jefferson National Accelerator Facility

---
Scientist Wins Energy Award at Technology Event
Xin Zhao, an SRF Institute materials scientist, holds a model of a one-atom thick graphene sheet. For his work, he won a World Technology Network award in the individual Energy category. Award recipients and finalists are those individuals and organizations who are, in the opinion of WTN fellows and founding members, doing the innovative work of "the greatest likely long-term significance" in their fields, according to the WTN awards webpage.
Like most inventors, Jefferson Lab scientist Xin Zhao's moment of inspiration was prompted by a need, and the result was an invention that could someday see batteries in electric vehicles and similar devices boosted or replaced by high-power, high-capacity, fast-charge/discharge energy storage systems using graphene.
"After graduation, I was looking for applications for a new material developed by my colleagues at William & Mary," recalled Zhao, who had just graduated from The College of William & Mary with a Ph.D. in materials science. It was 2006, and even before he had a job, he began exploring possible uses for graphene carbon nanosheets.
Better Ways to Store, Use Energy
The material developed at William & Mary "is a carbon nanomaterial, which is made of layers of graphene – one to three layers. It's flat, like a sheet of paper. I thought maybe this material could be used to store energy," Zhao explained. The epiphany spurred an exploration of scientific literature in search for answers...... more
---
Not many youngsters walk out of their sophomore year in high school and into college, but a then-new program in Ohio allowed Jefferson Lab Staff Scientist Dru Renner to do just that. ......more

 

Jefferson Lab amped up its visibility at this year's joint meeting of the national societies of Black and Hispanic physicists by sponsoring prizes for the student poster contest......more

 

A massive cultural shift throughout the United States led Charlie Reece, deputy director of Jefferson Lab's Institute for Superconducting Radiofrequency Science and Technology, to physics......more

---

Below the Fold:
Scientist Wins Energy Award at Technology Event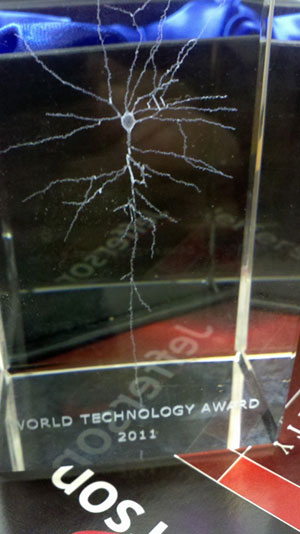 Pictured is the World Technology Network award Zhao received. The laser-engraved design in the center depicts a brain neuron cell – symbolizing the base of human perception and inventiveness
Like most inventors, Jefferson Lab scientist Xin Zhao's moment of inspiration was prompted by a need, and the result was an invention that could someday see batteries in electric vehicles and similar devices boosted or replaced by high-power, high-capacity, fast-charge/discharge energy storage systems using graphene.
"After graduation, I was looking for applications for a new material developed by my colleagues at William & Mary," recalled Zhao, who had just graduated from The College of William & Mary with a Ph.D. in materials science. It was 2006, and even before he had a job, he began exploring possible uses for graphene carbon nanosheets.
Better Ways to Store, Use Energy
The material developed at William & Mary "is a carbon nanomaterial, which is made of layers of graphene – one to three layers. It's flat, like a sheet of paper. I thought maybe this material could be used to store energy," Zhao explained. The epiphany spurred an exploration of scientific literature in search for answers. Soon, he became focused on electrochemical double-layer capacitor (EDLC), so-called supercapacitors, or ultracapacitors. Unlike batteries, supercapacitors have a much higher power density – hundreds of times more – and can be charged in seconds.
Zhao designed a supercapacitor that would use graphene and filed for a patent on the invention. In 2010, a patent (U.S. Patent No. 7852612) was granted, opening doors to a plethora of potential commercial applications. Early on, he assigned the patent to William & Mary, which began pursuing commercialization of the technology.
"It is very special," Zhao said of his invention's first use of vertically standing graphene in a supercapacitor. "There are many applications for graphene-based supercapacitors. Graphene makes the supercapacitors lighter and can increase energy density and power density of these energy storage devices. And also, to build graphene from carbon-enriched gases by plasma-enhanced-chemical-vapor-deposition (PE-CVD) is very low-cost."
Zhao's invention was independently verified by John Miller et al, and further research at William & Mary is funded by DARPA. Early results were recently reported in the Sept. 24 issue of Science Magazine.
Graphene is a two-dimensional form of carbon. It is ultra-thin – just one atom thick – and super-strong. It outperforms copper as a conductor of electricity and also outperforms all known materials as a conductor of heat. In 2010, two University of Manchester scientists received the Nobel Prize in Physics for their work isolating and demonstrating the unique properties of graphene.
Work Earns Tech Award
Zhao's work with graphene-based supercapacitors also has just won him a prize. On Oct. 27, he was named a winner in the individual Energy category by the World Technology Network. He was among the finalists who presented their work on Oct. 26, and he shares the top award with two other co-finalists, who are working on separate approaches to graphene/carbon nanomaterials-based supercapacitors. The award was presented at a ceremony held at the United Nations on Oct. 27.
"It is a great surprise and an honor for me," Zhao said of the award. "Essentially, the motivation for the WTN competition is to help everybody to think, invent and use new technologies to use energy efficiently, protect our environment, and live a healthy life."
"It was a fun event, where I heard a lot about the achievements and visions of other scientists and inventors," he added. "I hope people pay more attention to this technology, which could really help the nation to save energy, or use energy efficiently."
The World Technology Network is an organization that brings together individuals, organizations and companies deemed by their peers to be the most innovative in the science and technology world. WTN has more than 1,000 members in 60 countries engaged in 20 categories of research.
Zhao joined Jefferson Lab at the suggestion of his wife, Hui Tian, a member of the SRF Institute who at the time was working at the Institute as a W&M Applied Science Department Ph.D. materials scientist candidate. She was convinced that his expertise in materials science could help the lab develop new technologies for particle accelerators like the lab's Continuous Electron Beam Accelerator Facility.
Since joining the lab in 2007, Zhao has been applying his expertise in materials analysis, characterization and fabrication in the development of better accelerator materials. He explores the microstructure, nanostructure and surface characteristics of accelerator cavities, in hopes of helping to develop more efficient, low-cost accelerators.
The Story of an Accidental Physicist
Dru Renner
Staff Scientist
Theoretical and Computational Physics
Not many youngsters walk out of their sophomore year in high school and into college, but a then-new program in Ohio allowed Jefferson Lab Staff Scientist Dru Renner to do just that.
With the goal of funneling students into the state's university system, the program allowed high school students to take college classes at no cost. Renner, ever curious, went to an informational session about the program and was one of the few students who pursued it. What he found, largely because it was the first year of the experimental program and administrators were feeling their way through it, was the opportunity of a lifetime.
It was initially suggested that he take just a single course in the evening, but, after taking some tests, was told he was already over-qualified educationally for anything they had to offer. Program administrators suggested, instead, that he take regular college day classes.
"I asked how many I could take," he recalled. "Nobody seemed to really know, so they told me I could take as many as I wanted."
He never set foot in high school again, and walked straight into a full-ride, four-year program at the University of Cincinnati that even included text books.
Renner's parents, a carpenter and postal worker, worked hard to ensure that all four of their kids graduated from college. "So," Renner noted, "being enrolled in this program, solved that problem for one of us."
When he entered the program, Renner hadn't yet had a physics or calculus course, so it was suggested that he sign up for an introductory class. His older brother pointed out that he was taking the equivalent of "Physics for Poets" and showed him how to transfer into a higher level course. Renner taught himself calculus and plunged into physics.
"Coming into physics was really an accidental thing," he said with a grin. "I just like challenges." And a challenge it was. On his first physics exam, he barely earned a "D," and struggled through the semester. By the last exam of the quarter, in his own words he'd "gotten his head around it" and received an "A" for the course.
"As an undergrad, I wanted to be in theory, but I worked with the experimentalists, too, because there was always stuff to do," he noted.
He met his wife, Ali, also a physics major, while still an undergrad. The couple headed east after graduation so she could attend Boston University and he could attend MIT. He entered MIT as an experimentalist, but changed over to theory and received his Ph.D. in 2004.
With degrees in hand, they set out for the University of Arizona, where Ali continued to develop her love of teaching and Renner pursued his post-doc work in Lattice QCD.
While there, he continued to question, as he still does, his choice of theoretical physics. "What we [theorists] do impacts society on such a long-time scale," he mused. "Sometimes I worry that I should be doing something more immediate."
Nonetheless, he landed a spot at DESY in Berlin where he began the work with Karl Jansen and their collaborators – then students Xu Feng and Marcus Petschlies – that received the inaugural Ken Wilson Lattice Award earlier this year.
"Berlin is a fantastic city," Renner exclaimed. "Truly international. It's so alive and vibrant – and incredibly cheap to live in. I was given tremendous freedom at the institute to pursue my work, too. It was all a wonderful experience."
Renner became a part of Jefferson Lab's Theory Center in October of 2010 and continued the work he; Jansen; Feng, now at KEK; and Petschlies, at the Institut für Physik, Humboldt-Universität, began at DESY. Their paper, titled "Two-flavor QCD correction to lepton magnetic moments at leading-order in the electromagnetic coupling" was made public earlier this year.
Renner said he never anticipated winning the Ken Wilson Lattice Award. This was the first time the award was given, and all papers published in the past three years were under consideration. It was quite surprising that their paper, only three months old, was chosen, he said.
"By choosing our paper, they essentially knocked out all the other work from [an entire year], which can't be considered again [for the award]. It was stunning - truly a shock," he added.
The panelists said of the paper, "This is really a new application of lattice methods, applied in a timely fashion, and making an impact on an important (current) discrepancy for the muon magnetic moment…."
The announcement, he said, put tremendous pressure on him for the plenary talk he gave at the end of the 29th International Symposium on Lattice Field Theory, during which the award was presented. He decided to speak on their extended work – that had not been included in the paper. "There were a lot of questions about our paper, and I was really glad I'd brought that material along," he said. "One senior person said afterward that now he understood the importance of our work. That was very gratifying."
Efficiency is Renner's watchword these days, now that he and Ali have two sons, Nate, who's a year and a half, and Max, born earlier this month.
"I don't want to sacrifice my time with my family," he said. "I get up early in the morning to have time to spend with them, and in the evening I strap Nate onto a carrier in front of me and take him for a bike ride. This is really important to me."
And despite his success (he was recently selected to participate in the Jefferson Science Associates Promising Young Physicist program) and his passion for the field, he's still not sure he'll stay in physics.
"This is a temporary position, and it will come to an end. I'm not sure what I will do then. I sometimes think about getting involved in politics in some way," he concluded. "Not as an office-holder, but maybe with a policy organization or a think tank. There are a lot of positions out there where they're looking for someone with a science and technology background."
By Judi Tull
Feature writer
Editor's note: The paper, "Two-flavor QCD correction to lepton magnetic moments at leading-order in the electromagnetic coupling," is at: http://arxiv.org/abs/1103.4818
Lab Sponsors Poster Contest Awards
at Minority Physics Meeting
The accelerator-science award was won by Maria Paula Angarita, Florida International University, for her poster, titled "Photoresponse of the topological insulator Bi2Se3: exploring the interplay between optical, thermal, and electronic properties of the surface state." Here she stands with judges Paul Gueye (left) and Carlos Hernandez-Garcia
Jefferson Lab amped up its visibility at this year's joint meeting of the national societies of Black and Hispanic physicists by sponsoring prizes for the student poster contest.
The National Society of Black Physicists and the National Society of Hispanic Physicists held their annual meeting Sept. 21-24, in Austin, Texas.
This is the single largest conference for African-American and Hispanic physicists, with nearly 600 participants, according to 2011 NSBP President-Elect, Paul Gueye, Hampton University Physics Department faculty member and long-time member of JLab's Physics Division User community.
Jefferson Lab's Physics Division and Accelerator Division each sponsored an award for the best student poster in the physics category and the accelerator science category. Each award included a certificate and a $150 cash prize. Judging for the Jefferson Lab awards was performed by Gueye and Carlos Hernandez-Garcia, a scientist with JLab's Free-Electron Laser Division.
The physics award went to Candace Harris, a graduate student from the University of Massachusetts who works under the supervision of Rory Miskimen. Harris' poster was titled "Constructing a polarized scintillating target material for Nuclear Compton Scattering Experiments."
"The work focuses on a new material that could have a significant impact on polarized targets at Jefferson Lab and open a new regime of spin-dependent experiments," Gueye noted.
The accelerator science award went to Maria Paula Angarita, a senior at Florida International University. Her work was performed during a summer 2011 internship at the Massachussetts Institute of Technology under the supervision of Nathaniel Gabor. Her poster, titled "Photoresponse of the topological insulator Bi2Se3: exploring the interplay between optical, thermal, and electronic properties of the surface state," focuses on understanding the transport behavior of massless charge carriers existing at the surface of topological insulators.
The study performed could have potentially interesting and unique applications for photo-gun sources, especially because these devices generate photo-current at cryogenic temperatures, according to Hernandez-Garcia.
"The meeting is an ideal place to share the lab's scientific program with the African-American and Hispanic physics communities," Gueye said. "Sponsoring the poster awards is a great way of raising Jefferson Lab's visibility among these scientific communities and making them more aware of the research and career opportunities available at the lab."
"For many years, JLab has been an exhibitor at this event, but had not previously sponsored awards. This is the kind of incentive that encourages students to pursue advanced degrees in JLab-related science, as well as a unique opportunity to recruit highly qualified physicists. Carlos and I were very excited to be part of this event. We were amazed by the large number of highly competitive and diverse research topics. The two posters that won the JLab awards were unique and they really stood out. We were impressed by the depth of knowledge the students had for their respective topics, but more importantly how thrilled they were to be part of the physics family. It was an honor to represent JLab.
"We hope that this is the beginning of a new, fruitful partnership between JLab and NSBP/NSHP, and we look forward to future involvement," Gueye concluded.
Scientist Creates Opportunities for Others to do Good Work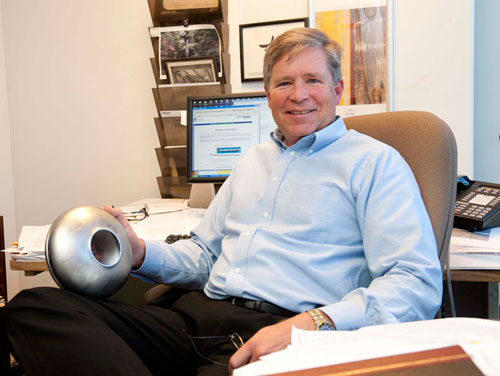 Charlie Reece, deputy director of Jefferson Lab's SRF Institute, pauses from work for a moment to share a little about his personal history with superconducting radiofrequency. He holds a single cell from a niobium cavity.
A massive cultural shift throughout the United States led Charlie Reece, deputy director of Jefferson Lab's Institute for Superconducting Radiofrequency Science and Technology, to physics. Growing up in Oklahoma City, the son of an oral surgeon, Reece was among a group of students sent to a magnet school/science center at the beginning of his sophomore year in high school as part of desegregation efforts in that city.
The teacher to whom he was assigned for two years of chemistry and physics was, he recalled recently, "a lousy teacher." The class was completely self-study, but thankfully with a scripted curriculum that included films and experiments.
"There were only four of us in that class," Reece recounted, "so we did it all ourselves. I found it all pretty fascinating."
By the time he was admitted to Baylor University in Texas, he found himself concerned about whether he was sufficiently prepared for college-level physics classes, considering that he'd basically taught himself. No need to worry, though. He entered the honors program there, and in 1978 graduated summa cum laude and a member of Phi Beta Kappa.
He had first encountered RF or radiofrequency cavities when he worked on a project between his junior and senior years. He found it interesting, but it didn't turn his head. He entered the University of Rochester in New York intent on focusing on quantum optics, and received his master's degree in 1980. Taking an opportunity to work under Professor Adrian Melissinos, he shifted to a general relativity research program that aimed to exploit the properties of SRF cavities. Work on this project included getting help from several researchers at Cornell University in New York who were later to become life-long colleagues. Reece completed his Ph.D. work at Rochester in 1983. His first postdoctoral position was as a research associate in the SRF group led by Maury Tigner and Ron Sundelin at Cornell from 1983-1987.
He met his wife, Kimberly, at Rochester where she was studying microbiology as an undergraduate. She had just started into a graduate program in molecular genetics when he was offered the position at Cornell. They faced what Reece (and the scientific world) commonly calls "the two-body problem," when a professional couple is challenged to find a good solution for both partners. Kimberly was able to transfer to a groundbreaking molecular genetics lab at Cornell.
In 1986, Jefferson Lab's then-Director, Hermann Grunder, recruited Ron Sundelin, Peter Kneisel, Reece and others from Cornell to come to Newport News, with the intention of having them on the team that would build CEBAF as the first of a new generation of accelerators. The group landed in Virginia in the summer of 1987.
"We had a baby on the way," Reece remembers. "My Cornell salary wasn't much, and my wife was in the thick of finishing her dissertation research. This seemed like a good place to come; it felt like a real calling, but the transition was scary."
A theme runs through Reece's professional life. "I like investing my efforts to create opportunities for others," he notes. And during his 24 years at the lab, he's had a wealth of opportunities to do just that.
His initial challenge was developing the technical infrastructure required to build an SRF-based CEBAF. He had prime responsibility for designing, developing, and then using the lab's cavity fabrication and testing infrastructure during the CEBAF construction. He has contributed to the characterization of performance-limiting phenomena and made significant contributions to the translation of state-of-the-art techniques and understandings into SRF operating systems. He led the push to obtain 5.7 GeV (billion electron volts) performance from the CEBAF cryomodules – originally designed for 4 GeV. He also later led the development and testing of the cavity design to be used in the CEBAF 12 GeV Upgrade.
In 1993, he was appointed to lead development of the lab's first comprehensive Environmental, Health and Safety manual. He had the idea of putting the manual on the then-emerging internet for easy access by staff. "I was presenting my idea," Reece recalled with a laugh, "and Christoph [Leemann, then associate director of the Accelerator Division] said, 'What's this web stuff? Is this a waste of time? Is there really any future in it?'"
Reece has served as SRF Processes and Materials Group leader and by 2000 was a senior staff scientist. He was named the lab's SRF Institute deputy director in 2002. He and Michael Kelly co-advise graduate students, work that Reece finds stimulating and satisfying. He is also the champion and "chief dreamer" for the custom web-based technical procedures and data management system, Pansophy, which is used by the SRF Institute and some other elements of the 12 GeV Project.
Reece has, he acknowledges, worn a lot of hats during his time at the lab.
His experience and interests span the full range of sciences and research necessary for SRF particle acceleration, from basic materials characterization and development to acceleration system design, fabrication, integration and operational optimization. He is currently managing some basic R&D projects on the electropolishing of niobium and the development of future alternative materials for SRF particle accelerators. Recently, he has also been managing the layout and process flow for the SRF portion of the new Technology and Engineering Development Facility.
He looks forward to the lab's future. "By 2013, the facilities at Jefferson Lab for SRF will be peerless," he noted. "The world will be green with envy."
Reece and his family live in York County. His wife is now a Virginia Institute of Marine Science professor at The College of William and Mary, where she focuses her attention on molecular genetic analyses of shellfish species and their pathogens; their daughters, Carolyn and Katie, are both university students. Reece claims to have "farmer blood" running through his veins and takes good-natured pride in how well his gardening efforts feed the local deer, rabbits and raccoons.
He also serves on the national executive board of the Presbyterian Association on Science, Technology and Christian Faith, which joins clergy and professionals from various scientific fields to foster conversation and mutual understanding between different aspects of science, technology and theology. Reece also serves as a teacher and a tenor in his local Christian fellowship, KirkWood.
"All these pieces fit together perfectly well for me," he concluded. "I am quite happy to invest myself to enable other people to do good science and good work."
By Judi Tull
Feature writer
---
Volunteer Effort Re-Creates 18th Century Windmill in Yorktown
This photo shows the inside framing of the windmill's cap and some of the windmill's drive system which consists of five major gears that are used to turn two pairs of mill stones in the base of the structure.
In one of the oldest and most historic communities in U.S., something new has been added and many volunteers from Jefferson Lab are responsible. The something new is a replica of an 18th century windmill, which was recently installed and dedicated in Yorktown.
Located at the Watermen's Museum, the purpose of the windmill is to teach today's young people about the technology of the past and, hopefully, inspire a few to pursue studies in science, technology and engineering
It is modeled after a windmill that stood in the town for more than 150 years and was a recorded feature in maps and paintings during both the American Revolution and the Civil War. The site where the original windmill stood before it was destroyed by a hurricane in the late 19th century is now preserved as an archaeological site. The new windmill stands less than 200 feet from that site, allowing visitors to experience the re-creation as close as possible to its historic predecessor.
"The Yorktown Windmill Project was conceived as a cooperative effort between the Yorktown Foundation, the County of York and the Colonial National Historical Park as an effort to reconstruct William Buckner's Mill in Yorktown, Virginia," a statement reads on the windmill project's website.
"The project was launched in January of 2008 with the objective of rebuilding the mill and developing an effective interpretive program that will allow future generations to appreciate the imagination and ingenuity that characterized America's Wooden Engineering Age."
Leading the effort to build the windmill was Jefferson Lab's Walt Akers, who researched the design for the windmill. Working side by side with Akers was his wife, Evelyn, along with a host of other Jefferson Lab employees and many other volunteers, who spent many hours of personal time constructing the windmill at his workshop in Seaford, before relocating it to its new home on the Yorktown waterfront.
The Jefferson Lab volunteers included: Dave Abbott, Kandice Carter, Dave Chopard, Mike Dallas, Dean Golembeski, Joanna Griffin, John Hansknecht, Randy Hartman, Troy Mattox, Noel Okay, Paul Powers, Thomas Renzo, Rusty Sprouse, Patrick White and Lamont Williams.
The windmill stands 36 feet tall and has a vane span of more than 34 ft. The mill includes the complete drive system which consists of five major gears which turn two pairs of mill stones in the base of the structure. In addition to the mechanical system, the windmill's cap sits on an oak curb that allows the vanes to be turned into the prevailing winds.
"We are just thrilled to house the exhibit," said David Niebuhr, executive director of the museum. "To be 300 years to the summer-fall when this [the original windmill] was built makes this even more exciting. We're hoping this will bring additional visitors to the museum."
You can learn more about the Windmill Project at www.yorktown-windmill.org.
---
Speaker for Nov. 1 Lecture to Discuss Deadliest Viral Diseases
Jefferson Lab's 2011 fall science lecture series continues on Tuesday, Nov. 1 with Susan Fisher-Hoch, a virologist and epidemiologist from the University of Texas School of Public Health presenting Studying Deadly Diseases.
She will discuss her research and travels associated with outbreaks of viral hemorrhagic fevers: From Ebola popping up in Reston, Va., to outbreaks of Crimean Congo Hemorrhagic Fever in South Africa, Senegal and Saudi Arabia. These studies have led her from the U.S. Centers for Disease Control and Prevention to Lyon, France, where she was instrumental in designing, constructing and making operational a laboratory capable of containing some of the world's most dangerous diseases.
The lecture is free and open to students and adults with an interest in science. It will begin at 7 p.m., in the CEBAF Center auditorium located at 12000 Jefferson Ave, Newport News, and last about an hour. Enter via Jefferson Lab's main entrance (Onnes Drive).
Seating in the auditorium and overflow area is available on a first-come, first-served basis and is limited to about 300 people. People arriving once capacity has been reached will be turned away.
All those under age 16 must be accompanied by a parent or responsible adult. Everyone over 16 is asked to carry a valid photo ID. Security guards may perform ID, parcel and vehicle checks.
For directions and additional information about Jefferson Lab public lectures, visit the Science Series webpage at: http://education.jlab.org/scienceseries/index.php, or contact Christine Wheeler, wheelerc@jlab.org or call 757-269-7560.
Upon approval by the presenters, videos of past lectures are posted to Jefferson Lab's Science Series video archive and may be viewed at any time. The video archive is online at: http://education.jlab.org/scienceseries/archive.html.
---
October is National Fire Prevention Month; NFPA Releases Report on Home Fires
U.S. fire departments responded to an estimated annual average of 373,900 home structure fires from 2005-2009, according to new research from the National Fire Protection Association. That equates to roughly one in every 310 households per year reporting a home fire during that period.
According to the report, cooking fires remain the leading cause of home structure fires and home fire injuries; and smoking materials continue to be the leading cause of home fire deaths.
Each year, these fires caused an estimated average of 2,650 civilian deaths, 12,890 civilian injuries, and $7.1 billion in direct property damage. On average, seven people died in U.S. home fires every day.
One-quarter of the home fire deaths resulted from fires that originated in the bedroom, 24 percent from fires in the family room, living room, or den, and 15 percent from fires starting in the kitchen. Though only 20 percent of reported fires occurred between the hours of 11 p.m. and 7 a.m., half of the deaths were caused by fires reported during this time.
"These statistics are a sad reminder that fire is still a deadly threat and we must do more to prevent such needless deaths and losses," said Lorraine Carli, NFPA's vice president of communications. "Properly installed and maintained fire protection devices, such as smoke alarms and residential fire sprinklers, can help to prevent most fire deaths."
Almost two-thirds (62 percent) of home fire deaths resulted from fires in which no smoke alarms were present at all (38 percent) or smoke alarms were present but did not operate (24 percent). The report also referenced John Hall's recent report, U.S. Experience with Sprinklers, which found that having wet pipe sprinkler systems in the home reduces chances of dying in a fire by 83 percent.
The report is based on data from the U.S. Fire Administration's National Fire Incident Reporting System and the National Fire Protection Associations annual fire department experience survey.
The top 10 fire safety tips from the NFPA:
- Watch your cooking. Stay in the kitchen when you are frying, grilling or broiling food. If you must leave, even for a short time, turn off the stove.
- Give space heaters space. Keep fixed and portable space heaters at least three feet from anything that can burn. Turn off heaters when you leave the room or go to sleep.
- Smoke outside: Ask smokers to smoke outside. Have sturdy, deep ashtrays for smokers.
- Keep matches and lighters up high, out of the reach of children, preferably in a cabinet with a child lock.
- Inspect electrical cords. Replace cords that are cracked, damaged, have broken plugs, or have loose connections.
- Be careful when using candles. Keep candles at least one foot from anything that can burn. Blow out candles when you leave the room or go to sleep.
- Make a home fire escape plan and practice it at least twice a year.
- Install smoke alarms on every level of your home, inside bedrooms and outside sleeping areas. Interconnect smoke alarms throughout the home, so when one sounds, they all sound.
- Test smoke alarms at least once a month and replace conventional batteries once a year or when the alarm "chirps" to tell you the battery is low. Replace any smoke alarm that is more than 10 years old.
- Install sprinklers: If you are building or remodeling your home, install residential fire sprinklers. Sprinklers can contain and may even extinguish a fire in less time than it would take the fire department to arrive.
For more information, visit the NFPA website at: www.nfpa.org/.
---
JAG Plans Nov. 2 Tailgate Picnic to Celebrate Beam 'Kickoff'
To celebrate nearing the end of the Six-Month Shutdown and the work underway to bring beam back up in CEBAF, the Jefferson Activities Group is planning a Tailgate Picnic for Jefferson Lab staff, students and on-site users on Wednesday, Nov. 2, from 3 – 5:30 p.m. on the SURA Residence Facility field.
The tailgate picnic will be a simple event, according to Bridget Paul, JAG chair. "We will have tailgate-style food, beverages and music. While we aren't planning organized games or sports, equipment for unsupervised sports (like Corn Hole) will be available. And we will have a Craziest Fan contest."
"We will need about 40 volunteers to help with set up, food and drink service, drink bracelets and clean up," she adds.
Volunteer shifts and positions are posted on the JAG webpage; sign up early for the best selection. Visit the JAG webpage for more information about the event and for volunteer sign up (http://www.jlab.org/intralab/committees/jag/).
The JAG is planning the Tailgate Picnic this year instead of an Oktoberfest.
Plans are already in the works for the Children's Holiday Party to be held in December. Watch for more information.
---
Final Days for Donations, Pledges; United Way Appeal Ends Nov. 2
The United Way annual fund-raising campaign at Jefferson Lab ends Wednesday, Nov. 2. The lab's goal is 100 percent participation by staff.
This is a great way to give back to our community, to help make our community a better place and to say "thank you" for the support this region has given to the lab over the years, according to Mike Dallas, JLab's chief operating officer.
The United Way of the Virginia Peninsula partners with local businesses, municipalities, individuals and other non-profits in a community-wide fund-raising campaign that provides necessary resources to programs that address a broad range of community needs. Donations and pledges help fund programs that target everything from basic needs like food and shelter, to crisis and emergency response, after-school programs, affordable daycare, transportation for the elderly, job training for the disabled and much more.
The United Way pledge form is available online by copying and pasting this pdf link into your Internet browser:  http://www.uwvp.org/give_help/documents/09pledgeformPDF_000.pdf
or by accessing the pdf link through the United Way webpage at: http://www.uwvp.org/give_help/index.php
Hard copy forms are available at the VARC, ARC and CEBAF Center front desks, as well as in Building 85. Please send or deliver completed forms to Brandye Rogers in CEBAF Center, Room B214, Mail Stop 12-B, by Nov. 2. Pledge forms may also be picked up at the United Way Raffle ticket sales table in the CEBAF Center lobby daily during lunch time through Nov. 2.
Direct questions to Rogers, Human Resources, brogers@jlab.org, ext. 7628.
"The United Way is an important community support system. Please give generously; there are many people in the area who have had a difficult year, and are helped by agencies supported through the United Way," Dallas said. "Thank you for your support."
---
Lab Community Invited to Vendor Fair on Nov. 3
All members of the Jefferson Lab community are invited to the annual JSA E-Commerce Vendor Fair scheduled for Thursday, Nov. 3, from 9 a.m. – 2 p.m. Vendor displays and tables will take over most of the CEBAF Center lobby and room F113.
"Come meet the many vendors and manufacturers that will be showing off their products. And get your questions answered," urges Renee Carter, Procurement administrator.  Many of the vendors will have give-aways and free samples.
Refreshments will be available throughout the day.
---
Quark Cafe Manager Earns Recognition
Enjoy Breakfast, Lunch, Snacks at Quark Cafe
Quark Cafe is located on the first floor at the north end of the CEBAF Center lobby – that's in Building 12. The cafeteria is open Monday through Friday (except holidays when JLab is closed).
Breakfast is available from 7-10 a.m. and lunch is served from 11:30 a.m. to 1:30 p.m. Snacks and beverages may be purchased through 2 p.m. Breakfast and lunch selections include combo specials (entree, side and drink). However, all items may be purchased ala carte. See the menu for daily selections.
The cafeteria is also open for Recharge Wednesdays – a snack break every Wednesday from 3-4 p.m. Each Wednesday a new snack special is featured. In addition to the weekly special, a variety of snacks and treats are available, including fresh fruit, chips, granola bars and cereal, cookies and dessert items, trail mix snacks, candy, yogurt and other dairy-case items. Beverage choices include espresso, coffee, and fountain and bottled drinks. Stop by today to check out this new service and purchase a late afternoon pick-me-up.
Catering requests may be made through Stephanie Vermeire, Staff Services, ext. 6930, email schatzel@jlab.org.
Quark Cafe manager, Gaye Davenport, recently was recognized by her employer, Eurest Dining Services, with its "Recognizing a Hero" award.
Eurest's "Recognizing a Hero" program acknowledges and awards associates who "go above and beyond" in their commitment to service excellence and for outstanding achievements, according to Pam Neff, district manager. Award recipients receive a Hero lapel pin and a Hero Certificate of Recognition suitable for display.
Davenport has been Quark Cafe's Food Services director since the autumn of 2007. She orchestrates and manages all aspects of the cafeteria's day-to-day and catering operations.
Executive Chef Chris Thornhill nominated Davenport for the recognition early this year while she was short staffed and Thornhill, who had previously worked at Quark Cafe, returned to assist.
Gaye "consistently provides great service and produces great results," Thornhill noted on the award-submission form. She exemplifies the company's values and guiding principles. She is an outstanding manager who has molded a team that is the example of exceptionalism. She is always willing to help others, and did a great job of keeping the cafeteria and its staff running smoothly for a few months early this year when half her regular staff was unable to work.
Eurest is the Charlotte, N.C.-based company that has the contract to provide food services at Jefferson Lab.
---
Milestones for September 2011
Hello
Carlos Granados, Post Doctoral Fellow, Theory & Computational Physics
Peng Guo, Post Doctoral Fellow, Theory & Computational Physics
Sheryl Kopczynski, Documentation Assistant, 12 GeV Upgrade Project
Edward Nissen, Accelerator Science Post Doctoral Fellow, Accelerator Operations, R&D Division
Daniel Moser, Accelerator Operator, Accelerator Operations, R&D Division
Clayton McClenny, Rotating Machinery Tech, Engineering Division
Goodbye
Jessica Buhler, Accelerator Operations, R&D Division
Christopher Koch, Engineering Division
Dennis Skopik, Experimental Nuclear Physics
Christopher Thomas, Theory & Computational Physics
Alex Wixtrom; Accelerator Operations, R&D Division
These Milestone entries, listed alphabetically, are full-time, term, casual and student actions posted by Human Resources for September 2011.
Jefferson Lab is currently seeking qualified individuals for a range of engineering positions. More than two dozen engineering, technician, scientific, information technology and administrative support employment opportunities are currently posted at: http://www.jlab-jobs.com/.
---
In Memoriam: Former JLab Delivery/Property Assistant Died Oct. 16
John L. Johnson, Jr.
A former member of Jefferson Lab's Shipping and Receiving team, John L. Johnson, Jr., known by many as John 2.0, passed away Oct. 16.
The native of Suffolk worked in Shipping and Receiving first as a delivery assistant and later as a Freestock entry clerk. He worked at JLab through Powell Staffing Solutions, Inc.
"He had an amazing spirit; he made you smile even when you didn't want to," said Lawrence Ferbee, Jr. Freestock/Tool Crib manager.
Johnson is survived by his sons, Cyprian Johnson (Laytoya), of New Bern, N.C. and Tyrone Jenkins, of Suffolk; sisters, Thomasina Tillery and Gloria Dolsberry, both of Suffolk, Johnella Porter (Frank), of Fort Washington, Md., and Carol Johnson, also of Suffolk; two brothers, Alfred Vines Jr., of Columbus, Ohio, and Robert Allmond, of Atlantic City, N.J., and four grandchildren.
A homegoing celebration was held Oct. 22 at Healing Chapel Baptist Church, Suffolk, with the Rev. Morris Allmond Sr. officiating. Professional services are being handled by Harris Funeral Home, Inc.; condolences may be posted at: www.vharrisfuneralhome.com .
The obituary is in the Suffolk News-Herald at: http://www.suffolknewsherald.com/2011/10/19/john-l-johnson-jr-2/
---
President's Jobs Council Announces Industry Commitment to Double Engineering Internships in 2012
The President's Council on Jobs and Competitiveness, in partnership with the Business Council, Business Roundtable, U.S. Chamber of Commerce, National Association of Manufacturers and the American Chemistry Council, announced recently that 45 industry leaders have committed to double the engineering internships available at their companies in 2012. Additionally, five companies have also committed to increase their internships for a total of 50 committed to this effort. More companies are also expected to join this effort.
These commitments are part of a greater Jobs Council effort to help address America's engineering shortage by graduating 10,000 more engineering students from U.S. colleges and universities each year. These commitments will add approximately 6,300 additional opportunities for hands-on, technical job experience for engineering students.
"For America to stay competitive in the global market, we must train and retain the world's best engineers," said U.S. Secretary of Energy Steven Chu. "Working together, private industry and the public sector can position the U.S. to continue to lead in science and innovation in the 21st century, creating good jobs and laying the foundation for a robust economy."
 "Looking forward, this nation is at risk of a significant shortfall of qualified experts in science and math to meet the country's needs," said Intel President and CEO Paul Otellini. "This announcement is about inspiring and encouraging our next generation of engineers. It's a private sector commitment working with the government to accelerate the specialized skills needed for America to retain its technological pre-eminence."
The Jobs Council's High Tech Education working group has made this issue a critical priority because the engineering gap threatens the United States' role as the world's leading innovator and hinders the nation's ability to create jobs and compete in a global economy. From 1990 to 2010, overall college graduation levels in the United States have grown about 50 percent, but during that same period the number of engineering graduates has stagnated at around 120,000. By contrast, roughly 1 million engineers a year graduate from universities in India and China. This disparity hinders U.S. global competitiveness and threatens its ability to both retain and create high-tech, good-paying jobs in the United States.
 
President Obama formed the President's Council on Jobs and Competitiveness January of 2011 for the purpose of bolstering the U.S. economy by fostering job creation, innovation, growth, and competitiveness as the country enters a new phase of economic recovery. The core mission of the Council is to promote growth by investing in American businesses to encourage hiring, to educate and train American workers to compete in the global economy, and to attract the best jobs and businesses in the world to the United States.
For more information, visit: http://www.whitehouse.gov/administration/advisory-boards/jobs-council.
---
Federal Agencies Launch 'Save Money by Saving Energy' Campaign
The U.S. Department of Energy and the Ad Council has launched a national consumer education campaign to help consumers save money on utility bills. Created pro bono by Texas-based advertising agency GSD&M, the public service advertisements aim to help consumers save money on their energy bills by doing things such as sealing leaks in their homes and using energy-efficient products.
"Americans spend about $2,000 per household on energy every year – but many of them could save a few hundred of that without changing their lifestyle," said Energy Secretary Steven Chu. "Many American families can take simple steps to reduce their energy bill, while making their homes more comfortable, and use that money for something they really need or want."
The PSAs direct homeowners to www.energysavers.gov/, where they can find tools and information to help them make their homes more efficient. Energy-saving tips on the website include:
·         Saving more than $100 a year on heating and cooling bills by using a programmable thermostat to make sure you are only heating/cooling your home when you need to;
·         Upgrading 15 of the traditional light bulbs in your home to energy-efficient bulbs, which could save you about $50 per year; and
·         Using Energy Star qualified appliances to save even more.
To see additional tips and the ads prepared as part of the campaign, visit www.energysavers.gov.
The
On Target
newsletter is published monthly by the
Thomas Jefferson National Accelerator Facility
(Jefferson Lab), a nuclear physics research laboratory in Newport News, Virginia, operated by
Jefferson Science Associates, LLC
, for the
U.S. Department of Energy's
Office of Science
. Possible news items and ideas for future stories may be emailed to
jlabinfo@jlab.org
, or sent to the Jefferson Lab
Public Affairs Office
, Suite 15, 12000 Jefferson Avenue, Newport News, VA 23606