Jefferson Lab Recognizes Top Small Business Subcontractor for 2008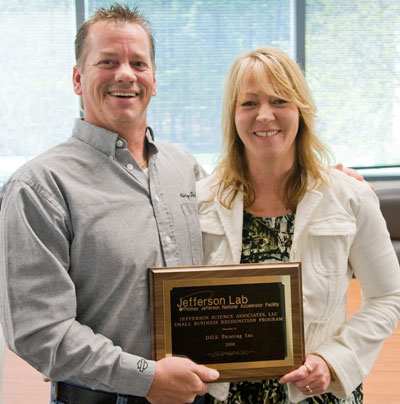 D.G.S. President Ruth Seeley  and her husband, Don, vice president and project manager, received the 2008 Jefferson Science Associates/JLab Outstanding Small Business Subcontractor award. Photo: Greg Adams
NEWPORT NEWS, Va. - D.G.S. Painting Inc., a Yorktown-based business that provides a range of custom-painting services, has been recognized as Jefferson Lab's Outstanding Small Business Subcontractor of the Year for 2008.
Ruth Seeley, D.G.S. president,  and her husband, Don, vice president and project manager, received the Jefferson Science Associates/JLab Outstanding Small Business Subcontractor award at a reception held at the lab on April 22.
Department of Energy officials, senior Jefferson Lab management, Procurement and Facilities Management & Logistics staff gathered to congratulate the Seeleys as they accepted the award plaque from Hugh Montgomery, Jefferson Lab director.
"This is a tough competition," noted Danny Lloyd, JLab's small business program manager. "Jefferson Lab subcontracts a broad range of services and D.G.S. is one of several hundred small businesses that work with JLab. Using the lab's established criteria for the award, the award committee reviewed the top seven small businesses and made the winning selection. D.G.S. Painting is very responsive and provides high-quality painting support to Jefferson Lab.
"Notably," Lloyd added, "Since 1999 when the lab started recording subcontractor hours on site, D.G.S. Painting has logged more than 6,230 labor hours without a safety violation. D.G.S. is a valued member of the JLab team."
"Your efforts are much appreciated here," JLab Director Hugh Montgomery said to the Seeleys. "Small businesses such as yours are a valuable commodity; about 50 percent of our procurements are through small businesses."
D.G.S., founded in 1992, began providing custom painting, wallboarding, carpentry and pressure-washing services to the lab in 1995. Since then, the company has completed more than 330 JLab task orders.
D.G.S. Painting, Inc. is located at 128 Mill Lane, Yorktown, 23692. Phone (757) 870-9415.
###
Jefferson Science Associates, LLC, a joint venture of the Southeastern Universities Research Association, Inc. and PAE, manages and operates the Thomas Jefferson National Accelerator Facility, or Jefferson Lab, for the U.S. Department of Energy's Office of Science.
DOE's Office of Science is the single largest supporter of basic research in the physical sciences in the United States, and is working to address some of the most pressing challenges of our time. For more information, visit science.energy.gov.
Mon, 04/27/2009 - 02:00pm