Jefferson Lab Senior Technologist and Designer Gravitates Toward High Speeds
At a glance, one might say that Jim Follkie has a need for speed – or at least to have a role in making things go very fast. Through his job at Jefferson Lab, Follkie has the distinction of being one of a few dozen people in the world who can perform an electron beam weld on niobium, which he does from behind the three-inch lead glass of an eight-foot by eight-foot by eight-foot vacuum chamber.
Some of these niobium cavities may one day be used to propel electrons through the Continuous Electron Beam Accelerator Facility at a rate that is equivalent to circling the world 7.5 times in just one second.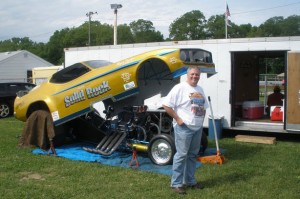 When he gets the chance, Follkie loves to work on race cars – collecting parts, building engines and being a part of the pit crew at races. As a racing enthusiast and active member of a "nostalgia blown funny car" team, Follkie has a large network of friends in the racing circuit, giving him a plethora of cars to work on when he feels like getting his hands greasy.
"My buddy has a 1971 Mustang," he says. "I have another friend here who has a 1970 Challenger. I have my own dragster in Chicago – an original 1971 AA fuel dragster with a 215-inch wheelbase. It doesn't look like a car; it's created solely for drag racing."
Racing runs in the family
Currently, Follkie spends his time on the racing crew, rather than in the cockpit, at races. However, he has a lifetime of experience behind the wheel. As a child, his father raced stock cars and midget cars around Chicago. "I grew up around stock car racing," Follkie says. "We would go to the track every Friday night. In high school, I had a 1967 Cougar and I would race that."
In high school, Follkie's father built an extension onto the family garage so his stock car could fit. "I drove the dragster through the garage wall one day," Follkie laughs. "It took me three years to get that car to where it was up-and-running. It was on the trailer and I was showing my friend who was visiting. My dad had told me not to start the car, but my friend wanted to hear the engine. I thought the car was in park, but it was in reverse and when I started it, the car went right off the trailer and through the wall. It ended up being a funny story. Back when I was 20, I thought I was invincible."
Support crew for racing circuit
As a member of the support crew, Follkie and his team currently participate in about six races per season, which runs from May to October. "When we arrive at a racetrack, we are usually the first people at the track," he explains. "We set up an awning and a carpet and basically disassemble the car to check the parts, including the oil filter screen, spark plugs and parachutes."
Once the racing begins, Follkie and his team support their driver through several heats until the final showdown between the two fastest cars. "We've done as many as 20 races in a season," Follkie says. "We win some. We won a match race at the Bristol Dragway in Thunder Valley, Tennessee recently."
In between race days, Follkie focuses on collecting parts to restore his car so he can rebuild it as soon as he figures out how to get it from Chicago to Virginia. He would need a long transportation trailer and a garage if he relocates his car to Virginia, which he hopes to do someday.
When asked how his work life relates to his racing life, Follkie points out that many of the drag racing machines today had to be fabricated from scratch, as do the accelerator cavities that he fabricates, and both have to be tweaked, modified and tuned to achieve a specific goal. His racers will never match the speeds at which an accelerator component can propel an electron, but both pursuits ultimately fulfill his need for speed.
By Carrie Rogers