See below for recent highlights of TMDs in JAM.  Click images for enlargement.
UPDATED QCD GLOBAL ANALYSIS OF SINGLE TRANSVERSE-SPIN ASYMMETRIES
A new analysis is performed, updating the QCD global analysis of single transverse-spin asymmetries presented in Cammarota, et al., PRD 102, 054002 (2020) (JAM3D-20). JAM3D-20 simultaneously included transverse momentum dependent and collinear twist-3 observables, both of which are sensitive to quark-gluon-quark correlations in hadrons. In this study, the twist-3 chiral odd fragmentation function H̃  is extracted by incorporating the sinϕs modulation data from SIDIS along with its contribution to the single transverse-spin asymmetry in pion production from proton-proton collisions. Impacts of lattice QCD tensor charge calculations and the Soffer bound are explored in this global analysis. Both constraints can be accommodated within the new results, with H̃ playing a key role in maintaining agreement with the data from proton-proton collisions.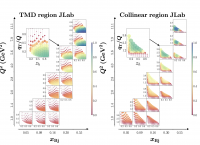 KINEMATIC REGIME ESTIMATION IN SEMI-INCLUSIVE DIS
A new phenomenological tool has been developed to guide the analysis and interpretation of semi-inclusive deep-inelastic scattering measurements (SIDIS). The new tool, referred to as "affinity", helps physicists visualize and quantify the proximity of any experimental kinematic bin to a particular hadron production region, such as that associated with transverse momentum dependent factorization. As a first application, the affinity estimator has been used to analyze existing HERMES and COMPASS data, as well as expected SIDIS data from Jefferson Lab and the future Electron-Ion Collider.