Recent highlights from JAM analyses of unpolarized proton PDFs (click images for enlargement).
DARK PHOTONS AND GLOBAL QCD ANALYSIS
A new global QCD analysis has been performed by the JAM Collaboration and researchers from the University of Adelaide, including a coupling to a dark photon that augments the standard model electroweak coupling via kinetic mixing with the hypercharge B boson. Including the most recent measurement of the anomalous magnetic moment of the muon as a constraint, the analysis finds a significant reduction in the combined χ2, favoring the inclusion of a dark photon, with a statistical significance in excess of 8σ, and with improvements in the theoretical predictions spread across a wide range of kinematics. The best fit yields a value of g-2 which significantly reduces the disagreement with the latest experimental determination, with best fit values of 4.2 - 6.2 GeV for the dark photon mass and a mixing parameter of order 0.1.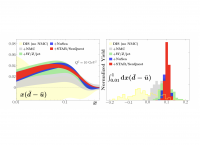 EXTRACTION OF SEA QUARK ASYMMETRY WITH SEAQUEST AND STAR DATA
A global QCD analysis of unpolarized parton distributions was performed, including new W-lepton production data from the STAR Collaboration at RHIC and Drell-Yan di-muon data from the SeaQuest experiment at Fermilab. The impact of these two new measurements on the light antiquark sea in the proton, and the antidown-antiup asymmetry in particular, was assessed. The SeaQuest data were found to significantly reduce the uncertainty on the antidown/antiup ratio at large parton momentum fractions, strongly favoring an enhanced antidown sea, in general agreement with model calculations based on chiral symmetry breaking in QCD.
ISOVECTOR EMC EFFECT FROM GLOBAL QCD ANALYSIS WITH MARATHON DATA
A new paper reports on a Monte Carlo global QCD analysis of unpolarized PDFs, including for the first time constraints from ratios of 3He to 3H structure functions recently obtained by the MARATHON experiment at Jefferson Lab. The simultaneous analysis of nucleon PDFs and nuclear effects in A=2 and A=3 nuclei reveals the first indication for an isovector nuclear EMC effect in light nuclei. While the MARATHON data yield relatively weak constraints on the neutron to proton structure function ratio and the d/u PDF ratio, they suggest a strongly enhanced nuclear effect on the d quark PDF in the bound proton.