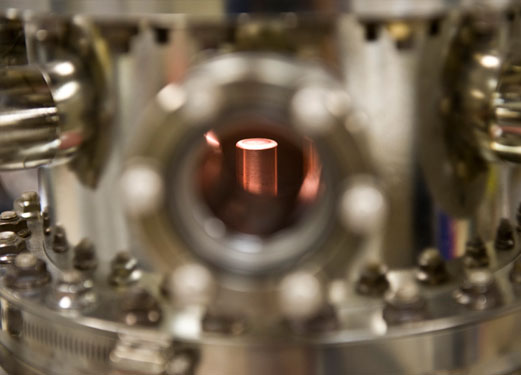 News Highlights
FEL Illustrated - Jefferson Lab's Free-Electron Laser is featured in a Discover Magazine gallery story about the Navy's efforts to develop a ship-based laser system..
Early Career Awards - Two scientists, Jozef Dudek and Pavel Evtushenko, have won highly coveted awards totaling $3.25 million from the U.S. Department of Energy, joining a select group of just 65 individuals, including 21 from national laboratories. The Early Career Research Program was created last year by the DOE's Office of Science to bolster the nation's scientific workforce by providing support to exceptional researchers during their early career years, a crucial time when many scientists do their most formative work. Click here for more.
Gold for Green - Jefferson Lab received a 2011 Virginia Governor's Environmental Excellence Program Gold Award in recognition of work done by its Free-Electron Laser group to reduce greenhouse gas emissions associated with the use of sulfur hexafluoride as an electrical insulator in FEL electron guns. The lab received its award on April 6 at the Environment Virginia Symposium in Lexington, Va. The DOE also has recognized the FEL's effort as a "noteworthy practice." Details of the award are available on the Virginia.gov website.
Lab Light - Jefferson Lab's Free-Electron Laser delivered its first beam of laser light from the ultraviolet FEL into an experimental lab late on Feb. 28. Piping laser light from the vault, where it is produced, and into a user lab is a key step toward providing laser light for experiments. The laser light was directed into the FEL's user lab 4.

Achievement Award - Jean Delayen, director of the Center for Accelerator Science that Old Dominion University operates in partnership with the Thomas Jefferson National Accelerator Facility, has been awarded the United States Particle Accelerator School Prize for Achievement in Accelerator Physics. Delayen was cited for "conceiving and developing a variety of superconducting accelerating structures and for his work with young scientists in USPAS and elsewhere."

Top Scientist- Congratulations to Cynthia Keppel, who was named one of four Virginia Outstanding Scientists of 2011. Keppel is a Jefferson Lab staff scientist, Hampton University endowed professor and scientific and technical director of the Hampton University Proton Therapy Institute. Keppel will be honored at the Science Museum of Virginia's General Assembly Reception on Thursday, Jan. 27.

Another Record Injection- The operators of JLab's CEBAF accelerator have pumped up the maximum number of spinning electrons delivered to an experimental hall. On Dec. 12, Hall C received the highest electron beam current ever provided to a single hall at high polarization: 170 microamps at ~89 percent polarization. This tops the late November record-setting 140-160 microamps.

Vive le Award Winner- Carlos Munoz Camacho will be awarded a 2010 CNRS Bronze Medal for research conducted at Jefferson Lab. The award "recognizes a researcher's first work, which makes that person a specialist with talent in a particular field." Munoz Camacho is currently based at the Laboratoire de Physique Corpusculaire of Clermont-Ferrand, a laboratory jointly supported by the French national research center (CNRS) and Université Blaise Pascal.

Accelerator Award- Jefferson Lab Senior Staff Scientist Yaroslav Derbenev has been named the recipient of the American Physical Society's 2011 Robert R. Wilson Prize for Achievement in the Physics of Particle Accelerators. The annual prize recognizes and encourages outstanding achievement in the physics of particle accelerators. Derbenev was honored "for a broad range of seminal contributions and innovations in beam physics, including theory and control of polarization with 'Siberian snakes,' electron and ionization cooling, round-to-flat beam transformations, FELs, and electron-ion colliders." He will receive a prize certificate, $7,500, and an allowance for travel to the meeting at which the prize is awarded.

SCIENCE EDUCATION
As a world-class research facility, Jefferson Lab is a valued partner to the local, regional and national education community.
Entrance Point -A view through a docking chamber vacuum window. This is the first of five chambers that photocathodes must go through before making it into one of Jefferson Lab's photoemission electron guns. The copper pedestal at the center is one of four that each hold one photocathode. In Jefferson Lab's CEBAF accelerator, a photocathode emits the electrons that become CEBAF's electron beam.