Jefferson Lab 2014 CURRENT EVENTS
FANTASY FOOTBALL
Do you love Fantasy Football? Have you never played and want to join a league? Good news! There is a Fantasy Football league set up for Jefferson Lab employees! It is open to experienced players and beginners. It is also free to join. Space is limited so contact
Mike Robbins
(mrobbins@jlab.org) at ext. 7617 for info about the league.
TAI-CHI CLUB

Jefferson Lab is proud to announce a new Tai-Chi club forming. The club will meet Weds. and Fri. in the TED Fitness room.
For more information please click here to view the flyer

DOG TRAINING CLUB

The Jefferson Lab Dog Training Club is getting ready to start a new class! To kick-off the class Alan Gavalya will holding a lunchtime pet photography talk on Tues. Jan. 28th at noon in the BEAMS classroom in the Support Service Center.
Then classes will be held every Tues. night at 7pm (starting Feb. 4th) in the SSC Lobby. Please click on the link below:
JLab Dog Training Club Homepage

TANGO CLUB

TANGO CLUB
Tango Club Announces New Beginner Session April 2nd!

JEFFERSON LAB TANGO FLYER
● Taught by experienced teacher and tango activist for FREE.
● Conveniently located @Port Warwick.
● Group lessons and dance parties at the evening time.
● Anyone can join, no experience is necessary
● It defies the laws of quantum physics !
Contact
camsonne@jlab.org
fxgirod@jlab.org
mineeva@jlab.org
for more information.
LUNCH-TIME SPORTS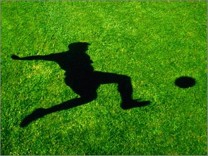 WE PLAY YEAR-ROUND (weather permitting)!
If you're looking for a great way to get in shape and have fun,
come out from NOON to 1PM:
Ultimate Frisbee plays on Tuesdays and Thursdays
.
Soccer plays on
Wednesdays and Fridays.
Street Hockey
plays
Five Days a Week
.

Ultimate and Soccer plays on the Residence Facility Field.
Street Hockey plays in the Street Behind the Endstations.

All skill levels are welcome, we play for fun and exercise.
Contact
Theo McGuckin
x5948
for more info, or subscribe
to the the mailing lists by sending a message to:
Jlab Ultimate Mailing List
Jlab Soccer Mailing List
JLAB ULTIMATE FRISBEE PAGE
JLAB STREET HOCKEY PAGE
SOFTBALL TEAM


Come Out and Play on the JLab Softball Team!
The JLab co-ed softball team is now practicing for the 2013 spring/summer season and there are a few slots left. All are invited to try their hand with a bat and glove. To express an interest in joining the team, send an email to
Casey Heck, heck@jlab.org
. Practices are scheduled for Sundays and the team would play in the York County Co-Ed Industrial League on Friday nights, April through July. You can also
check out the hompage.