Stockroom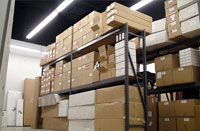 A well organized stock room makes for a happy work place.
The JLab Stockroom (Building 90) is located in the EEL Building, room 108. Standard business hours are 8:00AM - 5:00PM. The purpose of this facility is to maintain an in-house stock of those items frequently used by the different hardware groups. The Stockroom inventory now comprises over 2,400 different items commonly used in a laboratory environment.
Re-ute items are managed by the Stockroom staff and can also be found in the same area by stopping by and completing a walk-in withdrawal for small hand carry items and larger items can be viewed here. As the name implies items withdrawn from Re-ute are at no cost. This is a re-utilization program saving the LAB valuable funding and time.
Any questions should be directed to Christian Whalen (x5899), and Don Brown (x6297 or 7225)