The Verdict is in: Jefferson Lab Rates High in Recent Reviews
Clinton Nominates New Deputy Secretary
Volunteers Spread Word of Lab to Thousands During State Fair
Classes: Great Way to Understand Lab Workings
---
The verdict is in:
Jefferson Lab rates high in recent reviews
Three reviews in as many months is a tremendous amount of effort for any Lab but that's exactly what has happened here since August­the Nuclear Science Advisory Committee Medium Energy Review was held August 3-5 (see August '98 On Target newsletter), the Science and Technology Review was held September 15-17 and the Institutional Management Review took place October 19 and 20. The Science and Technology Review (see September '98 On Target Newsletter) and the Institutional Management Review are held to fulfill requirements in SURA's performance-based contract with the Department of Energy, and the Medium Energy Review was held at the request of the National Science Foundation and the Department of Energy's Office of Energy Research.
Medium Energy Review
The Medium Energy Review focused on reexamining and evaluating the scientific opportunities stated in the NSAC 1996 Long Range Plan. The 1996 plan carefully considered the science priorities that should be established to funding facilities for research. NSAC was also asked to recommend priorities based on the projected funding available to the DOE medium energy program.
The final report, published September 30, stated that "...the highest priority be given to effective utilization of Jefferson Laboratory." The NSAC accepted the report and endorses its recommendations for scientific priorities. The committee members, chaired by James Symons of Lawrence Berkeley National Laboratory, spent two days reviewing the physics of the lab as presented by Lab management and also had the opportunity to hear seven user presentations emphasizing the Jefferson Lab areas of user scientific interest.
The resulting report which recommends that "a modest increase of a few million dollars...would allow more effective utilization of TJNAF (CEBAF) and permit an aggressive program to develop higher energy beams" will be used to help DOE make decisions on how to allocate its funding from Congress for the entire medium energy nuclear physics program.
Institutional Management Review
"Outstanding" was the word used by the committee members on the final major review for the year. The Institutional Management Review focused on strategic planning, managerial effectiveness, and organizational culture and was chaired by Bill Madia, Director of Pacific Northwest Laboratory.
The committee, interested in all aspects of the Lab, heard about the physics program, the FEL, management in the context of DOE missions, the National Lab system, performance based contracts and the local and regional environment. Technology transfer activities, the Lab's K-12 education program, and in-house and community outreach programs were also highlighted.
The closeout session was filled with congratulations on all aspects of the Lab with words of encouragement to increase accelerator availability for the users. The closing remark by Bill Madia was to JLab Director, Hermann Grunder­"tell your staff that this is a great lab filled with great people!"
---
Clinton nominates new deputy secretary
Betsy Moler resigns as DOE deputy
President Clinton announced recently his intent to nominate T. J. Glauthier to serve as the next deputy secretary of the Department of Energy.
If approved by the Senate, Glauthier will succeed Deputy Secretary, Elizabeth "Betsy" Moler, who officially resigned October 19. The deputy secretary of DOE serves as its chief operating officer.
Betsy Moler's October 19 farewell message read:
I am writing to say "so long" to the many new friends and acquaintances I have made here at the Department. I submitted my resignation to the President last week. He has accepted it, and my last day is today. I hope my successor, T.J. Glauthier, will be confirmed as Deputy Secretary this week.
I have had a fascinating, challenging experience as the Deputy Secretary. It has been simultaneously more difficult, and more interesting, than I could possibly have imagined. But after ten years as a Presidential appointee, and almost 30 years as a "fed," I am ready for a change in my life so I am leaving government service.
The range of challenging issues faced by those of you I leave behind is tremendous. I leave with absolute respect for those who continue to be committed to public service and who work on some of the most difficult, intractable issues our Nation faces. I will miss the joy of working on public policy issues. I also know I will miss my new friends...but I look forward to more time with my husband and especially with my children (they're 13 and almost 8) and hopefully, a less frantic pace of life.
Take care and, as they say, "Thanks for the memories."
T. J. Glauthier, of San Dimas, Calif., is the associate director for Natural Resources, Energy and Science in the Office of Management and Budget, serving as the key link between the Executive Office of the President and various departments and agencies including Energy, Agriculture, Interior, NASA, EPA and the National Science Foundation.
Since 1993, Glauthier's responsibilities have encompassed budget development and approval accounting for over $60 billion in annual discretionary appropriations and management of more than 200,000 federal employees. Glauthier is also responsible for coordination between agencies and the executive office of the president on major policy development, budget preparation, and clearance of legislation and congressional testimony.
From 1990-93, Glauthier served as the director of energy and climate change for the World Wildlife Fund where he participated in all international negotiations on the climate change treaty signed at the Earth Summit in Rio de Janeiro.
Glauthier received his bachelor's degree in mathematics from Claremont Men's College and a Masters in Business Administration from Harvard Business School.
---
Behind the wheel
Keep safety in mind while using Laboratory roads
Driving safely is each person's responsibility on public roads as well as on site.
Due to narrow roads and congestion, speed limits are lower on campus than on neighboring side streets. "The speed limit is posted; it varies based upon the road conditions and traffic levels," explained Mike Lewellen, Plant Services coordinator.
Speeds across the Lab range between 10 mph on small side streets and 25 mph on the larger thoroughfares. Bike riders should ride with the flow of traffic and pedestrians should walk on sidewalks or paths when possible. "If you have to walk on the road, try to stay at the very edge of the pavement or on the shoulder and walk facing on-coming traffic," Lewellen suggested. "We also encourage golf cart drivers to move to the edge of the road to give larger vehicles a chance to pass more easily."
Because the Accelerator site is a controlled area it has a few extra rules. The Accelerator main gate is open 24-hours a day; and the back gate on Canon Blvd. is open from 6:30-8:30 a.m. and from 4:30-6:15 p.m. each work day. When entering the Accelerator site, drivers must stop their vehicles and show identification to the guard on duty ã this applies at both the main gate and the back gate.
Identification may be your Jefferson Lab ID badge with a current radiation training strip affixed, or you may show your blue radiation training card and another photo ID.
If you don't have your JLab ID or your blue training card, you can go through the main gate by showing photo ID and asking the Gate Guard to verify your radiation training on the Computer Information System (CIS). However, be prepared for a delay and delaying those behind you if you do this. "Don't do this unless you know you're in the CIS," Lewellen cautioned. "We've had real traffic back-ups develop at the gate when someone isn't in the system and they aren't carrying the proper credentials to access the Accelerator site. This type of access isn't available at the back gate because the guard there doesn't have CIS."
Also, Lewellen reminds everyone on site to turn your headlights off ã but leave your parking lights on when approaching the Gate Guard during hours of darkness. When leaving the Accelerator site slow to 5 mph as you go through the gate.
The main thoroughfare across the accelerator is CEBAF Blvd. and the speed limit on it is 25 mph. There is a new four-way stop at the intersection of CEBAF Blvd. and the MCC access road. If you don't go out to the Accelerator often, pay close attention to the new signs the next time you are out there. "People are still adjusting to them," Lewellen said.
Parking is another on-going issue on site. The ARC, FEL Facility and Physics Storage building have opened up more parking and people are asked to use the lots next to these facilities instead of parking in the grass.
---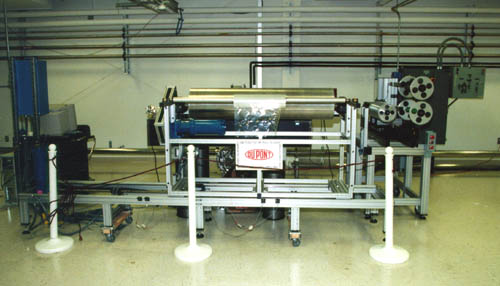 The Free Electron Laser (FEL) lab equipment is coming together. Pictured is the Polymer Processing equipment donated by DuPont and installed in the FEL User Facility. This equipment will be used to study how laser light interacts with polymers and will be used in the first experiment conducted when the FEL goes on-line later this year.
---
JAG prepares for new year
New committee plans new staff activities, sports calendar
by Kevin Crossett
In September, the Jefferson Lab Activities Group (JAG) announced the new executive committee members for fiscal year 1999.
The executive committee consists of four offices: the chair, co-chair, treasurer and secretary. Dave Williams, a designer in the Accelerator Division electrical engineering computer aided design (EE CAD) department, accepted the chair position.
Williams was approached to join the JAG after helping out at various Lab functions. He volunteered to be the committee chair after serving as a JAG member for the past year.
The other members of the JAG executive committee include David Kausch, Plant Engineering, as treasurer and Becky Nevarez, Radiation Control Group, as secretary. Presently, the office of co-chair is empty, and the committee is looking for someone to fill that position.
As part of their duties, the JAG committee has assembled a month-to-month calendar of events. Traditional activities like the popular Run-A-Round are scheduled, and new morale boosters such as a Buckroe Beach party are also slated for next year. Other events, such as the upcoming Oktoberfest are new activities.
The JAG supports a number of organized team sports and sports outings using employee relations money supplied by DOE. The Jefferson Lab soccer team, and softball team, and events like the Jefferson Lab golf tournament have all benefited from this monetary support. In addition, Jefferson Lab enjoys two new basketball backboards & hoops purchased by the JAG - one located at Trailer City and the other in the Physics Storage building parking lot.
If you have an idea you'd like to discuss during the JAG committee's open forum, or if you're interested in information regarding the use of JAG equipment or activities planned for the coming year, check out the JAG web page at www.jlab.org/intralab/committees/jag/index.html.
| | | | |
| --- | --- | --- | --- |
| Member | Area | MS | Ext. |
| Dave Williams, chair | Trailer City | 16A | 7183 |
| Dave Kausch, treasurer | Forestry | 28G | 7674 |
| Becky Nevarez, secretary | ACC | 52A | 7236 |
| Betty Beeler | VARC | 28H | 7491 |
| Kelly Hanifan | CC | 12A2 | 7668 |
| Shannan Kyte | CC | 12B | 7337 |
| Ron Lauze | MCC | 85A | 7186 |
| Ruben Pedroza | VARC | 28D | 7984 |
| Cynthia Sloane | CC | 12G | 7389 |
---
Physics well done
Part Two: Up and cooking (and is it ever busy and crowded in the kitchen!)
by Jim Schultz
Stay in a kitchen long enough, say champion chefs, and you'll realize that meal preparation is as grueling as any intense sporting event.
The same goes for conducting a physics experiment at a major research facility: staff and users must be mentally and physically prepared, equipment must be in place, and an exceedingly complex effort must be efficiently coordinated and managed.
Orchestrating a large banquet can, however, result in a kitchen too crowded to accommodate the chefs, assorted kitchen help and the wait staff. At JLab, user interest has created a similar dilemma. The Lab's administrative complex is simply running out of room.
"Space is a major issue here," says Karen Hokansson, the Laboratory's User Liaison Manager. "We have 381 users assigned space on a permanent basis, with 225 here on any given day, plus at least two dozen outstanding requests for space. During the summer space is a nightmare because you get all the post-docs and a slew of graduate students. It's definitely a challenge."
Fortunately, help is on the way. Room has been made available for the Lab's Accelerator Division next door at the new Applied Research Center, and the Theory Group is slated to move within the next year or so. Once the relocations occur, a number of CEBAF Center offices will be freed, integrating experiment teams and Physics Division staff.
Despite the space crunch, researchers conducting experiments at Jefferson Lab can expect a warm logistical welcome. Although each research team must arrange its own lodging with assistance from User Liaison, the Lab provides work space, accelerator-related equipment and services, labor (for equipment setup and tear-down), data analysis, long distance telephone service, desk supplies, Xeroxing and videoconferencing services. Groups often bring in additional funding, from the National Science Foundation or the Department of Energy, for supplies, equipment purchases (such as specially designed devices for experiments or high-end workstations) and to support other expenses not generally underwritten by the Lab.
In the Kitchen
Despite all of the assistance, physical arrangement of an experiment in any of the Laboratory's three halls remains the most time-intensive element of the research process. Setup can last several weeks or even months, depending on the particular hall and the desired configuration of detection devices that track outcomes of the subatomic collisions occurring during a given experiment. Specialists must also make sure researchers are using the right "trigger:" custom software that instructs monitoring computers how and when to record particle-detection events deemed significant.
At the heart of every experiment is an analysis of the subatomic debris generated by the high-energy collisions between the accelerator's electron beam and a target material usually comprised of supercooled, liquefied hydrogen or ammonia gas. Although the target is relatively minuscule, at two cubic centimeters in size, it requires precise and constant cooling from room-size refrigeration apparatus.
"Setting up an experiment involves a number of tasks: controls, computers, targets. It gets pretty wild," says Hall B beamline coordinator Arne Freyberger. "The crucial thing is scheduling and preparation. The better organized you are, the smoother everything runs."
Once a team of a dozen or so Lab technicians have completed equipment and target installation, the experiment begins. Electron beam is funneled to the experimental hall, a process intended to continue without interruption 24 hours a day for the experiment's duration. In practical terms, Freyberger says that because of the complexity of the systems and subsystems supporting accelerator operation, constant beam delivery is not yet possible. "We often achieve pretty good efficiency," he says. "But, we are still debugging a number of systems. With a bit more time and manpower we'll get it straightened out. We're getting there."
Cooking gets underway
As the experiment proceeds, a monitoring center known as the "Counting House" becomes home to those overseeing the experiment's progress. Graduate students normally draw this assignment which, like the experiment itself, is an around-the-clock job. Moreover, at least a dozen experts/troubleshooters - experiment team members as well as personnel from the Lab - are on constant call for as long as the experiment is up and running.
Preparing the users for their experiment's run is a difficult and complicated task. "What you try to present to the people in the Counting House is something that makes it easy for them to know the status of their experiment," Freyberger says. "If you suddenly start getting paged a lot, you may realize your system isn't very user friendly, your documentation isn't as good as you assumed and your [software] code isn't as bug-free as you thought. So you work doubly hard to improve all of those things."
After weeks or months an experiment runs its course. The work in the physics "kitchen" is done. The "feast" - data from the investigation - must now be digested and analyzed. How will the physics "meal" be served? Will it be perfectly cooked? In fact, it may not be what was ordered, or even what appeared on the menu.
Find out what happens in The Feast Enjoyed: Part Three of Physics Well Done to be published in next month's On Target. decided that we as individuals could make a contribution..."
Part One: Mastering the menu (or how to get an experiment cooking!)
---
Lab postpones FEL dedication; plans Spring open house
The Free Electron User Facility dedication originally planned for this fall has been postponed until the spring of 1999.
A specific date for the event hasn't been set, but it is tentatively scheduled for sometime in March. The Director's office hopes to announce a new date in the next few months.
The Director's office is also tentatively planning a Jefferson Lab Open House in late April. It has been a few years since the Lab has held a public open house, and the accelerator shutdown planned for April 20 through May 20 will provide the opportunity to hold this event.
The Lab will need many volunteers to help with both of these major events. Volunteers will be needed to escort VIPs and media, act as tour guides, give cryogenic demonstrations and staff information booths. Please pencil these events onto your calendar; the Public Affairs office will provide updates and a call for volunteers as more information becomes available.
Education announces Science Series events
The Jefferson Lab Education staff is sponsoring two Science Series presentations this fall.
On Tuesday, November 3, Andrew Post-Zwicker, from the Princeton Plasma Physics Lab will discuss fusion. He will be followed by Chris Eckstrom, from the U.S. Naval Observatory, who will examine the Physics of Time Keeping on Tuesday, December 15.
Both presentations will begin at 7 p.m. in the CEBAF Center auditorium on their respective nights. The lectures are free and open to the public.
BEAMS up and running in new school year
The Education staff have kicked off a new school year. BEAMS, or Becoming Enthusiastic About Math and Science, started October 12. "We had a nice turnout during our BEAMS Volunteer Fair held in September, but we are always looking for additional activity presenters and pre- and post-visit volunteers," said Stacy Ring, education technician. "Come sit through an activity to see if you¹d like to become a BEAMS volunteer."
The Education program expanded this year, and in addition to inviting local sixth-grade classes out for BEAMS, former BEAMS students are now being invited back during their seventh- and eighth-grade years.
Anyone interested in volunteering for an activity, or just finding out more about the Education programs, may call Lisa Surles-Law at ext. 5002.  
All CLAS! The CEBAF Large Acceptance Spectrometer was opened for maintenance recently. This photo shows the carriages in their "retracted" or opened position exposing the Large Angle Time of Flight (LATF) detectors and the ultra-thin, carbon fiber backing of the Region III drift chamber (visible surface on the orb). You can also make out some of the frame holding the two stainless steel rods used to suspend the nearly 21-foot in diameter detector.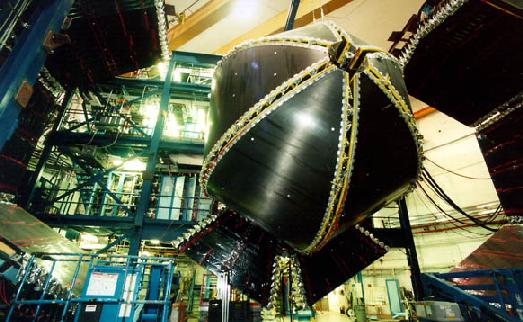 ---
Volunteers spread word of Lab to thousands during State Fair
A sincere thank you from the Director's Office and its Public Affairs staff to everyone who helped make the Jefferson Lab exhibit at the State Fair a hit among fair goers this year!
Nearly 300,000 of the half-million people attending the State Fair went through the Commonwealth Technology building. Over the course of the 11-day event nearly 40 volunteers staffed the Lab's booth, answered the public's questions, and gave cryogenic demonstrations. This was the Lab's fifth year participating at the State Fair.
"Thanks to all for understanding the importance of public outreach and helping us spread the word about Jefferson Lab's science, mission and goals," said Linda Ware, Lab Public Affairs manager. A special thanks to Jan Tyler and the education staff for developing and preparing all of the materials for the booth. The Periodic Table book covers and the tangram puzzles received many compliments from fair goers!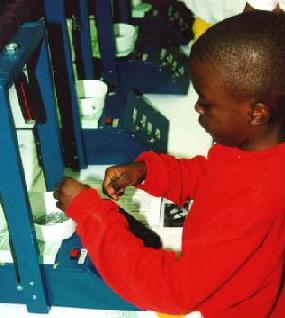 Fair Volunteers
Greg Adams
Phil Adderley
Joe Beaufait
Nicole Black
Brian Buss
Karel Capek
Lynne Chamberlin
John Chamberlin
Anthony Cuffe
Mike Epps
Steve Gagnon
Alan Gavalya
Helen Hall
Tom Hassler
Sarah Ingels
John Kelly
Mahbub Khandaker
Brian Kross
Danny Lloyd
Debbie Magaldi
Tony Magaldi
Joyce Miller
Manny Nevarez
Sandy Philpott
Chip Piller
Janet Prater
Stacey Ring
Kim Ryan
Scott Schwahn
Jackie Smith
Lexa Smith
Mary Beth Stewart
Ken Surles-Law
Lisa Surles-Law
Janet Tyler
Dave Walker
Linda Ware
Mark Wissmann
Mike Zarecky
---
Classes:great way to understand Lab workings
The Lab's lunch-time, general staff development courses continue through November 19. The weekly presentations are designed to provide the Lab community with a deeper understanding of Jefferson Lab's scientific mission.
Upcoming sessions include:
Hall A non-technical presentation in the VARC, room 47, from 11 a.m.-12:30 p.m. on November 25, presented by Kees deJager;

POSTPONED - Hall C non-technical presentation in CEBAF Center, rooms L102/104, from 11 a.m.-12:30 p.m. on November 19, by Roger Carlini.
Other presentations scheduled for November include: Accelerator Operations, Stockroom Procedure, Accelerator Electronic Support, and Windows 95/NT and Microsoft Office 97 training.
To enroll in any of these classes, call ext. 7128 and leave your name, phone number, group/division, and the name of the class you wish to enter. Or you may go to the Staff Development & Training website at www.jlab.org/div_dept/train/ to register for any of these classes, as well as EH&S training or special programs.
Editor's note: If you have or know of a website that could be informative or useful to Jefferson Lab staff, call the public affairs office at ext. 7689 or e-mail Linda Ware ware@jlab.org
This month we're spotlighting the Jefferson Lab news page. Check out www.jlab.org/news to find out what's going on at the Lab, as well as read up on SURA and DOE news highlights. Get the latest information on timely topics such as the Lab's flu shot schedule, the United Way Campaign and upcoming seminars. Pull down your own copy of the NSAC Report on Medium Energy Physics (listed under the Current News link) or catch the Lab's classified ad listing or job listing. The page also gives you quick access to the new kid's page, the Grapevine, and staff memos.
If there is information you would like to have added to the news page, contact Linda Ware, or Karen Hokansson in the User Liaison Office. A big thanks to everyone in the User Liaison Office for the re-designed Jefferson Lab web site!