The Center for Theoretical and Computational Physics pursues a broad program of theoretical research in all areas of quantum chromodynamics (QCD) and hadron physics, promoting and supporting the physics studied at Jefferson Lab and related facilities around the world.
The center provides opportunities for postdoctoral fellows to develop professionally, trains Ph.D. students, supports a strong visitor program, and advises the laboratory on the scientific merit of its program and plans for future development.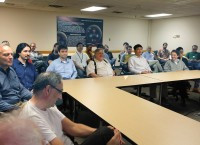 Nobuo Sato, the current Nathan Isgur Fellow in Nuclear Theory at Jefferson Lab, has been awarded a 2020 DOE Early Career Award. The five-year award will be used to develop the next generation of QCD global analysis for hadronic physics, to assimilate information about quantum correlation functions (PDFs, TMDs, GPDs) from experimental data. (Details to follow.)
See the Theory Center's most recent Monthly Highlights.