The Center for Theoretical and Computational Physics pursues a broad program of theoretical research in all areas of quantum chromodynamics (QCD) and hadron physics, promoting and supporting the physics studied at Jefferson Lab and related facilities around the world.
The center provides opportunities for postdoctoral fellows to develop professionally, trains Ph.D. students, supports a strong visitor program, and advises the laboratory on the scientific merit of its program and plans for future development.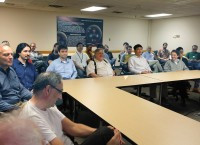 ONLINE THEORY SEMINAR
Previous presentations available at https://www.jlab.org/theory/seminars/theorysem
BlueJeans connection: https://bluejeans.com/801786278
Monday, August 10, 9:00 AM
Pia Zurita (University of Regensburg)
Parton Distribution Functions in nuclei: status, recent work and future collider
Monday, August 24, TBD
Simone Rodini (Pavia University and INFN)
Monday, August 31, 1:00 PM
Yacine Mehtar-Tani (Brookhaven National Lab)
Monday, September 7, TBD
Bastian Kubis (Bonn University)
Monday, September 14, TBD
Glòria Montaña (Universitat de Barcelona)
Monday, September 21, TBD
William Jay (Fermilab)
Nobuo Sato, the current Nathan Isgur Fellow in Nuclear Theory at Jefferson Lab, has been awarded a 2020 DOE Early Career Award. The five-year award will be used to develop the next generation of QCD global analysis for hadronic physics, to assimilate information about quantum correlation functions (PDFs, TMDs, GPDs) from experimental data.
See the Theory Center's most recent Monthly Highlights.
Positions in the Jefferson Lab Theory Center involve research in theoretical hadronic and nuclear physics that motivates and supports Jefferson Lab experiments at 12 GeV and beyond. Stay tuned for new announcements regarding future positions.