See below for recent highlights of transversity PDFs in JAM.  Click images for enlargement.
THE ORIGIN OF SINGLE TRANSVERSE-SPIN ASYMMETRIES
The Jefferson Lab Angular Momentum (JAM) Collaboration has performed the first global analysis of transverse-spin asymmetry data from semi-inclusive deep-inelastic scattering, Drell-Yan lepton-pair production, electron-positron annihilation into hadron pairs, and proton-proton collision experiments. The study demonstrated that multi-parton correlations in the hadronic wave function are the common origin of such observables. In addition, the analysis was also able to achieve, for the first time, the phenomenological agreement with lattice QCD calculations for the up- and down-quark tensor charges of the nucleon, which can be further better by the proposed SoLID experiment at the lab.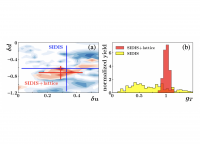 FIRST MONTE CARLO GLOBAL ANALYSIS OF NUCLEON TRANSVERSITY WITH LATTICE QCD Constraints
The first global QCD analysis of the quark transversity distributions in the nucleon has been performed, using a new Monte Carlo method based on nested sampling and constraints on the isovector tensor charge gT from lattice QCD. A simultaneous fit to the semi-inclusive Collins asymmetry data is compatible with gT values extracted from a comprehensive reanalysis of existing lattice simulations, in contrast to previous analyses which found significantly smaller gT values.  The contributions to the nucleon tensor charge from u and d quarks are found to be Δu = 0.3(2) and Δd = -0.7(2) at a scale Q2 = 2 GeV2 .