Sue Witherspoon can Handle Anything - Even Earthquakes!
Local businesses work to keep CEBAF running
CEBAF staff lend a hand to design competition
Record Number Finish Run-A-Round
CEBAF dedication on track for May 24
New homepage for SURA/CEBAF Residence Facility
Madison wins full scholarship
A problem that's not going away
Take Our Daughters (and Sons!) to Work Day
Senator John Warner Visited the Laboratory
---
CEBAF Close to Full Operation
CEBAF reached another developmental milestone on April 18, 1996. At 12:02 a.m., Hall A received beam for the first time. At 62 minutes from the start of the process, 12 microamps of one pass 845 million electron volts beam hit the Hall A target. The beam was run for several hours in order to perform beamline diagnostic testing. This test brings the facility one step closer to the stage when beam will run simultaneously to all three experimental halls.
Beam will run through the hall around May 20th to test the electron arm During the beam's run, testing included making sure the beam ran through the machine and then dumped correctly, checking for leaks in the various vacuum systems, and that safety and interlock systems operated properly. Efforts are now focused on the installation of the detectors including pouring of the concrete for the detector huts and laying of thousands of feet of cable.
Beam will run through the hall around May 20th to test the electron arm spectrometer and again once the detectors have been installed. Hall A is expected to become fully operational by the end of the year.
Ed Folts, Hall A Technical Coordinator, believes that the construction of the hall has been the most challenging CEBAF project he has worked on. "This project is just so enormous. Right now we are at the big push at the end where we are trying to deal with all the little things that were left for later because of higher priorities. The fact that the hall was ready two days before beam was scheduled, is a testament to the great attitude of teamwork that is prevelant throughout CEBAF," Folts says.
---
WORKING IT OUT
Sue Witherspoon can Handle Anything - Even Earthquakes!
Sue Witherspoon of the Accelerator Division loves her job as a Computer Scientist at CEBAF. As a member of the high-level applications software controls group, Witherspoon has the chance to work closely with other programmers. Her group developed a computer program called ARTEMIS, a multi-user beam optics simulation package. Witherspoon's group uses ARTEMIS for machine studies and analysis and for automating accelerator controls. Witherspoon is currently using ARTEMIS to develop an automated steering package for the beam. "As a group, we work on the same project. But I can take my part, go work on it, and then integrate it with what everyone else is working on," says Witherspoon. "I love the teamwork aspect of my job."
Witherspoon enjoys working in the scientific field and appreciates the challenges that arise on occasion. "One of the unique things about being in the software group is that we all go on call periodically. When you are on call, you are the point person for all kinds of problems-whether you have worked on that project or not," says Witherspoon. "The support I get from the software group enables me to solve the problems that the physicists have. It's very rewarding when I have a solution to their problem."
In order to work in the software group and with physicists, Witherspoon says having an understanding of the science at CEBAF is important. "The physicists really help me a lot in learning about physics. It truly is an on-going process says Witherspoon. To learn the fundamentals of accelerator physics, she attended an Accelerator School in Los Angeles in 1994. The experience was more than memorable. Witherspoon happened to be in Los Angeles when a major earthquake hit. "I was in my hotel on the 12th floor, and I was awakened out of my sleep. Things were crashing around me, and I was absolutely terrified," says Witherspoon. "Needless to say, I won't be going back to Los Angeles anytime soon."
Witherspoon became interested in computers while studying engineering at Old Dominion University in Norfolk. She was awarded a government fellowship and spent her summers while in college working at the U.S. Department of Commerce. Witherspoon was assigned a job designing a basic FORTRAN program. Witherspoon's experience prompted her to change her major from engineering to computer science.
After graduating from ODU, Witherspoon took several jobs, including a stint as a Systems Analyst at Simulations Associates. "That particular job offered me the chance to travel. I also got an introduction to state-of-the-art ideas and machinery," says Witherspoon.
Being a woman computer scientist in a male-dominated field has pushed Witherspoon to overcome some obstacles in her career. "When I am faced with what could be a problem, I adjust and move on," says Witherspoon. "A lot of times we dwell on our obstacles. I choose not to dwell on what I can't do. There is nothing you can't do if you want to do it."
One of the things Witherspoon enjoys about working at CEBAF is the diversity. She feels that having a diverse employee population benefits the science being accomplished. "With a diverse population, you get a broader scientific outlook," says Witherspoon. "It also makes for great lunch room conversation."
---
GOOD NEIGHBORS
Local businesses work to keep CEBAF running
CEBAF's "continuous" operation is made possible in part by a number of local businesses which provide everything from paper for the supply room to integrated electrical circuits for the experiment halls. One of the things that brought the laboratory to Newport News was support from the local community, and the local business community has not let CEBAF down.
"We do everything we can to make their job a little bit easier," says Linda Stephens, owner of Stephens Office Supply in Poquoson. Stephens recently won a one-year contract to provide more than 200 office items for the supply room at CEBAF. The company has been filling orders for office supplies, from paper and pens to furniture, for CEBAF since 1987. "We hope we satisfy CEBAF's needs. That's why we're here."
One could say that Empire Machinery and Supply Corporation in Hampton is really the "nuts and bolts" of CEBAF. Pasty Sorey of Empire's Sales Department comes to CEBAF once a week to make sure that the stock room is supplied with plenty of fasteners in all shapes and sizes. Empire is not just about nuts and bolts. They also provide things like pipes, valves, hammers, saws and tape measures. "We must be doing something right, because they renewed our contract," says Sorey. Empire initially won the industrial supplies contract for one year, and the agreement was renewed for a second year when that term expired. So, how important is Empire to CEBAF's operation? Just ask Bill Brisiel in the stock room. "Empire provides every bolt we use here at CEBAF," says Brisiel.
While operating, CEBAF requires as much power as would be consumed by 16,000 homes, so imagine the need for electrical supplies. For nearly a decade, APG Electronics of Newport News has been supplying integrated circuits, resistors, wire, switches and more to CEBAF. Upon request, APG fills requisitions for all kinds of industrial electrical supplies. Stan Eagle, APG's manager, characterized what he called a good relationship with CEBAF with the following, "CEBAF has a reliable local supplier where service is par excellence and APG receives business, which makes the world go 'round."
Whether it is in the Machine Control Center, which monitors and controls the accelerator, or in any of the offices around CEBAF, computers are a large part of everyday operations. Some of the computer equipment at CEBAF may be among the world's most advanced, but it still relies on simple supplies such as diskettes, computer paper and backup tapes. Virginia Impression Products' Virginia Beach branch has been providing those supplies to CEBAF for just over one year. Based in Richmond, the company may not be considered a local business, but it illustrates the kind of lure CEBAF has throughout the Commonwealth of Virginia. Tom Brannan, Regional Sales Manager, says, "The contract with CEBAF is important to Virginia Impression Products, as it has helped us establish a foothold on the Peninsula. It helps to have a large account like CEBAF when we compete for additional business, especially with defense contractors."
Elizabeth Sarrett, Director's Office
---
Talking Science to the People
Gail Dodge believes that science should be appreciated by everyone, and not just scientists. She also believes that anyone seeking a higher education should attain a basic scientific literacy. As an assistant professor at Old Dominion University (ODU), Dodge is in an excellent position to put these beliefs into action.
At ODU, she teaches a class called "Elementary Physics" which is taken by non-science majors to fulfill a science requirement in their curriculum. Dodge has structured the course based on what an educated person should know about physics. "I want the student to not only know the basics of physics, but to have general knowledge of what's going on in physics research today. I also want them to see how the principles they learn apply to everyday life," she says.
Dodge tries to keep the class centered on current physics issues by discussing such topics as fusion energy research and nuclear energy. Some of her topics are able to grab the students' attention and produce a lot of class participation, such as the time she discussed radioactivity and whether or not they should be afraid of it.
Her own interest in physics began her senior year in high school when she took a class which combined physics and calculus. The course was taught by the late Dr. William Alston, a doctor in experimental nuclear physics. Dodge credits Alston for introducing her to physics because of the special class he formed for a few interested students. "He was an amazing man. Not only did he teach, but he ran a catering business, sang in the Yale Russian chorus, and supervised a physics club which did all kinds of wacky things," says Dodge. In Alston's class, Dodge learned to love how math and physics work together. This experience helped her in choosing her college major.
The summer before her senior year, Alston helped Dodge to get an internship at the MIT-Bates Linear Accelerator. The program paired her with a professor from Boston University who she assisted in conducting research.
After high school, Dodge received an undergraduate degree from Princeton University and completed her graduate degree at Stanford University. Location played a decisive role in her choice of colleges. "I like to travel and California was one place I always wanted to go, so Stanford seemed like the right place for me," she says.
With that traveling spirit in mind, Dodge went on to do her post-doctoral work at the National Institute for Nuclear and High Energy Physics (NIKHEF) located in Amsterdam. Much of her work there centered on the construction of a detector that would detect low-energy recoiling nuclei. Working in a foreign land was exciting for Dodge even though she never mastered the language. "I tried to learn as much Dutch as I could. I got to the point where I could say the basic things that would help me get along, but I never became fluent enough to have a meaningful conversation with anyone," Dodge says.
Dodge splits her time between teaching at ODU and working at CEBAF where her work is also focused on detectors. Currently, she is involved in the construction of the region two drift chambers for Hall B. Like many of her associates, Dodge is enthusiastic about working at CEBAF, because it is a new facility. "It's great to be able to contribute to a project of this size when it is just starting out," she says. "The only down side is you might not get immediate feedback from your project, since it might be a while before the equipment is used."
When Dodge is not teaching or conducting research, she enjoys playing tennis. She is currently taking lessons to improve her game. This summer, Dodge will travel back to NIKHEF to participate in experiments which will utilize the recoil detector that she constructed. "I'm really looking forward to going back to Amsterdam, not just because of old friends, good cheese, and bad weather-it's just nice to change gears and work on something different once in awhile," says Dodge.
David Ellis, Director's Office Intern
---
"Egg"-strodinary Success
CEBAF staff lend a hand to design competition
Figuring out how to transport a raw egg into a hole three inches in diameter from a distance and height of three feet without it breaking is quite a feat.
Mark Wissman of Project Management and Ken Law of the Accelerator Division led teams of students from area middle schools to answer that challenge on Saturday, March 30, 1996. Wissman and his team of students won first place in the junior division at the Peninsula Engineering Design Competition held at Christopher Newport University (CNU). The competition was sponsored by Virginia Quality Education in Science and Technology (V-Quest) and the Peninsula Engineers Council (PEC).
Students were nominated for the project by their teachers and were matched with engineers from the PEC and the community. Wissman mentored a group of students from Dozier and Gildersleeve Middle Schools. He became involved in the competition last year when CNU called CEBAF looking for volunteers. "I decided to get involved because I enjoy science and kids," says Wissman.
Wissman met with his students eight times prior to the competition. At these meetings they worked hard to come up with the winning design. "The materials used in your design had to cost less than $5.00. Our design used a cardboard box, coat hangers, a Styrofoam cup, and rubber bands," says Wissman.
The competition is designed to give students hands-on experience in confronting problems that require a scientific approach and an engineering solution. Wissman says that the students benefit in many ways from the experience. "They gain exposure to real engineering, math, and science," says Wissman. "It teaches them perseverance and team work."
Ken Law, an Accelerator Operator also mentored a team of area students. Law's team from James Blair and Reservoir Middle Schools won fourth place in the junior division. Law was asked by the CEBAF's Science Education group to volunteer, and he enthusiastically agreed to help. "I feel that many people complain that young people are going in the wrong direction. This competition is a great way to lead kids in the right direction-towards education and problem solving," says Law.
Law appreciates the competition because it gives the children exposure to real life problems and to adults. "It helps the kids learn how to compete. They learn that they can't always be in first place, but that they can take pride in the job that they have done," says Law.
Law's group of students showed a lot of interest in his job here at CEBAF. "They asked me questions about physics and being an Accelerator Operator," says Law. "They also asked me about college. I tried to tell them that they need to start preparing for college now."
Rebecca James, Director's Office Intern
---
RUNNING TO WIN
Record Number Finish Run-A-Round
CEBAF kicked off the 11th Annual CEBAF Run-A-Round on May 1, 1996. Participation at the event increased greatly over the last year. Seventy staff members volunteered to help keep things running smoothly. Out of 373 registrants for the Run-A-Round, a record 316 crossed the finish line. Four teams competed in the ever-popular Relay Race. The day was capped-off at the SURA/CEBAF Residence Facility with a Bratwurst and Barley Bash and an awards ceremony with music provided by the band, Prophytt.

Overall Male:    Matthew Bickely, Accelerator-7:02

Overall Female:  Carmenza Reece,  Administration-9:23

Relay Race
Winning Team -   Phil Adderley,   Accelerator-2:57
                 Jim Clark,       Physics
                 Esten Monsaline, Guest
                 Sandy Prior,     OTP

Men 12 - 29
1st              Robert Glenn,    OTP-9:18
2nd              Scott Windham,   Physics-9:19
3rd              Thomas Darling, Jr., Administration-9:53

Men 30 - 39
1st              Pete Markowitz,  Physics-7:35
2nd              Andrew Weisenberger, Physics-7:45
3rd              Walter Akers,    Accelerator-7:52

Men 40 - 49
1st              Elton Smith,     Physics-7:03
2nd              John Lerose,     Physics-7:39
3rd              George Neil,     Accelerator-8:01

Men 50 - 59
1st              James Clark,     Physics-8:33
2nd              James Coleman,   Administration-8:56
3rd              Tom Hassler,     Accelerator-9:06

Men 60 - 69
1st              Bobby Barbour,   Accelerator-12:35
2nd              Hermann Grunder, Director's Office-13:59
3rd              Tom Jeffords,    Administration-15:30

Women 12 - 29
1st              Kisha Parrish,   Administration-11:25
2nd              Nicole Reed,     Administration-11:42
3rd              Tong Wang,       OTP-12:25

Women 30 - 39
1st              Nanette Phillips, Administration-10:16
2nd              Marie Keesee,    Accelerator-11:22
3rd              Susan Stanley,   Physics-11:26

Women 40 - 49
1st              Sandra Prior,    OTP-9:28
2nd              Beverly Hartline, OPM-9:41
3rd              Missy Hennessey, Administration-11:41

Women 50 - 59
1st              Elsa Adrian,     Physics-18:22
2nd              Merle Rivas,     Administration-19:35
3rd              Martha Bennett,  Physics-21:56

Best Overall Guest:  Derek Van Westrum, Physics-7:27

Director's Award:  Administration Division-49 points

Spirit Award:  Administration Division-91 percent participation


Jim Coleman accepts the Spirit Award for the
Administration Division from Hermann Grunder.

 

Carl Bennett passes the baton to Melvin Washington during the relay race.

 

The Physics Division took first place in the Golf-Cart parade with their entry: "The Ride of the Physic's Valkrie."

A race participant displays the winning T-shirt design,
created by the User Liaison Office.

 

Lawrence Ferbee lays back in exhaustion after completing the 1.34-mile run.

 

 
---
BRIEFLY . . .
CEBAF dedication on track for May 24
Come celebrate CEBAF's dedication on Friday, May 24, 1996. This is a momentous occasion for our facility. It celebrates and recognizes the many hours of hard work by all of us that have made CEBAF a leader in the scientific community. It is a chance to showcase the talent and dedication of our staff. We want to recognize the accomplishments of all the staff and hope you will help us celebrate the beginning of a new era of experimentation for CEBAF.
The day begins with the dedication ceremony at 12:30 p.m. with keynote speaker U.S. Secretary of Energy Hazel O'Leary. A catered Pig Pickin' is open to all attendees as are site tours. Come help us celebrate this significant milestone in CEBAF's history!
New homepage for SURA/CEBAF Residence Facility
Thanks to CEBAF's User Liaison Office, the SURA Residence Facility now has a home page on the World Wide Web, at:
http://www.jlab.org/user_resources/travel/accom/res_fac/
From the facility's website you can:
read about the facility and its amenities (complete with pictures)
request a room reservation on-line
find out about guest room availability in the coming weeks
see a list of upcoming events ( when the facility is likely to fill up quickly)
Comments and suggestions are welcome-please contact Julie Leverenz at ext. 7642 or e-mail at leverenz@jlab.org.
Madison wins full scholarship
Michael Madison, a CEBAF intern in the User Liaison Office, has been awarded the Meyerhoff Scholarship by the University of Maryland Baltimore County (UMBC). The scholarship will pay 100 percent of tuition, fees, and books for Madison to receive his undergraduate and graduate degrees through the Ph.D. level.
Madison was selected as one of 200 finalists based on his application materials, and then attended a weekend of placement testing, interviews, and observation at UMBC. Madison currently attends Bruton High School in Williamsburg and will graduate with honors in June.
---
Hepatitis B:
A problem that's not going away
Human immunodeficiency virus (HIV), the virus that causes AIDS, claims most of the infectious disease headlines. There is another virus, however, that has been around longer, is transmitted in many of the same ways, survives longer outside the body, and which accounts for far more illnesses than HIV. It is the hepatitis B virus or HBV.
HBV causes both acute and chronic inflammation of the liver. Acute hepatitis results in flu-like illness, severe fatigue, fever, jaundice, and other symptoms. Chronic hepatitis often results in progressive scarring of liver tissue (cirrhosis), and it may lead to liver cancer or liver failure. People can be exposed and carry the virus without symptoms for long periods of time.
Because of its higher prevalence in the population, and its viability outside the body, HBV is actually a greater infection threat than HIV to people who are occupationally exposed to bloodborne pathogens. "Universal precautions" for handling blood products and sharps were developed long before HIV appeared on the scene. They are still used today because they are effective for all infectious bloodborne organisms, including HBV and HIV.
Several years ago, a vaccine series became available for HBV, and people who have potential occupational exposure (health care professionals, medical laboratory workers, janitorial workers in some environments, etc.) are given the option of receiving the vaccinations as a preventive measure. The vaccines are also effective if taken immediately after exposure, but there is a small chance that exposure can occur undetected, and preventive vaccination is recommended for anyone at risk.
There are many non-occupational mechanisms for transmission of HBV, including receiving tainted blood transfusions or blood products such as clotting factors, though blood supplies in this country are screened for HBV. Other mechanisms include sexual contact with hepatitis B carriers, and exposure to HBV-contaminated blood or other body fluids. By the way, this can come via shared use of toothbrushes and razors.
There are countries where the prevalence of HBV is higher than in the U.S., and the Centers for Disease Control lists travel to these areas as one reason to consider vaccination as a precautionary measure. The vaccination series is now available from CEBAF Medical Services at no cost to you. It is a series of three vaccinations over a six-month period, so plan ahead if you wish to use this service. The vaccine will only be ordered upon request from an employee, so please call Medical Services (249-7539) if you desire to take the vaccination.
Medical Services also provides confidential information about personal risk factors and will answer any questions you may have.
John Kelly, Administration Division, EH&S Officer
---
Take Our Daughters (and Sons!) to Work Day
The sounds of clapping and laughter could be heard in the CEBAF Center Lobby on the morning of Thursday, April 25, 1996. CEBAF was invaded by 82 girls and boys who came to participate in National "Take Our Daughters to Work Day." For the third year, CEBAF staff were encouraged to bring their daughters, and for the first time, their sons, ages nine to 15 to CEBAF for the day.
Julie Leverenz, coordinator of the event, says, "The Planning Committee decided to include boys because they could benefit from learning about the opportunities available to women, too. Also, the exciting science being done at CEBAF is fascinating to everyone."
Many CEBAF staff participated by escorting the children from activity to activity or serving as mentors who spoke to the children about their jobs at CEBAF. "I like the idea that these kids are exposed to different careers early on. I didn't have that opportunity when I was their age," says mentor Milissa Kleinfelder of the User Liaison Office.
The children were treated to special activities including a trip to Medical Services where they were shown the various equipment used in a medical examination. They also ventured to the Machine Control Center where Alicia Hofler, a computer scientist in the Accelerator division, taught them how to run beam. An all time favorite of the children was a trip inside the Hall B Clean Room in the EEL building where they learned how to string drift chamber wires.
Thomas Price, a 3rd grade student at Newsome Park Elementary School, says his favorite part of the day was the Clean Room. "They let us dress up, and we got to keep the hat and gloves we wore. It was cool," says Price. Niamh Crist's favorite activity was in Karen White's office in the MCC. "They took our pictures on the computer and then gave us a printout of it," says Crist, who wants to pursue a career as a veterinarian.
Another high point of the day was a liquid nitrogen demonstration by the Science Education technicians. The children were allowed to place a carnation in the liquid nitrogen and watch it crack as the water froze the leaves of the flower. From there, the children went to the Library where Eloise Morgan showed them how to track books in libraries across the country using a computer.
The day's activities ended with a panel discussion in the Auditorium in CEBAF Center. Rhonda Shields, Staff Attorney, Lia Merminga, Staff Scientist, and Robin Cowherd, Director of Human Resources and Services, discussed their careers, education, social lives, and a variety of other topics with the children. One question that was asked by several students was, "How can I get a job at CEBAF?" Robin Cowherd told the students to stay in school, study as much math and science as possible, and apply to the summer internship program for high school students when they reach sixteen.
Leverenz says the importance of "Take Our Daughters to Work Day" is to stress to the children the broad range of careers available to women. "I hope the children gained a broader appreciation of the kinds of careers open to women, especially in math and science," says Leverenz. "We impressed on them how important it is for everyone to have a solid grounding in math and science, and I hope that at least some of the girls were inspired to follow in the footsteps of the women they met here."
Rebecca James, Director's Office Intern
---
Senator John Warner Visited the Laboratory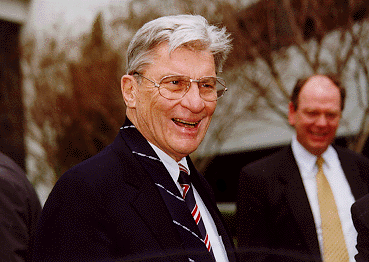 On April 12, 1996, long-time CEBAF supporter Senator John Warner visited the laboratory. During his visit, Warner toured the site including the north linac, Halls A and B, and the test lab. The Senator also took time to meet with local business leaders associated with the Newport News NOW organization. At the end of the tour, CEBAF Director, Hermann Grunder, presented Warner with a necktie emblazoned with the CEBAF logo.