Diversity, Equity, Inclusion and Accessibility (DEIA) Statement from the Director
Fostering an inclusive work environment encourages collaboration across the community, leads to a greater exploration of ideas, and is key to the success of the Lab's mission. DEIA should be embraced in all forms, placing emphasis on positive experiences for our employees, users, and all others that work or visit the Jefferson Lab campus. In all instances, we must strive to hold ourselves accountable and lead by example.
I call for everyone within the Jefferson Lab Community to exemplify the values of professionalism and respect, as well as cultivate a supportive environment where we acknowledge the opinions of others, enhancing scientific discourse with every exchange.
The goals of the Diversity, Equity, Inclusion and Accessibility Program are to:
Intentionally create and sustain a professional, ethical, and respectful work environment in which everyone contributes to the Lab's mission while striving for a fully inclusive workplace. This includes deliberate and thoughtful engagement with colleagues.

Build and maintain an exceptional workforce that reflects our community. This may require stepping outside of comfort zones to encourage and listen to perspectives dissimilar to our own, giving everyone an opportunity to be heard and understood.

Maintain transparency in our communications. Actively promote results and successes in building a diverse and inclusive environment and propose improvements in any areas where we fall short.

Increase diversity within the Lab and the broader scientific/engineering communities in the nation by recruiting, retaining and developing a diverse and talented workforce, while fostering a diverse STEM pipeline through progressive science education and community outreach programs.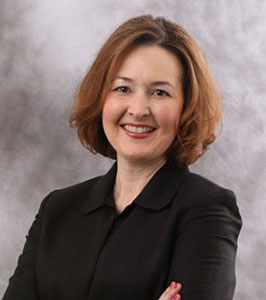 Rhonda Barbosa
HR Director
Jefferson Lab
"DEI is about keeping Jefferson Lab competitive. It will prepare us for new ways to attract, retain, motivate and embrace previously untapped perspectives, so we can remain leaders in the advancement of science in the nation."
-R. Barbosa
Aurora Realin
DEI Program Manager Jefferson Lab
"Jefferson Lab's desire to become an inclusive organization will pave the way for creativity and innovation as we advance our mission of scientific discovery. With committed collaboration and partnerships internally and with the community we serve, we can continue to learn and grow and move the needle forward for diversity, equity and inclusion. Together, WE can do it!"
-A. Realin
Any questions, please contact Aurora Realin, DEIA Program Manager.
---
Jefferson Lab is committed to fostering a culture of diversity, equity, inclusion, and accessibility internally, in the DOE and National Lab System, and in our community.
Our definitions for Diversity, Equity, Inclusion and Accessibility are as follows:
Diversity - Achieve and sustain a workforce composed of qualified people who proportionally represent the diverse populations that contribute to the advancement of science.  
Equity - Achieve and maintain an organization where all are treated fairly and provided equal access to opportunity and advancement.    
Inclusion - Achieve and uphold a professional, ethical, tolerant and respectful work environment in which everyone can contribute to the mission according to their talents.
Accessibility - Achieve and provide equitable access to facilities, information and communication technology, programs and services so that all people, including those with disabilities, can utilize and fully participate in.  
March is Developmental Disabilities Awareness Month  

Since 1987, President Ronald Reagan designated the month of March as National Developmental Disabilities Awareness Month to promote the dignity, equality, and self-determination of all individuals with such disabilities. Every March, the National Association of Councils on Developmental Disabilities (NACDD) and its partners collaborate to lead Developmental Disabilities Awareness Month (DDAM). The campaign seeks to raise awareness about including people with developmental disabilities in all facet of community life, create awareness of the difficulties that people with disabilities still face today, and highlight how people with and without disabilities come together to form strong communities. DDAM raises awareness of the inclusion and contributions of people with developmental disabilities in all aspects of community life, and it's a time to explore the work we still need to do to remove barriers. 

The 2023 theme, Beyond the Conversation, focuses on the question, "what next?" With this theme, NACDD plans to highlight change and innovation – what individuals and communities are doing to move past discussions and take action on education, employment, accessibility, and more.

 
 
A great event Celebrating Women's History Month with Nancy Grden, President and CEO of Reinvent Hampton Roads!

 
 
DEIA in Physics

 

Abstract: Science advances most effectively when the scientific community embraces and supports scientists from all backgrounds and identities. In this talk, I focus on the particular challenges to full inclusion in the scientific enterprise faced by LGBTQIA physicists – the "lavender ceiling". I will share insights from my own experience as an out gay theoretical physicist and from the recent American Physical Society climate study. I will also highlight some "best practices" that members of the Jefferson Laboratory community may adopt to engender a more inclusive climate for sexual and gender minorities at the Lab.

Details: Tuesday, March 28, 3:30-5:30 p.m. in the Auditorium
Zoom link: https://jlab-org.zoomgov.com/j/1617356205?
pwd=RC9kNDlZYUlTWFA5emx4aWlWNFFXZz09
Meeting ID: 161 735 6205
Passcode: 978285

*Coffee and cookies will be served at 3:30 p.m. followed by the talk from 4:00-5:30 pm.

 

 
 
A great event Celebrating Black History Month with Alexis Swann, President of Towne Bank!