From Intern to Full-Time Employee
Engineering more than a career for Tom Dunn
Teacher programs end after another successful summer
Free fun at the ball game
CEBAF Intern Participants in French Inauguration
Auditor Ensures Efficiency and Accountability
---
From Intern to Full-Time Employee
They all share a common place but have varied purposes. One shepherds the fertile minds of children as they learn and explore science. Another works with precision sensory equipment used to unlock age old mysteries of the physical world. Yet another manages and projects an identity as a representative to media and visitors.
While these employees apply their talents in various ways at CEBAF, they share the distinction of having once been student interns. To say these former interns turned full-time employees are enthusiastic about CEBAF would be an understatement.
"When I die I want them to bury me on Flag Ally," says a laughing Lisa Surles of Project Management as she describes a "last wish" to be buried alongside the flag poles on either side of CEBAF Boulevard. Working in Personnel, Plant Engineering, Accelerator, and Project Management has provided Surles with a very eclectic work experience. Surles says she was able to learn CEBAF's culture and structure through internships which aided her in transition to a full-time job.
Such practical experience enabled Surles to easily understand what it takes to get things done within the organization. Surles says her current work in the BEAMS program (Project Management) which provides educational outreach opportunities for fifth and sixth graders, has been immensely satisfying. Surles received her undergraduate degree in biology and Master's degree in Counseling from Hampton University. She is currently pursuing an E.d.D degree in Counseling at The College of William and Mary. Her current position has allowed her to combine her love of science with a commitment to positively impact young lives. "I love working with the children because their minds are so fresh and open to math and science," says Surles.
For John Hogan of Physics, a CEBAF internship was an opportunity to apply skills learned in the classroom. Hogan began his internship in 1993 while studying mechanical engineering his Senior year at Old Dominion University. Hogan used his skills to construct a three dimensional model of the high resolution spectrometer for the Hall A group. Upon graduating, he worked for three months with the Hall A engineering design team to design a dipole magnetic field mapper. After a short period as a temporary worker, Hogan was hired to work full-time with designers, fabricators and suppliers to procure parts for the Hall A project.
CEBAF figures prominently into Hogan's expectations of the future. "Primarily, I would like to stay in theresearch environment. It's great to work with a project from conception through procurement and installation. Interns should continually give their best effort when working on a project and not be afraid to ask questions. CEBAF personnel are always responsive with help," says Hogan.
Deborah Hyman, a Director's Office Administrator who represents CEBAF to the media and public, found that her experience as a student helped prepare her to enter the professional workforce. "I learned a great deal about business etiquette. An internship at CEBAF provides an opportunity to learn how to interact with people of all cultures and backgrounds...which is really an asset in a growing global workplace," says Hyman. The Hampton University Mass Media major worked as a clerical intern with the Accelerator Division. Before graduating, Hyman approached Linda Ware, CEBAF's Public Information Officer, about expanding the lab-wide employee newsletter.
Ware agreed and Hyman transferred to the Director's Office in 1991. She began working to improve the content and format of the newsletter. During that time, Hyman also interned with the Daily Press in the hope that a full-time job would develop from one of the internships. The Daily Press hired Hyman as an News Assistant and later promoted her to the position of Reporter. After three years with the Daily Press, Hyman returned to CEBAF's Director's Office. Hyman looks forward to earning a Master's of Public Communication and eventually operating her own public relations firm. She encourages interns to put the most into CEBAF that they can and enjoy the returns of experience and achievement. "You can make this place (CEBAF) really work for you. The sky is the limit for an intern if they come to CEBAF with their eyes open to the potential before them," Hyman says.
Former intern Mike Drury of Accelerator agrees. "Often interns have to do the dirty work that is not glamorous but they should be willing to do whatever it takes. If they see the chance, they need to go for it and apply themselves," says Drury.
Drury started his internship working for the SRF group during the Summer of 1989 while he was a Senior at ODU studying electrical engineering. Currently, Drury is a Staff Engineer in charge of the Cryomodule Test Control Facility and was involved in the cryomodule commissioning. Drury says that CEBAF internships are a valuable opportunity for students to get their foot in the door while also applying their skill and talent in a real-world environment. He adds that it is essential that students and full-time employees grow with CEBAF as the laboratory expands and enters a new era of operation.
While their experiences vary, each of the former interns agree that their experience at CEBAF has had a valuable impact.
"Internships are essential for jump-starting your career. CEBAF provides a unique backdrop for allowing students to grow professionally and personally," says Hyman.
Will Conners, Director's Office Intern
---
Born To Build:
Engineering more than a career for Tom Dunn
For Thomas Dunn, working with his hands has always been a means of survival as well as a source of joy. So it would seem Dunn was born to be an engineer. In fact, Dunn eats, breathes, and sleeps engineering.
During his thirty year career, Dunn has designed, built, and maintained a variety of structures and support equipment systems. He now brings that vast amount of expertise to CEBAF as he replaces Otto Matherny as the Plant Engineering Director.
Engineering also occupies the new Director during much of his offtime. Dunn lists taking on small construction projects and making colonial-style furniture as some of his hobbies. Grandfather clocks, decks, and room additions are just some of the things he has built in his spare time. "I take on projects that are interesting to me and that's what makes it fun. I added a room on to our house that we really didn't need, but just did it for the fun of it," declares Dunn.
Dunn's path to becoming an engineer began as he learned basic construction skills on his family's farm in central North Carolina. The farm was more skills on his family's farm in central North Carolina. The farm was more of a means of putting food on the table than it was a profit-making enterprise for his family. "We didn't have much money, so we did everything on our own," says Dunn. "We were always putting up some sort of building or another and most of them were pretty tacky."
While in school, Dunn excelled in subjects, such as math and physical science, that are pertinent to seeking a career as an engineer. Because of his apparent skills, Dunn's parents and teachers encouraged him to go to college and study engineering. Dunn followed their advice, although he states with a grin, "At that point in my life I had no idea what an engineer actually did for a living. But everyone kept telling me I would be good at it so I decided to give it a try."
The military is where Dunn got his start as an engineer after receiving a bachelor's degree in engineering from the Coast Guard Academy. During his twenty year career with the Coast Guard, from which he retired as a Commander, Dunn traveled throughout the U.S. and abroad, including tours in Alaska and Vietnam. His duties included working in design engineering, construction management, and public works. The Coast Guard had even provided him with the oppurtunity to obtain a B.S. degree in Civil Engineering from the University of Illinois.
After his retirement, Dunn worked for the Norfolk Public School system for nine years. For the last seven of those years he worked as the Assistant Director of School Plant Facilities which made him responsible for supervising preventative maintenance, repairs, and upkeep of the school district's 60 school buildings and associated facilities.
Dunn's position there was similar to the one he now holds at CEBAF. As the laboratory's construction phase draws to a close, the focus of his office will switch from one of building to one of maintaining. "The previous Director had to concentrate on supervising the construction of the facility," says Dunn. "It is going to be my job to change that mode of thinking around so that we can concentrate on taking care of what we have."
Dunn's responsibilities will run the gamut-from fixing leaky roofs to repairing indoor cranes that refuse to operate properly. He will also oversee all future construction projects, some of which are already on the drawing board.
Dunn Strives to reach his "comfort zone" by knowing almost everything about the places where he works. "When I take on a new job I like to explore and get to know how things work at that particular site. I want to know what everything does and how it works. If I see an air conditioning duct, I want to know where it leads and what kind of unit is at its source. When I have good knowledge of how the whole facility functions, then I have reached my comfort zone," he says.
Dunn utilizes a philosophical approach when it comes to his various engineering projects. "I believe the maintenance side of many projects is a great way to learn about design. When you are doing maintenance on a site, you often learn what the hidden flaws of the design are," says Dunn. "So now when I design a project, I try to take what I have learned during the upkeep of similar projects to improve the design. It works the other way around too. When I design a project I try to create something that is easy to maintain ."
David Ellis, Director's Office Intern
---
DISASTER !!
Are you prepared?
CEBAF simulated a site emergency on August 14 with smoke, fire and related injuries in the VARC Building. Newport News fire/rescue vehicles and personnel responded. After the exercise, affected work groups were asked to consider whether CEBAF vital records they maintain were appropriately protected by sprinklers, fire proof boxes, etc. If the records were not protected, the groups were asked to consider the impact of record losses for CEBAF. From a safety standpoint, the exercise presented the opportunity to practice emergency training and procedures.
Photos by Chris Surber, Text by Will Conners
---
Back To School
Teacher programs end after another successful summer
As summer draws to a close, so does another season of educational programs here at the facility. CEBAF runs two programs that are specifically designed for middle and high school instructors who teach physics, physical science, math, or engineering and technology. The programs give the teachers practical hands-on experience on how the subjects they teach are applied in the real world.
The Summer Institute for Teacher Enhancement, or SITE, is a four week program which places teachers in groups of five with a mentor from CEBAF. The groups conduct research on such subjects as data analysis and safety and control system design. Their mornings are spent attending workshops, field trips, and classes. In the afternoons, the teachers and mentors conduct research.
Teachers are selected on a competitive basis for The Teacher Research Association (TRAC) program . Participants work one on one with a CEBAF staff member. The eight-week program is research intensive and requires the teachers to spend all day on their individual projects. 
The goal of the two programs is to provide CEBAF with an avenue to further promote the study of science-related topics in education. CEBAF hopes these teacher-oriented programs will instill the participants with a renewed interest for the subjects that they teach. In turn, teachers transfer that enthusiasm and knowledge to their students.
The teachers develop experiments based on their experiences and research at CEBAF for later in-classroom use.
Daniel DeLorme, a high school physics teacher from Horseheads, New York, says, "At CEBAF I'm able to learn through practical experiences about many of the subjects I teach, which will help me in relating the material to my students," says Delorme. "Some of the things that I am working on, such as the practical applications of magnetic and electric fields and how they are used in nuclear research, I am transferring directly into my lesson plans," says DeLorme.
Terri Kenely, a teacher from Sumter High School in South Carolina, was also involved in this year's TRAC program. Kenely is working with Will Oren of the Accelerator Group on the quadropole magnets. The project required Kenely to check, reduce, and analyze data to determine the mechanical centerline of arc beam position monitors from their neighboring quadropole's centerline through the use of computers and the metric system.
Many teachers involved in TRAC and SITE indicated that the programs enable them to improve their skills in areas that they do not work with often, such as extensive use of computers and the metric system.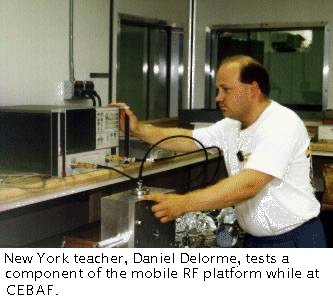 "This program has made me more aware and proficient in the use of the metric system and in the use of measuring instruments," says Kenely. "I plan to put more emphasis on the metric system and the use of existing math programs on the school's computers in teaching my students. Students must come to view computers as computational and information tools and not just as a device to play games on."
The cultural diversity among the CEBAF staff also seems to be a highlight for the visiting teachers. Kenely says, "This experience has made me determined to teach a multicultural curriculum. At CEBAF I have worked with people from Armenia, China, Nigeria, England, and Russia. Students need to learn that the world is much more diverse in culture than the state they live in."
---
Briefly...
Free Fun at the ball game
Debra Stitts (Finance), Ed Stitts (Accelerator), and Paul Powers (Plant Engineering), enjoy free tickets to the July 21st Norfolk Tides Baseball Game distributed by the Employee Recreation Committee.
The Employee Recreation Committee would like to thank all who attended the Norfolk Tides game. It was an exciting game with the home team winning in the bottom of the ninth.
On a side note, it has come to our attention that their were a number of unused tickets for the game. This is a very unfortunate situation as there are quite a few people on the waiting list that would have used the tickets had they either been turned back in or not taken in the first place.
---
Changing of the Guard
CEBAF Intern participates in French Inauguration
Under a dark gray sky CEBAF Procurement Intern Octavius Pinkard witnessed the transfer of a nation's future.
Pinkard watched as a black limousine glided to a stop in front of the Elyee Palace in Paris, France. Jacques Chirac, the newly elected conservative President of France, emerged from the car and began to tread along the red carpet leading to the palace. Walking away from the palace, Francois Mitterand met Chirac halfway. The two men shook hands and continued on. Mitterand, the leader of the " old France" entered the same car Chirac had arrived in and departed into the past.
"It was one of the most regal things I have ever seen," says Pinkard of the ceremony. Pinkard attended the event as the guest of France's embassy for four days. His past relationship with Chirac's political party has enabled Pinkard to be included in many unique opportunities. Chirac's party invited Pinkard to come to France as their guest. Transported in a chartered Air France jet, and housed free of charge, Pinkard spent his time attending embassy parties and ceremonies such as Chirac's Inauguration.
Quite amazingly, the Christopher Newport University student's connection with Chirac has been the product of a letter Pinkard sent to Chirac three years ago inquiring about France's political system (see CEBAF NEWS, October 1994). Although an International Relations major, Pinkard is also interested in domestic politics and specifically the role of the federal government in American's lives. The self-described Republican is optimistic about the new direction of the country.
"I can sense that folks in the U.S. are starting to acknowledge that we should reward work, initiative, and refrain from punishing success. We must abandon the idea that the government owes us something. Otherwise people will always be beholden to some government bureaucracy," says Pinkard. For the present time, Pinkard's focus is on his work and relationship with the new French government.
Pinkard travels to the French embassy in Washington, D.C two to three times a month to work on a continuing research project. He is preparing reports on the facilitation of relations between the U.S. and France in a strategic world-view context. Chirac's party has already offered to sponsor Pinkard to attend the graduate school at the Institute of Political Studies in Paris where many of France's leaders have studied. Pinkard's plans also include attending an additional graduate program at William and Mary College. After the completion of his education, Pinkard intends to enter the foreign service.
"I want to work for the Western European Affairs Division at the State Department. Eventually I look forward to rising to Secretary of State," says a smiling Pinkard that leaves one sure that he will succeed.
---
Auditor ensures efficiency and accountability
Rich Rafter, SURA Internal Auditor and CEBAF employee of 11 years, came close to not joining CEBAF as an accountant in August 1984. "Coincidentally, I was offered an accounting position with Riverside Hospital the same week that was almost identical," says Rafter. Prior to joining CEBAF, Rafter was a Controller for a Williamsburg resort property. It was his interaction with interviewer Mack Whitehead that convinced Rafter to join CEBAF's Finance Department. Rafter fondly reflects on the five years he spent in the Finance Department. "Actually, one of my proudest accomplishments at CEBAF was being part of the Finance team that computerized the financial and accounting systems for the organization," says Rafter. In January 1989 Rafter survived several rounds of rigorous interviews and was appointed to direct the coordination of SURA's Internal Audit Office.
"The greatest challenge that I have had to face in audit is overcoming the perception that internal auditors have the single-minded objective of assigning blame," says Rafter. He credits SURA and CEBAF management for their total commitment to internal auditing. "They [management] expect internal audit to serve in a strategic resource role for the organization. My goal is to identify opportunities for management to reduce overhead, manage risks, and improve performance that they may not be aware of," says Rafter. This results in a wide assortment of assignments for Rafter that can range from reviewing the business plan and operations of SURA's Residence Facility to assessing how the Education Programs (BEAMS) align with the scientific goals of the company.
Rafter reports his findings to Dennis Barnes, SURA President, and the Audit Committee of SURA's Board of Trustees. The committee is made up of outside directors from SURA member universities. One significant function of Internal Audit is to review costs billed to the government. "It is a CEBAF contract requirement that Internal Audit perform a annual review of the charges billed to the U.S. taxpayer to insure that they are reimbursable under SURA's contract," says Rafter. Although Rafter acknowledges that financial and compliance audits are important he estimates that 75 percent of internal audit resources are allocated to perform operational reviews which he says are more challenging and interesting.
Rafter received his Bachelor of Science in Accounting in 1982 and has been a licensed Certified Public Accountant since 1988. Taking advantage of CEBAF's tuition assistance program, Rafter earned an Master's of Business Administration from the College of William and Mary in 1993. "It was probably the most strenuous and stressful three and a half years of my life. My wife was attending Nursing school at night and on weekends while working during the day. Fortunately, our friends and family really helped us out with child care," says Rafter father of daughters Jennifer and Jessica, ages eleven and nine.
While he has overcome many professional challenges, Rafter continues to look for opportunities to refine and perfect his work.
---
Tool Time
Machine shop offers versatility, expertise & enthusiasm
Looking for someone who can fabricate an injector part or who can build a vacuum chamber? Look no further than the local CEBAF Machine Shop located in the EEL building. In the shop is a talented group of people who collectively have hundreds of years experience in the machinist trade. The machinist say that they can complete any project given to them, and in fact , that they love their job and want to do more of it. Gary Slack is a prime example of the type of machinist one will find working admidst the pieces of metal and heavy equipment. Slack has had over 22 years worth of experience as a machinist. He began his career in the apprenticeship program at the Newport News Shipyard. After four years at the yard, Slack moved on to work just about everywhere, from a major production facility to a small mold and dye shop where he created molds for gas turbine engines. He has also worked in the R&D Prototype shop at Siemen's Automotive.
Slack has been here at CEBAF for a little over four and a half years. His favorite contribution has been the fabrication of fixtures which enable the bending of fiber optic light rods through an oven-heated process. Slack was able to work closely with a physicist on the project, and he cites the ability to provide input into the design of the fixtures as the most rewarding aspect of the three year project.
Slack is working on a budget proposal that he and his co-workers hope will convince the money mangers to buy some desperately needed up to date equipment for the shop. "About 50 percent of our equipment is 1950's era government surplus," says Slack. "Due to the age of some of the equipment, work is often unnecessarily slow and tedious, because the machinist must constantly compensate for the machine's lack of ability in order to meet the close tolerances that must be met on most work orders." The machinist say that with better tools, their end-product is better, and the better end-product will make someone else's job easier
It is this devotion to customer satisfaction, that the personnel in the shop hope will persuade more of the CEBAF staff into utilizing the Machine Shop's services. In fact, the machinist would welcome more challenging work orders than the flanges and fittings that seem to be the bulk of their work load recently. When asked what his specialty as a machinist is, Slack responded, "None of us here in the shop have a specialty. We are all of exceptional quality , and we can and are expected to do any job that we are given."