Lab Impresses Secretary of Energy Richardson
Lab Team Works to Prevent Bite of the Y2K Bug
Accelerator Division Moves to the ARC
Out of the Starting Blocks: Team Conditions Accelerator for Peak Performance
DOE Plans Review of Lab-wide Safety Program
Pumping Iron After Work: Hamlette Takes 2nd at World Bodybuilding Championship
Lab Celebrates Diversity at the International Food Festival
---
Tour, Briefings, Meetings, Lab Leadership, Staff, Vision Impress Secretary of Energy Richardson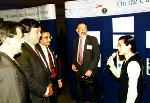 During his initial visit to Jefferson Lab on January 12, Secretary of Energy Bill Richardson vowed to improve scientific research funding during his tenure.
His 2 1/2 hour visit included a whirlwind tour of the Lab and culminated with an All-Hands meeting in the CEBAF Center auditorium where he talked about his vision for the DOE. He recognized 11 staff members for their new patents, and expressed enthusiasm for Jefferson Lab and its programs and collaborations.
Secretary Richardson was escorted on his tour by Lab Director Hermann Grunder, Representative Bobby Scott and Commonwealth of Virginia1s Secretary of Commerce and Trade Barry DuVal, former mayor of the City of Newport News.
His tour started in CEBAF Center with an overview of the Lab1s science program by Nathan Isgur, Chief Scientist. From there he was shown a portion of the accelerator by Christoph Leemann, Associate Director of the Accelerator Division. Along his walking tour of the accelerator he was also greeted by Larry Cardman, Physics Division Associate Director.
In Hall A, Keith Baker, Hampton University researcher and Lab staff member, and Haiyan Gao, MIT, briefed the Secretary on their respective experiments. Then it was on to Hall B where Secretary Richardson was briefed on the CLAS and target chamber by Bernhard Mecking, Hall B Group Leader.
Next stop was the Free Electron Laser User Facility where FEL and Technology Transfer Manager Fred Dylla gave an overview of this new research tool and industry1s interest in its commercial applications. The group then headed for the Applied Research Center parking lot where Secretary Richardson discussed science education with Science Education Manager, Jan Tyler, and Crittenden Middle School Principal, Willie Carrington. The Secretary enjoyed talking with 6th graders from Crittenden who were at the Lab for their BEAMS week (Becoming Enthusiastic About Math and Science). The students demonstrated their Slow Bike Race skills and knowledge for the Secretary.
Moving into the ARC auditorium, Secretary Richardson was greeted by many local leaders and a number of the Lab's industrial and university collaborators. Secretary Richardson congratulated Hermann Grunder, the Lab staff and the Lab's many collaborators for their vision and commitment that resulted in the creation of the Applied Research Center. The Secretary complimented the Lab for its vital science program and concerted effort to share its knowledge with academia and industry.
After the meeting in the ARC, Secretary Richardson ended his visit with an All-Hands meeting in CEBAF Center. He was impressed with his visit to the Lab and promises to return in the future.
---
The Countdown is On:
Lab team works to prevent bite of the Y2K bug
by James Schultz
With calendar year 2000 just months away, owners of older computers are scrambling to correct a defect born of a time when electronic storage and retrieval capacity was limited and expensive. Some fear the Y2K "bug" will bite hard, resetting internal clocks to the year 1900 and stopping essential systems dead in their tracks.
To prevent millennium fever from erupting into computer-code-scrambling delirium, Jefferson Lab has established an in-house task force to describe and prevent potential threats. Fortunately, says Year 2000 Committee chair Sandy Philpott, Y2K risk to Lab systems appears relatively minor and manageable.
"The problem exists. We're taking it seriously," Philpott says. "At this point we've uncovered no catastrophic problem. And we have 11 months to keep digging."
The Laboratory benefits from its relatively young age and abundance of modernized equipment. Although some personal computers are five or more years old, most of JLab's major systems are constantly monitored and upgraded. In its Y2K evaluation, the Committee has paid particular attention to critical systems, such as those pertaining to accelerator controls and operations, data acquisition, plant engineering, business services and human resources. Software that drives the operation of telephones, elevators and environmental controls has also been examined for compliance with accepted standards.
Often, Philpott explains, software vendors have taken the Y2K initiative. Despite mergers, acquisitions and the occasional bankruptcy, companies see to it that their customers are provided with corrected code as needed. "We apply patches the vendors send us," Philpott says. "All the big players know that if they are going to stay in business they have to provide software that works."
The committee has reached out to every Lab group, urging that all responsible parties investigate their specific operation for computing system and software compliance. Site-specific understanding and investigation of potential difficulties should help to ensure that as many systems as possible are considered when evaluating Y2K readiness.
"We're asking each group to look at their own area," Philpott says. "There's no way for the Computer Center to know exactly what everybody has. We'd like everyone to be aware of what's critical to their operation and take steps accordingly."
The Committee sends regular updates to the Department of Energy site office to chronicle the Lab's progress. As of late November, more than 600 machines and systems on site had been assessed. Of those, nearly 60 percent were deemed to be in full compliance with Y2K standards of robustness and redundancy.
"It's an ongoing issue," she says. "The wheels are turning. All through 1999 we¹ll be revisiting it." Anyone needing Y2K assistance or more information can send e-mail to y2k@jlab.org or contact Philpott directly.
---
Accelerator Division Moves to the ARC
As the holidays drew near the dust started settling for Accelerator Division staff as they finished moving into the Applied Research Center. Like many division members, Kelly Hanifan used the move as an opportunity to clean out files. Division paper shredders and wastebaskets worked overtime during the move! Hanifan went from 4 file cabinets to 1 and comfortably moved into her new cubicle. Thanks to Bill Kozma the move went very smoothly and was completed on schedule. Kozma even helped movers position file cabinets.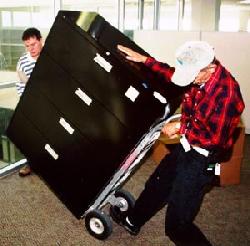 ---
Out of the Starting Blocks
Team conditions accelerator for peak performance
Jefferson Lab's accelerator is undergoing a period of intense conditioning much like a world-class athlete preparing to set a new record.
Coaching the accelerator to a higher performance level is a task shared by many in the Accelerator Division. About 18 months ago a few individuals were designated "Performance Integrators" for different aspects of CEBAF (Continuous Electron Beam Accelerator Facility). The challenge for each was to identify improvement goals, then to coach and train various accelerator subsystems so overall peak performance could be achieved.
The most visible performance parameter of CEBAF is the output energy of its electron beams. For Charlie Reece, deputy head of the Accelerator Development Department, and one of the accelerator system's Performance Integrators, this is part of his game.
Work has been underway since September 1996 to increase the Lab's electron beam to a stable, predictable 6 GeV (billion electron volts) physics operation. Its top end energy output is presently near 5.5 GeV at modest currents; in September 1996 it was near 5.2 GeV.
Reece is using a two-pronged approach to economically get the electron beam up to 6 GeV. "First we're evaluating the accelerator's operating parameters using the experience we've gained while running it. We're examining the soft and hard limits of the machine. We have found some room to squeeze the accelerator and make it run a little harder. We can run it more aggressively and the equipment will meet the demand," Reece explained. The upgrade team has reviewed, evaluated and fine tuned the accelerator's operating parameters, control mechanisms, and hardware tolerances.
But, that will only give the Development team part of the energy increase needed to get beam to the higher operating level. The other approach used by Reece and his team, which includes contributors from the Accelerator Division Operations, Development and Beam Departments, is improving individual cavity function making the equipment run better by improving its ability to "kick" the electrons harder as they go by.
For decades, a particular processing technique you could think of it as a "conditioning drill" in keeping with our sports metaphor has been used to improve the performance of such superconducting cavities. But it had been done in laboratory settings never used on installed cavities, like those in CEBAF.
The process consists of putting a small amount of helium gas inside each superconducting cavity pair and pushing them unusually hard. The interior of the cavities normally is kept at ultra-high vacuum so the accelerated beam does not get scattered by particles present in normal atmospheric pressures.
One of the chief limitations on cavity operation is undesired emission (or release) of electrons from microscopic defects on the cavities' surfaces. Running the cavities with the helium gas inside induces many of these defects to "burn themselves up" giving a cleaner, more stable surface on the inside of each cavity.
"But the big question was: Could we successfully do this in situ? It had never been done in situ because it is a complex task and the specter of possibly damaging an $800k cryomodule was not pretty," Reece admitted.
A particularly troublesome cryomodule presented Reece with an opportunity to test helium processing in situ. Would other components be damaged; would the treatment affect the vacuum? With a draft helium processing plan in place, the team tried their idea out on the malfunctioning cryomodule. They figured they had nothing to lose. They had already decided to pull the poorly-performing unit out of the accelerator for over-haul a time consuming and costly procedure. If helium processing worked they might not have to rebuild the cryomodule and they would have developed an innovative and resourceful process for improving the accelerator's beam energy.
It worked! Helium processing significantly improved cavity performance, without any unpleasant side effects. Each cavity pair is conditioned for 45-90 minutes. The treatment reduces the electron field emission inside the cavities and the secondary effect of arcing at the cold ceramic RF (radiofrequency) windows, allowing them to operate in a more stable fashion at higher voltages. The technique was refined through use on two cryomodules at a time until the accelerator upgrade team was ready for a big push which came last summer.
Sixteen cryomodules were put through helium processing during the 1998 Fourth of July shutdown. Nearly every component treated showed a significant improvement. Another eight cryomodules were treated during the January 1999 shutdown, with the last group possibly undergoing processing this summer.
"We are closing in on 6 GeV," Reece said. "Several experiments using 5.5 GeV beam are scheduled for this spring and we should bring 6 GeV within reach in the next year."
The race is on and the Development team is well on its way to bringing the accelerator to a new personal best. However, attaining 6 GeV won't mark the finish line, instead it marks a new starting point for a much bigger goal increasing the beam energy to 12 GeV. Many people are working that goal, too. "Doubling beam energy involves a lot of up front work creating a conceptual design and detailed drawings, developing test components capable of energizing and delivering beam at 12 billion electron volts, and creating demonstration hardware proving that we can do what we say we can," Reece explains. "All of that will be necessary before we get funding for the upgrade from DOE."
Editor's note: This is the first in an on-going series of stories dealing with the accelerator beam upgrade. Next month ON TARGET will highlight some of the many people involved in the cavity pair helium processing.
---
Sign Up for Awareness Workshop Today:
DOE plans review of Lab-wide safety program
The Department of Energy will review Jefferson Lab's Integrated Safety Management System (ISMS) March 1 - 4.
All JLab staff are subject to interview by DOE Review Team members, according to Ron Sundelin, Associate Director, Office of Technical Performance (OTP). To prepare for this review, Lab staff are asked to attend ISMS Awareness Workshops being conducted by OTP. Staff may sign up for a workshop by calling ext. 7128 or by visiting the Lab1s training web page at mis.jlab.org/ingenium.
"Many facilities have large safety groups, and rely on those groups to make sure that the people doing the work do it safely," Sundelin said, explaining the history of the ISMS. "Jefferson Lab has always believed the best way to accomplish work safely is to have workers and their line managers decide how the work can be accomplished safely." This approach was reinforced in January 1993, when the members of the small centralized safety group joined the areas of line management where their expertise was most frequently needed.
In 1995, the Defense Nuclear Facilities Safety Board (DNFSB), which does not oversee JLab, recommended to then Secretary of Energy Hazel O1Leary that workers and their line managers integrate safety into the work being done. Secretary O'Leary adopted this recommendation, and made a commitment to apply it throughout the DOE. Because we were already operating very closely to the safety board1s recommendations, very few changes from our original way of conducting work safely were required, Sundelin pointed out. ISMS is now a DOE policy and a requirement of our contract.
The one-hour ISMS Awareness Workshops started in January and are offered twice a week through February 18. If you haven1t attended one of the workshops yet, plan to attend one of the remaining sessions:
Thursday, Jan. 28: 11 a.m., CEBAF Center, Rm. A110.
Tuesday, Feb. 2: 8:30 a.m., CC, Rm. L104.
Thursday, Feb. 4: 11 a.m., CC, Rm. L104.
Monday, Feb. 8: 8:30 a.m., CC, Rm. A110.
Thursday, Feb. 11: 11 a.m., CC, Rm. A110.
Tuesday, Feb. 16: 8:30 a.m., CC, Rm. A110.
Thursday, Feb. 18: 11 a.m., CC, Rm. A110.
---
Pumping Iron After Work
Hamlette takes 2nd at world bodybuilding championship
by Kevin Crossett
David Hamlette, a radiological technologist at the Lab, recently placed second at the World Natural Bodybuilding Championship in Atlantic City, N.J. the same competition where he placed fourth in 1996.
Always active in sports, Hamlette played soccer, tennis, football, and wrestled in high school; lifting weights was always secondary to the sports he played. He began honing his weightlifting abilities during his sophomore year at North Carolina A&T University where he intended to continue wrestling. Unfortunately, the university cut wrestling as a collegiate sport in an effort to save money. Following the suggestions of friends, he started weightlifting seriously and in 1987, at the age of 18, won the Mr. Greensboro title.
He has since won other titles including Mr. Virginia Grand Prix in 1990, Mr. Tri-States in 1992, Mr. Atlantic Coast in 1993 and most recently the International Bodybuilding Championship in September of 1998. He is not sure what competition is next, but he hinted at the upcoming Mr. Universe competition in March.
Hamlette has always been a proponent of natural bodybuilding, preferring a regimen of proper diet, plenty of rest and a lot of hard work in the gym to that of growth hormones or steroids. He also does not promote the use of dietary supplements because some of them may be harmful to the body. "One of my big drives is to prove it can be done without the use of drugs," Hamlette says. This philosophy is stressed through his business, N-Shape Professional Training, whose clientele have won many competitions as well. Among them: Ms. Virginia winner Donna Weiss, Ms. North Carolina winner Katie Cartwright and Light Weight Mr. Virginia winner John Weiss.
Hamlette works out at home usually in the afternoon. He has a full gym complete with free and machine weights, aerobic conditioning equipment, mirrors and padded floors. On the days he can't work out at home he usually goes to Bally Total Fitness in Newport News.
For those interested in pursuing a healthier lifestyle, Hamlette advises trying different approaches to fitness. "Get out there and do the exercises, read health magazines, and follow nutrition literature to see what works for you as an individual. That's the best way to enhance your lifestyle. There is no single plan for health, nutrition and exercise that will work for everyone," he points out. "It's good to read to enhance your knowledge but you have to experience and experiment with it [fitness]."
---
W-2 forms to be mailed no later than Feb. 1
The Finance section reminds all Lab staff that W-2 tax forms will be sent out no later than February 1. To ensure that you receive your W-2, make sure your address in the CEBAF Information System (CIS) database is correct.
If you need to update your address, see Kisha Owens, room 40-A in the VARC to fill out a change-of-address form. She also has federal and state W-4 exemption forms if you need to change your federal or state withholding.


Lab staff complete first project management class

This fall's Project Management: Tools and Techniques course, taught by Dr. Chuck Keating of ODU, is JLab's flagship "competency-based" management course according to Jean Delayen, Management Development Steering Committee (MDSC) chair.
"The course was designed to address a variety of competencies identified repeatedly by JLab staff," Delayen explained. "A sub-team of the MDSC representing all divisions wrote the statement of work, interviewed the competitors, scored the proposals, and selected the provider."
According to Delayen, ODU's Engineering Management Department was chosen because of their commitment to making the course JLab relevant. "ODU faculty, particularly Dr. Keating, have gone out of their way to find out what we're all about and how we manage projects," said Bruce Ullman, Staff Development & Training manager.
In fact, Keating met with Lab Director Hermann Grunder and a group of senior managers, as well as conducting individual interviews with selected line employees before finalizing the curriculum. "ODU also promised to conduct regular feedback sessions, during and after the course," Delayen added.
That promise was tested when the MDSC asked several of the enrolled staff for an evaluation meeting. The feedback at that meeting was broadly positive, but there were several suggestions for a "mid-course correction." Karen Hokansson, User Liaison, suggested more structured exercises using JLab situations. This sentiment was echoed by Yvonne Casalino, Accelerator Division (ACC), who wanted some more "linkage to real life (JLab) examples and how (we) approached them." John Mammosser, ACC, liked the opportunity to work together in a small team and plan out a project. He explained that, "This is beneficial because interfacing with one another and identifying common tools is both relevant and useful." He added, "When we get to the section on collaboration and post-mortem discussions what went wrong and why we may have a better understanding of how to apply the concepts at the Lab."
Ricky Campisi, ACC, noted, "During construction we were asked to provide information in a format which was consistent with Project Management, but we were not always told how the information we were providing would be used. Therefore, I think everyone, not just project managers, must understand the structure, so everyone can more readily provide the information which the managers need for their planning."
After a reminder that the initial Project Management course was to be a broad overview with more lab-specific issues addressed down the road, Will Oren, ACC, commented, "We also need to distinguish whether or not it is worth using the full project management sequence. What steps are essential, even for a small project, and which are only necessary for a complex one?" Will also suggested that projects be turned in and graded during the course, to help participants learn what could have been done better; allowing them to learn from their mistakes. Since everyone agreed that the text was good, participants felt that time taken for going over assigned reading could be better spent on discussing more practical applications.
After a reminder that the participants own the program and if it is not meeting their needs, they can change it, all agreed to share their ideas with Dr. Keating. A week later he spent an hour with the entire class doing just that and implemented almost all of their suggestions. "This kind of instructor-student interaction is rare," Ullman said, "but it's a sign of the way we want Management Development at Jefferson Lab, and we intend to do everything we can to keep it going."
For more information, contact Bruce L. Ullman, JLab Staff Development and Training Manager, at ext. 7170.


Education announces spring lecture schedule

The Jefferson Lab Education department has planned another semester of fun and interesting science lectures.
The Spring 1999 Science Series begins Tuesday, February 9, with a presentation on Holograms by Paul Christie, Liti Holographics. He will discuss the inner workings of lasers and 3-D holograms from Star Wars to credit cards.
Dr. Scott Price, from JLab, will pose the question, "Which way is up?" Tuesday, March 9. He will guide his audience from spinning tops to polarized electrons and discuss the source of Jefferson Lab's polarized beam.
Coming in from San Francisco State University, Dr. Lynda Williams will share with her audience a better understanding of the science behind JLab through song and music in a demonstration titled "Science Entertainment." Her presentation is scheduled for Thursday, April 22.
All lectures begin at 7 p.m. in the CEBAF Center auditorium. The lectures are free and open to students and adults with an interest in science.

Ooops, headline should've read polarized beam

The ON TARGET staff apologizes for the headline error on page 3 of the December newsletter.
The word "pulsed" was incorrectly used in the headline for the story about the Lab's "polarized" beam and the series of seminars explaining polarized beam to the Lab's non-technical staff. We apologize for the error and thank a reader for pointing out the mistake.
---
Donate your used greeting cards to St. Jude's Ranch
Jefferson Lab is proud to acknowledge its participation in DOE's greeting card recycling program to benefit St. Jude's Ranch for Children.
St. Jude's Ranch for Children has a program where the children recycle used greeting cards as a fundraising activity. This nationally recognized charitable organization is devoted to helping abused, abandoned, and neglected children of all ages, races, and faiths.
Everyone from the Jefferson Lab community is invited to participate by bringing in their used greeting cards. Remember, the Ranch is only interested in using the fronts, so if you dont want to include the backs, please tear them off. Also, make sure personal letters and photos you wish to keep are removed from the cards.
Collection boxes are in place at several locations around the Lab. The collection sites are:
CEBAF Center
Reception area near the front desk, and Directors reception area, second floor
VARC Building 28
Reception area near the ATM machine
Machine Control Center
(MCC)
Main entrance
Experimental Equipment Lab
(EEL)
Main counter area at Stockroom
ARC
7th floor

Yvonne Casalino (l to r), Betty Beeler and Carrie Nichols prepare to send 3,000 cards to St. Jude's Ranch for Children.
Once the Ranch receives these cards, the children trim the fronts and glue on new backs. Proceeds from selling these new cards are then used for activities pertaining to the child who makes them.
This program is a delightful approach to reducing landfill waste while contributing to the needs of a very special charity. Call Helen Hall at ext. 5075, Yvonne Casalino, ext. 7844 or Betty Beeler at ext. 7491 if you have any questions. Drop boxes are located in CEBAF Center, the VARC, ARC, MCC and EEL. Drop off your old greeting cards today!
A special thanks to Yvonne and the church she belongs to for gathering a large percentage of the 3,000 cards JLab recently sent to St. Jude's!
---
Share your culture at International Food Festival
Celebrate Jefferson Lab's diversity at the annual International Food Festival scheduled for Friday, February 26, beginning at 3:30 p.m. in CEBAF Center.
Plan on bringing your favorite dish and share your culture with Jefferson Lab staff and visitors. Previous year's participants have enjoyed many tasty exotic dishes including Spanish chicken enchiladas, Caribbean curried chicken, Puerto Rican pastelon and Austrian apple strudel. All types of food items are welcome: breads, salads, appetizers, meat or vegetable dishes, pasta, rice and desserts. Bring an appropriate serving utensil with any food item you bring.
Serving tables will be set up in the first floor dining area. Plates and eating utensils will be provided.
This promises to be an event you won't want to miss! Watch for more information about the International Food Festival on the Lab's news web page and on db1.
If you'd like to help with this event, e-mail Ed Stitts (stitts@jlab.org).
---
Editor's note: If you have or know of a website that could be informative or useful to Jefferson Lab staff, call the public affairs office at ext. 7689 or e-mail Linda Ware (ware@jlab.org).
Tax season is here, so ON TARGET is spotlighting the Internal Revenue Service web page. Check out www.irs.gov and discover a wealth of IRS news, information, tax filing forms and publications, as well as regulations.
Browse through The Digital Daily the Internal Revenue Service electronic newspaper. You can catch up on the latest IRS news releases or tax code changes, and get special taxpayer alerts under What's Hot. To cut down on browsing time or to quickly locate specific topics, click on Site Tree, the website's topic index. You can e-mail the IRS to comment on the site or to ask specific types of taxpayer questions.