"Science is Cool" - Jefferson Lab Open House June 26, 1999
---
JLab welcomes new DOE Manager
Hunemuller to lead Site Office
Maureen Hunemuller has been named the new Department of Energy Site Office Manager for Jefferson Lab. She is taking over from Acting Manager Jerry Conley starting July 20.
In an interview on her first day on the job she admitted that there was a lot to learn but she looks forward to the challenge. "I want to be a positive advocate for the science of Jefferson Lab and I want to be able to explain what is done here with accuracy to many different kinds of audiences."
Ms. Hunemuller is impressed with the positive environment in which Jefferson Lab is surrounded both from a local community point of view and within the Department of Energy. "I want to do what I can to maintain and enhance that."
She describes herself as a people person who wants to help keep work environments as positive as possible, believing that "unhappy staff is not conducive to high productivity." With a new set of eyes and perspective on Jefferson Lab along with a diverse set of experiences within the Department of Energy from field office experience to headquarters experience, she feels up to the challenge.
In her new position, Ms. Hunemuller will be responsible for overseeing the operation of Jefferson Lab. Federal oversight of the Lab is maintained through the Site Office representing the DOE Headquarters Office of Science and the Oak Ridge Operations Office.
Ms. Hunemuller has a diverse technical background beginning with her Bachelor of Science degree in materials/mechanical engineering from Rensselaer Polytechnic Institute in Troy, New York. She first worked an engineer and licensed Senior Reactor Operator for Iowa Electric Light and Power Companys Duane Arnold Energy Center near Cedar Rapids, Iowa.
Most recently, Ms. Hunemuller served as an Acting Assistant Manager at DOEs Office of River Protection in Richland, Washington. In addition, Ms. Hunemuller has more than 20 years experience in program/project management, and nuclear operations. Ms. Hunemuller has held management positions within the Office of Environmental Management at DOE headquarters and in the field. Prior to that, she served as program manager for various technical projects within the DOEs Office of Science.
Hunemuller succeeds Dean Helms, the Labs Site Office Manager from 1988 until his retirement on January 2, 1999. Acting Manager Jerry Conley will resume his duties as Deputy Manager.
---
Into the machine
Systems to keep accelerator staff, equipment safe enhanced
By James Schultz
Jefferson Laboratory's safety-first tradition was enhanced in May with installation of the Lab's first-ever beam-envelope limit devices. The multi-hall system measures beam power at three locations, in Halls A and C and the beam switchyard electron-beam dump. Monitor-managers average a trio of measurements to ensure that JLab doesn't exceed an overall, maximum safety envelope of one million watts, or one megawatt.
"We've been upgrading the accelerator to give us higher and higher energies. For the first time in JLab history, we have the potential to approach one million watts," explains Kelly Mahoney, group leader for safety systems. "In our operating agreement with DOE we have a speed limit of sorts, roughly 800,000 watts. This system will guarantee we stay within those limits."
This latest addition complements the Lab's two other major safety systems: personnel safety and machine protection. In terms of people protection, JLab standards are robust, and include radiation, microwave-energy and electrocution safeguards.
Automatic equipment shutdowns occur whenever a sophisticated network of software and hardware detects a potential hazard. The Lab's cryogenics systems also pose a possible threat to human health: escape of helium gas could replace breathable oxygen in certain areas. Sensors therefore constantly monitor oxygen content at each of the end stations, in the accelerator tunnel and within the Free Electron Laser (FEL) complex.
Machine-protection mechanisms are an integral part of the Labs safety systems and are designed to protect equipment from inadvertent contact with the electron beam. Mis-steered beam can burn a hole through beam-line components within 50 millionths of a second. The Lab's Fast Shutdown system (FSD), is intended to detect mis-steered beam and to enable users to quickly terminate beam when needed.
Bolstering JLab safety is technological innovation in the form of programmable logic controllers, or PLCs. The Lab was the first national laboratory to use PLCs to oversee personnel safety status on a continuous basis. Systemwide, 15 PLCs monitor approximately 2,500 accelerator-related components, ensuring that inputs are consistent with outputs. If not, devices shut down and power is turned off.
"When compared to other laboratories, the safety culture at JLab is noticeably better. It has to do with line management," says Robert May, radiation control group head in the Accelerator Division. "Safety professionals are taken seriously here. There's an opportunity for dialogue regarding productivity and the need for a safe environment."
JLab Expertise In Demand
Putting a relentless emphasis on safety does come with a price. False trips shutdowns due to equipment or operator error occur on average once a week. Improved training, more reliable software and better controls are all in the offing to attempt to reduce such occurrences.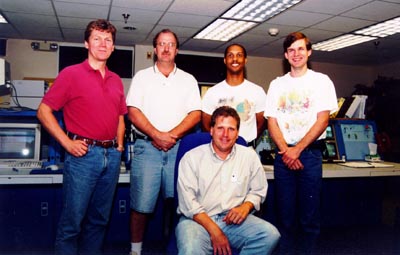 The Safety Systems Group includes Kelly Mahoney, group leader (sitting), and (left to right) Henry Robertson, Jim Coleman, John Jefferson and Roger Housman. They monitor and control the beam-envelope limit system, the machine protection system and the personnel safety system from their console in the Machine Control Center.
Much of the group's safety practices are derived from those used in high risk industries such as chemical processing and medical accelerators. These industries have had to solve some of the same problems faced by the Laboratory. "We use industry experience as a template to ensure that our safety systems follow best-industry practice," says Mahoney. "We also work with national and international standards committees for programmable safety systems to ensure that the needs of the accelerator community are represented."
The Lab's reputation for safety has led to consulting contracts with other facilities in the U.S. and abroad. JLab safety specialists are working with colleagues at the Spallation Neutron Source at Oak Ridge National Laboratory in Tennessee to review safety system designs and make suggestions for system implementation. Other clients include accelerators pending or under construction at a laboratory in Greece, and at Michigan State and Indiana University.
Improvements to the Lab's safety systems are ongoing. By January 2000, safety systems group leader Mahoney expects that each end station will be able to terminate beam without shutting off the beam systemwide, as is now the case. An automated machine-status message system is also under development. Personal computers will dial up the JLab accelerator public address system, which in turn will patch through to the Lab's public address system with news and updates.
Preparations are also underway to ensure that the Lab's protection systems will be equipped to handle the planned CEBAF upgrade to 12 GeV and the scheduled FEL upgrade to 20 kilowatts. Both upgrades will place higher demands on the safety systems' reaction time and reliability.
"In the safety improvement business, every time we turn around it's a new piece of hardware," Mahoney says. "It's a pretty demanding systems integration task: frustrating at first, but satisfying in the end. Its what keeps us on the leading edge of accelerator safety."
---
Into Their Own Words
Suhring finds accelerator operations challenging, satisfying
Interview by James Schultz
This month, On Target talks to Steve Suhring, accelerator operations manager.
My degree is in physics, but I worked in the heavy-construction industry for years - building big things like waterworks and desalination plants. My company was up and down the East Coast. That's how I ended up in Tidewater. I play the fiddle, and I happened to meet another fiddle player who happened to work in the personnel department at CEBAF. That's how it all started about 13 years ago.
When I got here, the site was all trees. I worked in the construction group, then in project management putting the pieces together in the tunnel. When the installation was well underway, maybe 70 percent done, I realized the next big thing was going to be in the operations group, running the machine. I'm an active guy, sort of restless. So I said, hey, this is the next logical step for me.
Now I'm responsible for the planning and staging of all accelerator maintenance work, for all the shutdowns and the minor upgrades. I'm still a Crew Chief; I can still help run the machine. But I'm no longer on shift rotation. I do fill in for people when I'm needed.

Steve Suhring, accelerator operations manager, inspects the power feeds for one of the electron beam spreader magnets in the tunnel
The people I work with: the scientists, software, hardware and support folks are all top notch. They make my job easy. But what we get paid for is not the easy stuff. Although we all work hard to keep things on track, sometimes the unexpected happens, situations that you haven't exactly anticipated. That's when my job is most challenging and most satisfying.
I rarely get outside the accelerator fence after I get in around 6:45 in the morning. A lot of what happens after 9 a.m. is interrupt-driven. I go between long-term projects and preparation for the maintenance shutdowns. Things are seldom routine around here. In a normal day, when the accelerator is running, I strive for boredom. That to me is the ideal: physicists getting what they want with no interruptions.
Much of what I worry about is keeping the machine running and operating in the most efficient way possible. This is a taxpayer institution and I don't want to squander that money. I'm going to do everything I can to make sure JLab is a success. I think we're very close to having the best accelerator in the world.
One of the things I work hardest on is not being rude to anyone. In a situation like this that can be hard. There is constant pressure to keep things running, to fix things quickly when they break and to look fast and hard at the data to spot trends that could affect performance ... To go from 70 percent to 75 percent availability takes a huge effort. Each percentage point beyond that means everything has to work just right.
I play fiddle for the Friends of Appalachian Music in Williamsburg. At a dance, the fiddle sets the tempo for the band; it leads the way when changing to a new tune and establishes where we are, where we're going and what to expect. I think of our work in the same way, in a musical way. The rhythm is important, to get into a good flow, to have a beginning, a middle and an end. The challenge at the Lab is to try to encourage the people and the pieces to act together as one, to move in the same direction.
The machine is running very well. We are kind of in a steady state, which is a real luxury. We'll continue to make minor improvements as the opportunity arises. In the next three years I'd love to see the money for the planned machine upgrades. It's at that point we'll be working on installation and recommissioning. That'll be a real exciting time, similar to what we experienced six or seven years ago.
I've never worked in a situation like this, where people tell you exactly what's on their minds. It cuts through all the bull. It gets right to business. I love it. Whenever I have the opportunity, I tell people I have the best job at JLab.
---
"Science is Cool" - Jefferson Lab Open House June 26, 1999

Many youth took part in the liquid nitrogen demonstrations -- discovering first hand the effects of cryogenic temperatures on different materials.


Steve Gagnon, Education Dept., holds a capacity crowd under the big top tent, riveted to his liquid nitrogen demonstration. The cryogenics show is a favorite among lab visitors. Nearly 300 Lab staff, family members and users worked to make the open house a success.

| | |
| --- | --- |
| | Latifa Elouadrhiri, Hall B physicist and Christopher Newport University professor, talks with visitors at Hall B & C displays set up in tents on the accelerator site. |
| | |
| --- | --- |
| A youngster learns about lift - a necessary component of flight - with a little help from a NASA worker. NASA, the Portsmouth Children's Museum and the Virginia Air & Space Center were guest participants at the open house. | Eugene Chudakov, Physics Division, explains the operation of Hall A to a group of visitors. |

Walter Lacy, Accelerator Division, explains the infrared made of the Free Electron Laser with visitors to the FEL User Facility


A pair of young men take turns examining a piece of tree fungus under a dissection microscope - one of several exhibits encouraging children to take an active role in science.


Michelle Erb, Accelerator Division, explains accelerator components to a group of tunnel visitors. Approximately 4,500 people attended Open House '99 - the Lab's first open house since 1995 and the first time since 1993 that the accelerator has been open to the public.

| | |
| --- | --- |
| Bubbles, courtesy of the Portsmouth Children's Museum, provided a welcome respite for the youngest open house goers. Weather for the open house was sunny and moderate - ideal for the event. | |
---
ITP Deadline Nears
Make sure your people have training plan, required classes
A number of JLab employees, users, and subcontractors do not have an Individual Training Plan (ITP), which is required by the Lab's Environmental, Health & Safety (EH&S) Manual, Chapter 4200.
Effective August 1, all unescorted entry to guard- and security-system controlled areas will require the existence of an ITP and the completion (at a minimum) of the EH&S Orientation Course or its equivalent.
The Director's Council asks all supervisors, sponsors, and subcontracting officer's technical representatives (SOTRs) to make sure everyone they supervise has an ITP entered in the Computer Center's db1 Central Information System (CIS) by August 1, and that each person has (at a minimum) taken the EH&S Orientation Course or its equivalent.
The new building-access proximity card system the Lab begins using in September, will require all card users to have an ITP and have training records showing they've completed the EH&S Orientation Course requirement.
For Users who do not have an ITP, a default ITP will be entered, according to the User Liaison Office. The default for theoretical and Applied Research Center (ARC) users will be EH&S Orientation and General Employee Radiation Training (GERT). The default for experimental users will be EH&S Orientation, Radiation Worker I, and oxygen deficiency hazard (ODH) training.
All other missing ITPs need to be generated by supervisors, sponsors, or SOTRs. Division EH&S Officers are available to advise supervisors, sponsors or SOTRs on appropriate ITP contents. In addition to creating ITPs for individuals not having them, this is also a good time to review existing ITPs to make sure they are current.
Staff members employed prior to January 1, 1991, are considered to have experience equivalent to the EH&S Orientation Course.
Also, for people who require access to the site with sufficient notice to take the EH&S Orientation Course, certification by a person's supervisor, sponsor, or SOTR of an EH&S briefing will be accepted in lieu of having taken the EH&S Orientation Course and will be valid for 30 days.
In addition to the EH&S Orientation Course requirement, General Employee Radiation Training (GERT) will continue to be a minimum requirement for unescorted guard-controlled access to the accelerator area. Divisions will continue specifying access authorization for individuals for whom training requirements have been met; and current training in a higher-level course will continue to satisfy lower level requirements.
---
Moss Retires After 13 Years
Safety specialist plans to pursue consulting work, cooking dinner
After 13 1/2 years at Jefferson Lab, Barry Moss hung up his hard hat on June 1 to pursue retirement and part-time safety consulting. The mechanical engineer began his Lab career in the engineering division.
He worked on the prototype cavities and cryomodules, as well as preparation and scheduling for cryomodule production. Later, he coordinated safety warden activities, provided input on tunnel construction, front-end testing, and accelerator equipment installation. Most recently the Certified Safety Professional was part of the Lab's safety team.
He was honored for his years of service during a party held in late May. Co-workers, department managers and associate directors were on hand to thank him for his many contributions and accomplishments over the years and to wish him well in retirement.
However, according to his wife, Mary Beth, he won't be spending a lot of time in a rocking chair! Barry will be cooking dinner from now on, to give her a break as she works full-time as a teacher. "He's been in training for the last several months - preparing one meal a week," she explained.
Moss received a Corinthian leather briefcase, to use as he begins safety consulting work, and a framed copy of the Lab's new poster signed by dozens of Lab staff - a testament to the number of people knowing Moss.
In addition to safety consulting and household chef duties, Moss is the incoming president of the Greater Tidewater Chapter of the American Society of Safety Engineers. It sounds like the Moss household will stay busy!
"We've enjoyed my years at the Lab," Moss said. "It's been fun and challenging. We feel blessed by the opportunities here and to have known so many wonderful people." His parting message, "Keep it safe guys."
---
Tornado Relief Donations sent to Red Cross
Lab staff donated $940 to the Red Cross to help people whose lives and homes were devastated by tornadoes this spring in Oklahoma.
The contributions were sent to the Red Cross Tornado Relief Fund in Oklahoma City in June.
Jacqueline Bacon, Director's Office staff, collected and forwarded all donations to the tornado relief fund. She and the entire Director's Office staff thank everyone who made donations.
"This money will help people get back on their feet," Bacon said. "The tornado devastation isn't in the news anymore, but for many people impacted by the natural disaster, the repair work and healing are just now beginning." Donations to assist with tornado relief may still be made by calling your local Red Cross office or by visiting the Red Cross web page at www.redcross.org.

Traffic flow limited while Canon Blvd. entrance gets Guard Post
A guard booth is being constructed on CEBAF Blvd., about 300 feet from the Canon Blvd. gate. Construction should be completed by the end of September.
During the construction phase, only one lane of CEBAF Blvd. will be open for limited (one way) use. The Canon Blvd. gate will be open during its scheduled morning and evening hours. However, traffic will be limited to incoming traffic in the morning and departing traffic in the evening.
Since there will be only one lane open for nearly 200 feet, do not use the Canon gate for leaving the site in the morning or for entering the site in the evening. Please use extreme caution when passing the guard booth construction area. If you have any questions, call or page Suresh Chandra at ext, 7248.

Check out new safety brochures
The Environmental, Health & Safety Reporting Group has a new brochure rack outside its main door, room 77 in the VARC.
The rack holds a variety of literature from safety agencies and national safety standards committees.
Pamphlets and booklets are available on: industrial hygiene; fire safety and prevention; wearing seatbelts; hand protection on the job; electrical fire safety; the Lab's Spill Prevention, Control & Countermeasure Plan; DOE safety oversight program; portable fire extinguishers; safe bike riding; fire detectors; forklift safety; reducing, reusing & recycling materials; and electrical safety work practices.
---
Free Electron Laser (FEL) Reaches Record Power Level
On July 15 the Free Electron Laser produced 1,720 watts of infrared light -- exceeding its design goal of 1,000 watts or 1 kW. The FEL Group is now forging ahead with a series of planned experiments for industry and university users. At kilowatt levels, the Jefferson Lab FEL offers researchers a unique tool for science and industrial processing with light. More on this story will be covered in next month's On Target.
Congratulations FEL staff and thanks to all Lab personnel who helped make this goal a reality!
---
Bright Spot on the Web
Editor's note: If you have or know of a website that could be informative or useful to Jefferson Lab staff, call the public affairs office at ext. 7689 or e-mail Linda Ware (ware@jlab.org).
Looking for a certain book, video, or piece of music? Or perhaps, you want to compare prices? A useful web site for book, video or music buyers is: www.acses.com. This site offers price comparisons between the most common on-line bookstores, and links to those stores. You may compare prices for several books simultaneously. From this site you may also compare prices on airfares, credit cards rates, and a growing list of additional services and products. The site offers the latest news on authors and performers and an interesting tidbit entitled Today's Historical Event.
contributed by Sonja Dieterich