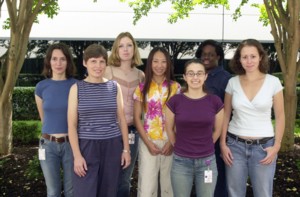 Some of the women who worked on experiment E00-116 (left to right): Simona Malace (Hampton University and University of Bucharest), Ioana Niculescu (James Madison University, co-spokesperson), Erin McGrath (James Madison University), Ya Li (University of Houston), Tanya Ostapenko (Gettysburg College), Wendy Hinton (Hampton University), Crystal Bertoncini (Vassar College). Absent from photo: Cynthia Keppel (Hampton University, co-spokesperson), Allena Opper (Ohio University), Tiffany Dodaro (University of Houston).
Photo: Greg Adams, JLab
Nuclear physics is still a man's world, but women at Jefferson Lab are making their mark.
A recent physics experiment at the U.S. Department of Energy's Thomas Jefferson National Accelerator Facility (Jefferson Lab) in Newport News, Va., set what may well be a new record for accelerator physics: the most female scientists on an experiment.
Experiment E00-116, which finished in July, boasts two spokeswomen. A female postdoctoral fellow is overseeing data analysis. The research is central to a female graduate student's doctoral thesis. And the majority of scientists working shifts during the six-day experiment were women, many of them undergraduate physics students.
In a field dominated by men, it is rare to see so many women involved in a single nuclear physics experiment. Cynthia Keppel, a professor at Hampton University and co-spokesperson for the Jefferson Lab experiment, attributes the female majority to what she calls "exactly the best reasons — a change of gender climate and good science". Keppel believes that once the field starts having enough women around, physics experiments run by women will eventually become commonplace.
Ioana Niculescu, also co-spokesperson on this experiment and an assistant professor at James Madison University (JMU), promotes physics to her female undergraduate students and encourages them to pursue careers in physics. One of her JMU undergraduate students, Erin McGrath, became involved in experiment E00-116 at Jefferson Lab this summer and will continue that involvement this academic year.
In the Jefferson Lab experiment, scientists directed the accelerator's continuous electron beam, operating at the highest energies currently available, toward liquid hydrogen and deuterium targets. A third target made of aluminum was used as a control, so background events could be eliminated from the useful data. Electrons scattered from the targets were detected in the high-momentum spectrometer (HMS) and the short orbit spectrometer (SOS) in Jefferson Lab's experimental Hall C. The experiment investigated a phenomenon known as "quark-hadron duality", where relatively large objects such as proton resonances (hadrons) behave similarly to much smaller objects like quarks. Physicists hope that understanding this behavior will help them interpret hadron phenomena in terms of the fundamental quarks and gluons that make up matter.
Cynthia Keppel, physics professor at Hampton University and one of two female co-spokespeople for Jefferson Lab experiment E00-116.
Simona Malace, a graduate student at Hampton University and the University of Bucharest, is particularly proud of this experiment because it is part of her doctoral thesis research. Malace, who graduated from her Master's program in February, found this experiment challenging and saw it as a window of opportunity for her doctoral program. She will present this research at the American Physical Society's annual fall meeting of the Division of Nuclear Physics in Tucson, Arizona, in late October.
It is easy to get carried away with all this "women power", but do not forget that there were also many men involved in this collaborative experiment. "The productivity and congeniality of this collaboration are due to both genders," says Allena Opper from Ohio University, one of the women involved in this research. "The majority of physicists are male and consequently they determine the rules of the game. The men in this group are great." And so are the women.
JLab's Department of Energy Site Office Manager, James Turi, believes physics is a career field full of opportunities for women. He describes the field as gender blind — one where women and men are equally recognized for their knowledge and their work.
To learn more about careers in physics, visit the following web sites:
American Physical Society (APS): Careers in Physics
Institute of Physics (IoP): Careers Pages
American Institute of Physics (AIP): Careers Using Physics (CUP)
Melanie O'Byrne, Jefferson Lab science writer