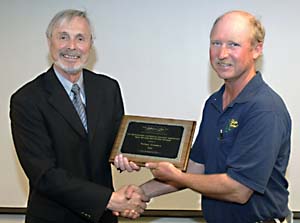 Jefferson Lab Director Christoph Leemann poses for a photo with Village Greenery owner Robert Panchision after presenting Panchision with the Lab's Outstanding Small Business Subcontractor award for fiscal year 2005.
Photo by Greg Adams.
The Department of Energy's Jefferson Lab recently recognized a grounds maintenance and landscaping business based in Yorktown, Virginia, as its Outstanding Small Business Subcontractor of the Year.
Village Greenery, owned and managed by Robert Panchision, received the Southeastern Universities Research Association (SURA)/JLab Outstanding Small Business Subcontractor award for fiscal year 2005. At a reception held March 31 at Jefferson Lab, Department of Energy Site Office officials, senior JLab management, Procurement and Facilities Management staff gathered to congratulate Robert Panchision as he received the award plaque from JLab Director, Christoph Leemann.
"This is a tough competition," noted Danny Lloyd, JLab's Small Business Program Manager. "Jefferson Lab subcontracts a broad range of supplies and services and Village Greenery was one of nearly 900 small business firms that had done business with JLab during FY2005. Village Greenery led the pack this year by being consistently responsive and providing professional lawn and landscaping services to Jefferson Lab."
Village Greenery has provided grounds maintenance and landscaping services at JLab for more than 16 years and helps the Lab maintain its professional appearance as a world-class nuclear physics research center.
Of particular note, according to JLab Facility Manager Rusty Sprouse, was the Village Greenery staff's tireless effort in restoring grounds areas that were repeatedly torn up during a recent JLab construction project. Village Greenery was also recognized for its outstanding site support following Hurricane Isabel's impact on the Jefferson Lab campus in 2003. These are just a couple examples of this company's dedication to Jefferson Lab," Sprouse said.