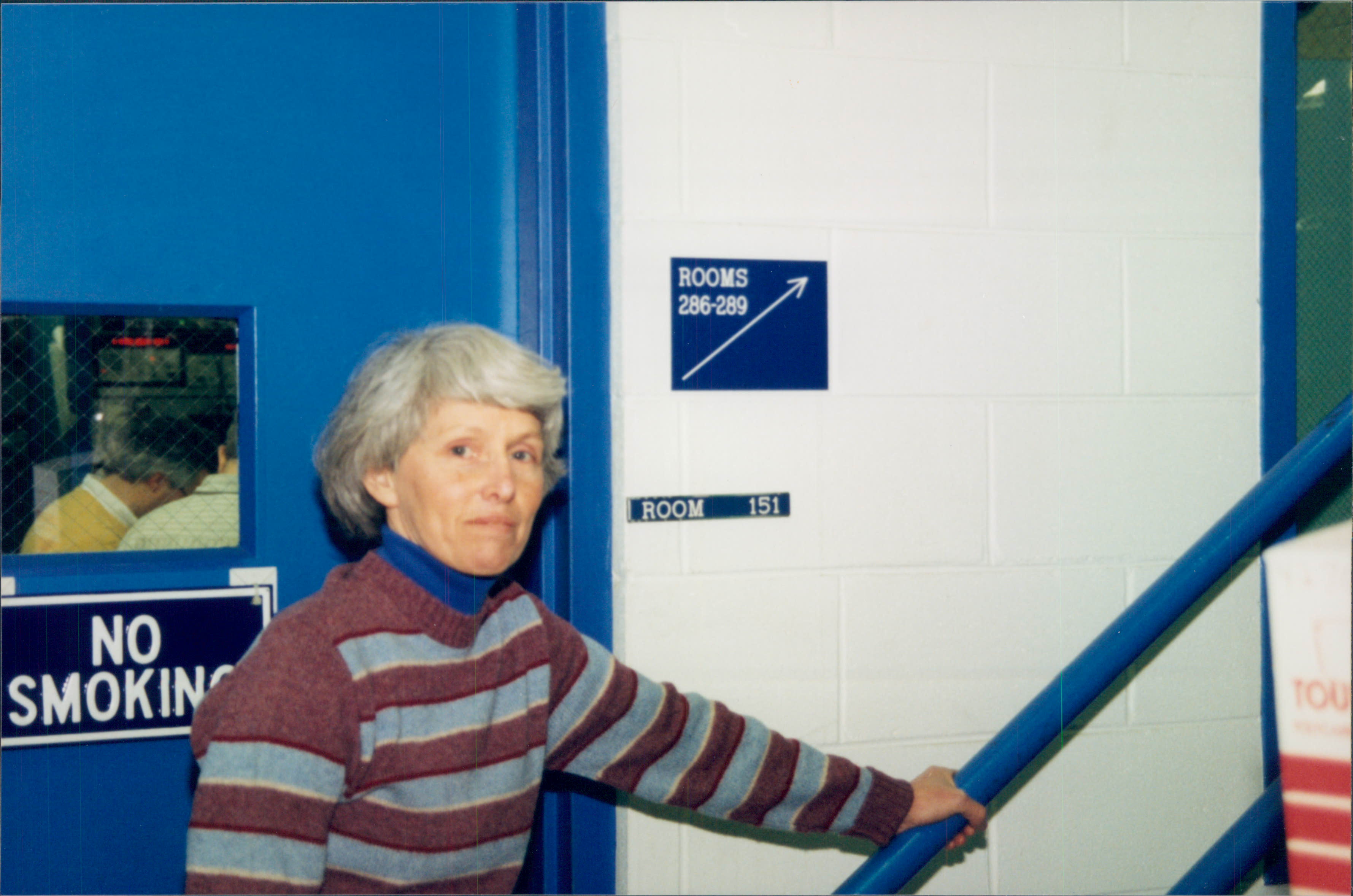 Photos:
(left) Beverly Hartline stands atop the experimental halls, 1994. (credit: CEBAF)
(center) Beverly Hartline staff photo, 1994. (credit: CEBAF)
(right) Beverly Hartline in the Test Lab, 1994. (credit: CEBAF)
Table of Contents

Repository:
Thomas Jefferson National Accelerator Facility
 
Jefferson Lab Archives
 
12000 Jefferson Ave., Room L203A
 
Newport News, VA 23606
 
Phone: (757) 269-7805
 
Fax: (757) 269-5427
 
Email: history@jlab.org
 
https://www.jlab.org/info_resources/archives
Provenance:
Office of Public Affairs
Title:
Beverly Hartline Papers
Dates:
1994-1995
Size:
Analog: 2 Hollinger document cases; 0.83 linear feet
Digital: 86 files; 399 megabytes
Materials in collection:
Mostly consists of presentations given by Dr. Hartline to various groups and organizations.
Abstract:
Dr. Beverly Hartline held many positions at CEBAF. Although her work to support the Lab Director was invaluable, she did a great deal of outreach, particularly educational outreach, to the community to promote the Lab.
Identification number:
JLS.014
Location:
The digital collection is located in the Jefferson Lab Document Management System. Non-digital items located in the Jefferson Lab Archives.
Language:
English
---
Biographical Note
Born in New Jersey in 1950, Dr. Beverly Hartline grew up in the Bay Area of California. The oldest of seven children to Dr. Robert Karplus, theoretical physicist at the University of California at Berkeley, Dr. Hartline was taught at an early age to not only question everything, but to conduct experiments to find the answers she and her siblings were seeking, such as do trees grow from the ground or stretch?
At a family camping trip when she was young, a fellow camper's father asked Dr. Hartline what she wanted to be when she grew up. She promptly responded she wanted a Ph.D. He then chided her, saying she would only grow up to marry and have children. This exchange not only offended her greatly, but also helped fuel her determination.
Dr. Hartline earned her Bachelors of Science from Reed College in Portland, Oregon in 1971. While in graduate school, she would meet her future husband, Fred Hartline, have the first of two boys, and co-authored a book on hiking as well as a kayaking booklet. She graduated with her Ph.D in 1978 from the University of Washington at Seattle.
Dr. Hartline insists upon the understanding that science and engineering are idea-based fields, "the best progress can only be made when many ideas - which means many people with a broad range of backgrounds – are involved." While at Jefferson Lab, she promoted women and girls in STEM fields and participated in outreach not only to teachers, but to the community at large. She served in a myriad of positions, culminating as the Associate Director and Project Manager.
(As of 2019), Dr. Hartline is the Vice-Chancellor for Research and the Dean of the Graduate School at Montana Technical University.
---
Scope and Content
This collection is primarily made of presentations given by Dr. Hartline to various organizations. A majority of these presentations are available within the Jefferson Lab Digital Archives. Some of her presentations also include her notes for the audience. Also included are reviews in which Dr. Hartline was a participant, and workshops she hosted.
---
Arrangement
This collection is arranged in chronological order as it was accessioned by the Jefferson Lab History Archives. Minor shifting was done to keep articles in chronological order.
Presentations have been digitized and are available in the digital collections. Please see the Archivist or Records Manager if you need access to these presentations.
Series I: Notes. Included in this series are notes by Dr. Isgur; some in collaboration with colleagues. There are many unlabeled and undated notes, and those are in their own sub-series. Any collaboration correspondences in reference to the sub-series of this group are included in the category in which they were found when the collection was accessioned.*
---
Restrictions
Access Restrictions
The collection may be used solely for noncommercial, educational, and research purposes. Please contact history@jlab.org if you would like to use the collection.
Use Restrictions
Jefferson Lab is providing access to the materials in the Archives collections solely for noncommercial educational and research purposes. The unauthorized use, including, but not limited to, publication of the materials without the prior written permission of Jefferson Lab, is strictly prohibited. All inquiries regarding permission to publish should be submitted in writing to the Archivist. In addition to consent from Jefferson Lab, permission of the copyright owner (if not Jefferson Lab) and/or any holder of other rights (such as publicity and/or privacy rights) may also be required for reproduction, publication, distribution, and other uses. Responsibility for making an independent legal assessment of any item and securing any necessary permissions rests with the persons desiring to publish the item. Jefferson Lab makes no warranty or guarantee as to the accuracy of the materials or their fitness for a particular purpose.
---
Controlled Access Terms
Continuous Electron Beam Accelerator Facility (CEBAF)
Grunder, Hermann (Collection # JL.002-1)
Institutional Records - The Office of Communications (Collection # JL.006E)
Jefferson Lab Activities Group (Collection # JL.015)
Newsmedia Collection (Collection # JL.006B-1)
Public Affairs - now the Communications Office (Collection # JL.006)
---
Administration Information
Preferred Citation:
[Identification of Item], Box [insert number], Item or Folder [insert number and title], The Papers of Beverly Hartline, Jefferson Lab Archives, Thomas Jefferson National Accelerator Facility, 12000 Jefferson Ave., Room L203A, Newport News, VA, 23606
Acquisition Information:
This collection was acquired from the Office of Public Affairs.
Processing History:
This collection was processed by Melissa Erlandson in September 2017.
Acknowledgement:
This collection was supported in part by a grant from the History Programs, American Institute of Physics.
---
Box and Container Listing
---
Box 1
Folder 1: Superconducting RF Cavities for Particle Accelerators
Folder 2: Advisory Committee on Girls' Education - 13 June 1994 - Richmond, VA
Folder 3: ODH Training - 28 June 1994*
Folder 4: DoE Points of Contact Meeting - 18 July 1994 - Pittsburgh, PA*
Folder 5: Peninsula Women's Network - 21 July 1994
Folder 6: Research Science Institute 10-Year Conference - 29 June 1994 - Cambridge, MA
Folder 7: Lab Programs for Women - 10-13 October 1994 - Albuquerque, NM
Folder 8: Meeting the Challenge through Business - 14-15 October 1994 - Hampton, VA*
Folder 9: Michigan State Colloquium - 25 October 1994*
Folder 10: American Physical Society High School Teacher's Day - 27 October 1994*
Folder 11: National Consortium Advisory Committee, Faculty/Student Research Symposium - 29 October 1994 - Old Dominion University, Norfolk, VA
Folder 12: Colloquium, Sheila Tobias - 31 October 1994
Folder 13: Teresa Beatty Partnerships: Investing in the Future - 31 October-2 November 1994 - Williamsburg, VA
Folder 14: Colloquium at Bryn Mawr - 7 November 1994*
Folder 15: Technology in Education Conference, WHRO - 17 November 1994 - Hampton, VA*
Folder 16: York County School Admin - 29 November 1994*
Box 2
Folder 1: Colloquium at Princeton Plasma Physics Lab - 30 November 1994 - Princeton, NJ*
Folder 2: Science Education Director's Meeting - 12-14 December 1994 - Washington, D.C.
Folder 3: Colloquium at NASA - 13 December 1994 - Langley, VA*
Folder 4: Trip to Germantown and D.C. with Fred Dylla - 5 January 1995*
Folder 5: Norfolk Academy - 26 January 1995*
Folder 6: V-QUEST Presentation - 27 January 1995*
Folder 7: V-QUEST Conference - 3 February 1995 - Norfolk, VA*
Folder 8: Hampton Kiwanis Club and Elk Lodge - 7 February 1995*
Folder 9: Science Bowl w. Bill Williams - 11 February 1995
Folder 10: "Girls Can, Too" Conference - 25 February 1995 - Portsmouth, VA
Folder 11: Strategic Planning Town Meeting and CEBAF - 27 February 1995*
Folder 12: Christopher Newport University - 28 February 1995 - Newport News, VA*
Folder 13: Geneseo College/SUNY - 16-17 March 1995 - Rochester, NY*
Folder 14: V-QUEST Instructional Materials - 28 March 1995
Folder 15: Science Series, Dr. S. Oyewole - 4 April 1995
Folder 16: WHRO Panel Discussion - 12 April 1995 - Norfolk, VA
Folder 17: SURA Board of Trustees and Finance Committee - 20 April 1995 - Washington, D.C.*
Folder 18: Meeting with Bill Lewis, DoE - 1 April 1995 - Washington, D.C.
Folder 19: FEL Proposal Review, 10-12 May 1995
Folder 20: DoE Ed. Review - 19 May 1995*
Folder 21: ES&H Town Hall Meeting - 9 June 1995*
Folder 22: EMSL Review - 13-15 June 1995 - Pasco, Washington
Folder 23: NNPS, STEP, Resources from CEBAF - 31 July 1995
Folder 24: Orientation, CEBAF Site - 10 July 1995
Folder 25: Middle/High School Teachers Workshop - 7 August 1995*
( * denotes presentation located within the Digital Collections)
Archives-Related Links
Jump to ...