The U.S. Department of Energy's Thomas Jefferson National Accelerator Facility

---
Physicists Probe Proton Periphery
Experiment, E08-007: Measurement of the Proton Elastic Form Factor Ratio at Low Q2, ran last spring in Jefferson Lab's Hall A.
Sixty years after Hudeki Yukawa won the Nobel Prize for his prediction of mesons, nuclear physicists are looking for them once again.
Yukawa won the 1949 Nobel Prize for his prediction of a new class of particle. While calculating the properties of the force that binds protons and neutrons in the nucleus of the atom, he predicted the mass of a particle that was needed to carry the binding force between protons and neutrons.
He also predicted that the particle, the meson, would be found in cosmic rays, particles that continually bombard the Earth. Mesons and other particles are produced when cosmic rays strike atoms in the Earth's atmosphere, and some of these particles travel to the surface. Within three years of Yukawa's prediction, mesons were spotted..... more
---
Washington, DC – Jefferson Sciences Associates recently announced the award of projects totaling $563,950 that will be supported by the Fiscal Year 2009 JSA Initiatives Fund....more

 

Hampton University graduate student, Ya Li, was one of three early-career women to be awarded the American Physical Society's M. Hildred Blewett scholarship earlier this year.........more

 

Shortly after arriving, Jefferson Lab Director Hugh Montgomery launched "Montage," a web-based personal column written from the director's perspective. New columns are periodically posted....more

---
Physicists Probe Proton Periphery
Guy Ron is a teaching assistant and Ph.D. student at Tel Aviv University and a Jefferson Lab user.
Sixty years after Hudeki Yukawa won the Nobel Prize for his prediction of mesons, nuclear physicists are looking for them once again.
Yukawa won the 1949 Nobel Prize for his prediction of a new class of particle. While calculating the properties of the force that binds protons and neutrons in the nucleus of the atom, he predicted the mass of a particle that was needed to carry the binding force between protons and neutrons.
He also predicted that the particle, the meson, would be found in cosmic rays, particles that continually bombard the Earth. Mesons and other particles are produced when cosmic rays strike atoms in the Earth's atmosphere, and some of these particles travel to the surface. Within three years of Yukawa's prediction, mesons were spotted.
Now scientists are looking for mesons again. This time, they are searching inside nucleons (protons and neutrons), where Yukawa first predicted their presence. According to Guy Ron, a teaching assistant and Ph.D. student at Tel Aviv University, the scientists are looking for a particular meson: the pion.
Ron says that researchers want to resolve whether our present picture of the proton in the nucleus is accurate. This picture describes the proton as a particle made up of an inner core of its own building blocks, quarks, surrounded by a cloud of pions that interact with other protons and neutrons. Researchers think they've seen evidence of pions in previous experiments.
"All of the previous experiments have hints of interesting results, but the precision was such that you couldn't really say a lot about it. You could say that there was something non-trivial, but it was kind of hard to define. So we went ahead and proposed to do a high-precision survey of this," he says.
Jefferson Lab Hall A researchers probed the structure of the proton using relatively low-energy electrons from Jefferson Lab's CEBAF accelerator. "This is like looking at the proton as a whole rather than probing the individual quarks inside. So it's like looking at the way these quarks interact in a global fashion."
Ron and his colleagues surmise that the new, high-precision data will help to better resolve the picture of the proton. "The most probable explanation to any deviations in our new data is that you're actually seeing the effects of the virtual pion cloud that is around the proton," he says.
The experiment ran last spring. Xiaohui Zhan, a Ph.D. student at the Massachusetts Institute of Technology, is currently analyzing the data taken in this experiment for her Ph.D. thesis. Look for preliminary results in the coming year.
By Kandice Carter
Science writer
JSA Awards $564K for FY2009 Initiatives Fund Program
Washington, DC – Jefferson Sciences Associates recently announced the award of projects totaling $563,950 that will be supported by the Fiscal Year 2009 JSA Initiatives Fund.
JSA owners, the Southeastern Universities Research Association and Computer Sciences Corp., established the Initiatives Fund to support programs, initiatives and activities that further the scientific outreach and promote the science, education and technology missions of Jefferson Lab in ways that complement its basic and applied research focus. The annual commitment is administered by the JSA Programs Committee.
After an evaluation of 28 proposals, the Programs Committee recommended funds for 24 projects:
Director's Discretionary Fund, $125,000
JSA/JLab Graduate Fellowship Program, $110,000
Nathan Isgur Senior Post Doctoral Fellowship, $50,000
Handheld Gamma Camera for Cancer Surgery, $40,600
JSA/JLab Sabbatical/Research Leave Support Program, $36,000
JLab Science Activities for Teachers (JSAT), $32,500
Advanced Concepts for Energy Recovery in an FEL, $30,000
Limits to SRF Cavity Performance, $20,000
Users Group Awards, $13,750
Users Group Junior Scientist Travel Support, $12,500
JLab Patent Awards Program, $10,000
Transverse Parton Structure of Hadrons Meeting Support, $10,000
International Conference on Hadron Spectroscopy Support, $10,000
CLAS 12 GeV European Workshop Support, $10,000
JLab Cooperative Education Program, $10,000
Hampton Roads Partnership Membership, $8,000
Users Group Annual Meeting Support, $6,500
JLab Women in Physics Initiatives Workshop, $6,000
Development of an Experiment to Conduct a Precision Measurement of the Weak Mixing Angle in Möller Scattering with a 11 GeV Beam Meeting Support, $5,000
Development of LAS for PVDIS Studies with 11 GeV Beam Meeting Support, $5,000
Users Group Satellite Meeting Support, $4,000
Spin Structure at Long Distance Meeting Support, $3,500
Users Group Graduate Student Activities, $3,000
Users Group Student Tour Program, $2,600
"JSA's support of these very worthwhile and diverse projects and activities benefits the lab's programs and leverages the commitments of others. The awards not only help the laboratory to cultivate support within its traditional user community but also in the broader community in the Hampton Roads area. They permit us to support activities to which we cannot apply program funds," said Hugh Montgomery, JSA president and Jefferson Lab director.
"While not big bucks, it is clear the money is being invested wisely. We're particularly pleased to see a strong focus on students as well as on projects that promote the application of the lab's technical developments." SURA President and CEO Jerry P. Draayer added.
Now in its fourth year, the Initiatives Fund Program has supported more than 33 projects, including several projects that were previously provided by SURA as the predecessor management and operations contractor for Jefferson Lab.
More information about the JSA Initiatives Fund is available at http://www.jsallc.org/IF/IFIndex.html.
Courtesy of JSA news release dated Nov. 24, 2008.
Hall C Graduate Student Wins 2008 Blewett Scholarship
Hampton University graduate student and Hall C user, Ya Li, was one of three women awarded the American Physical Society's M. Hildred Blewett Scholarship for 2008. Over her shoulder are photos of her children.
Hampton University graduate student, Ya Li, was one of three early-career women to be awarded the American Physical Society's M. Hildred Blewett scholarship this year. Blewett, a particle accelerator physicist who died in 2004, was passionate about her field and wanted to help women scientists who had delayed their studies and careers for family reasons.
Li certainly fits that bill: The mother of three – Jacob, 4; Owen, 2 1/2 and Yealiya who is under a year old – chose to stay home for two years to be with the children rather than completing her Ph.D.
Her husband, Tim Southern, whom she met at Jefferson Lab, is a crew chief for CEBAF operations in the Accelerator Division. Since he works rotating shifts, it was nearly impossible for the couple to find and finance adequate childcare. The $18,000 she received from the scholarship is paying for that, and has allowed her to focus on her research.
"This has changed our lives," she said with a smile. "With no family nearby to help out, I'd been feeling really overwhelmed."
Li grew up in Wenzhou, China, and received her undergraduate degree in physics and master's in condensed matter physics from Tongji University in Shanghai. She first came to the United States in January 2001 to continue her work at the University of Houston, where she had a position as a research assistant and completed a second master's, this one in medium energy physics.
"Physics and math have always come easily to me," she recalled. "There was no single event that set my course. I just took to it naturally."
Although she learned English as a second language in China, using it in conversation when she came to the U.S. proved challenging. "The good thing was that in Texas many speak fairly slowly," she said.
She first came to Jefferson Lab in May 2003 to work on experiment E00-108, Duality in Meson Electroproduction, in Hall C under the auspices of her advisor, Ed Hungerford. She found a welcoming and supportive environment.
"Rolf Ent and Hamlet Mkrtchyan were wonderful about helping me get started," she noted. "I had no knowledge in this specific area, and they really held my hand all the way through."
Ent and Mkrtchyan encouraged her to continue pursuing her Ph.D. and to return to JLab after each of the one-year leaves she took with her first two children. "I was going to quit, but I really love physics. They gave me such encouragement and support."
By the spring of 2007, Li had talked with Thia Keppel, JLab/Hampton University, who, she said, "took her in." In fact, it was Keppel who told her about the Blewett scholarship.
Li is currently working with Hampton University Professor Eric Christy finalizing her analysis of a Hall C experiment that measured the nuclear dependence of the nucleon's longitudinal structure function.
She expects to finish her Ph.D. by summer 2009 and hopes to find a post-doc position to continue her work.
By Judi Tull
Feature writer
Jefferson Lab Director Hugh Montgomery
Shortly after arriving, Jefferson Lab Director Hugh Montgomery launched "Montage," a web-based personal column written from the director's perspective. New columns are periodically posted. You can read his current and archived columns at: https://www.jlab.org/montage/latest
Montgomery's current column discusses JLab's Performance Evaluation and Measurement Program and the impact of the rating system on the status of the Jefferson Science Associates, LLC, contract to management and operate Jefferson Lab for the U.S. Department of Energy.
For his biography, click here, or for additional information, click here.
Below the Fold
Obama Picks Berkeley Director for Energy Secretary
Steve Chu, Nobel laureate and director of Lawrence Berkeley National Lab, has been nominated by President-elect Barack Obama to be the next Secretary of Energy. Photo Credit: Lawrence Berkeley Nat'l Lab, Roy Kaltschmidt.
President-elect Barack Obama has nominated Steve Chu, director of the Lawrence Berkeley National Laboratory to be secretary of energy.
Chu, 60, is a Nobel laureate physicist and a professor of physics and molecular and cell biology at the University of California, Berkeley. He is also one of the nation's foremost and outspoken advocates for scientific solutions to the twin problems of global warming and the need for carbon-neutral renewable sources of energy. He has called these problems "the greatest challenge facing science" and has rallied many of the world's top scientists to address it.
Chu was one of three scientists to win the Physics Nobel Prize in 1997. He shared the 1997 Nobel Prize with Claude Cohen-Tannoudji, and William D. Phillips, "for development of methods to cool and trap atoms with laser light."
For more information about Chu and reactions to the nomination, visit the Berkeley Lab website at: http://www.lbl.gov/Publications/Director/index.html .
In a statement posted Dec. 15, Secretary of Energy Samuel W. Bodman said he was pleased with the nomination.
This information was compiled from material on the Berkeley Lab website and the DOE website.
---
Greener Computing Gets Nod from DOE
Jefferson Lab's High Performance Computing Group pauses for a photo after receiving the Department of Energy's Office of Science Pollution Prevention Star Award. Award recipients include (left, front to back) Lawrence Sorrillo, Randy Hartman, David Rackley, Christopher Miller, (right, front to back) Group Leader Chip Watson, Balint Joo, Jie Chen, and Sandy Philpott. They are accompanied by Roy Whitney, Information Technology Division associate director, and newcomer to the group, Christopher Larrieu. Award recipients not pictured: Michael Barnes and Ying Chen.
Jefferson Lab's High Performance Computing Group received the highest award offered by the Department of Energy's Office of Science for pollution prevention initiatives. The P2 Star Award was presented this summer to the group for energy-saving choices made during the procurement and installation of the 7N cluster computer.
The 7N cluster computer is the newest addition to Jefferson Lab's high-performance computing program. It is being used to model the strong force, the force that holds together protons, neutrons and the nucleus of the atom.
The P2 Star Awards recognize exemplary performance in integrating environmental stewardship practices to reduce risk, protect natural resources, and enhance site operations. The High Performance Computing Group was presented with a certificate bearing the following citation:
"In recognition of your efforts, which directly contributed to the 2007 Office of Science award for best-in-class to TJNAF for your leadership and management of installation and use of quad-core cluster computers."
The award presentation was made by DOE Thomas Jefferson Site Office Manager Jim Turi on behalf of Under Secretary for Science Ray Orbach. Turi thanked the team for a great job. "It's people like you that make the lab a success. It really depends on the people, and you're a testament to what we can achieve. On behalf of Ray Orbach, thank you very much."
In accepting the group award, Roy Whitney, JLab's Chief Information Officer, remarked on the group effort. "This was a real team effort. The whole group really pulled together to think through all the processes and to make all of this happen. So, we're very excited and very appreciative of the recognition of their accomplishments."
The new cluster computer installed in Jefferson Lab's Computer Center, during the summer of 2007, is not only faster and more economical than its rivals; it is also preferable from an environmental standpoint. The cluster was originally designed as a dual-core system. But the High Performance Computing group found that they could achieve greater performance at the same cost by using proportionally fewer quad cores instead. A net reduction of electricity consumption of 16 percent was realized due to the design change.
It's also anticipated that the quad-core system will have a longer useful life than the original dual-core system originally envisioned, saving $10,000 a year – equivalent to 212K kilowatt hours.
"The team worked long and hard to design the system so that we would get the most out of it while saving the most electricity and cooling. It's a truly integrated system, and the team did a great job in thinking it all the way through," Whitney said.
---
2009 Science Bowl Season Nears: Volunteers Needed for High School, Middle School Tournaments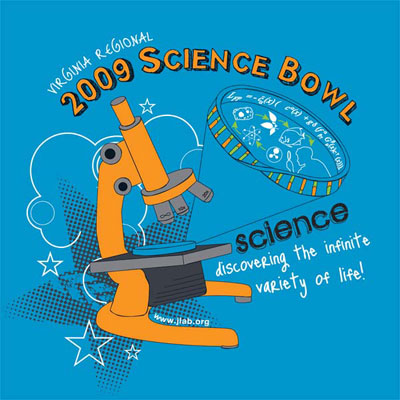 The 2009 National Science Bowl season is just around the corner, and Jefferson Lab's Science Education team seeks volunteers from across the campus to help with tournaments being held at the lab in February and March.
The National Science Bowl, sponsored annually by the U.S. Department of Energy since 1991, is a highly visible series of academic competitions among teams of students. "These events champion an interest in science and math across the nation," says Jan Tyler, Science Education manager, "and are a great way to promote education, academic excellence and careers using math and science."
Volunteer support is critical to the success of the Virginia High School Regional Science Bowl on Saturday, Feb. 7, and the Virginia Middle School Regional Science Bowl set for Saturday, March 7.
"We need volunteers for a range of activities," she adds. "These events are great fun. And we will provide all volunteers with training, a Science Bowl T-shirt and lunch if you are working morning and afternoon. We need you, your co-workers, spouse and children (over age 13) to assist with the many activities required to conduct these academic competitions.
"If you have enjoyed being part of the volunteer team for prior Science Bowls, or if you've never been to a Science Bowl, but want to be part of the excitement, we want you," she continues.
More than 70 volunteers will be needed to run each of the Science Bowl events. Most of the volunteers needed to support the tournaments will perform as competition moderators, rules judges, timekeepers and scorekeepers during the morning, round-robin sessions, according to Tyler. She will also need a smaller number of volunteers to run the afternoon double-elimination matches, be the on-site scientific judge who is called when a student challenges a question or answer during the competition, and a few individuals to help with administrative tasks. Volunteers may sign up for the morning shift (9 a.m. to 1 p.m.) or the day (9 a.m. to 3 p.m.).
Most of the public areas and conference rooms of CEBAF Center will be taken over during each of the competition days. Mornings will consist of round-robin matches, followed in the afternoons by double-elimination rounds. Twenty-two teams – that's more than 200 high school students, their families and coaches – will gather for the high school bowl. Twenty-three teams have registered for the middle school tournament.
The top three teams of each event earn cash prizes for their respective schools. The top high school and middle school teams will also win expenses-paid trips to the Science Bowl Nationals April 30 to May 5. Each team is made up of five students, and a teacher who serves as advisor and coach.
A Science Bowl is an academic competition among teams of students who compete in a verbal forum to solve technical problems and answer questions in all branches of science and math. The regional and national events encourage student involvement and interest in math and science activities, improve awareness of career options in science and technology, and provide an avenue of enrichment and reward for academic science achievement.
This is strictly a volunteer activity, Tyler reminds aspiring helpers. Anyone interested in more information or in volunteering, may contact Tyler by email (tyler@jlab.org) or ext. 7164.
High School Science Bowl Volunteers Training and Practice Sessions
Training/Refresher Session
Jan. 27 (Tuesday) at 10 a.m. and 2 p.m. in the Science Education classrooms, VARC 72 A and B.
Practice Session
Feb. 5 (Thursday) at 2 p.m. in CEBAF Center F113.
---
Cancer Probe for Men
The array built for initial tests is similar in size to a standard clinical prostate probe.
Jefferson Lab technology has been used to detect breast cancer early, saving women's lives. Now Jefferson Lab's Radiation Detector and Medical Imaging group is turning its attention to a cancer that afflicts men. The group is developing a cutting-edge probe for prostate cancer.
One in six men will be diagnosed with cancer of the prostate during their lifetime. Fortunately, 90 percent of all prostate cancers are detected when the disease is still confined to the prostate. Nearly all patients diagnosed and treated early enough remain cancer-free five years after treatment. But for 28,000 men this year, detection came too late.
Jefferson Lab's Radiation Detection and Medical Imaging group wants to change that. They are exploiting a new type of technology that will be used in the lab's 12 GeV Upgrade project. If further tests of the technology are successful, they hope to build a prototype medical imaging device that can be used in a probe for prostate cancer.
The basis for the imaging device is photomultiplier technology. Photomultipliers are a necessary component of nuclear medicine imaging devices.
In cancer imaging, the process begins with the injection of a drug containing a radioactive ingredient. Imaging starts once the drug has traveled to the area of interest – for instance, cancer cells. The radioactive material gives off high-energy photons similar to X-rays that travel out of the body, where they enter a medical imager.
Inside the imager, the high-energy photons strike a scintillation material. The material converts them into visible light photons that are then traditionally detected by a photomultiplier tube. The tube amplifies and converts the detected light into electrical pulses that are digitized and sent to a computer for translation into an image.
Older photomultiplier technologies were too large for use in small, pinpoint-accurate probes. That changed recently when photomultiplier companies began producing silicon-based photomultipliers. Hamamatsu Photonics, for example, recently released a version of this new type of photomultiplier, called Multi-Pixel Photon Counters. MPPCs can be attached directly to a circuit board and are small enough (3 millimeters on a side) to be assembled in a variety of shapes.
In the case of the prostate probe, another important feature of MPPCs is that they are unaffected by magnetic fields. That means that the technology can be used in a device similar to the transrectal probe that is often used to detect prostate cancer with ultrasound.
Jefferson Lab's team imagines combining the two imaging technologies to image potential prostate cancers with a new MPPC-based probe while the patient is also undergoing an MRI. Using the MPPC-based probe with MRI would give doctors the best chance of seeing small tumors in the prostate.
Tests of the imaging capabilities of a small, square array built with silicon Multi-Pixel Photon Counters shows good resolution.
To test the feasibility of such a probe, Radiation Detector and Medical Imaging group members built two small imagers with MPPCs: one square and one rectangular. Along with colleagues at West Virginia University, they recently tested the square device in magnetic fields up to 3 Tesla, the standard operating limit of an MRI magnet. They found that the magnetic field caused no ill effects on the imager's functionality.
The next step in development is further testing of the small imagers, followed by the construction of a first working prototype of a prostate probe.
In addition to combining nuclear medicine with MRI, the team is also investigating improving PET scans of the prostate with the probe technology. The goal is to combine a probe with a conventional PET scan to get better views of the prostate. It's hoped that improvement in PET imaging of the prostate will improve overall detection of prostate cancer and accuracy of prostate biopsy.
The group recently learned that the PET effort has received a thumbs-up from the Department of Defense's U.S. Army Medical Research and Materiel Command. The group, along with co-investigator Neal Clinthorne at the University of Michigan, will receive a Synergistic Idea Development Award of $785,000 beginning April to develop and test a probe for use in PET imaging.
Funds from the Commonwealth of Virginia were provided to the group via Jefferson Science Associates for initial exploration of this technology, with additional funds provided by the Department of Energy's Office of Biological and Environmental Research and a small Southeastern Universities Research Association grant.
Web pages with information regarding prostate cancer:
-- http://www.answers.com/topic/endorectal-ultrasound
-- http://www.prostatecancerfoundation.org/
By Kandice Carter
Science writer
---
'Tis the Season for eCard Scams
Greg Nowicki, JLab's cybersecurity analyst, encourages all lab computer account holders to be wary of eCards and phishing scams at all times, but especially over the holidays.
Be wary of holiday eCard scams and cyber attacks. The holidays are here again, and with them come the yearly flood of electronic greeting card scams. As popular as eCards are with your brother Phil and your Aunt Lucy, they're even more popular with Internet fraudsters, as several JLab computer account holders have recently learned firsthand.
This year more than ever, the eCard you receive might be legit, or it might be an attempt to trick you into giving an attacker access to the information on your PC, according to Greg Nowicki, Jefferson Lab's Cybersecurity analyst.
"There is email out there spreading links to sites which, if visited using a browser, could infect your computer," Nowicki points out. "Usually they don't wipe out your computer now-a-days, but use it to spread more spam and steal your personal information. And that can have longer lasting consequences than ruining your hard drive."
The e-thieves' biggest targets are credit card numbers, bank account details and other information that could help them steal both your identity and your money. Worse, the eCards themselves can appear to come from legitimate sites or to have been sent by your actual friends and relatives. Telling the legitimate eCards apart from the scams can be very difficult, and guessing incorrectly can cause real problems.
So what can you do to help protect yourself (and JLab) from this type of attack? Here are some tips:
* The most effective thing is to ignore the eCard altogether. If you don't click that link or open that attachment, the scam will fail.
* If you do not recognize the sender's address, or if the card comes from "a friend" or "a secret admirer," it's almost certainly a scam.
* If you do recognize the sender, send them an email and ask if they really did send the eCard. If you can determine who is sending it, and it is for a legitimate reason, it's probably safe to read the eCard.
* Do not rely on anti-virus software, patches or other security measures to keep your system safe from infection. Scammers are experts at getting around all types of automated security measures. You are the last, best line of defense against viruses, Trojans and scams.
When you receive one of these electronic cards (and odds are that you will), ask yourself, "Does this look suspicious in any way?" If so, simply delete the message and bask in the knowledge that you've helped maintain the Lab's cybersecurity and protected your personal information.
If you'd like to do some additional reading on eCard scams, here are several good URLs to start with:
-- http://www.allspammedup.com/2008/11/fake-greeting-card-emails-resurface/
-- http://www.pc1news.com/news/0167/fake-e-greeting-cards-being-sent-from-srizbi-botnet.html
-- http://www.snopes.com/computer/virus/postcard.asp
-- http://www.ic3.gov/media/2007/070718.htm
-- http://www.technewsworld.com/story/7ujrbuLiqQvvCV/Holiday-Scammers-E-Greeting-Card-Tactics.xhtml
-- http://blog.washingtonpost.com/securityfix/2007/07/notsofriendly_greeting_cards_1.html
-- http://www.enterpriseitplanet.com/security/features/article.php/3645616
If you have questions, contact the Computer Center HelpDesk at helpdesk@jlab.org.
---
Determining JLab Work Status During, After Severe Weather
If Jefferson Lab experiences a delayed opening or closure due to severe winter weather, there are multiple ways for staff, users and subcontractors to get current information on the lab's status.
For updated, recorded messages, call the main telephone number, (757) 269-7100, or call the JLab Status Line, (757) 234-6236. You may also visit the JLab website (www.jlab.org/) where weather closing or delay information will be posted as a banner message.
If timing warrants, your home phone number will receive a pre-recorded message, giving you the latest information about the lab's status. If you have access to your JLab email account, check your In Box for a Site Wide Alert message. If you have a JLab pager, check it for a weather alert/status notice.
In the event of a large or very severe weather event that disrupts electrical power/systems at JLab, knocking out these notification systems, visit JLab's Emergency Site Status webpage at http://status.jlab.org . This webpage is only used when all local communication modes are unavailable.
JLab closing or delay information is also given to the three local network TV stations (WTKR Ch. 3 (CBS), WAVY Ch. 10 (NBC) and WVEC Ch. 13 (ABC), and several local radio stations; but JLab cannot guarantee that the information will be posted or reported accurately.
If after checking these sources, you are still uncertain about going to work or you feel it would be unsafe for you to be on the road, call your supervisor.
If your supervisor has specifically informed you that you are designated as "essential personnel" for a weather-related event, be alert for special instructions that would affect you. All others – employees, users and subcontractors – are subject to closure status instructions and should not report to JLab before the time specified. In these cases, JLab's security service is under instructions to advise all but previously designated essential staff that the lab is closed.
The lab's procedures for winter storms are posted in the ES&H Manual, Appendix 3510-T4 under the heading "Winter Storms." Additional severe weather information is located at https://www.jlab.org/emergency-information along with suggestions for walking safely in icy conditions.
The lab's Administrative Manual (section 207.08.D.2) contains the policy regarding taking leave due to a weather emergency. One paragraph in the section says: "Employees, who, on their own, decide that weather conditions preclude their attendance or requires their early departure, may take vacation leave provided they obtain the advance approval of their supervisor."
If weather conditions deteriorate during normal work hours and the decision is made to close the lab, a Site Wide Alert notice will go out over JLab email and pagers and the early closing will be posted to the JLab InSight Front Page.
Should the lab have a delayed opening due to ice or snow, do not arrive prior to the designated start time, as additional traffic hampers the clearing of roads and parking lots.
JLab Snow Removal
Snow-removal procedures place priority on clearing the entrances most directly connected by pavement to the parking areas. For some buildings, this may not be the most frequently used entrance. Additional entrances will be cleared when all priority routes have been treated. Employees need to park in the areas already cleared and use the cleared paths even if it is not their usual route.
Facilities and Logistics Management has placed buckets of sand at many of the buildings for tenants to use as "self-service" to spread on ice while awaiting thorough removal. Please don't use these buckets for cigarette butts. For more information, refer to the Emergency Management page: https://www.jlab.org/intralab/emergency/index.html
Please remember that everyone at JLab is personally responsible to take necessary precautions and to pay attention to the hazards created by these weather conditions. Employees are urged to report unsafe conditions by calling Facilities and Logistics Management at ext. 7400.
Avoiding Slips and Falls in Winter Snow and Ice
Slips and falls accompany the winter months.  Nearly two-thirds of JLab's past mishaps occur on snow, ice, or wet surfaces near entrances or on parking lots.  Here are some tips to help you prevent falls:
-- Wear shoes or boots that provide good traction. Rough or rippled pattern rubber soles are generally best.  Smooth leather is the least desirable. Lugged rubber patterns fall in between. Slipover grip accessories are very effective on icy surfaces. Consider keeping a pair of ice-gripping, slip-over-the-shoe accessories in you car – just in case.
-- Give yourself plenty of time. Take short steps with your feet pointed slightly outward (think of how a duck walks). This will help keep your center of balance under you and provide a stable base for support.
-- Be extremely careful getting out of your vehicle. If possible, swing your legs around and place both feet on the pavement before you attempt to stand. Steady yourself on the doorframe until you have gained your balance and have firm footing. Avoid reaching beyond your center of balance to take hold of the door, as this may cause a fall.
-- Don't take shortcuts. Always use sidewalks and the cleared, designated paths in parking lots. Never walk between parked cars; there may be untreated ice and snow. Be especially careful when stepping to different levels – down or up steps or from curbs. Don't step on curbs. And remember, grassy slopes can be as dangerous as snowy steps.
-- Pay attention to the walking surface; it may be significantly slicker in spots. When walking after sunset or in shaded areas, be alert for black ice – a thin, almost invisible ice film. It can form from melted snow and ice water refreezing overnight. It also can occur when above-freezing air contacts frozen ground surfaces.
-- Carry only those items necessary. Carrying heavy or bulky packages affects your balance and center of gravity.
You can find more information about winter weather precautions for home and travel at Ready Virginia – Winter Weather: http://www.vaemergency.gov/prepare-recover/threat/winter-weather/
---
Virginia Delegate Brenda Pogge Visits JLab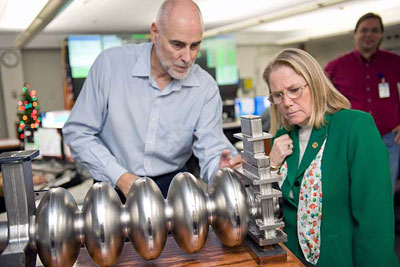 Andrew Hutton explains how superconducting radiofrequency energy accelerates electrons inside niobium cavities.
Virginia Delegate Brenda Pogge, 96th District, visited JLab on Dec. 11. She met with lab management and toured the lab. She visited the CEBAF control room and the Free-Electron Laser Facility, before hearing about medical imaging advancements being developed by the Radiation Detection and Medical Imaging Group and visiting the commercial operations of Dilon Technologies, located in the Applied Research Center. Here Andrew Hutton, Accelerator Division associate director, explains how superconducting radiofrequency energy accelerates electrons inside CEBAF niobium cavities.
---
Milestones: December 2008
Goodbye
David Bianco, Cybersecurity Analyst, Information Technology Division
Valerie Stell, Accounts Payable Clerk, Office of the Chief Financial Officer
These Milestone entries, listed alphabetically, are actions posted by Human Resources during December. Current JLab career opportunities are posted at: https://careers.peopleclick.com/careerscp/client_jeffersonlab/external/search.do
For more information about employment at JLab, visit: http://www.jlab.org/div_dept/admin/HR/employment/index.html.
The
On Target
newsletter is published monthly by the
Thomas Jefferson National Accelerator Facility
(Jefferson Lab), a nuclear physics research laboratory in Newport News, Virginia, operated by
Jefferson Science Associates, LLC
, for the
U.S. Department of Energy's
Office of Science
. Possible news items and ideas for future stories may be emailed to
jlabinfo@jlab.org
, or sent to the Jefferson Lab
Public Affairs Office
, Suite 15, 12000 Jefferson Avenue, Newport News, VA 23606