Improving Communication: Users' Group Board of Directors Implements New Feedback Procedures
Lab Contributions Exceed United Way Campaign Goal
KREBS Steps Down as Director of DOE's Office of Science
Into the Machine: Upgrade Planning Begins for No-Fuss, No-Frills Magnets
Employee Benefits: Flexible Spending Accounts Reduce Taxable Income
Lab Library Hosts Regional Events
---
Improving Communication
Users' Group Board of Directors Implements New Feedback Procedures
by James Schultz
Under new guidelines developed by the Jefferson Lab Users' Group Board of Directors, problem-solving is about to become easier than ever. Users will be able to bring ideas and suggestions directly to individual directors, who have been assigned specific subject areas to monitor and track. The idea, according to board chair Charles Glashausser, a professor of physics at Rutgers University, is to provide a regular avenue of communication and complaint.
"Instead of me or anyone on the board asking the vague question 'How are things going?', our questions can be very concrete and users will have a knowledgeable person to turn to who will be responsive," he says. "The idea is that users will communicate specific concerns to the individual responsible for a particular area. That way the board will have a far better feel for what's really going on."
The Users' Group board was created to act as the liaison between physics researchers and the Lab's management and permanent administrative staff. Of the 1,500 members of the Users Group, roughly half travel to JLab to run experiments in person. The remaining 50 percent remain at their respective facilities, providing administrative, logistical and other assistance, most notably with theory and data analysis.

From left to right: Steffen Stranch, Sonja Dieterich and Charles Glashausser from Rutgers University and Konrad Aniol from CalState-LA monitor experiment E-89-019 from the Hall A control room in the Counting House. The experiment measured proton polarization induced by gamma rays. Glashausser was back at the Lab on Nov. 12 to hold a Users' Group Board of Directors meeting.
This past July, Glashausser assumed the chair of the eight-member board for a two-year term that expires in 2001. Excluding Lab representative Karen Hokansson, the board members all hail from institutions and universities active in JLab physics research. It is these directors who will implement the new procedures.
Past chair Donald Geesaman will oversee concerns involving the installation and running of experiments. Director Donal Day will monitor quality-of-life issues, including those involving accommodations, registration, badges and personal-computer assignments, while colleague Werner Boeglin will survey computing issues related to such matters as data retrieval and processing, disk-space allocation and network setup. Gary Adams will handle questions on Program Advisory Committee matters, Gail Dodge will act as the primary point of contact for graduate-student concerns and Rory Miskimen will follow up on any problems related to environmental, safety and health regulations and training.
"There are no pervading major issues that people are up in arms about," Glashausser asserts. "There are certainly things we worry about. Computing is one; getting data analyzed quickly is always a concern. But it's being addressed.
"All of us maintain a vital interest in the Lab. Everyone wants to know that the best physics possible is getting done. So our job on the board is to make sure that all the outstanding issues are in fact being addressed."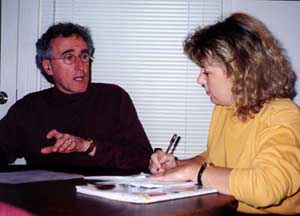 Users' Group Board of Directors chair, Charles Glashausser, Rutgers University, discusses the agenda for the Nov. 12 Board of Director's meeting with JLab's Karen Hokansson, board secretary/treasurer.
Perhaps the biggest agenda item for both the Lab and the board is the current five-year backlog of approved experiments. Plans are in place to reduce the overload to three years by 2003. To achieve this, Glashausser says, "the bar will be set higher. " Some experiments will be winnowed at their three-year, do-or-die review point; and only the strongest proposals will be accepted.
In all, says Glashausser, the Lab has made steady and impressive progress in improving operational efficiency. The changes in the board's feedback procedures are to insure that the forward momentum continues.
"I serve on various review panels so I get to hear what others think of Jefferson Lab," he says. "The Lab continues to do quite well – superbly, in fact. I keep hearing that this laboratory is a jewel. Given that kind of comment, it makes my job pretty pleasant."
---
Lab Contributions Exceed United Way Campaign Goal
The United Way's annual fund drive at Jefferson Lab was a success, bringing in more donations and pledges than ever before. The campaign – Breakthrough 99: Making a Difference Every Day – ran during the last half of October.
The Lab's goal was $30,000, which was exceeded by $3,829. To increase awareness of the annual appeal and to thank participants, campaign coordinator Yvonne Scott, Administration, held two prize drawings. During the early drawing, Steven Benson and Chuck Murray, Accelerator, respectively won a month's membership at Bally's Total Fitness and a free weekend at the Residence Facility. Tami Brown and Danny Lloyd, Administration, respectively won a certificate for a massage and tickets to the Parade of Homes.
The end-of-campaign drawing winners included MaryBeth Stewart, Director's Office, with two free movie passes; Tami Brown, Administration, received a month membership at Bally's; and from the Accelerator Division, Steve Suhring, Tom Hassler, Tom Reid and Marie Keesee respectively won a gift certificate for Outback Steakhouse, a month membership at Bally's, one free night at Day's Inn and a Ruby Tuesday gift certificate.
"I'm very happy with the Lab's participation during this year's campaign," Scott said as she wrapped up her first year as the Lab's campaign coordinator. "The fund drive supports so many valuable programs and services for families and children at risk. This is a great way to give back to our community."
Scott took over campaign coordinator responsibilities this year from Shilda Williams, Administration. Williams had been the Lab's campaign coordinator for the previous 12 years
---
KREBS Steps Down as Director of DOE's Office of Science
by Sharon Butler
Fermilab Public Affairs

Martha Krebs
After overseeing some of the nation's finest programs in scientific research, including studies in high-energy physics, Martha Krebs, assistant secretary and director of the Office of Science at the U.S. Department of Energy, has resigned, effective in December.
"DOE and the nation owe Martha Krebs a debt of gratitude for her stewardship for the past six years of some of the nation's premier scientific research. Her expertise, energy, vision, professionalism, and her leadership will be sorely missed," said Secretary of Energy Bill Richardson. "During her tenure in the Office of Science, the Department of Energy has emerged as a global leader in science technology, and technological innovation, and has made groundbreaking collaborations with the scientific community."
DOE's Office of Science, formerly the Office of Energy Research, funds basic research in the agency's national laboratories and in universities throughout the United States. In fact, it is the largest funding source for the physical sciences, including high-energy physics.
Before Krebs took over, DOE's role in basic research was little known or appreciated, particularly in congressional circles, said John Peoples, former director of Fermilab and now Chief Executive Officer of the Sloan Digital Sky Survey. He praised Krebs for succeeding in winning recognition in Washington for DOE's science programs.
In her resignation letter, Krebs counted among her accomplishments "delivering the highest of high technology on schedule, within budget and with a level of performance that enables American scientists to lead the world in many fields."
Krebs specifically mentioned several achievements during her career, including the fact that the High-Energy Physics Program developed a new long-range plan after the Superconducting Super Collider was terminated. The main goals of that plan, she said, were expanded investments in university high-energy physics; the on-time, on-budget completion of Fermilab's Main Injector and SLAC's B Factory; and the successful negotiation leading to participation of American scientists in the collaboration to construct the Large Hadron Collider and its detectors at CERN.
Krebs said her position as head of DOE's Office of Science was satisfying in spite of – and, indeed, sometimes because of – the challenges that she and her staff faced and overcame.
In a letter to her staff, Krebs wrote that deciding to step down was not easy. "The job of Director is not meant to be a career job but it also doesn't have clear milestones, where one can say, 'Now is a good time to leave.' However, I also have confidence that you and the programs will continue to move forward and make great science happen."
In a short note to Richardson, Krebs said she was assured the secretary would continue "his vigorous support of the Department's programs and especially its key role in fundamental science." She also promised the secretary that she would work with him to "provide a smooth transition for these programs."
She added, "It is never easy to say goodbye, especially when the separation will be long and involves people and work you love."
---
Into the Machine
Upgrade Planning Begins for No-Fuss, No-Frills Magnets
by James Schultz
Some are the size of a fist. A handful are bigger than a filing cabinet and weigh as much as 10 tons. Individually, they range in price from $500 to $50,000, with a collective value of $6 million. Nearly all have been in place for more than five years. But you won't find many problems among the 2,200 magnets that steer and focus the JLab accelerator's electron beam.
"The magnets are about as bulletproof as any system can be," says Leigh Harwood, senior staff scientist in the Accelerator Division. "They'll do anything the power supply tells them to do. Magnets simply don't require a lot of looking after. They get attention when something goes wrong, which is not often."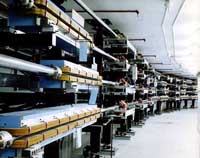 The dipole magnets force the electron beam around the arcs at each end of the accelerator. The electron beam travels around the accelerator up to five times - each time gaining more energy and requiring stronger magnets to bend the beam around the arc. The lower-energy beam is guided around the curve by the smaller dipole magnets, while the higher-energy beam is forced around the arc through the larger magnets at the bottom of the rack.
Magnet robustness owes much to their simple design: a copper coil wound around an iron core and connected to a power supply. They are classified by their two primary duties, that of steering and focusing. "Without the magnets, we don't have a recirculating linac," Harwood points out. "Without magnets, we wouldn't be able to deliver beam to more than one hall."
Despite variations in size, the magnets' field strength is relatively modest, many are comparable to that emanating from old-style horseshoe or children's magnets. There is little "fringe field" to speak of; the magnets concentrate their fields on the one-inch gap through which the electron beam travels, bending and consolidating the beam as required.
Upgrade Planning Continues
Accelerator magnets are included in the planning for the Lab's upgrade in the coming decade to 12 billion electron volts, or 12 GeV. Although the overall number of magnets should remain roughly the same, field strength will be increased, requiring additional magnet iron.
As currently configured, the magnets have limited capacity to magnify the field generated by the coils. Adding iron will extend the range to which the field is directly proportional to current. "If the field isn't proportional to current, then we waste power," Harwood explains. To further accommodate the upgrade, a number of the 1,800 power-supply units now in operation will have to be replaced, while others will be reused and reconfigured.

The quadrupole magnets are interspersed around the accelerator's beam line - keeping the electron beam focused or collimated.
The Accelerator Engineering Department has been performing computer modeling of magnets' performance and validating the outcome of those studies with tests of prototypes. These tests have shown good correlation between calculation and reality, according to Harwood.
Magnet reinstallation shouldn't be difficult. Technicians will simply unbolt the existing magnets from their brackets, install the new magnets and then reattach the mounts.
The next magnet milestone comes on April 15, when the next report on the upgrade will be released. This report will include details of magnet construction, performance, and cost that were not in the previous report.
"It's a pretty straightforward task," Harwood says. "I don't foresee any major problem. As with any upgrade, the schedule will be driven by the availability of funding."
---
Employee Benefits
Flexible Spending Accounts Reduce Taxable Income
Jefferson Lab regular and term staff, with dependents who are under age 12 or with a disability, may benefit financially by using the Lab's Dependent Care Assistance Plan. The plan allows employees to set aside a certain amount of their pre-tax pay to cover dependent care expenses.
"Depending upon the family, up to $5,000 a year in dependent care expenses may be deducted from an employee's pre-tax pay," explains Kisha Owens, Human Resources. "The amount you choose to set aside from each pay check is deducted from your pre-tax pay – reducing your taxable income."
DCAP is one of the Lab's pre-tax Flexible Spending Accounts. The Lab is also introducing a new HealthCare Spending Account. This program works similar to DCAP: regular and term employees may set aside up to $5000 on a pre-tax basis for out-of-pocket healthcare expenses. "If these plans can be of benefit to you, be sure to complete enrollment packages for both flexible spending accounts – dependent care and health care," Owens advises. Information sessions for employees are scheduled for Nov. 15, 17, and 22.
Currently, Lab employees may have medical and dental insurance premiums deducted on a pre-tax basis. Employees may enroll in this program in the Spring during the annual Benefits Open Enrollment.
The dependent care benefit may be used to pay dependent care expenses, for youth aged 12 and younger or disabled family members, while the Lab employee is at work and his or her spouse is at work or school.
When enrolling in the program, an employee elects to deduct a specific amount out of each pay check. The money is put in that person's DCAP account and when the employee submits receipts of paid dependent care expenses for that month – to the JLab Compensation & Benefits representative – the employee is reimbursed. Reimbursement checks are issued twice a month.
An employee may use any licensed day care center or day camp. "However, a 'qualified person' caring for your children in your home, cannot be anyone you claim as a dependent and must have a tax identification number or a social security number," according to Owens.
Open enrollment for the Dependent Care Assistance Plan takes place once a year; the next enrollment period runs from Nov. 15 — Dec. 3. Mid-year changes to an employee's DCAP enrollment are only allowed if there is a change in family status: marriage, divorce, birth or adoption of a child, death of a spouse or child, or a change in the spouse's employment status.
"DCAP may be used instead of, or in some cases in addition to, the dependent care tax credit on a Lab employee's federal income tax return," Owens points out. "Before deciding to participate in DCAP, employees should determine whether they would save more tax dollars by claiming the child care credit for some or all of their dependent care expenses."
"However," she cautions, "participants need to accurately calculate their annual child care expenses before enrolling or updating their enrollment in the program, and submit their reimbursement paperwork in a timely manner because, according to federal tax law, any funds left in a DCAP account at the end of a year are forfeited."
For more information, contact Human Resources to obtain a copy of the DCAP Fact Sheet. For answers to questions, or for more information on enrollment or reimbursement procedures, email Owens at owens@jlab.org or call her at ext. 7068.
---
Golfers Announce Results of Tourney
The Jefferson Lab 1999 Fall Golf Tournament was held Oct. 14 at Kiskiack Golf Club in Williamsburg.
It was a sunny but windy day, as the 51 golfers ventured to their tees shortly after noon for a shotgun start. Competition was stiff. Tournament winners included the Accelerator Division's Bob Nichols and three of his friends: Tony Adkins, Dave Page, and George Freed who finished the day with a 64. Coming in a close second place was the team of Kelly Tremblay, Accelerator; Mark Davis, Physics; Gary Thompson and Jim Kirkindal with a 65.
Members of the 1st place team each received a $35 gift certificate from the Kiskiack Pro Shop. Free rounds of golf were given as prizes for Longest Drive and Closest to the Pin. Winners for Longest Drive (men) were Dave Page and Steve Singleton, Accelerator. Winners for Closest to the Pin (men) were Steve Oyer, Director's Office and Bob Vignato, Accelerator.
Michele E. Joyce, Accelerator, won Longest Drive and Julie Oyer, Director's Office, won Closest to the Pin for the women.
Each player received a ticket for playing and could obtain additional tickets by buying 'mulligans' before play started. At the end of the tournament, tickets were drawn for prizes which included four Tommy Hilfiger golf shirts and two pairs of Foot-Joy golf shoes. $190.50 was raised from selling mulligans and one ticket was drawn to give away $100. Mark Davis had the lucky ticket!
"I want to thank Mark Davis and Mike Zarecky for their assistance with the tourney," says Julie Oyer, tournament chairperson, "and to the Accelerator Division and Yvonne Casalino for providing golf shirts as prizes, and to all the players who came out to make the day a great success! Look forward to doing it again in the spring!"
Medical Services Extends Flu Vaccines
Medical Services has extended its offering of free flu vaccines for all eligible Jefferson Lab staff (regular, term, State employees and student interns).
Medical Services has added a couple more days for flu shots: Monday, Nov. 22, 9 —11 a.m. (on a walk in basis); and Tuesday, Nov. 30, 9 a.m.— 4 p.m. (on a walk in basis)
To view information regarding the vaccine, access the Medical Services web site at www.jlab.org/div_dept/admin/medical/. Staff may call Medical Services at ext. 6269 (8:30 a.m.— 4:30 p.m.) for more information.
---
JAG Announces Variety of Holiday Events, Activities

The holiday season is nearly here, and with it the Lab's annual holiday events and activities. This year's line-up includes the annual toy drive for the U.S. Marines Toys For Tots program. Collection boxes will be in the main entrance areas of all major Lab buildings Dec. 1-11. New, unwrapped toys may be placed in the boxes through the morning of the children's holiday party.
The Holiday Door Decorating contest has become so popular with Lab staff and users that it is again on the schedule, says Becky Nevarez, Jefferson Lab Activities Group co-chair. Anyone wishing to participate may start decorating their office doors or cubicles on Nov. 29. Judging will take place Dec. 15 —16 and winners will be announced Dec. 17. Call Nevarez at ext. 7236 or email her at nevarez@jlab.org to enter the contest.
This year's Space Age Children's Holiday Party is set for Saturday, Dec. 11 from 10 a.m.— noon in CEBAF Center. Each family attending the party is asked to bring a new, unwrapped toy for the Toys For Tots box and a snack or finger food to share. The JAG will provide punch and table service. The party will include a variety of activities and games geared for children and the young at heart. Santa Claus is scheduled to visit. Cheryl Batten, Medical Services, is organizing the party and needs volunteers to supervise games and activities, serve punch, decorate CEBAF Center for the party and help with clean-up. Call her at ext. 6269 for more information.
The adult holiday party follows on Saturday, Dec. 18, from 7 p.m.—1 a.m., at the Holiday Inn Hampton Hotel & Conference Center, 1815 W. Mercury Blvd. To get there from the Lab take Interstate 64 East to exit 263B (Mercury Blvd. & Hampton Coliseum). Merge onto Mercury but stay to the right as the entrance for the Holiday Inn is the very first driveway on the right after passing under the I-64 overpass.
The evening will include heavy hors d'oeuvres, a cash bar, prize drawings and a DJ spinning tunes. Special songs may be put on the DJ request list through the end of November. Anyone wishing to add a song to the request list should contact JAG co-chairs Becky Nevarez, ext. 7236 or Susan Esp, ext. 7520.
The Holiday Inn is offering special-rate guest rooms – $49 per room – the night of the party. Reservations may be made by calling 838-0200. Tickets for the party will go on sale before Thanksgiving. Watch for more information about these events on JAG bulletin boards and the JAG web page at www.jlab.org/intralab/committees/jag/.

---
Lab Library Hosts Regional Events
The Library hosted two regional meetings and a workshop during October and early November.
The Tidewater Consortium Reference Librarians met at the Lab Library on Oct. 6. The program topic was Reference Service for Distance Education. Cynthia Swaine, Old Dominion University, discussed what ODU is doing and some of the issues and challenges involved in providing library services for distance education. Committee members talked about what is happening with distance education at their respective institutions. Nearly 20 librarians participated in the event.
The Tidewater Consortium Circulation Librarians met Oct. 21. Discussion focused on a number of library functional demands and requirements.
A Regional Southeast Library Network (SOLINET) training workshop was held here Nov. 2. The participants received continuing education training credits for courses covering management of metadata (information about information) in library operations. Lab Library staff hosted Cataloging Internet Resources, an essential knowledge access management course designed to prepare librarians for virtual/digital library development.
"It was wonderful hosting these events in the Lab's new (one-year-old) Library facility. The instructor and participants expressed pleasure in the speedy network response time. We hope to do more of this in the future. These events were great opportunities to expose a number of school and university librarians to Jefferson Lab," said Lab Librarian Elois Morgan.
---
Editor's note: If you have or know of a website that could be informative or useful to Jefferson Lab staff, call the public affairs office at ext. 7689 or email Linda Ware (ware@jlab.org).
The Lab's Human Resources & Services Web pages located at www.jlab.org/div_dept/admin/HR/ have a new look! The entire HR&S Home Page can now be seen without having to scroll down to view the remainder of the page. The new format is also more user friendly for customers and browsers. Every major link is now on the main page, without having to click on drop boxes to find a particular topic. In addition, the HR&S pages now include both quick find and search features to simplify locating specific information on the HR&S pages. The search feature will search only within the HR&S pages, not the JLab pages in general.
submitted by Ruben Pedroza, Human Resources