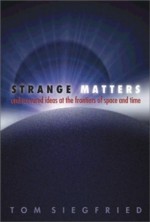 Journalist and author Tom Siegfried will discuss "Strange Matters: Science Headlines from the 21st Century" at Jefferson Lab on November 5
On Wednesday, Nov. 5, at Jefferson Lab, Tom Siegfried, Science Editor for The Dallas Morning News and author of the recently published book "Strange Matters" will present "Strange Matters: Science Headlines from the 21st Century".
Science is full of examples of prediscovery — the prediction of new phenomena in advance of physical clues to their existence. Antimatter, black holes, even the expansion of the universe were figured out by physicists studying squiggles on paper before any observer produced real evidence. Scientists have proposed a long list of new strange ideas of things that might be out there — from strange quark matter and invisible stars to new dimensions of space and time.
Eventual discoveries of such "strange matters" will make the biggest science headlines of the 21st century, possibly revealing new insights into the relationship between math and the real world, says Siegfried. From strange quark matter to multiple universes, visionaries predict the weird things science has yet to discover. Siegfried wants to show us a snapshot of what is now only fermenting in the minds of physicists but may one day be proven fact.
Yale University physics professor Robert K. Adair discusses "The Physics of Baseball" at the Jefferson Lab Science Series on December 9
Then on Tuesday, Dec. 9, Robert K. Adair, Yale University, discusses "The Physics of Baseball." This Sterling Professor Emeritus of Physics, one-time National Baseball League Official Physicist and author of "The Physics of Baseball," talks about the physical principles involved in the game of baseball, corked-bats, moving outfield fences, and why the big guys keep hitting the long ball. The flight of the ball, pitching, batting, and the properties of bats are discussed in nontechnical language that can be understood by young adults familiar with introductory physics.
And on Thursday, Dec. 11, Henry Petroski, the Aleksandar S. Vesic Professor of Civil Engineering at Duke University and author of 11 books discusses his most recent, "Small Things Considered: Why There Is No Perfect Design".
He will share with the audience his entertaining and perceptive study of design in everyday life, while revealing the checkered pasts and possible futures of familiar objects. He will take the audience inside the creative process by which common objects are invented and improved upon in pursuit of the ever-elusive perfect thing. Chairs, lightbulbs, cup holders, toothbrushes, doorknobs, light switches, potato peelers, paper bags, duct tape — as ubiquitous as these may be, they are still works in progress. The design of such ordinary items demonstrates the simple brilliance of human creativity, while at the same time showing the frustration of getting anything completely right.
The presentations begin at 7 p.m. and are held in the CEBAF Center auditorium, 12000 Jefferson Ave., Newport News. Each will last about one hour with a question and answer period at the end. The events are free and open to anyone interested in learning more about science. For security purposes, enter at the Lab's main entrance, Onnes Dr. (directions). Everyone over 16 is asked to carry a photo I.D., and security guards may perform I.D. and vehicle checks. For more information, visit JLab Science Education.
Duke University professor of civil engineering Henry Petroski discusses his most recent book, "Small Things Considered: Why There is No Perfect Design" at Jefferson Lab on December 11
Related Web Sites:
Tom Siegfried: Strange Matters: Undiscovered Ideas at the Frontiers of Space and Time
Books by Tom Siegfried
The Dallas Morning News
About Tom Siegfried
Robert K. Adair: The Physics of Baseball
An interview with Robert K. Adair
Yale University Physics
The Physics of Baseball
The Great Design: Particles, Fields and Creation
Henry Petroski: Small Things Considered: Why There Is No Perfect Design
About Henry Petroski
More about Henry Petroski
Books by Henry Petroski