The U.S. Department of Energy's Thomas Jefferson National Accelerator Facility

---
New Building Approved for Jefferson Lab Campus
This is an architect's rendering of JLab's planned Technology and Engineering Development Facility. The 70,000-square-foot building will sit between the Test Lab and Jefferson Avenue. An architect-engineer design firm has now started advanced conceptual design planning for the project. Rendering by Dills, Ainscough & Duff Architects.

On Sept. 23, the Department of Energy acquisition executive approved Critical Decision-1 (CD-1) for the proposed Technology and Engineering Development Facility to be built at Jefferson Lab.

The project scope calls for construction of a 70,000-square–foot, stand-alone building situated between the Test Lab and Jefferson Avenue, a 30,000-square-foot addition to the Test Lab and rehabilitation of the Test Lab (Bldg. 58).

The architect-engineer design firm, Ewing-Cole of Philadelphia, visited JLab Sept. 24 for a kickoff meeting with the lab's integrated project team and the tenant committee in preparation to start advanced conceptual design planning for the project. The tenant committee includes representatives from the Superconducting Radiofrequency, Physics, Engineering and Free-Electron Laser groups who will be affected by the project.... more
---
To the long list of those who have benefited from accelerator science, you can now add Virginia students....more

 

Newport News Mayor Joe Frank publicly praised former Jefferson Lab Director Christoph Leemann for his work.........more

 

The Jefferson Lab Activities Group is hosting a children's Winter Wonderland Holiday Party....more

---
New Building Approved for Jefferson Lab Campus
This is an architect's rendering of the 30,000-square-foot Test Lab addition, which recently received Critical Decision 1 approval from the U.S. Department of Energy - the second in a

five-step processing for approving DOE construction

projects. An architect-engineer design firm has started advanced conceptual design planning for the project. Rendering by Dills, Ainscough & Duff Architects.

On Sept. 23, the Department of Energy acquisition executive approved Critical Decision-1 (CD-1) for the proposed Technology and Engineering Development Facility to be built at Jefferson Lab.

The project scope calls for construction of a 70,000-square–foot, stand-alone building situated between the Test Lab and Jefferson Avenue, a 30,000-square-foot addition to the Test Lab and rehabilitation of the Test Lab (Bldg. 58).

The architect-engineer design firm, Ewing-Cole of Philadelphia, visited JLab Sept. 24 for a kickoff meeting with the lab's integrated project team and the tenant committee in preparation to start advanced conceptual design planning for the project. The tenant committee includes representatives from the Superconducting Radiofrequency, Physics, Engineering and Free-Electron Laser groups who will be affected by the project.

Design work is scheduled to start this fiscal year, followed by construction starting in late FY 2010. The new construction is currently scheduled for completion in FY 2012, with the renovation work being completed in FY 2014. Keith Royston, Facilities and Logistics Management, is the JLab project manager and Warren Funk, 12 GeV Upgrade team, chairs the tenant committee.

"This is great news. We are delighted," said JLab Director Hugh Montgomery. "Having a strong infrastructure is the basis for our advances in science and technology; I'd like to thank everyone at the lab who has been working on this proposal. Good job!"
Jefferson Lab/ODU Partner to Boost Accelerator Science
Rachel Sparks completed her undergraduate program at Old Dominion University, earning bachelor's degrees in both math and physics. For her senior thesis, she conducted research at JLab's Institute for Superconducting Radiofrequency Science and Technology.
To the long list of those who have benefited from accelerator science, you can now add Virginia students. That's because Jefferson Lab and Old Dominion University have joined together to establish a new Center for Accelerator Science at ODU. Created Oct. 1 in ODU's Department of Physics, the center will train the next generation of accelerator and light-source scientists and engineers.
"It's very broad, and it touches on just about every aspect of physics and engineering. That's what's attractive about accelerator science," says Jean Delayen, a principal scientist in Jefferson Lab's Accelerator Division.
The establishment of the center capped more than two years of effort, spurred by the findings of the High-Energy Physics Advisory Panel's Subpanel on Advanced Accelerator R&D, which noted a shortage of accelerator science programs. HEPAP advises the U.S. Department of Energy and the National Science Foundation on high-energy physics research.
"The panel came to the conclusion that given the planned accelerators and accelerator-based light sources in the world, we really don't have enough accelerator physicists to fill the need. The demand is larger than the few current programs at universities can meet," says Hari Areti, education and outreach manager for the Accelerator Division.
Two years ago, ODU launched an accelerator physics instructional program with the help of Jefferson Lab. JLab provided three of its research scientists to serve as part-time members of the ODU faculty: Areti, Delayen and Geoffrey Krafft, a staff scientist in JLab's Accelerator Division. A number of Accelerator Division scientists also serve as adjunct faculty in physics and engineering at ODU.
While a step in the right direction, the program fell short of what Accelerator Division head Andrew Hutton and ODU Physics Department Chair Gail Dodge felt was needed. Alone, neither JLab nor ODU had both the facilities and the educational program that tied together the array of disciplines needed to train would-be accelerator research scientists.
ODU had the educational infrastructure. But according to Krafft, "If you don't have an accelerator program to begin with, it's very hard to build one up within a university."
Jefferson Lab had the facilities, but as Areti noted, "We don't grant degrees. But we have fields that we specialize in, such as superconducting accelerators, high polarization, high-intensity injectors and beam physics. So we thought, why not work with a university and develop R&D programs in these particular areas?"
Joining forces allows both institutions to benefit.
"By forming the center and hiring a director, it will focus a lot of the work of people who are doing related things and help people go after grants and I really think it will enhance the research of everyone involved," Dodge says. In addition to chairing the ODU Department of Physics, Dodge is a nuclear physicist who conducts research at Jefferson Lab.
Hutton says that the lab will provide some funding and oversight for students, and open its wide range of technical facilities for student research. "For instance, Jefferson Lab has spectacular, world-class facilities in surface measurements and surface science testing. And we are able to make them available to students from ODU, which puts the center at a level which it would take them otherwise a decade and a very large investment to be able to match."
Delayen and Krafft, who have taught classes at ODU in the past, will continue to do so. They also advise students in research projects. In addition, the lab will share equipment with the university.
Delayen says the center is attractive not just to students, but also to lab scientists. "Accelerator research activities at JLab are more focused on the shorter-term, they are project driven," he explains. "That's where ODU comes in. The center will focus on the long term, and JLab will focus on the shorter term."
Another plus is that lab staff wanting to further their education in accelerator science now have a more convenient means to do so. In fact, several staff members are already seeking advanced degrees in accelerator science and related disciplines at ODU.
"The center will add to the opportunities that we have to train students in accelerator physics. That's one of the main goals, to provide training opportunities for our undergraduate and graduate students in accelerator physics," Krafft confirms.
Other core Center for Accelerator Science members include four full-time faculty members in the ODU Department of Physics: Professor Lepsha Vuskovic, Assistant Professor Alexander Godonov and Research Professor Svetozar Popovic and two faculty members of the Department of Electrical and Computer Engineering: Professor and Eminent Scholar Hani Elsayed-Ali and Professor Ravindra Joshi.
The center will reside in ODU's Department of Physics and is currently searching for an inaugural director.
Hutton says this is an auspicious time for establishing the center. The lab's core competency in accelerators built using superconducting radiofrequency technology will be a boon to current and future students.
For instance, the technology is used in many of the facilities featured in Facilities for the Future of Science: A Twenty-Year Outlook, a portfolio of 28 prioritized DOE scientific facilities and facility upgrades spanning the scientific disciplines. More accelerator scientists will be needed for these projects, providing a boost for the newly created center, ODU and Jefferson Lab.
"We believe that the proximity to Jefferson Lab and our close partnership will enable the center to grow quickly to a world-class level. And we hope that will, in turn, attract the best students who would want to come to ODU to work with us," Hutton says.
Dodge agrees. "I think that with the proximity to Jefferson Lab, the center will immediately be a top choice for students who want to study accelerator science."
See the ODU announcement online. Other schools that feature accelerator science programs include Indiana University, Louisiana State University, Cornell University and Stanford University.
HEPAP: http://science.energy.gov/hep/hepap/
By Kandice Carter
Science writer
Zero Sum Game for Neutrons
Retired JLab Director Christoph Leemann and his wife, Traute, in Newport News City Council chambers, where Newport News Mayor Joe Frank and City Council members presented Leemann with a "resolution of recognition" on Nov. 6.

Standing before a crowded room and members of City Council on Nov. 6, Newport News Mayor Joe Frank publicly praised former Jefferson Lab Director Christoph Leemann for his work and his career, and wished him well in retirement. The city also presented Leemann with a "resolution of recognition."

"It was a unique experience," Leemann told the public gathering of his 23 years at Jefferson Lab. "We overcame many obstacles to bring this facility about.

"It would have been fun to finish it," he said, referring to the 12 GeV Upgrade, "but it would have been too much for me at this time." The lab, he noted, is poised for great things under new and very capable leadership.

Leemann thanked the mayor and the city for "giving us extra strength and clout" when dealing with the many complex issues related to building and operating a world-class research facility. He said the city and the lab have an "exemplary relationship," and that the lab and its employees are now "deeply imbedded in the community."

"Looking back and recalling what the city was 23 years ago and seeing what it looks like today, the mayor has done a fantastic job. The city can be very proud of what it has accomplished," added Leemann, who attended the event with his wife, son and daughter-in-law.

In his closing remarks, the mayor noted that the lab not only brings well-educated workers and leading scientists to the area, it also contributes to the education of the city's school children and the training of their teachers.

"It's not just what the lab has done in the universe of science," the mayor said, "the lab also has been engaged in the city under the leadership of Christoph."

Leemann retired as director in September. He continues to keep a part-time office at the lab, while holding the position of director emeritus.
JAG Sponsors Holiday Events for Young, Young at Heart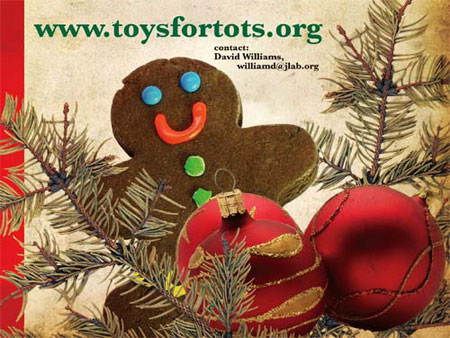 Volunteers are needed to assist younger children with basic cutting, gluing or tying.) Volunteers are also needed for the snack area and as Santa's Helpers. Sign up now to help http://www.jlab.org/intralab/committees/jag/current.html

Children Invited to Winter Wonderland Party
The Jefferson Lab Activities Group is hosting a children's Winter Wonderland Holiday Party on Saturday, Dec. 13 from 10 a.m. to 1 p.m. in the CEBAF Center lobby. All children of JLab employees, contractors and users are invited.

Santa Claus plans to drop in on the party, and will be available to talk with and be photographed with the children. Youngsters may take part in games and craft activities. Light snacks and drinks will be provided. All children must be accompanied by an adult. Each family is asked to bring a new, unopened toy donation for Toys for Tots.

Help With Children's Party
Nearly two dozen volunteers are needed to help with the children's holiday party, mostly as crafts-table and game helpers. (All crafts and supplies will be provided. Volunteers are needed to assist younger children with basic cutting, gluing or tying.) Volunteers are also needed for the snack area and as Santa's Helpers.

Toys for Tots Toy Drive Gets Underway
As in years' past, JLab is participating in the U.S. Marine Corps' annual Toys for Tots toy drive. Bring in your donation of new, unopened toys for children ages 1-12 by 4 p.m. Friday, Dec. 12. Local marines will pick up the toys during the JLab Children's Holiday Party on Saturday, Dec. 13, and distribute them to children in need. Marked drop boxes are located near the main entrances of CEBAF Center, VARC, ARC, Test Lab and the MCC. For information about the Toys for Tots program, visit www.toysfortots.org.

Ready, Set, Hang Those Decorations
JAG is also sponsoring a Holiday Office Door/Cubicle Decorating Contest. Prizes will be awarded for the Best Decorated, Most Original Decoration, and the Silliest. All employees, users and contractors with an office or cubicle may enter the contest. To enter, you must email JAG Chair Dave Williams at williamd@jlab.org by 5 p.m. Dec. 17. Include your name(s), building number and office/cube location. Judging will take place Dec. 18 and 19 and the winners will be announced on Dec. 22.

Decorations may go up as early as Dec. 1 and should be taken down by Jan. 5. Decorating materials should be fire resistant and only UL-approved lighting/electronics may be used. Please don't use food-based items in your decorations.

"Plan on being part of the fun and festivities," Williams urges. "Mark your calendars. Look for the JAG fliers in your work areas, visit our webpage or contact a JAG committee member for more information."

For more information, contact JAG at jag@jlab.org or visit: https://www.jlab.org/jag/index.php
Below the Fold
JLab's Safety Manual Gets New Look, Useful Features
A redesign effort is underway to make Jefferson Lab's Environment, Safety and Health Manual easier to access, use and understand, according to Mary Jo Bailey, ES&H Manual editor. The redesign process began several months ago, and now the first batches of updated or rewritten chapters and appendices are being posted online to the manual.

A new format makes the Table of Contents easier to browse. And the new look of the chapters and appendices is cleaner, more straight forward and provides useful html links to other chapters and appendices within the manual, as well as to other supporting documents outside of the manual.

Lab policy – the overarching plans and goals – will be presented in the chapters, followed by specific procedures in the appendices. Chapters will be broken down into the following sections: Purpose, Scope, Responsibilities, Expectations and References. Appendices have a Process Steps section instead of the Expectations section found in the chapters.

New features are being built into all of the documents – features that will make it easier to move between chapters and appendices and facilitate finding the meaning of acronyms and definitions for technical phrases.

Buttons at the bottom of each document allow the reader to quickly click:
-- Back to the Table of Contents,
-- to open a Word document of the chapter/appendix to facilitate submitting edits or for printing,
-- to search the ES&H Manual for related or new topics,
-- and to access a Glossary of Terms.

A block below these tool buttons names the document's author, the approval and effective dates, and the expiration date for the document.

The review process has changed to help improve and streamline the process. The emphasis is on clarifying roles and responsibilities, limiting the required approvals, and establishing and following the review schedule. All documents will still be reviewed every three years. These reviews will be initiated by the author in coordination with the appropriate subject matter experts. If changes are minor, the changes will be made at that point. If significant or substantial changes are needed, the document and all edits or changes will be reviewed by the Director's Safety Council or the division safety officer. The document will then be approved by the directorate.

Minor edits and typographical errors may be submitted to the ES&H Manual editor by anyone at any time and the corrections will be made.

"We're working to reduce redundancy in the individual chapters/appendices and between the documents," Bailey noted. "This will help to shorten the documents and help ensure more consistency in terminology."

The ES&H Manual now exists solely online. "Anyone still holding on to the two-volume paper version should disassemble the three-ring binders and recycle all the paper," Bailey said. "The binders haven't been updated in some time. When you have a safety question, go to the manual on the web. By doing this you will always get the most current, most accurate information. Don't rely on outdated printed material and don't rely on your memory or that of a co-worker."

Check out one of the redesigned chapters, 1300, Content Review Policy. As chapters and their respective appendices are approved, an announcement will be posted on the Insight page in the JLab Safety Snapshot box (located on the upper right section of the page).
---
Plan to Attend BEAMS Volunteer Fair Dec. 8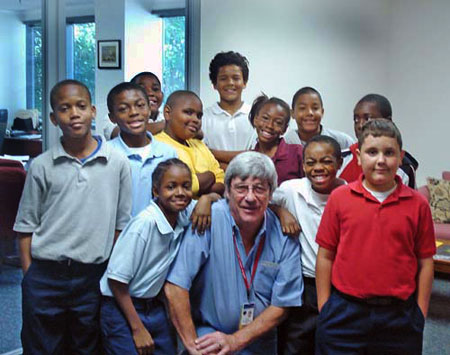 Jefferson Lab Director Hugh Montgomery and a group of BEAMS students pause for a photo. The students visited Montgomery as part of the role model visits – one of the many opportunities offered to classes participating in JLab's Becoming Enthusiastic About Math and Science program.

Mark your calendars; bring a co-worker! The Jefferson Lab BEAMS Volunteer Fair will be Monday, Dec. 8. Drop by the VARC classrooms (Bldg. 28, rooms 72A-B) anytime between 3- 4 p.m. At the fair, you will learn about BEAMS – Becoming Enthusiastic About Math and Science – the lab's long-running, math and science enrichment program for elementary and middle school students.

The Science Education group is seeking new and returning volunteers to help in a variety of capacities.

"If you enjoy working with fifth or sixth graders, we'd love to have you stop by and see the activities students will be doing when they come here in the new year," says Science Education Administrator Christine Wheeler. "We're looking for staff, users and students interested in helping the fifth- or sixth-graders during an activity, leading them in a planned activity and acting as role models. We will have the schedule available, so you can even pick an activity based on when you will be most available.

"Volunteers are critical to the success of all JLab science education programs, especially BEAMS. Our BEAMS volunteers have been exposing young students to the applications, importance, and excitement of mathematics and scientific principles for 17 years. Students get to learn about you and your job, and you get to have fun working with lots of smiling faces – everybody wins!

"We'd love to have you join us this year, for the first time, the hundredth time, or for the first time in a long time," Wheeler adds.

What do BEAMS volunteers do? BEAMS volunteers either lead or assist with planned activities for the students. Each activity lasts for about 75 minutes. Role Models invite a small group – usually 10-12 fifth graders – into their office or a child-safe work area for 15 minutes. Role Models talk about what they do, their education and how they support the lab's scientific mission.

Science Education staff will have several of the activities, scheduled for winter and spring 2009 classes, all set up and ready to show to interested volunteers. Activities that will be on display include Design & Engineering, Oobleck, Electromagnets, Atoms & Energy Stations, Hurricanes & Thermometers, Solar System, Go Far Cars and Cold Stuff.

"Stop by and meet a new face, learn how to share your excitement for learning with youngsters, and enjoy refreshments and freebies," Wheeler says. "We are looking forward to the continued success of BEAMS and hope we can count on you to help us accomplish just that."

Contact Wheeler if you can't attend the volunteer fair but would like more information, or if you would like to start helping classes that are visiting JLab now. Email wheelerc@jlab.org or call ext. 7560.
---
Introducing Stephen Smith, JLab's New Lead Quality and Safety Engineer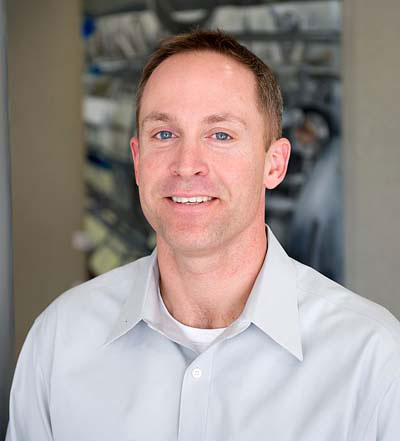 Stephen Smith
Lead Quality & Safety Engineer and Compliance Reporting Officer
Stephen Smith, one of the new members of Jefferson Lab's Environment, Safety, Health and Quality Division, was born in Jacksonville, N.C., but he and his older brother spent much of their early years moving around the Southeast while their dad worked in construction. The family ultimately settled near Staunton, Va., where the boys attended public schools. When it came time to choose a college, Smith opted for VMI, from which his brother had graduated the spring before. And, like his brother, Steve received a full scholarship.
While there, he met his wife, Betsy Overkamp-Smith. After graduating with a degree in mechanical engineering, he received a commission in the Navy, where he served as a lieutenant in Surface Warfare. "It was very exciting work, and [it] really influenced my career path," he noted.
After four years, it was time to make a decision. Staying in the Navy, he knew, would require extended stays away from home. "It boiled down to a choice between the Navy or family," he said. When the couple discovered that Betsy was pregnant with their first child, the decision was easy. It would be civilian life for him.
He worked for an engineering consulting firm in Williamsburg as a construction project manager. He coordinated the start-up safety review of a chemical plant, managed on-site resources, as well as the schedule and progress for a $100 million synthetic paper plant.
He knew, however, that to be truly successful in business, he would need a master's degree. He entered the Graduate School of Business Administration at the College of William and Mary from which he graduated in May 2000. During his time there, he received the James C. Wheat, Sr. Memorial Scholarship for two consecutive years.
During the following eight years, he worked for a local manufacturing firm as corporate quality manager, and for a lean six sigma implementation firm as a management consultant. During that time he achieved numerous certifications in his field, including the ASQ Six Sigma Black Belt. (The ASQ – American Society for Quality – is an international membership organization devoted to quality). An ASQ Certified Six Sigma Black Belt is a professional who understands and interprets business process data, and then implements improvements to significantly reduce errors and increase efficiencies.
"This background is a good fit for my work here," Smith noted. "Jefferson Lab already has some excellent data collection tools, and usually that's the major problem with improvement implementations. So it was good to jump right in and help."
While working as a consultant, he first met with representatives of Jefferson Lab to discuss some potential quality-related work. He was immediately impressed. "There is a real sense of camaraderie here," he recalled. "The lab is doing important work that ultimately helps people, and that meant a lot to me. I knew that I wanted to be part of it somehow."
So he set about watching the lab's website until his new position became available. He jumped at the chance. He's been busy since coming on board July 1 as the lead quality and safety engineer, working with cross-functional teams tasked with implementing corrective and improvement actions being put in place after the Department of Energy's Health, Safety and Security audit of JLab's Environment, Safety and Health program that took place in May and June.
Smith, his family, and two dogs live in Williamsburg. He and Betsy, who is the communications coordinator for York County Schools, are busy with their children Matthew, who plays middle-school sports and leads an active social life, and Riley, who rides horses, loves animals and hopes to be a veterinarian.
They live across from the Greensprings trail, a perfect location for Smith to indulge his passion for outdoor sports. He's an experienced triathlete and has his sights set on taking part in an upcoming Ironman competition.
"I try to challenge myself," he said. "Dad always said, 'Don't play small,' and that's how I try to live my life."
By Judi Tull
Feature writer
---
Quark Cafe Staff Member Wins Regional Award
Sandra Graham
Quark Cafe
Eurest Hourly Associate of the Year

Sandra Graham enjoys people. And as a member of the Quark Cafe staff at Jefferson Lab, she thoroughly enjoys the customers and co-workers she interacts with on a daily basis.

Graham's hardworking nature and desire to help customers and co-workers recently earned her a Eurest Mid-Atlantic Region 2008 Be A Star award.

Recognized as the Hourly Associate of the Year, Graham was one of three Eurest employees recognized from across the Mid-Atlantic Region "for demonstrating passion and striving for excellence in their work." A Eurest committee reviews each nomination and selects the individual that has made the greatest contribution to their account or region's success.

Winning this award means a great deal to Graham. "To be recognized like this has been overwhelming," Graham said. "I've never had a manager give me this kind of recognition before. This has been a special blessing, and I thank my manager.

"We were short on staff. The work had to be done," Graham recalled of a busy period this summer. "I just said, 'It's gonna be alright.' I'd finish one job and move on to the next."

Graham began working for Eurest at JLab's Quark Cafe in July 2004 after working as a server at a local university cafeteria. She started here part time as a utility worker before moving into a full time position. She took the job at the lab because it didn't require weekend work; she was using her free time to help a sick sister in North Carolina.

"I stayed here because this job worked out so well," she added. "I've had the opportunity to learn lots of valuable food service skills."

"Deciding to nominate Sandra for this award was the easiest of all the star requirements," said Quark Cafe Manager Gaye Davenport. "It is often the unsung heroes who make a unit successful, and this is so true with Sandra. She is officially titled as a utility worker but she does so much more. On any given day Sandra works catering events (and many days that means multiple events), prepares Outtake salads and parfaits for lunch service and then heads for the dishwashing room.

"Sandra's parfaits have become quite a hit at the lab," Davenport added, "and many days, guests stop by to ask Sandra for a special-request Outtake salad which she gladly makes."

Graham "performed above and beyond" for a time this summer when the cafeteria was short staffed. "Sandra stepped in to help prep for breakfast, then slid into the deli prep role and then on to salad prep and Outtakes and desserts. And after all the prep work was complete she headed for dish room, all the while maintaining her sunny disposition," Davenport noted. "She does a great job managing cleanliness in the dish room.

"I have been a manager for the past 20 years and I can say without hesitation that Sandra Graham is among the best. It is a privilege to have someone like Sandra on our team and representing Eurest in this way," Graham's supervisor commented.

What does Graham like least about her job: "When it's not busy."

In her spare time, she enjoys spending time with her granddaughter, visiting local parks, watching movies and going out to eat.

Unfortunately, she was ill in October when she was supposed to attend the Eurest national awards banquet in Orlando, Fla. She was too sick to travel, so true to her nature, she gave the trip to a co-worker.
---
TGS Joins DOE Mentor-Protégé Program at JLab
Leslie Fernandez
President of TGS
Floyd Snyder
Qualified Independent Inspector
Audrey Daly
Technical Writer
TechnoGeneral Services Company, or TGS, is an engineering firm that has been providing engineering, technical and regulatory-compliance support, quality assurance, project management, construction management, and start-up services to its customers since 1995. Its clients include Department of Energy prime contractors, the Department of Defense and general industry.
TGS has done work for Jefferson Lab since October 2006. In 2007, Jefferson Science Associates, LLC, established a three-year Mentor-Protégé agreement with the company. The DOE mentor-protégé program is designed for DOE prime contractors (like JLab) to mentor and guide woman- and minority-owned businesses – so that they become new business resources within the Department of Energy and larger government-vendor communities. During the three-year contract TGS has with JLab, the lab will mentor TGS and promote the growing company within DOE and to other government contractors, according to Danny L. Lloyd, JLab's Small Business Program manager.
TGS is a small, disadvantaged business of 11 employees, licensed by the state of Washington. It has a proven track record of accomplishments with DOE, DOD and commercial clients, according to Leslie Fernandez, president of TGS.
Fernandez states that "the JLab experience is the most valuable experience the company has gained in its 14 years of existence." He attributes it directly to the sophistication of the technology being used at JLab and the high caliber and collaborative nature of its management and technical staff.
TGS has provided services and support to Jefferson Lab in the areas of:
ASME Code compliance (American Society of Mechanical Engineers),
Welding and fabrication processes, including Certified Inspections and Training,
Brittle fracture testing strategy for cryogenic applications,
Peer review of engineering calculations and documents,
Procurement technical specifications,
Review of technical specifications for magnets, structures and components,
Contractor assurance program management assessment,
ISMS – work processes and control documents and procedures,
Pressure systems assessments, and
Procedures and technical writing support.
TGS has performed well for us and meets our expectations, according to JLab's Quality Assurance/Continuous Improvement Manager Bruce Lenzer. "The company provides JLab with cost-effective services on time and within budget. TGS has done an exemplary job supporting the implementation of 10 CFR 851 and ASME Codes and Standards."
TGS is based in Richland, Wash., and has offices at the VARC building at Jefferson Lab and also at 4105 William Styron Square, Newport News.
---
Virginia Delegate Chris Jones Visits JLab
Virginia Delegate Chris Jones, 76th District, visited Jefferson Lab on Nov. 14. He met with lab management and toured the lab. He visited the CEBAF control room and the Free-Electron Laser, before hearing about medical imaging advancements being developed by the Radiation Detection and Medical Imaging group and visiting the commercial operations of Dilon Technologies, located in the Applied Research Center. Here he views the micro-machining lab in the FEL with Associate Director George Neil (left) and JLab Director Hugh Montgomery.
---
JLab Experiment Seeks 'Greener' Golf Carts
Manny Nevarez, material handling service coordinator, stands next to golf cart No. 7, which has been outfitted with a solar panel on its roof. He is testing the solar-power system to see if it can reduce JLab energy use.
An experiment in green technology is rolling around the Jefferson Lab campus. Facilities and Logistics Management is testing whether solar panels will operate as efficiently as plug-in battery chargers and provide a viable renewable power for the lab's 50 golf carts.
"About four months ago, Rusty Sprouse, Facilities and Logistics manager, asked if it was possible to outfit a golf cart with solar technology. I purchased the equipment and had one of our existing golf carts retrofitted with the solar cells," says Manny Nevarez, a material handling service coordinator.
Nevarez installed a solar panel system on golf cart No. 7 on Aug. 26. He says the panel isn't large enough to generate all the electrical current to actually charge the golf cart's battery. However, the technology does slow down the battery's discharge rate when not in use.
Although only a few months into the test, the preliminary findings indicate that the solar panels can potentially cut a cart's electrical draw by at least half. The average lab cart is charged about once a week, while the solar-equipped cart is charged on average once every two-three weeks.
Installing the technology on a cart runs about $3,000. Nevarez expects, however, that the technology will pay for itself over the life of the cart by lowering the lab's usage of electricity for charging the carts. "It takes about $15 to charge a golf cart each month, approximately. We're not saving money, but we're investing in renewable energy."
Nevarez will test the cart for at least six months before Facilities and Logistics Management will decide whether to proceed with the conversion to solar. "When you're trying to calculate an item on its ability to perform, you need more than a few months of data."
Meanwhile, another golf cart initiative is also saving resources by helping cart owners know when to plug in their carts. Most of the carts on campus have been outfitted with a dashboard-mounted battery charge meter. These carts should be plugged in once the meter shows just two bars. "Once you get down to one blinking bar, you have only about fifteen minutes of charge left," Nevarez says.
This experiment is part of JLab's larger energy conservation effort to comply with the Energy Act of 2007 and Executive Order 13423 – Strengthening Federal Environmental, Energy, and Transportation Management. These directives require in part a reduction in building energy use, an increase in building sustainability, conversion to alternative-fuel vehicles, increased recycling and increased use of environmentally friendly products.
By Kandice Carter
Science writer
---
Milestones: October through November 2008
Hello

Henry Brown, Safety and Health Specialist, Department of Energy's Thomas Jefferson Site Office
Eric Forman, Accelerator Operator, Accelerator Division
Jodi Patient, Receptionist/Administrative Support, Physics Division
Barbara Rice, Procurement Administrator, Office of the Chief Financial Officer
Christopher Thomas, Post Doctoral Fellow, Theory and Computational Physics
Tara Wilkerson, Human Resources Assistant, Chief Operating Officer Division
David Williams, 12 GeV Project Administrative Assistant, 12 GeV Upgrade Project
Williams began working here in a temporary capacity, May 27 though Sept. 12.

Goodbye

Michael Epps, Machine Control Center Deputy Group Leader, Accelerator Division. Epps is now an Accelerator Operations and Project Engineer for the Department of Energy's Thomas Jefferson Site Office.
William Sommer, Accelerator Radiofrequency Technician, Accelerator Division
Delvin Whitlock, 12 GeV Upgrade Administrative Assistant, 12 GeV Upgrade Project

These Milestone entries, listed alphabetically, are actions posted by Human Resources during October and November. Current JLab career opportunities are posted at: https://careers.peopleclick.com/careerscp/client_jeffersonlab/external/search.do

For more information about employment at JLab, visit: http://www.jlab.org/div_dept/admin/HR/employment/index.html.
The
On Target
newsletter is published monthly by the
Thomas Jefferson National Accelerator Facility
(Jefferson Lab), a nuclear physics research laboratory in Newport News, Virginia, operated by
Jefferson Science Associates, LLC
, for the
U.S. Department of Energy's
Office of Science
. Possible news items and ideas for future stories may be emailed to
jlabinfo@jlab.org
, or sent to the Jefferson Lab
Public Affairs Office
, Suite 15, 12000 Jefferson Avenue, Newport News, VA 23606