Technical Writer Competes in USA Triathlon National Championship
In April, hundreds of Mary Jo Bailey's Jefferson Lab colleagues saw her sprint to the finish line of the lab's annual Run-A-Round race in just six minutes and 53 seconds—her personal record for the mile-long race.
Months later, as a competitor in the coveted USA Triathlon Age Group National Championship, tens of thousands of triathlon fans and racers saw Bailey place 52nd in her category in her first national-level Olympic-distance triathlon. The 58-year-old was invited to the championship based on her impressive top-finish performances in triathlons over the past decade.
A Sport for All of Life's Phases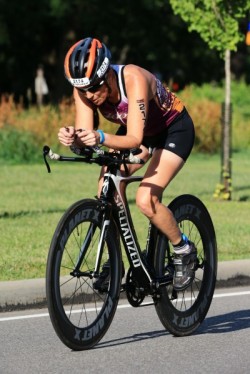 Bailey has been a lifelong athlete, specializing in swimming and endurance sports.
"I grew up on Lake Washington in Washington State," she says. "That's where I learned to swim. I swam in high school and in college my friends and I were always out on the water. They would open the summer season by swimming across the three-mile-long lake to have breakfast."
Later, and before their son Gareth was born, Bailey and her husband, Bruce, spent their weekends biking and participating in off-road adventure races, which involve competing in a variety of sweat-inducing activities, such as kayaking, running, swimming and wayfinding to reach a handful of checkpoints and be the first team to return to the finish line. Then, once Gareth was born, she began running and started swimming again while he was in swim lessons.
Bailey's entre into competitive running came in her 40's, when a friend asked her to train for a marathon.
"A friend was going through a midlife crisis and she read that running a marathon will boost your morale," she says. "My friend asked if I wanted to train with her. I told her that I was a biker. So, we got a book about running and we ran the Shamrock Marathon in Virginia Beach."
Bailey finished her first marathon in 2004, averaging fewer than ten minutes per mile for all 26.2 miles. She then went on to qualify and run in the coveted Boston Marathon in 2007.
A Triathlon Hobbyist in the Company of Professional Athletes
Despite her athletic prowess, Bailey was surprised when she was invited to compete in the USA Triathlon Age Group National Championship.
"I thought there was a mistake when I got the e-mail inviting me to enter," she laughs. "Then, once I completed the application, the organizers contacted me to ask what team I am on and what group I train with. I e-mailed back and told them that I'm old and was surprised I even qualified and that, to me, this is a hobby, and I just hoped I wasn't going to be last."
Bailey, who had previous triathlon finish times that put her in the top 20 percent of athletes amongst the National Championship qualifiers in her category, modestly admits that she felt intimidated by the competition at the event.
"Even just being in the company of these people, it will be like…they'll look at me and just wonder what that old lady is doing here," she laughed shortly before leaving for Cleveland, where the championship took place. "Some of the elite athletes are going to be done before I get in the water."
The championship took place over two days and included more than 5,000 athletes starting in waves based on their age and gender category. The USA Triathlon Age Group Nationals Olympic-distance triathlon included a 1,500-meter swim, 40-kilometer bike ride and a 10-kilometer run. Bailey finished 52nd in her category with a total time of 2:42:15.0.
Devoted to Being Involved
Bailey applies the same interest in taking on fresh challenges to her work at the lab, where she has been a technical writer with the quality assurance group since 2001. Yet, she says her involvement in the Jefferson Lab Activities Group is one of the roles she is proud of most. With JAG, Bailey helps to promote family and community involvement through social events, such as the annual Children's Holiday Party, the Run-A-Round and Octoberfest.
"We get a lot of scientific users here at the lab, and part of our outreach program is to show them some typical American activities," she says of JAG. "We have users from all over the world, so we have activities to help with socialization, particularly around 'American' activities."
Bailey notes that JAG currently has eight members and is open to input from any of the lab's employees.