ANNOUNCEMENTS
JUNE 2023 GAS CYLINDER MARKINGS

As a reminder to those who may not know, please do not mark on or place tape with markings on the gas cylinders.  If you need to leave a message for the driver, please use a wire label, which you can get from the stockroom and loop it through the gas cap vent holes/slot, or contact Don Brown at ext. 6297 or Shipping and Receiving.   

NEXT MEETING

When: TBD - Quarterly Meeting
Where: CEBAF Center F113 
Time: 9:00am - 10:15am

QUARTERLY MEETING MINUTES

No Presentation for December 11, 2019

October 23, 2018 - Presentation

ACCOUNT FOR YOUR SAFETY INSPECTION TIME

Use the following Charge Codes on your Timesheets:

Engineering Division: ENGSAF
Accelerator Division:

Test Lab: SAFINF
Inside the Fence: SAFACC
Safety Warden are delegated based on the activities, materials, systems and equipment used in an area. Their assignment includes performing periodic safety inspections and facilitate resolution of safety issues. Training is provided to educate the Safety Warden of the resources available in support of their responsibilities.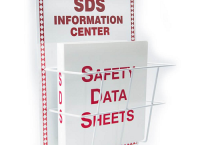 SDSs include information such as the properties of each chemical; the physical, health, and environmental health hazards; protective measures; and safety precautions for handling, storing, and transporting the chemical.
ISMS is more than just working safely. It is a system that ensures the protection of the public, Jefferson Lab staff and users, the environment, and contributes to the overall quality of the important work done at the lab.